As the days start to shorten and the air acquires a chill, you'll trade in your swimsuits for sweaters and your flip-flops for flannels. Naturally, then, your taste in beer is bound to change, too, as those juicy IPAs will sound a whole lot less refreshing on a breezy autumn afternoon. But that's okay — give your tastebuds a break from the citrus hops and pungent pine of summer; fall beer is equally deserving of your consideration, rich with delicious flavors of its own. Whether that's something darker and maltier like a stout or something sweeter and spicier like a cider, the season abounds with brews fit for every kind of drinker.
And besides, there's no other time during the year in which it's even remotely acceptable to drink pumpkin beer. Of course, even then, some will discount the style as a fleeting trend, maybe even a gimmick. However, we're here to say that you should embrace the pumpkin for all that it's worth. When brewed with the right mix of spices, mouthfeel, and malts, they can make for some stellar sippers with a taste that's unlike anything else on the market. If you're still unconvinced, though, don't fret. We're confident that one of these options — pumpkin-flavored or otherwise — is sure to serve you well. So kick back, cozy up, and read on to see what we consider to be the 15 best beers to drink this fall.
Shacksbury Dry Cider
There's no better way to celebrate the arrival of harvest season than with a crisp cider from Shacksbury. The Dry we have pictured here is pressed using a mix of dessert and bittersweet apples handpicked from Vermont and New England. Much more than just a boozy juice, however, it's a versatile expression that can be enjoyed on its own or in the company of a delicious gourmet meal. Zesty and grape-like on the nose, it finishes off with a sweet refreshing apple flavor.
Elysian The Great Pumpkin
While most pumpkin-flavored offerings are, admittedly, pretty subpar in their execution, Elysian's 'The Great Pumpkin' is one beer that breaks from the trend. As the world's first Imperial pumpkin ale, it comes heaped with fall squash flavor, incorporating roasted seeds in the mash as well as some extra flesh during the kettling and fermentation process. In order to give it a rich, pie-like palate, Elysian even spices the brew with cinnamon, nutmeg, cloves, and allspice — a delicious mix that hides its boozy ABV.
North Coast Brewing Old Rasputin Imperial Stout
Anyone who knows craft beer will have heard of North Coast's Old Rasputin. And it's not without good reason. An incredibly accomplished imperial stout brewed using traditional English methods, it clocks in at a full 9% ABV with plenty of malty character peppered throughout its creamy mouthfeel. Black in color and fudgy in taste, Old Rasputin is a rich, big-bodied beer that's great for warming up during those chilly autumn evenings.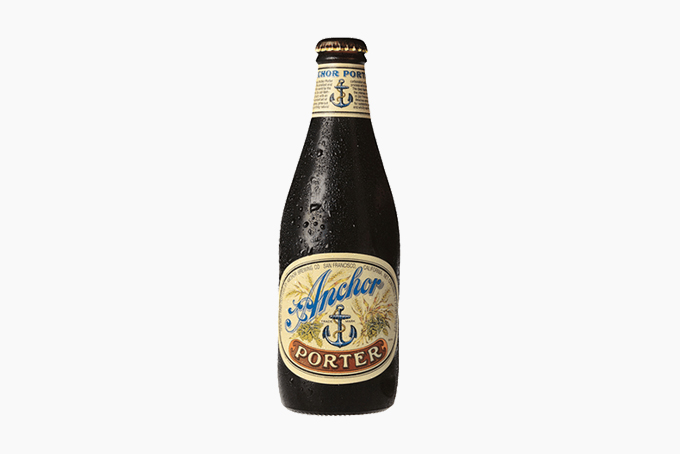 Anchor Brewing Anchor Porter
If you're after a dark beer with a bit less bite to it, Anchor Brewing's Anchor Porter is one option that's sure to please. Still an enduring icon even 40 years after its original debut, it combines pale, caramel, chocolate, and black malts to deliver a brew that's smooth and complex without being bitter. So, while it may be packed full of sweet candy and coffee flavors, it's actually surprisingly light on the palate.
Deschutes Hopzeit Autumn IPA
This beer from the Deschutes isn't too easy to find nowadays; however, assuming you can, it's well worth picking up a few bottles. An innovative Autumn IPA that blends classic Märzenbier flavors with modern German hop varietals, it pours a warm amber color with heaps of spicy malt. On the nose, it's lightly grassy and floral, after which it immerses you in citrus fruit and quintessential IPA resiny-pine. We'd recommend it paired with heavier foods like meat or pizza, though it can accompany pretty much anything.
Jack's Abby Copper Legend
As one of the industry's leading lager authorities, Jack's Abby is perfectly primed to deliver a quality Oktoberfest brew. Case in point: Copper Legend. A proper Märzen both in appearance and in taste, it pours with a thick white head, mild carbonation, and deliciously bready-but-floral flavors. IPA drinkers might balk at the 5.7% ABV, though it makes for a pleasant sip with a gentle mouthfeel. Oh, and while it's wonderfully crisp and refreshing no matter how you drink it, you really need a stein to get the full Oktoberfest experience.
New Belgium Voodoo Ranger Atomic Pumpkin
If you like New Belgium's normal Voodoo Ranger expressions, you'll be happy to hear that this pumpkin-infused offering more than lives up to the name. Brewed with pumpkin, Saigon cinnamon, and habanero chilies, it's a super interesting offering that starts off sweet, surprises you with some heat, and then finishes with a soothing brown sugar spice. Sure, you might not expect peppers to work all that well in a beer, but it makes for a pleasant warming sensation that'll stave off even the coldest of autumn air.
Bell's Kalamazoo Stout
Named after Bell's Kalamazoo brewery location, this is a stout that goes big on flavor whilst still being plenty sippable. A true classic as far as Bell's mashbills go, it combines coffee, dark chocolate, and malts for an enjoyable drinking experience that's exceptionally balanced from start to finish. So, even with the added hops, the creamy mouthfeel and licorice-like taste mean that it's still very much an option fit for even the most discerning of dark beer drinkers.
Harpoon Flannel Friday
By contrast, this amber ale from Harpoon offers a crash course in hoppy harmony, expertly blending bready malt with citrus varietals for a beer that's sweet, piney, and even somewhat caramelly too. At the front of the palate, it starts off a little strong, but the bitterness doesn't compromise what is otherwise a very drinkable brew. In fact, we'd contend that Flannel Friday is an ideal autumn-ready option for IPA lovers after something a bit more seasonal.
Lindeman's Framboise
If you find that fall's stodgy meals and heavy flavors can get to be a little overwhelming, a lighter, more fruit-forward beer such as a lambic will do you well. We like Lindeman's Framboise in particular because of its zesty punch and mild sweetness, as the notes of raspberries and sweet herbs pair well against everything from bready carbs to red meats. And, because it only clocks in at a mere 2.5% ABV, it makes for a highly approachable (not to mention sessionable) option no matter your drinking preferences.
Rogue Hazelnut Brown Nectar
While brown ales are typically much muddier in taste, this hazelnut-heavy option from Rogue offers a sweet exception to the rule. On the nose, it's bready and toasty, punctuated by big chocolate aromas with an almost cereal-like undertone. However, take one sip and you'll be immersed in nutty flavor, an experience that begins with the palate and lingers on well throughout the finish. If you enjoy the idea of sipping on Nutella, this is one beer that should do just the ticket.
Founders Backwoods Bastard
In times when a light, low ABV beer just won't do, Founders' Backwoods Bastard is the brew for you. A staple in the brewery's lineup since 2007, this barrel-aged Scotch ale features quintessential bourbon flavors, including toffee, caramel, and even a hint of tobacco smoke. Of course, it's pretty boozy at 11%; however, the alcohol is more of a subtle burning sensation than it is an out-and-out flavor. Think of it as candy-like with an added whiskey bite.
Allagash Windfall
This wild sour ale from Allagash is a true cut above the rest, fermented with freshly harvested peaches and Brettanomyces in an explosion of fruity flavor. Pouring an amber clear color with a low, wispy head, it's tart and sweet yet also a little bit funky. On the nose, you get lots of lemon, candy, white wine, and peach, though it proves far subtler on the palate with hints of apricot and marmalade. Because it's so dry and crisp, we'd recommend it with more savory foods like sausage and smoked vegetables — it's a winning combination that can't be beaten.
Southern Tier Pumking Ale
As befitting of its name, this delicious ale from Southern Tier reigns supreme over all other pumpkin beers with an iron fist — it's the cream of the crop. Brewed with a pie-like palate and a roasted fig-forward finish, it offers a wonderful mouthfeel and a rich, creamy body. Where other ales like it tend to go too heavy on the pumpkin, the spice of cinnamon and the sweetness of brown sugar mean that Pumking stays refreshingly balanced.
Sierra Nevada Oktoberfest
Rounding out our list is a bonafide classic within the craft beer world: Sierra Nevada's Oktoberfest. Released each year as part of the brewery's fall seasonal schedule, it offers a lighter, hoppier take on the traditional German-style lager. And here's the thing: drinkers of all kinds are bound to appreciate this brew; between the Hersbrucker varietals, the Pilsner malts, and the lager yeast, it's a complex offering that's nevertheless approachable enough to be a true fan-favorite.