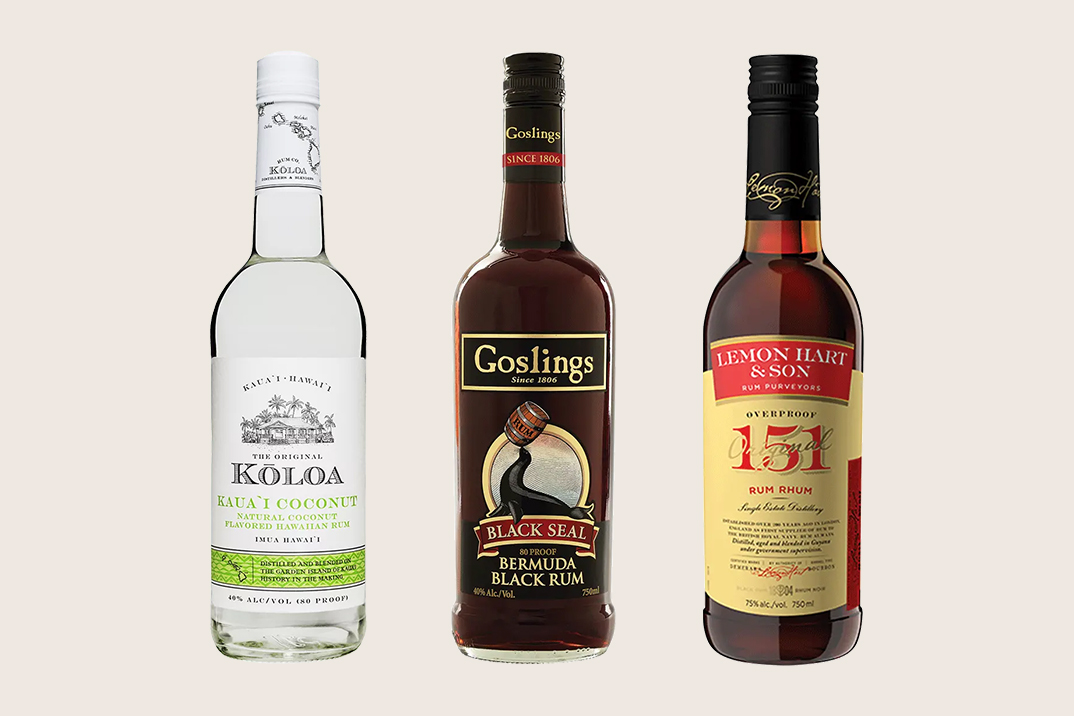 Rum, unlike whiskey, gin, or tequila, is a bit more of a mystery for those with just cursory knowledge of the spirits world. We see rum as an ingredient (or ingredients) in an array of cocktails and know that it's made with sugar of some sort, but even if we were to dip our toes in, there's a lot to explore when it comes to the globetrotting liquor. And it can be quite difficult to know where to start when building up our own home bar. After all, we just got that new tiki drink recipe book and each cocktail seems to call for different types of rum. Here, we've gathered the best of the best so you have a great place to start.
Best Rums to Drink
Best Light Rum

Brugal Especial Extra Dry

Best Gold Rum

Plantation Rum 5 Year

Best Dark Rum

El Dorado 15 Year Old

Best Black Rum

Gosling's Black Seal

Best Rhum Agricole

Rhum J.M XO

Best Spiced Rum

Chairman's Reserve Spiced Rum

Best Coconut Rum

Kōloa Kaua'i Coconut Rum

Best Overproof Rum

Lemon Hart Rum 151

Best Grail Rum

Bhakta Spirits 1990 Jamaican Rum
What Exactly Is Rum?
Regardless of regional standards or lack thereof, rum is fermented and distilled from sugar byproducts, which typically means either sugarcane, molasses, or sugarcane juice. After that, if it's aged, it's usually done so in oak barrels before being bottled upwards of 40% ABV. With some exceptions, rum is typically made with unspoken guidelines that vary from region to region instead of stringent government-enforced regulations.
Rum Regions
Like wine, rum styles differ from location to location, influenced by process and/or the terroir of the regions. These regions can generally be broken into three parts, with some variation within.
Spanish-Style: Typically using molasses as the sugar base for their rums, countries and islands formerly owned by Spain produce a majority of the light rums worldwide. Puerto Rico and Cuba are easily the most notable, but locales like the Dominican Republic, Venezuela, and the Philippines are also notable. One outlier is the darker rums produced in the Canary Islands, which are made from honey-flavored molasses and protected by a geographical designation.
English-Style: When you think of pirates who smuggled and looted (and sang about) rum, you're referring to the British West Indies. Island nations like Jamaica and Barbados have been known for darker molasses-based rums as well as overproof and spiced expressions, while Guayana and its Demerara region produce some of the world's most notable brands from a single distillery, whose rums are famous for smokier notes. These rums are more powerful and heavy than the ones from other regions but still differ from site to site.
For instance, Jamaican rums are typically full-bodied, fruity, and intense, using sediment at the bottom of the stills from one batch to the next and including an ingredient called muck, which is basically a foul-smelling amalgamation of bacterial acids used in the mash.
French-Style: As a way to make money during the rise in sugar prices during the early 19th century, French Caribbean sugar factories started fermenting sugarcane juice, or Rhum Agricole. From islands like Martinique, Guadeloupe, and Haiti, Rhum Agricole exudes more of an earthy profile that tastes like the cane itself. These rums must also be aged for at least 3 months.
Types of Rum
Light: Stigmatized because of its lack of aging, light rum, or white rum, actually may spend some time (at least 3 years) in oak barrels, getting its clear color from charcoal filtering. Common in mojitos and daiquiris, light rum is a popular style in Puerto Rico and boasts a mellow, sweet profile with tropical fruit notes.
Gold: Gold rum is aged between 3 and 5 years, becoming much darker thanks to the qualities of the oak barrels. Be on the lookout for false golden hues added to light, unaged rum with the help of caramel coloring. True gold rum won't be as strong as dark rum but is a pleasant sipper because of its medium-bodied profile and accessible palate.
Dark: If the age of the rum matters, it will be stated on the bottle label. These dark rums spend over 5 years in barrels and are perfect for sipping neat thanks to their complex flavors. Don't mix these into cocktails unless you know what you're doing and a recipe explicitly calls for it.
Black: Often confused with dark rum, black rum, or blackstrap rum, has nothing to do with its aging length. Brands will add molasses to the finished product, which causes the spirit to be much sweeter and darker. Black rum is almost exclusively reserved for making a Dark & Stormy cocktail.
Spiced: Commonly attributed to the British West Indies, spiced rums may be stigmatized but that doesn't mean they're not unbelievably popular. Steer clear of the more mainstream options, as there are some craft distilleries and producers who actually put out some quality expressions and blends. Spiced rum often uses gold rum as its base with the addition of spices like cinnamon, clove, cardamom, and even rosemary.
Brugal Especial Extra Dry
Best Light Rum: Brugal, from the Dominican Republic, takes a very different track with its fine rum than many others. Instead of going deep and dark and treading into whiskey territory, they are light, refreshing a decidedly dry, competing more with top vodkas and, perhaps, tequila. Crack it open, and you'll be treated to a delicate nose with hints of marshmallow and grapefruit over toasted coconut. That turns over to a very snappy vanilla-coconut base with overtones of lime and maybe a little fig. And it all ends just as tropically with hints of many of the same fruits and a touch of peach. Try this cold in hot weather like you would vodka, just don't down it all in one gulp.
Region: Dominican Republic
ABV: 40%
Tasting Notes: Vanilla, coconut, fig, tropical fruit
Plantation Rum 5 Year
Best Gold Rum: As the most quintessential of the style, Plantation's 5 Year bottle of gold rum is an incredibly versatile option from everyone's favorite Barbados-based distillery. Spending between three and five years in ex-bourbon oak barrels, the liquid is then finished in French Château de Bonbonnet Cognac casks for up to two years. With notes of chocolate, orange, and almonds, this expression is not only great either in cocktails or sipped neat but is also indicative of just how accessible many top-shelf selections of rum can be.
Region: Barbados
ABV: 40%
Tasting Notes: Chocolate, orange, almonds
El Dorado 15 Year Old
Best Dark Rum: This dark rum is advertised as the "true taste of Demerara." If you're not familiar with the term, it refers to the Caribbean coast of South America — including Guyana, where this rum is from — and it's also the British word for brown sugar, from which this rum is made. Harkening back to the old rums of the British Navy, this almost black spirit is bold and makes no apologies. It all begins with a nose that many might find overwhelming with its heady mixture of vanilla, black cherry, and orange peel. On a second sniff, you can detect pine nuts and perhaps even a little hard toffee. It's not for the timid. It's a very sweet drink with dark chocolate and black cherries on top of smoke. It's thick and smooth like velvet. If you're looking for a rum that will let you know you're in deepest, darkest rum territory, this is the one.
Region: Guyana
ABV: 40%
Tasting Notes: Dark chocolate, black cherries, smoke
Gosling's Black Seal
Best Black Rum: Most fine rums come from the Caribbean, but Gosling's is synonymous with (and the biggest export of) Bermuda, which lies in the Atlantic, not too far from North Carolina. Aged for three years in ex-bourbon barrels, the nose is predictably strong and complicated. It starts with caramel and molasses over smoke, and packs a strong alcohol burn. Very sweet on the tongue, the notes are mainly spice with cinnamon, black pepper, and anise fighting for dominance with molasses watching them all go at it. And it ends with all of those flavors together more harmoniously with a slightly herbal edge. Another throwback style of rum, Gosling's is a fine sipper, especially for those who don't mind a bit of a burn. This is a late-night rum, perfect for sipping while swapping stories.
Region: Bermuda
ABV: 40%
Tasting Notes: Spice, cinnamon, black pepper, anise, molasses
Rhum J.M XO
Best Rhum Agricole: Whether you're making a Three Dots & a Dash or just looking to sip on something unique, a quality Rhum Agricole is the way to go. With over 175 years of experience at the foothills of Martinique's Mt. Pelée, Rhum J.M bears the official AOC designation for the style and taps into the soil of its surroundings to make the finest Rhum Agricole around. With much less sugar content than standard rum, this sugarcane juice-based XO expression was aged for 5 years in ex-bourbon barrels before spending another year in French oak casks. Bottled at 45% ABV, the rum showcases a palate of orange zest, dates, gingerbread, quince paste, and tonka bean (for all you quince paste and tonka bean fans out there).
Region: Martinique
ABV: 45%
Tasting Notes: Orange zest, dates, gingerbread, quince past, tonka bean
Chairman's Reserve Spiced Rum
Best Spiced Rum: Among rum enthusiasts, spiced rum can have a bit of a stigma. However, Chairman's Reserve may have even the biggest purist second guess this style of spirit. He shouldn't, though, because most are not this good. Made through a meticulous process on a small island in the eastern Caribbean, the distillery begins by aging its rum in ex-bourbon barrels steeped with locally sourced bark. After that, it spends six months in oak vats where it acquires its array of spices and botanicals, including cinnamon, clove, vanilla, allspice, lemon, and orange peel. It's pretty cheap as well, making it great for cocktails, although you can enjoy it neat as well.
Region: Saint Lucia
ABV: 40%
Tasting Notes: Cinnamon, clove, vanilla, allspice, lemon, orange peel
Kōloa Kaua'i Coconut Rum
Best Coconut Rum: Of all the different types of flavored rums (there are a LOT), coconut is the most versatile when it comes to cocktails. However, with Kōloa Kaua'i's Coconut Rum is so exquisite, you could drink it straight if you really wanted to. From the Hawaiin distillery, this rum taps two of its home state's crops to make its flagship spirit: sugar cane and coconut. Evading the saccharine sweetness in favor of a complex flavor profile, this spirit is distilled in vintage copper stills and cut with water from the Mount Wai'ale'ale volcano on the island of Kaua'i. It also keeps its ABV right at 40%, as opposed to cheap flavored rums that get sinfully diluted. Put down the Malibu and pick up some Kōloa Kaua'i.
Region: Hawaii
ABV: 40%
Tasting Notes: Toasted coconut, lime zest, caramelized pineapple
Lemon Hart Rum 151
Best Overproof Rum: The paradigm of overproof rum for some 200 years, Lemon Hart actually halted shipment of its 151 to the United States around 2014 after supply couldn't meet demand. You see, this expression is quite irreplaceable in the tiki drinks that list it as a key ingredient, such as Zombies and 151 Swizzles. Fortunately, the Demerara staple has returned and provides the same iconic profile of vanilla, coffee, and caramel on the palate. We wouldn't recommend sipping any 151 rum straight, but it does make a fine cocktail ingredient for how it bumps up the proofing and allows you to actually taste the nuances of the diluted overproof rum itself.
Region: Guyana
ABV: 75.5%
Tasting Notes: Vanilla, coffee, caramel
Bhakta Spirits 1990 Jamaican Rum
Best Grail Rum: When it comes to rums aged for 20-plus years, Jamaica's Appleton Estate is unmatched. This rang true for former WhistlePig founder Raj Bhakta when his eponymous spirits brand was looking for the perfect barrels for its very first rum. Of course, it tapped Appleton's stock of 23-year-old liquid, which it blended with a 25-year from another Jamaican mainstay, Clarendon, back in 2014. After that, it spent three more years in former bourbon and rye barrels from Indiana and was given a secondary finish in Armagnac casks. So for those counting, the rum in these coveted bottles has spent at least 26 to 28 years in the aging process. Meant to be sipped like a prized bourbon, the expression features notes of oak, tobacco, banana, and an array of baking spices.
Region: Jamaica
ABV: 62%
Tasting Notes: Oak, tobacco, banana, baking spices
The Complete Guide to Rum Styles
If you'd like to delve further into the world of rum, you must check out our complete guide to rum styles.