Although the ready-to-drink cocktail segment was once limited to a slew of sub-par seltzers like Mike's Hard and White Claw, over time, it's expanded into something completely unto its own. After all, throughout the past year, drinkers have been forced to go without their favorite bars, trading their cocktails for craft beers or trying to make the most out of what ingredients they've had at home. Granted, it's not hard to throw together a highball or mix yourself a margarita. However, if your tastes skew towards the sophisticated rather than the simple, a canned cocktail can be a godsend. For, in addition to saving you the hassle of having to stock your bar cart with ingredients, they also eliminate the extra time required to actually whip up your drink of choice.
And besides, with summer just around the corner, canned cocktails make for one of the most convenient ways to enjoy a crisp spritz or a refreshing fizz without requiring a bit of impromptu bartending. Throw some in a cooler to bring to the beach or crack one open for a kickback on the porch — either way, you'll be pleasantly surprised at just how delicious these ready-made drinks can be. Below, we've rounded up 15 of the best canned cocktails on the market in order to get you ready for the warmer months ahead. Whether you're after a brown liquor basic such as Tip Top's Old Fashioned or an exotic island essential like Proof's Mai Tai, there's bound to be something for you. So stop whatever drink you're mixing and read on to see what we've picked for the best canned cocktails.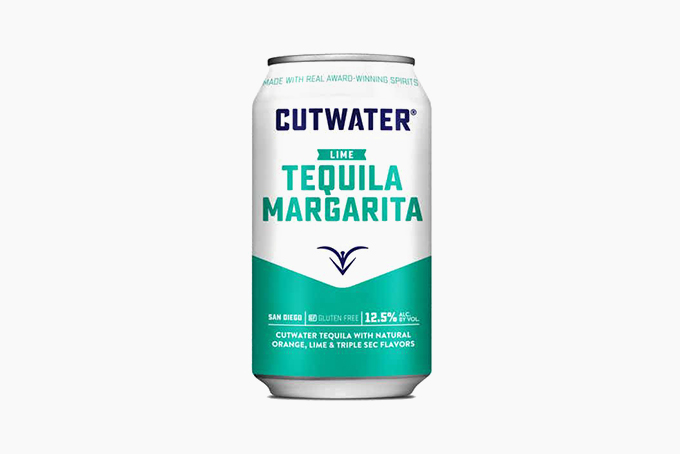 Cutwater Spirits Tequila Margarita
A true pioneer in the canned cocktail segment, San Diego-based Cutwater Spirits is a name that needs no introduction. Over the years, they've built out quite the range of ready-made drinks, with each one boasting a quality to which few others can compare. In the case of this margarita, you'll find that distillery's blue agave tequila pairs wonderfully with the added lime, cane sugar, and orange, delivering a decidedly floral take on a true cocktail classic.
Hitachino Highball
Given the exorbitant prices Japanese whisky is fetching these days, you might want to think twice about using that prized Yamazaki for a humble weeknight highball. Thankfully, this Hitachino canned cocktail makes for an ideal alternative and it's much more than the next best thing. A product of Japan's Kiuchi brewery, it features a whisky that was aged for 3 years in Spanish sherry and Japanese wine barrels, as well as some smooth Hitachino water to balance out the brown spirit's bold flavors.
Pabst Blue Ribbon Hard Coffee
If your morning wakeup call needs a bit of a boozy boost and an Irish coffee seems too on the nose, you can't go wrong with this pick from PBR. The brewery's take on a hard coffee, it combines Arabica and Robusta beans with a hint of vanilla as well as a rich, creamy American milk. While not exactly a canned "cocktail" in the most technical sense of the word, it's proven extremely popular on account of the fact that it's so damn tasty. Oh, and yes — it does have caffeine.
Tip Top Old Fashioned
Inside each one of Tip Top's tiny little cans is a cocktail that's as convenient to carry as it is delicious to drink. Thanks to the efforts of Mile Macquarrie, their Old Fashioned recipe is every bit as good as the original, welcoming you with rich bourbon flavors and following up with some citrus and a finish of spicy bitters. Although you're more than welcome to drink it as is, we think it's best enjoyed in a whiskey glass with a slice of orange.
Dante X F!ve Drinks Co. Americano 2.0
Back in 2019, Dante was crowned the best bar in the world, making it quite the haute spot for those looking to grab a cocktail. However, once the pandemic hit and drinkers were forced to make do at home, the Greenwich Village-based joint had to find a new way to serve its stuff. Thankfully, Five Drinks Co. was at the ready and put together a range of Dante-inspired canned offerings, including the Americano pictured here. Made of amaro, Mancino vermouth, Italian bitters, and soda, it's the next best thing to sipping on the Amalfi coast.
Rogue Spirits Cucumber Lime Gin Fiz
Although Rogue initially started out as a brewpub specializing in beer and ale, the Oregon-based outfit has since expanded its operations to include everything from sodas and CBD seltzers to spirits and canned cocktails. When it comes to their Cucumber Lime Gin Fiz, you'll find that it makes for a super refreshing summertime drink, because it's crafted using a combination of Rogue's small-batch Spruce Gin, cucumber and line, raw cane sugar, and just a bit of sparkling water. No matter how you choose to enjoy this one — whether over-ice or in a can — it's sure to quench your thirst.
The Finnish Long Drink Traditional
Originally developed as a quick cocktail for tourist service during the 1952 Helsinki Summer Olympics, the "Long Drink" has since become one of the top selling alcohol categories in Finland. Up until recently, it wasn't really available outside of the peninsula, but that all changed when The Finnish started selling stateside in 2018. If you've had your fill of hard seltzers and you're sick to death vodka sodas, this crisp gin-based spirit is one option that's well worth a look.
Fishers Island Lemonade
While your average spiked lemonade can hardly be considered a cocktail, Fishers Island is one option that proves an exception to the rule. That's because it's based on a recipe taken from CEO Bronya Shillo's family bar located in Fishers Island, New York. Utilizing both vodka and whiskey as well as natural lemon and honey flavors, it clocks in at a boozy 9%. In other words, watch yourself with this one — it can be quite the dangerous drink when you consider just how great it tastes.
Cocktail Squad Bourbon Smash
Admittedly, Boulder-based Cocktail Squad has any number of great canned drinks, but we feel that the brand's whiskey cocktails are what really set it apart. For instance, with this take on a classic whiskey smash, they've given it loads of fruit-forward flavors, adding Rocky Mountain blackberries as a complement to the drink's existing mix of lemon and spearmint. It's worth noting that a can comes with two cocktail servings — a suggestion you'll likely want to take heed of given that each one contains 10% ABV.
LiveWire Honeydew Collins
Before founding LiveWire in 2020, Aaron Polsky spent a decade as a career bartender in some of New York City's most renowned cocktail spots, so it goes without saying that he knows his way around a drink. A somewhat atypical operation, each cocktail is made in collaboration with a different bartender (much like a record label), allowing their expertise to be translated into a convenient canned format. In the case of the Honeydew Collins, you get gin, honeydew, coconut, lime, and elderflower — a potent mix that makes for one hell of a summery sipper.
Social Hour Pacific Spritz
Another one of NYC's finest, Social Hour was born out of the combined efforts of Clover Club founder July Reiner and mixed drink devotee Tom Macy. While the brand's Whiskey Mule canned cocktail is the one that often gets most of the attention, that's not to say that you should pass on their Pacific Spritz. Rather, with its blend of bittersweet Aperitivo and rosé wine, it offers a drinking experience that's dry, bubbly, and packed full of refreshing flavor. Garnish it with some berries or go for citrus fruit — it'll be delicious no matter what you choose.
Hochstadter's Slow & Low Rock & Rye Whiskey
If the thought of mixing yourself an Old Fashioned seems a bit too, well, old fashioned, Hochstadter's Slow & Low is a canned cocktail that should do just the ticket. Made with rye, melted rock candy, oranges, honey, and bitters, it first offers you heaps of vanilla and spice on the nose before following it up with honey, candied orange, and just a bit of woody spice. Drink it straight from the can or pour it over ice — just make sure that it's nice and cold before you opt to imbibe.
Straightaway Cocktails Negroni Spritz
The key to Straightaway's cocktail masterpieces lies in its in-house amaro, an addition that features in everything from the brand's bottled pre-mixes to its canned spritzers. As its name implies, this spritz is a summer-friendly interpretation of a classic Negroni, building off a Sparkling Oregon Pinot Gris with dry flavors that it great with meat like barbecue or burgers and, of course, pasta dishes of all different shapes and sizes.
Proof Cocktail Co Mai Tai
No matter if you're in dire need of some island time or you're just looking to add a bit of a tropical flavor to your drinks, Proof's Mai Tai is one to-go cocktail that's sure to give you your fix. Expertly blended using West Indies silver rum, American bourbon-barrel-aged rum, Curaçao, and orgeat, it even features a bit of lime and orange for some extra citrus tart. Clocking in at a solid 23% ABV, each can conveniently comes with three drinks' worth, so you can share or sip solo.
Empirical Spirits Can 02
While there's no denying that Empirical's canned cocktails are a bit pricey at $45 per four-pack, you'll have a hard time finding anything that comes close to them in terms of quality. After all, the company was founded by two fermentation specialists, so you better believe their stuff is good. With Can 02 you're getting a base of beet molasses and Belgian saison yeast, a combination that offers a diverse array of flavors such as sour cherry, black currant buds, and walnut wood.
The 12 Best Coolers
While there's no denying the convenience of popping open a canned cocktail, they're obviously a drink that's best enjoyed ice-cold. As such, be sure to check out our guide to the best coolers for a selection of superior storage solutions that comes just in time for summer.