We live in a world where groceries can be delivered to our door using our phones, going to show that life in the kitchen has arguably changed for the better. And in case your pantry is fully stocked, it's time to make space around your kitchen for the right equipment to put those ingredients together. Getting technical when you're cooking is one thing, but getting technological is a whole other story, which is why the state-of-the-art gadgets geared toward cooking areas have only become more and more advanced in recent years.
Modern-day cooking techniques have grown increasingly innovative, and there is an endless number of gizmos that make practically anyone a gourmet chef with the push of a button. If you're looking for an unrivaled air fryer, a sizzling pizza oven, or an all-in-one device to save some countertop space, there is no shortage of options to consider. As a result, flashy kitchen gadgets happen to be one of the appliance space's most competitive fields, leaving many people in question as to which are the best choices for increasing the convenience and deliciousness of their prepared meals and beverages. With that in mind, we've compiled a guide to the absolute best kitchen gadgets to electrify your recipes.
The Best Kitchen Gadgets Rundown
Best Salt & Pepper Set

Osmo Salt & Pepper Grinder Set

Best Wine Aerator

Aervana Electric Wine Aerator

Best Kitchen Thermometer

Yummly Smart Thermometer

Best Indoor Herb Garden

Aerogarden Harvest Indoor Hydroponic Garden

Best Kettle

Balmuda Kettle

Best Coffee Cup

Ember Mug 2

Best Waffle Maker

All-Clad Gourmet Digital Waffle Maker

Best Smart Toaster

Revolution R180S Touchscreen Toaster

Best Sous Vide Cooker

Anova Culinary Sous Vide Precision Cooker

Best Airfryer

Philips Smart Sensing Airfryer

Best Stand Mixer

Kitchen Aid Professional 5 Plus Series Stand Mixer

Best Blender

Vitamix A3500 Ascent Series Smart Blender

Best Cast Iron Pot

Vermicular Musui-Kamado

Best Espresso Machine

Breville Oracle Touch Espresso Machine
Our selection process
We've rounded up a collection of kitchen essentials and modern gear from brands we trust with designs that we value. Our team has had years of experience in the lifestyle and home space, and we're home to coffee lovers, foodies, and tech junkies who are passionate about cool gear and good food. And through these years, we've figured out which gadgets (both essential and modern) are worth grabbing for your kitchen. The picks on this roundup will either make your day-to-day in the kitchen easier and more streamlined, or introduce you to new ways of enjoying cooking.
Osmo Salt & Pepper Grinder Set
Why it made the cut
Two of the most essential seasonings, in a rechargeable electric body that provides the perfect grind every time.
Best Salt & Pepper Set: 21st-century citizens don't have the patience for the salt-and-pepper-shakers of yesteryear, ultimately making this an obvious pick to start with (we're kidding, sort of). This set of electric grinders can tackle rock salt and peppercorns at your preferred coarseness level. Osmo Salt has practically become a viral phenomenon following countless online cooking tutorials putting it to use. Moreover, this set even comes equipped with a jar of the brand's Baja Sea Salt and 15-Peppercorn blend.
Capacity: 28g
Battery: Rechargeable lithium battery
Aervana Electric Wine Aerator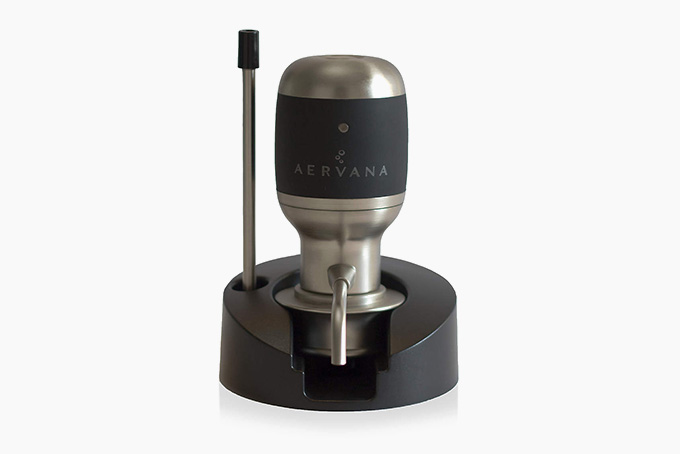 Why it made the cut
In order to get the most out of many wines, they need some time to breathe, and this aerator fits easily on the bottle while taking care of that with one push.
Best Wine Aerator: Wine stewards are beyond aware of the importance of letting your wine breathe, and they'll often make sure you're well-informed on the topic at any chance they get. Aervana's unique electric aerator serves as a way to modernize this conversation and provide the wine with its fullest flavor potential. The device is presented in a sleek tap style that makes filling up your glass an absolute breeze.
Material: Stainless steel and plastic
Dimensions: 11.4″ wide x 5.9″ deep x 2.5″ tall
Yummly Smart Thermometer
Why it made the cut
A meat thermometer is essential for serious grillers and average cookers, and it's even more helpful when you can check the temperature through your phone.
Best Kitchen Thermometer: Whether it's grilled chicken breast or seared steak, determining the temperature of your meat is one of the most important parts of cooking, especially from a safety standpoint. That said, Yummly's innovative Smart Thermometer is here to help, as its neighboring app allows you to monitor how much time is needed for your meal regardless of your cooking method. Simply leave the stainless steel probe in your cut of choice and eliminate any sort of estimates you have in mind.
Material: Stainless steel
Connectivity: Bluetooth
Battery Life: Up to 25 hours
Aerogarden Harvest Indoor Hydroponic Garden
Why it made the cut
It's nice to have some homegrown herbs, especially when you can grow them indoors without soil (and 5 times faster thanks to the LED growing system).
Best Herb Garden: While we think houseplants are a great way to decorate your home, it'll be hard for them to compete with a full-on herb garden. Thanks to AeroGarden, the process is made incredibly quick and easy, as it's capable of growing herbs up to 5 times faster than soil thanks to its innovative LED growing system. The kit even comes equipped with over 5 different herb seeds, including Genovese basil, curly parsley, and thyme, all of which will provide your meals with an extra touch of homegrown flavor.
Capacity: Up to six plants
Light: 20W LED
Max Height: 12″
Balmuda Kettle
Why it made the cut
Any serious coffee lover understands the importance of a kettle (and having a gooseneck), but you don't have to be a coffee expert to appreciate this ergonomic kettle.
Best Kettle: Few appliance brands level up to Balmuda when it comes to design, and this gorgeous kettle is a solid showcase as to why. It features an ergonomic handle and gooseneck for the perfect pour every time. And while most other options you'll come across will beep or hiss when the water starts to heat up, the Balmuda Kettle greets you with a gentle light and quiet boil, serving as a more relaxing way to make your morning coffee or tea.
Capacity: 0.6L
Weight: ~2lbs
Ember Mug 2
Why it made the cut
Tired of cold coffee? This mug keeps it at the perfect temperature for nearly and hour and a half.
Best Coffee Cup: Upon its release, the Ember Mug arguably served as the average remote worker's most vital gadget, which is saying a lot. Over five years later, the brand's updated version remains one of the most integral pieces to have in your home office and kitchen cupboard. The self-heating mug can keep a cup of coffee as hot as 145°F, allowing you to enjoy it patiently with no need to fret over it cooling down. The gadgeteer even adds a charging coaster into the bargain, so you can keep it as hot as you like for as long as you need.
Capacity: 14fl oz
Max Temperature: 145°F
Battery Life: Up to 80 minutes
All-Clad Gourmet Digital Waffle Maker
Why it made the cut
With 7 browning levels and 6 recipe settings, you can get the perfect waffles, just how you like them.
Best Waffle Maker: Whether you prefer pancakes or waffles, there's no arguing the decadence of the latter, especially when made fresh in your own home. With that in mind, All-Clad comes to the rescue with its versatile gourmet waffle maker. It features the capacity to make a quartet of thick, deep-pocketed Belgian waffles and offers over a handful of baking modes tailored to your batter, including chocolate and gluten-free. The stainless steel machine also allows you to select your preferred brownness level, making for the perfect batch every time.
Material: Stainless steel
Weight: 17.21lbs
Revolution R180S Touchscreen Toaster
Why it made the cut
Getting the right setting for the right bread can be hard on a regular toaster, and this smart toaster gets it right every time, with an intuitive touchscreen interface.
Best Smart Toaster: Finding the right toaster can truly determine the outcome of your breakfast. At the end of the day, some people don't mind their toast being burnt to a crisp, while the majority tend to aim for a nice shade of golden brown. Revolution's innovative InstaGLO Smart Toaster grants you the opportunity to have your toast, bagels, and English muffin the way you prefer them. Most of all, its touchscreen interface is easy to operate and lets you kick off your morning with the push of a button, er, screen.
Material: Stainless steel
Toast Types: Bread, Bagel, Large Bagel, English Muffin, Waffle, Toaster Pastry, and Panini Mode
Anova Culinary Sous Vide Precision Cooker
Why it made the cut
This style of cooking is great for locking in flavor, and this IPX-7 drop rated cooker is perfect for precision cooking.
Best Sous Vide Cooker: The method of sous vide cooking (French for 'under vacuum cooking') has grown immensely popular statewide. Moreover, we recommend using nothing short of the best in this department. Anova's Precision Cooker Pro heats and circulates water to the exact temperature required for all sorts of food, be it veggies, fish, or the perfect medium-rare steak. Plus, it is a professional piece of drop-tested kitchen gear that can heat up to 100 liters of water and run for 10,000 hours (!) straight (though we don't recommend doing so). While we don't know of any recipes that will take quite that long, it's good to know it can operate well enough in case one comes around.
Capacity: 100L
Wattage: 1200 watts
Voltage: 120 volts
Philips Smart Sensing Airfryer
Why it made the cut
Delicious fried food without the oil, made even better by Philips' Fat Removal technology.
Best Airfryer: Air-frying has been lauded for being a remarkably healthy cooking mode that doesn't skimp on taste, and Philips has managed to make it even better for you. The manufacturer's Smart Sensing Airfryer makes incredible use of its proprietary Fat Removal tech that extracts any fat content found in your dishes, be it beef, fish, or chicken, allowing you to enjoy meals that are good for your whole body, taste buds included.
Capacity: 3lb or 7qt
Wattage: 1725W
Kitchen Aid Professional 5 Plus Series Stand Mixer
Why it made the cut
Kitchen-Aid stand mixers are some of the best in the game, and the signature tilted head is super conveneient.
Best Stand Mixer: Whether you've seen it in your friend's kitchen or a movie household, everyone has come across a Kitchen-Aid stand mixer at some point. The pro-grade piece of equipment is ubiquitous for a reason, as it offers the capability to mix up to 9 batches worth of cookie dough or 2 quarts of ice cream, the latter of which is made possible by a separate attachment sold in the vast ecosystem of Kitchenaid products. Most notably, its signature tilted head design allows for easy adjustability and bowl removal.
Capacity: 5L
Blade Material: Stainless steel
Number of Speeds: 10
Vitamix A3500 Ascent Series Smart Blender
Why it made the cut
One of the most trusted names in blending comes through with a versatile blender that even comes with a self cleaning mode.
Best Blender: Vitamix stands head and shoulders above its competition in the world of blenders, and its flagship A3500 is simply another example of how and why. The ultra-powerful gadget features a handful of program settings, one of which is a self-cleaning mode that helps take even more time off your hands. It also offers variable speed control and pulse mechanisms that allow you to dictate the texture of your recipe, so you can keep your salsa chunky and your smoothies, well, smooth.
Capacity: 64fl oz
Dimensions: 8″ deep x 11 wide x 17″ tall
Vermicular Musui-Kamado
Why it made the cut
This cast iron is sourced from an 80 year old family-owned foundry in Japan.
Best Cast Iron Pot: This versatile piece of cast iron is far more than the average pot. Japanese brand Vermicular's signature Musui-Kamado is crafted from a mix of vermicular graphite iron and numerous other metals, ensuring a long-lasting piece of equipment that will lock in flavor for years to come. The unique gadget offers precision temperature control capabilities and serves as a variety of different appliances, including a proofer, rice cooker, or stew pot. It even features an auto rice mode that guarantees perfect, fluffy rice at any point.
Capacity: 3.9 qt
Dimensions: 12.2" wide x 8.2" tall x 11.7" deep
Weight: 15.2 lbs
Breville Oracle Touch Espresso Machine
Why it made the cut
While this may be an expensive pick, Breville is known for its state-of-the-art brewing technology, and this machine comes with over 40 grind settings.
Best Espresso Machine: We're bringing Breville back in for the end-all-be-all of coffee makers. Its remarkably advanced Oracle Touch Espresso Machine has as many functions as any product on this list, offering over 40 adjustable grind settings, in addition to the option of configuring your coffee's strength and adjusting your milk's texture. It features a user-friendly color touchscreen interface that offers a menu of five popular drinks, including Espresso, Americano, and Flat White, and automatically knows how to make each one as well as your local barista — if that's not the definition of convenience, then we don't know what is.
Capacity: 16oz
Dimensions: 14.5″ deep x 14.7″ wide x 17.6″ tall
Dose: 18-22g of coffee
Settings: Adjustable grind control, programmable milk temperature and texture, shots, hot water
The Best Espresso Machines for the Perfect Coffee
Looking to level up your coffee game? Then check out our best espresso machines guide.