Despite popular belief, bourbon whiskey doesn't have to come from Kentucky at all. The myth stems from the fact that the bourbon-style whiskey was invented in the Bluegrass State's Bourbon County, hence the name. However, if the liquor is made from at least 51% corn and aged in new American charred oak barrels (among some other stipulations), federal regulations state that bourbon can be made anywhere in the United States. In fact, some of the best product comes from locations such as Indiana, Tennessee, Texas, and even New York. This guide aims to bring awareness to some of these fantastic whiskeys. However, before we get into the best bourbons not from Kentucky, let's discuss a couple of notable regions.
Best Non-Kentucky Bourbons
Best Cheap Bourbon

Redemption High-Rye Bourbon

Best from the West

High West Bourbon

Best from New York

Hudson Whiskey Bright Lights, Big Bourbon

Best Underground Pick

FEW Bourbon

Best from Tennessee

Heaven's Door Straight Bourbon Whiskey

Best Overall

Bib & Tucker 6 Year Bourbon

Runner-Up

Penelope Architect

Best Wheated

Old Elk Wheated Bourbon

Best Top Shelf

George Remus Repeal Reserve Series VI

Best Cask Finished

Garrison Brothers Guadalupe
Indiana/MGP
Located in Lawrenceburg, Indiana, MGP (Midwest Grain Products) is the biggest source of bourbon in the country, sourcing out to dozens of brands nationwide, including a few of its own. While some companies simply slap their own labels onto a bottle of MGP bourbon, typically using one of two high-rye mashbills, others have more of a hand in the creation process — including customizing the mashbill, aging offsite, and blending multiple batches together — and just use MGP as a means of distillation. It's important to note which bourbons come from MGP, but the distillery still makes some of the finest bourbon available and there's a real benefit to starting with a liquid from expert distillers.
The biggest benefit is the locale of MGP's warehouses, which are along a river, causing the temperature fluctuation to be smaller than, say, in Kentucky and prolonging the aging process. So, when brands take these barrels to their own facilities, the aging often speeds up and creates a unique end result.
Tennessee
Kentucky's neighbor to the south has historically been the most culturally accepted when it comes to bourbon whiskey. While even the likes of Jack Daniel's is technically considered bourbon (although it's not labeled as such), the distillery, along with many others from the state, adds a step in production called the Lincoln County Process, which involves filtering the alcohol through charcoal chips prior to aging. For the sake of remaining pure to the spirit of bourbon, we've only included Tennessee whiskeys that are actually labeled as "bourbon."
Is Kentucky Bourbon Really the Best?
Purists used to claim that bourbon outside of Kentucky's borders weren't really worth sipping on. However, in recent vintage, that's all changed. With the rise of MGP and micro-distilleries across the country, non-Kentucky bourbons can be quite special. The reason why Kentucky-based whiskey is so coveted goes beyond the state's history in the creation of bourbon but also has to do with aging conditions, with wide-ranging weather that allows for optimal relationship between the whiskey and the barrel as the liquid is able to move in and out of the wood. Likewise, the natural soil in the Bluegrass State has always made superb corn and the limestone water has a sweet taste and adds magnesium and calcium to the liquid to aid fermentation.
These days, on the other hand, these methods can be not only made up for with increased knowledge in distillation practices but even outsourced to other regions who may grow, distill, and age better than you can. Not only that, but the blending process has become increasingly more important, especially with the rise of small-batch bourbons, where you're focusing less on the entire stock and more on the best barrels available.
Redemption High-Rye Bourbon
Best Cheap Bourbon: Simply unbeatable for the price tag, Redemption's High-Rye Bourbon is unbelievably great for being from a distillery known for its straight rye whiskey (i.e., non-bourbon). Now one of the standards for the high-rye style, this expression from the Indiana-based company uses 36% of rye grain in its mashbill, which is inspired by pre-Prohibition profiles when high-rye was the preference. Containing one of the highest rye contents in the bourbon world, the result is a noticeably spicier palate with notes of cinnamon, spearmint, and nutmeg.
Region: Indiana
ABV: 46%
Tasting Notes: Spicy, cinnamon, spearmint, nutmeg
High West Bourbon
Best from the West: The first legal distillery in Utah following Prohibition and one of the first to come to mind when discussing non-Kentucky bourbon, High West is a fan-favorite for a reason. Launched in 2006, the brand's wide range of excellent whiskey solidifies its place in any conversation about non-Kentucky moonshine. Previously labeled "American Prairie," High West's singular bourbon expression stands out among its popular rye whiskey bottles by blending liquid aged from 2 to 13 years, containing its own mashbill with some sourced elsewhere, including MGP high-rye mash.
Region: Utah
ABV: 46%
Tasting Notes: Candy corn, honey nougat, sweet cornbread biscuits
Hudson Whiskey Bright Lights, Big Bourbon
Best from New York: Around two decades ago, the founder of Hudson Whiskey had originally planned on using his land to make a rock-climbing ranch but was met with some backlash from his neighbors. Instead, he decided to use his land to farm grain for whiskey and quickly became the first new distillery in New York since Prohibition. Hudson's Bright Lights, Big Bourbon is definitely both big and bright, made from a high corn mashbill of 95% — one of the few that makes this work — and soars with notes of caramel apple (ironically), peanut brittle, vanilla, and a hint of saffron.
Region: New York
ABV: 46%
Tasting Notes: Caramel apple, peanut brittle, vanilla, saffron
FEW Bourbon
Best Underground Pick: As you can tell by its vintage-inspired label, FEW Spirits moves with the spirit of pre-Prohibition and the excitement of the 1893 World's Fair in Chicago. One of the few to make both bourbon and gin exceptionally well, the Illinois-based distillery produces everything in-house from its headquarters in Evanston, which is historically considered the "birthplace" of Prohibition and a dry city until 1972. Known for sourcing its oak barrels from Minnesota, FEW's award-winning small-batch bourbon is fermented using a type of yeast used for saison pale ale beer, offering a malty and spicy profile with notes of clove, cinnamon, and vanilla.
Region: Illinois
ABV: 46.5%
Tasting Notes: Malt, spice, clove, cinnamon, vanilla
Heaven's Door Straight Bourbon Whiskey
Best from Tennessee: If the bottle design for Heaven's Door is what draws you in, what's inside will keep you coming back. While many Tennessee-based distilleries hide the bourbon name on the label, Heaven's Door states it proudly. One of the more notable celebrity-owned liquors in terms of quality, the brand was co-founded by Bob Dylan back in 2018 and driven by a real passion for the craft. This flagship expression is a small-batch straight bourbon aged for 6 years entirely in the Volunteer State and offers a profile of caramel, dried fruit, bread, and butter.
Region: Tennessee
ABV: 46%
Tasting Notes: Caramel, dried fruit, bread, butter
Bib & Tucker 6 Year Bourbon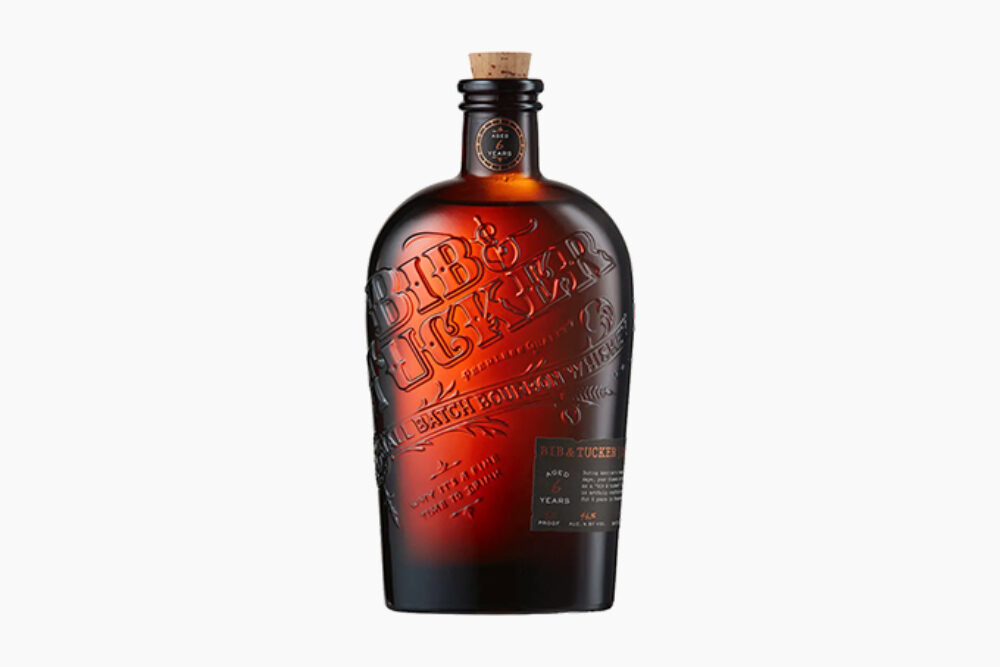 Best Overall: If you hear someone use the antiquated phrase "bib and tucker" in everyday conversation, you'd be tempted to look around for a time machine — that is, unless they were referring to this cult-favorite bourbon based in Northern California but distilled in Tennessee. The flask-shaped bottle sports an embossed logo with a small Prohibition-style label in the corner. Double distilled and aged for 6 years, this small-batch high-rye bourbon whiskey is about as traditional as you can get, regardless of the region.
Region: California/Tennessee
ABV: 46%
Tasting Notes: Fruit, vanilla, caramel, dried apricots, ginger spice
Penelope Architect
Runner-Up: One of MGP's finest, Penelope Bourbon — named after the founder's daughter — is only around 5 years old, yet has made quite a name for itself within the bourbon community by delivering a custom mashbill from the Indiana distillery and adding some flair to it. Released last year, this Architect expression combines a trio of four-grain mashbills which are then distilled and aged between 4 to 5.5 years before being finished with French oak staves. The profile is sweet and decidedly creamy, with notes of vanilla, dark fruit, and strong oak.
Region: Indiana/New Jersey
ABV: 52%
Tasting Notes: Sweet, creamy, vanilla, dark fruit, oak
Old Elk Wheated Bourbon
Best Wheated: While most of its whiskies are made from a combination of corn, rye, and a hefty serving of malted barley, the Colorado-based distillery's Wheated expression swaps the rye for wheat and pumps it up to a whopping 45%. Old Elk was founded a decade ago by individuals with a lot of experience in the industry, including a master distiller who used to be over at MGP. You can always rely on wheated bourbons to produce a unique character on the palate, and this is no different, with flavors of almonds, pralines, marzipan, and toffee with some floral notes and a smooth finish.
Region: Colorado
ABV: 46%
Tasting Notes: Almonds, pralines, marzipan, toffee
George Remus Repeal Reserve Series VI
Best Top Shelf: Perhaps the most notable MGP-owned distillery is George Remus, named after a famous bootlegger during Prohibition. The Indiana-based brand annually honors the repeal of Prohibition in 1933 with its uber-popular Repeal Reserve series. Housed in a Gatsby-inspired bottle (the original Remus is thought by some to have inspired the literary figure), this sixth iteration marries five rare reserve whiskeys from 2008 to 2014, all with high-rye mashbills for a profile of candied fruit, fig jam, toffee, and mint, with a leather and rye spice finish.
Region: Indiana
ABV: 50%
Tasting Notes: Candied fruit, fig jam, toffee, mint, leather, spice
Garrison Brothers Guadalupe
Best Cask Finished: Producing everything in-house since launching in 2006, the Garrison Brothers has become synonymous with Texas bourbon. Debuting in 2021, its annual Guadalupe expression takes the distillery's four-year Straight Bourbon and finishes it for an additional two years in port wine casks from Portugal before being bottled at 107 proof. At its base, the expression bears some of Garrison Brothers' signature char, butter, and leather notes, but with some added sweetness, ranging from chocolate to cinnamon to strawberry to even lavender honey.
Region: Texas
ABV: 53.5%
Tasting Notes: Char, butter, leather, chocolate, cinnamon, strawberry, lavender honey
The Best Bourbons From Kentucky
If you want to explore the whiskeys from the state where it was invented, head over to our guide to the best Kentucky bourbon to drink.