For the better part of this century, there has been an ongoing trend toward larger case sizes in the watch industry. Big men's watches are nothing new — tool watches like dive watches and pilot's watches in 40mm-plus sizes have been around for more than half a century — but lately, they've become ubiquitous when they used to be outliers. 40 to 42mm is now considered mainstream for a men's watch, with larger sizes also being commonplace. Before the late '90s, 36 to 38mm was the norm… or smaller if we're talking dress watches. So where does one go today to find small watches for men?
Right here, of course. While sub-40mm watches are nowhere near as common as they used to be, there are still plenty of great ones out there for the small-wristed and classically inclined among us. The best small watches for men offer up all of the style and capabilities that you'll find in large modern watches, but they do so in a more conservative and comfortable package. Most of the big brands still offer at least some men's watches in smaller sizes, and a slew of newer microbrands are also helping to bring back the 30-something-millimeter watch for guys. So take a stand against the scourge of oversized watches and check out our list of the best small watches for men below.
A Trend Towards Small Watches
While 40mm+ seems to still be the most common dimension for timepieces, the preponderance of vintage and retro-styled watches in recent years has seen, naturally, an increase in smaller watches. Few enthusiasts want a faithful reissue of a watch from the '60s or '70s with a larger case size. This trend has in turn opened up the door for wearers to the benefit of going smaller –– even opting for actual vintage pieces themselves. These days, much of men's fashion seems to err on the side of comfort, and smaller watches are definitely more comfortable.
Are Smaller Watches Better?
This is a reasonable question to ask. Large watches can offer higher water resistance, more durability, and an overall more aggressive wrist presence, smaller watches are just more comfortable. While the extra few millimeters may not make much of a difference in terms of legibility, they do actually make a difference when it comes to how the watch feels on your wrist. A larger watch also typically means a thicker watch and, even worse, a heavier watch. When these are paired together, you may actually experience wrist fatigue over the course of a long day, especially if you have smaller wrists.
Under 40mm
The Cutoff Point
40mm is often regarded as the standard middle-of-the-road case size for modern watches, with anything below it considered on the smaller side. These just-under-40mm watches are considered the sweet spot for many wearers.
Baltic Aquascaphe
Why It Made the Cut
The flagship watch for this French microbrand has a vintage diver quality with classy aesthetics.
Baltic is a French microbrand that's only been around for a handful of years, but they've quickly established a large following and a solid reputation — and they mostly have this watch to thank for it. A vintage-style dive watch with a truly original design, the Aquascaphe features a part-sandwich dial, a large domed sapphire crystal, and an always-good-to-see sapphire bezel insert for a retro diver with a bit of modern flair.
Case Size: 39mm
Water Resistance: 200m
Movement: Automatic
Seiko Prospex "Alpinist"
Why It Made the Cut
This fan-favorite from the Japanese watchmaking icon has nice contrast with 200m of water resistance despite the smaller case size.
Japanese watchmaking giant Seiko has more than a few icons in their catalog, and one of the most noteworthy is the Alpinist. The brand's classic field/mountaineering watch is a fan-favorite thanks to its beautiful traditional looks and strong feature set that includes a sapphire crystal, 200m water resistance, and an inner rotating compass bezel. The current version is a member of Seiko's upmarket Prospex line and features an upgraded in-house automatic movement.
Case Size: 39.5mm
Water Resistance: 200m
Movement: Automatic
Yema Superman Heritage
Why It Made the Cut
Yema's Superman Heritage is a modern version of its legendary '60s diver, with vintage looks and timeless appeal.
Yema is a French watchmaker with a ton of history behind them, and after a few uninspired decades, the brand has recently come roaring back to life with loads of killer new watches and even some in-house movements. But their bread-and-butter remains this, the modern-day version of their '60s Superman diver. The flagship for the brand, it's a rare opportunity to get a true dive watch icon from the glory days of wristwatches at an affordable price.
Case Size: 39mm
Water Resistance: 300m
Movement: Automatic
Grand Seiko GMT SBGM221
Why It Made the Cut
GS doesn't have a ton of field watches, but this is perhaps the closes thing, with a 24-hour dial, a GMT complication, and a small 38.5mm case size.
As the high-end luxury spinoff of Seiko, there are a few hallmarks that Grand Seiko is known for, like their minute attention to detail, their unmatched finishing prowess, and their mastery of the GMT complication. All three come together in this cult-favorite watch, a dressy automatic GMT with the brand's signature razor-sharp hands and indices and plenty of GS's trademark Zaratsu polishing to go along with its classy ivory dial and striking blued steel GMT hand.
Case Size: 38.5mm
Water Resistance: 30m
Movement: Automatic GMT
Audemars Piguet Royal Oak "Jumbo" Extra-Thin
Why It Made the Cut
AP's Royal Oak is one of the most iconic watches in the game, no matter what the size.
The Audemars Piguet Royal Oak is one of the most iconic watches ever made but rarely is it considered a small watch. But the Royal Oak's reputation today is due to its popularity with action stars and athletes, who often opt for the massive Royal Oak Offshore and other larger-cased versions. But the ironically named "Jumbo" Royal Oak is really the one to get, as its conservative case size and design hew more closely to Gerald Genta's original 1972 design.
Case Size: 39mm
Water Resistance: 50m
Movement: Automatic
38mm & Under
A Little Smaller
Accessible to a wide range of wrists, watches in the 36+ to 38mm case size are traditionally known as "mid-size" watches. They're wearable and comfortable for many wrists and frequently are available in sports watch styles like dive watches and chronographs.
Hamilton Khaki Field Mechanical
Why It Made the Cut
Hamilton's super-rugged field watch is a favorite for its accessible size, 24 hour dial, and retro aesthetic.
Speaking of classic military watches, here's one that needs no introduction. An evolution of the original Hamilton field watches worn by American soldiers in World War II, the Khaki Field today is considered the archetype of the genre. Its design has inspired countless other field watches, and it remains as versatile, stylish, and robust as ever. It's Hamilton's flagship watch, and when you consider the brand's other iconic offerings, that's saying something.
For a deeper dive, check out our review of the Hamilton Khaki Field Watch.
Case Size: 38mm
Water Resistance: 50m
Movement: Manual-Wound
Christopher Ward C60 Trident Pro 300
Why It Made the Cut
A luxury watch with a budget-friendly price, Christopher Ward's Trident Pro 300 offers 300m of water resistance and a comfortable wearability.
Christopher Ward may have been the original microbrand as the first company to sell watches exclusively online back in 2005, but they're now a full-fledged brand with their own Swiss factory and TV advertisements. But they still provide a heck of a bargain, as seen in their flagship diver, which thankfully is still available in a midsize 38mm variant (there's also a 40 and a 42mm). The brand dropped the water resistance down from 600m of the Trident Pro 600 to a reasonable 300m, which allows the watch to be nearly 2mm thinner. With a lumed ceramic bezel and a stunning Light-catcher case, it's hard to beat this for under a grand.
For a deeper dive, check out our review of the Christopher Ward C60 Trident.
Case Size: 38mm
Water Resistance: 300m
Movement: Automatic
Nivada Grenchen Chronomaster Aviator Sea Diver
Why It Made the Cut
This recently-revived watch brand offers faithful recreation to the original funky chronograph from the '60s.
One hot segment of the watch industry right now is once-forgotten brands that have recently been resurrected. Some of these revivals aren't really worth your time, but one that definitely is is Nivada Grenchen. Renowned for its funky '60s dive/aviation chronograph, the Chronomaster, the brand and watch were recently brought back to critical acclaim — as the new watch is a dead-ringer for its original, right down to the case size. The quirky chrono packs in a dive bezel, a 12-hour bezel, a yachting regatta timer, and a tachymeter for good measure.
Case Size: 38mm
Water Resistance: 100m
Movement: Manual-Wound Chronograph
Omega Seamaster Aqua Terra
Why It Made the Cut
Omega's Aqua Terra is an adequate small-watch substitution for their larger Seamasters, blending dress and sports watch styles.
The mid-size version of Omega's Aqua Terra might be the best everyday watch made by anyone… ever. What makes it so perfect? For one, there's the styling. It's universally attractive and lands squarely in the middle between sports watch and dress watch, making it suitable for all occasions. Then there's the capability. It's water-resistant to 150m, its magnetic resistance is an absurd 15,000 gauss (60-gauss resistance is considered "good"), and it's more accurate than a COSC chronometer. Throw in a 38mm case and there's simply no beating it.
For a deeper dive, check out our review of the Omega Seamaster Aqua Terra.
Case Size: 38mm
Water Resistance: 150m
Movement: Automatic
Zenith Chronomaster Original
Why It Made the Cut
Zenith's legendary El Primero movement gets put in this multi-colored chronograph, faithfully reissuing the 1969 timepiece.
Zenith's El Primero movement is one of the most legendary in all of watchmaking, as it was arguably the first automatic chronograph ever invented. The El Primero still shows up in plenty of Zenith watches today, but if you want to experience the caliber in its purest form, then this is the watch for you. A faithful reissue of the Zenith A386 from 1969 — one of the first El Primero chronographs — this watch thankfully keeps not only the original's 38mm case size, but even the OG case's finishing style.
Case Size: 38mm
Water Resistance: 50m
Movement: Automatic Chronograph
Blancpain Fifty Fathoms Bathyscaphe
Why It Made the Cut
Blancpain's Bathyscaphe variant of the iconic Fifty Fathoms keeps the smaller cases of the original from the '50s.
Speaking of firsts, Blancpain has the distinction of inventing the professional dive watch, with their Fifty Fathoms just barely beating the Rolex Submariner and Zodiac Sea Wolf (maybe) to market in 1953. The modern Fifty Fathoms are relatively large watches for the most part, but the classic Bathyscape variant keeps things vintage-inspired with its 38mm case size. That makes sense, as the Bathyscape first made its debut in 1956 with the intention of being a smaller, unisex diver.
Case Size: 38mm
Water Resistance: 300m
Movement: Automatic
Patek Philippe Calatrava Small Seconds
Why It Made the Cut
One of the most influential dress watches of all time, Patek Philippe's Calatrava mustn't be forgotten when discussing sub-38mm timepieces.
Saying the words "Patek Philippe Calatrava" around certain members of the watch community can be highly dangerous, as it's known to cause feelings of dizziness and buckling knees. We're exaggerating (sort of), but the influence and prestige of this watch cannot be overstated. The signature dress watch from the most esteemed of watchmakers, the Calatrava is an icon that has been an object of desire for decades. In our humble opinion, it is best expressed in this reference, which couples its ultra-thin solid yellow gold case with a simple small-seconds complication.
Case Size: 37mm
Water Resistance: 30m
Movement: Manual-Wound
36mm & Under
Keepin' It Classic
The most traditional men's watch sizes fall into this category. These days, men's watches that are this small tend to mostly be dress watches, but field watches are also fairly common in the space.
Timex Marlin Hand-Wound
Why It Made the Cut
Timex's Marlin Hand-Wound brings unfettered vintage charm to its budget-positioned range.
While it's true that it's mostly luxury brands playing in the "conservatively-sized vintage watch reissues" sandbox, the trend isn't exclusive to them. Blue-collar American heritage brand Timex has been doing the same a lot lately, often with more care and accuracy than more expensive brands. And this is the watch that kicked off the trend for the brand that "takes a lickin' and keeps on tickin'" — a handsome 34mm hand-winding dress watch that would be right at home on Mad Men.
Case Size: 34mm
Water Resistance: 30m
Movement: Manual-Wound
Lorier Falcon
Why It Made the Cut
Despite being a relatively new brand, Lorier brings one of the finest vintage-inspired catalogs to the table, including this Falcon everyday watch.
New York-based microbrand Lorier may not have a large back catalog from which to draw inspiration — give them a break, the brand's only been around for three years — but they're more dedicated to preserving mid-century style and sizes than arguably any modern brand, big or micro. The Falcon is their take on a "go anywhere, do anything" watch, and its 36mm case, gobs of Super-LumiNova, classic styling, fully-articulating bracelet, and 100m water resistance all serve to reinforce that designation.
Case Size: 36mm
Water Resistance: 100m
Movement: Automatic
Marathon Arctic MSAR
Why It Made the Cut
Adventure watches like the Marathon Arctic MSAR are typically bulky and oversized, but this one brings durability and reliability to your wrist for tactical situations.
The idea that a watch has to be the size of a hockey puck to be rugged and masculine is, of course, nonsense. But in case you needed more convincing, we present to you the formidable MSAR. With a name that stands for "Medium Search and Rescue," this 36mm dive watch proves that size doesn't matter when it comes to tactical watches. Built to military specifications in accordance with the U.S. Government and worn by troops overseas, this is as tough as watches get — at any size.
Case Size: 36mm
Water Resistance: 300m
Movement: Quartz
Junghans Max Bill Hand-Winding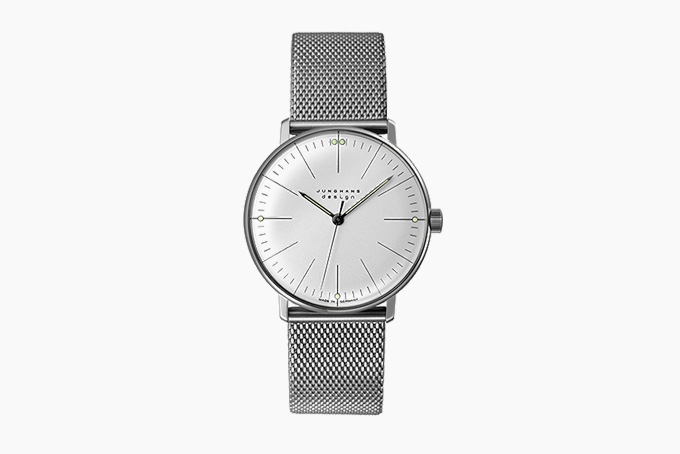 Why It Made the Cut
With almost-unnoticeable indices, this Max Bill from Junghans deserves a spot on this list for its iconic design language and dedication to aesthetic.
Junghans is the king of Bauhaus design thanks to the German brand's association with master of the style, Max Bill. The original Max Bill watch debuted 60 years ago, and it remains the template for minimalist dress watches today. This version is perhaps the purest form of the design thanks to its clean dial, mid-century-appropriate 34mm case size, and svelte 9mm thickness — the latter a product of the watch's hand-wound movement.
Case Size: 34mm
Water Resistance: Splash Resistant
Movement: Manual-Wound
NOMOS Club
Why It Made the Cut
This white-dial watch from NOMOS proves there can be nuance and sportiness within a minimalist framework.
German watchmaker NOMOS is arguably the industry leader in small watches. The bulk of their large catalog consists of sub-40mm watches, they classify 38mm as "large," and they even make 33mm dress watches. So it should come as no surprise to find them on this list, the only question is, which NOMOS model would it be? We went with the original Club, as its dressy/casual looks, versatile 36mm case size, and low price point make it an ideal choice for, well, just about anyone.
Case Size: 36mm
Water Resistance: 100m
Movement: Manual-Wound
Oris Divers Sixty-Five 36
Why It Made the Cut
This 36mm diver from Oris harkens back to a time when that was common in the category.
Once upon a time, luxury watchmakers routinely made midsize versions of their dive watches, often in 36mm. For instance, Omega made a 36mm Seamaster 300m Diver for decades, and it was excellent. But that trend has since gone the way of the dodo, with basically only Oris keeping the flame alive. Lucky for us, they're doing a bang-up job of it, with the mini version of their vintage-style Divers Sixty-Five functioning as an exceedingly comfortable and easy-wearing version of a modern favorite.
Case Size: 36mm
Water Resistance: 100m
Movement: Automatic
Tudor Black Bay 36
Why It Made the Cut
Rolex's sister brand changed the game with the Black Bay line-up, and this retro beauty could be the best "just get this" option for the money.
As the more affordable sister brand to Rolex, Tudor has traditionally offered up cheaper versions of its sibling's watches. And while it's not a one-to-one comparison, you can pretty much think of the Black Bay 36 as Tudor's take on the Rolex Explorer. It's the same size at 36mm, offers a similar no-date style that sits at the intersection of dressy and sporty, and even offers 100m more water resistance. It may not have made it to the summit of Mount Everest like the Explorer (that we know of, anyway), but give it time.
For a deeper dive, check out our review of the Tudor Black Bay 36.
Case Size: 36mm
Water Resistance: 100m
Movement: Automatic
IWC Pilot's Watch 36
Why It Made the Cut
Going against type with this diminutive pilot's watch, IWC still bring style and utility to the aviator's wrist.
Pilot's watches are traditionally oversized, and it's been that way for decades. They're bigger to enhance their legibility, as pilots moving at breakneck speed need to gather information from their wrist quickly without having to search for it. But let's face it, most of us aren't pilots, and if you have a small wrist, then most pilot watches are going to feel like strapping a dinner plate to your arm. But not this one. The most ubiquitous pilot watchmaker of them all has shrunken down their icon to a very wearable 36mm size, opening up their flyboy style to a wider audience.
Case Size: 36mm
Water Resistance: 60m
Movement: Automatic
Rolex Explorer
Why It Made the Cut
Arguably the most important sub-40mm watches from Rolex, the Explorer recently went back to its original 36mm size.
For the most part, Rolex has avoided the big watch craze that has conquered most of its competitors. Sure, they've beefed up the Submariner to 41mm and introduced larger versions of the Datejust and Day-Date, but the Crown still offers several men's models in sub-40mm case sizes, with perhaps the most important being the Explorer. While never touching 40mm, the Explorer was trending larger at 39mm for several years, but in 2021 Rolex bumped the classic Mount Everest-topper back down to its original 36mm case size, signaling that perhaps the oversized watch craze isn't long for this world.
Case Size: 36mm
Water Resistance: 100m
Movement: Automatic
Cartier Tank Louis Cartier
Why It Made the Cut
Cartier's Tank is an absolute legend, with a history that dates back over a century, remaining a pinnacle of class still today.
Cartier may classify this as the "Large Model" of its most iconic dress watch, but make no mistake, this is a small watch. Going by modern tastes, this 100-plus-year-old design is downright minuscule; possibly too small even for a women's watch by some metrics. But don't count out the Tank. It's endured for over a century for a reason, and it remains the pinnacle of class. And with men like Muhammad Ali and Clark Cable having been well-known Tank-wearers in the past, there's certainly no shame in rocking one of these little rectangular beauties today.
Case Size: 33.7mm x 25.5mm
Water Resistance: 30m
Movement: Manual-Wound
The Best Watch Accessories
Regardless of the size of your watches, you're going to need some proper accessories to complement your collection. We're talking watch boxes, all kinds of straps, and tools for minor DIY repairs. There's a lot out there to choose from at a wide variety of price points, so we've cut through the junk to track down the best watch accessories to complete your collection. No need to thank us, it's what we do.