One of the best things about everyday carry is that, for the most part, EDC gear is moderately affordable. Sure, there are outliers — knives that sell for thousands, watches in the million-dollar range, etc. — but a good deal of the pocketable tools on the market are relatively inexpensive.
That can be a huge boon during the holiday shopping season, as it means you can gift people superb pocketable items without breaking the bank. In fact, there's a wealth of things you can pick up — ranging from wallets to keychains and everything in-between — for under half-a-Benjamin each. In this guide, we've rounded up 25 of our favorite everyday carry gifts you can get for under $50.
Field Notes Pocket Notebooks
Made in America and available in a number of different styles and colorways, Field Notes makes some of the absolute best pocket notebooks around. If you know someone who likes to jot down notes and/or ideas, this is a superb budget-friendly holiday gift.
Opinel No. 04 Keychain Knife
Boasting the same iconic silhouette Opinel has been producing for over a century, the No. 04 takes the French brand's signature folding knife style and pares it into a keychain-friendly format. It's still made from Sandvik steel and beech wood, which makes it just as high-quality as its brethren.
Big Idea Design Titanium Pocket Bit
Seemingly small and simple, Big Idea Design's TPT is a super-handy tool that allows you to tighten or loosen flathead or Philips screws on-the-fly. And since it's so small and comes with its own keyring, all you have to do is attach the rest of your keys and keychain tools.
Gerber Dime Keychain Multi-Tool
One of the handiest keychain multi-tools around, the Gerber Dime has been amongst the best since its inception some years ago. That's aided by a sturdy stainless steel construction, 10 built-in tools, and a number of colorway options.
Handgrey Knox Titanium Keyring
Far sturdier than traditional keyrings and also easier on your fingers, Handgrey's Knox is made from ultralight, ultra-tough titanium — making it a superior option to all those standard metal ones you've been fussing with all this time. And the split ring design makes removing and adding keys and tools so much simpler and less frustrating.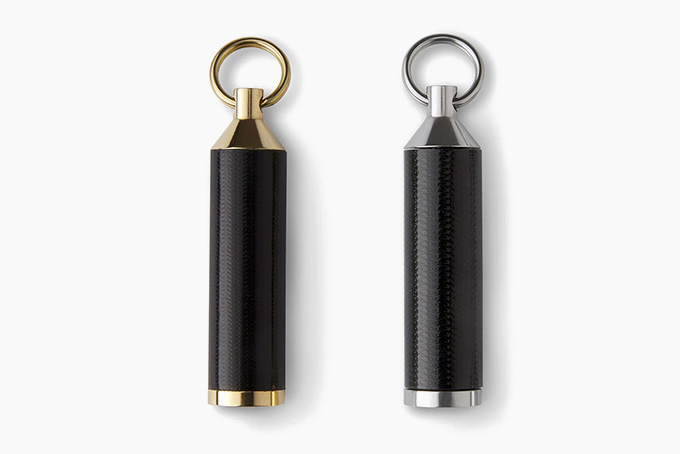 Gearward Keychain Duct Tape
Duct Tape might is almost definitely one of the most widely useful and versatile tools mankind has ever created. And this little keychain accessory gives you and/or your gift recipient access to up to 24″ of the stuff anywhere and everywhere. Plus, it's made in the USA.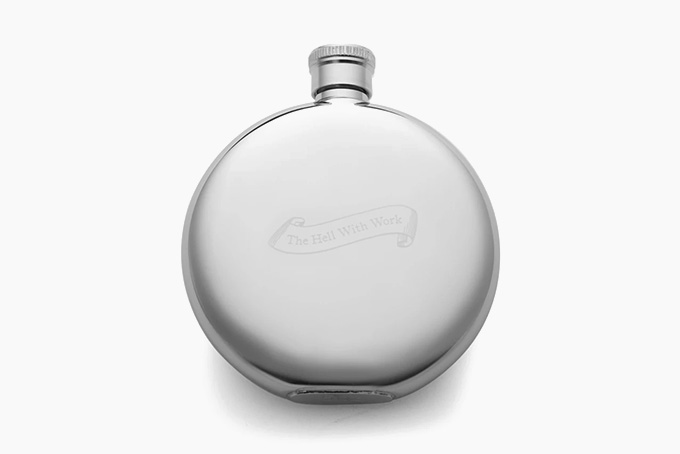 Izola Hip Flask
A handy vessel in which you can transport a swig or two of your favorite spirit, Izola's hip flasks are made from solid stainless steel, they have leakproof screw-top lids, and they can hold up to 3 ounces. If you know an EDC enthusiast that doesn't have one, this makes for an excellent gift.
Fisher Space Pen Bullet
Small enough to fit in even the most crowded of pockets and boasting a pressurized cartridge that is capable of writing upside-down, underwater, or in zero gravity, Fisher's Bullet Space Pen may very well be the single best everyday carry pen of all time.
Bradley Mountain Key Fob
An alternative to traditional keychains, Bradley Mountain's Key Fob is a handsome, heritage-level key hauler that can keep your jingly keys from getting bunched up in your pocket and make them more easily-accessible by instead attaching them to a belt loop. It's also made in the USA, built from bridle leather and antique brass, and measures 4.25″ in length.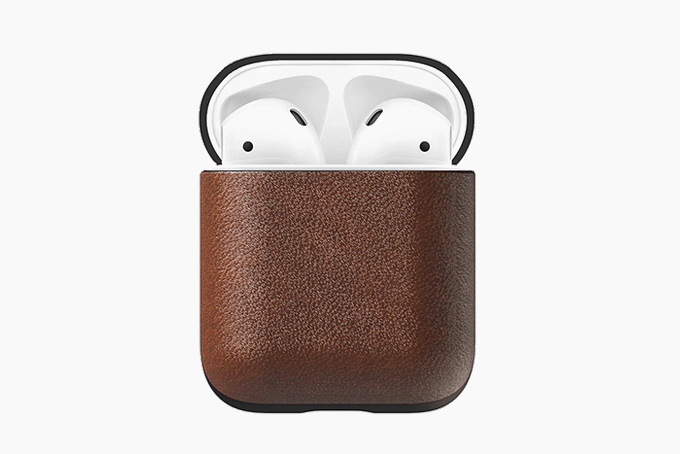 Nomad Rugged AirPod Case
The perfect heirloom-level addition to everyone's favorite wireless earbuds — Apple's AirPods — the Nomad Rugged Case adds a touch of class to your tech. And while it's made from gorgeous and durable Horween leather, it's still compatible with wireless charging.
Aukey Wireless Power Bank
Now that more and more pieces of tech are going the way of Qi wireless charging, it makes sense to pick up a power bank capable of making use of that mode of charging, like this one from Aukey. With an 8000mAh battery, this can charge an iPhone 11 Pro fully more than twice. Of course, if you still need it, there's also a USB port.
Douk-Douk Friction Folding Knife
Boasting a silhouette and styling that's remained largely unchanged for the better part of the century, the Douk-Douk friction folder is an EDC classic that belongs in every knife enthusiast's collection — making it an ideal gift this holiday season. Just remember, while it boasts a high-quality construction of steel, it does not have a lock of which to speak — instead relying on the friction of the user's hand to keep it deployed in use.
Victorinox Cadet Swiss Army Knife
Every everyday carry fan should own at least one Swiss Army Knife. And the Cadet with its Alox scales, stainless steel tools, 9 built-in functions, and a trio of colorways is one of the most classic and best options around. It's even small enough that some intrepid carriers might put it on their keychain.
Trayvax Armored Summit Wallet
One of the toughest minimalist front-pocket wallets around, the Trayvax Summit boasts a stainless steel melonite-finished frame, mil-spec nylon webbing, an ultra-durable armor plate, and the ability to carry up to 7 cards and 5 bills. Best of all, it comes with a lifetime warranty.
Hella Slingshot No. 3
Though admittedly not for everyone, a slingshot is a classic tool that will instill plenty of nostalgia in those who grew up with one always in their back pocket. Perfect for the grown-up Bart Simpsons of the world, this USA-made slingshot is crafted from genuine forked tree branches and comes with a leather pouch and latex bands.
Maxx & Unicorn Money Clip
An especially handy and minimalist wallet alternative, Maxx & Unicorn's beautiful Money Clip is superb for hauling cards and cash when you can't otherwise carry a traditional cash and card carrier — like formal events. It's also laser engraved and made in the USA.
WESN Quick-Release Titanium Keychain
Perfect for anyone who wants fast access to their keychain tools without having to fiddle with the rest of the gear on their keychain, WESN's Quick-Release Titanium Keychain is a speedy minimalist EDC accessory. Plus, its construction means it was made to last a lifetime.
TEC Accessories Titanium Picopen
While the written word has waned a bit, it's still remarkably important to have a writing utensil in your EDC loadout — whether that's for emergencies, writing down notes or phone numbers, or otherwise. This titanium one has the added benefit of being small enough to stash on your keychain.
Timex Expedition Ranger Watch
If you're going to pick up a budget timepiece, it should almost definitely be a Timex — whether for yourself or as an EDC gift. This one features a reliable quartz movement, a brass case, a rotating bezel, and a handsome leather strap.
Craighill Ripple Bottle Opener
You never know when the time might come to crack open a cold beer and sit down for a spell to enjoy it. As such, you should have a bottle opener in your EDC and you could do far worse than this handsome pocket-sized offering from Craighill. It's also made in the USA from solid steel, so you know you can rely upon it for years to come.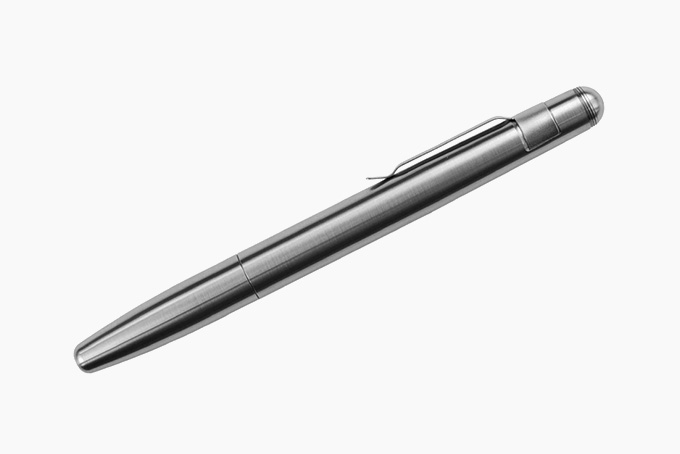 Machine Era Markup Pen
An updated and improved version of Machine Era's most popular writing utensil, the Markup Pen is built from solid stainless steel, has a screw-on cap with threading on the tail for cap attachment when the pen is in use, and it's completely free of springs or mechanisms that might break down — meaning this USA-made pen is made to last a lifetime.
Dango Coin Capsule + Tether
Whether you know someone who likes to frequent the arcade, does their laundry at a laundromat, or they just understand the value of physical coinage, Dango's Coin Capsule + Tether is an invaluable accessory. It can hold up to 42 coins of varying denominations, is built in the USA from sturdy aluminum, has a 550 paracord woven lanyard with a rifle belt clip, and more.
Olight S1 Mini Baton Flashlight
One of the best pocketable everyday carry flashlights ever built, Olight's impressively small S1 Mini Baton measures up at just 2.13″ in length and weighs only 1.52 ounces. Yet it can produce an output of up to 600 lumens, runs for up to 15 days, and boasts IPX8 waterproofing.
WESN Microblade Titanium Keychain Knife
With the same cutting power as its larger counterparts, but a silhouette that measures up at only 3.75″ when fully deployed, WESN's Microblade Titanium Keychain Knife — equipped with an AUS-8 steel blade — is the perfect solution for any EDC enthusiast who needs a cutting tool but doesn't have a ton of space.
The James Brand Halifax Keychain Multi-Tool
Constructed from incredibly tough and lightweight billet titanium, TJB's Halifax Keychain Multi-Tool is just shy of indestructible. And that makes it an enticing pickup, especially when paired with its quartet of built-in functions — which includes a prybar, driver, and integrated bottle opener. Plus the whole beautiful package is completely TSA-friendly, making it ideal for travelers.
The Wishlist: 20 Best Everyday Carry Gifts
If you've got more scratch to spend than $50, you're in luck. We've put together another guide to the best everyday carry gifts you can pick up for a wide range of prices.