Over the last few decades, the number of everyday carry knife styles available for purchase has expanded practically exponentially. That means, regardless of what style or materials you want out of yours, you can probably find a bunch of different options. In the case of this article, we sought out blades with a natural material in their construction: wood.
Even when you narrow down your search to something like wood handle EDC blades, there are still so many options out there that it can be hard to suss out which ones are worth your time. Lucky for you, we did the grunt work already. The following list is a collection of what we believe are the absolute best wood handle everyday carry knives available for purchase right now.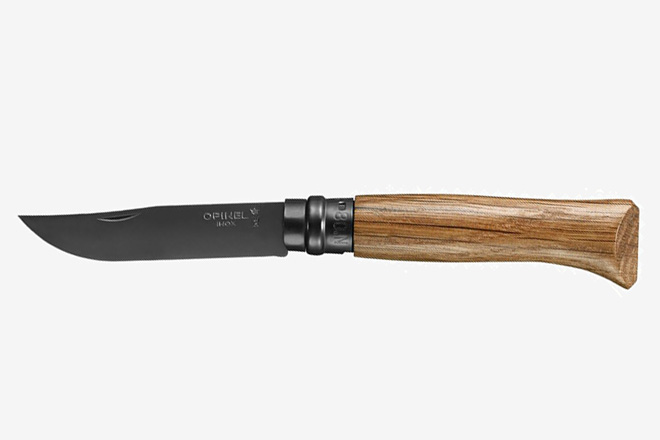 Opinel No. 8 Knife
With your choice of either a beech or oak wood handle (or a fiberglass-reinforced polyamide, if you don't like wood), this is a handsome and simple minimalist addition to any EDC loadout. And while it features a classic silhouette that looks great for any occasion, it's also built sturdy enough to be used in the outdoors. Honestly, at the base-level price point, you're not going to find a better knife than this one.
Handle Wood: Varying
Blade Steel: 12C27 Sandvik
Buck Knives 110 Hunter Knife
One of the most popular folding knives of all time, Buck's 110 Hunter is as iconic as everyday carry knives get. But it isn't all appearances, either, as the materials back up this knife's popularity. The 440HC steel is easy to work with and both easy to keep razor sharp and corrosion-resistant, and the quality of the build is backed up by the brand's lifetime warranty. Plus, this one is made in the USA, as an added bonus.
Handle Wood: Walnut
Blade Steel: 420HC
Deejo 37g Knife
When it comes to both minimalism and stylishness, it simply does not get better than Deejo's 37G knife. And while the silhouette is the same for all varieties, the different combination of blade finishes and handle materials means you can find one to match your style every single day. And, even if you think you can't, the brand offers up a customization option, so you can literally make one to suit your needs. Not bad, for such an inexpensive offering.
Handle Wood: Varying
Blade Steel: 420
CRKT M4-02W
Kit Carson was a superb knife designer who specialized primarily in tactical knives, but that doesn't mean it was the only thing he was good at. In fact, his M4-02W from Columbia River Knife & Tool is a perfect example of exactly how wide-ranging his style can be. With an appearance that resembles an heirloom knife, but a relatively low entry point, this is an excellent timelessly-styled EDC knife that promises a great amount of value.
Handle Wood: Burl
Blade Steel: 8Cr14MoV
SOG Twitch II Knife
While SOG's Twitch II might look pretty simplistic at first glance, it's actually fairly intricate – thanks primarily to its unique back-locking system. This flipper-style knife is also remarkably small, it's blade measuring up at under 3″ total – making it perfect for carrying in places with length restrictions on everyday carry knives. Plus, you still get SOG's legendary quality, which is backed up by a lifetime warranty.
Handle Wood: Rosewood
Blade Steel: AUS-8
Boker Plus Urban Trapper Knife
Boker's standard Urban Trapper is already one of the best gentleman's folders, but the addition of wood handle scales (cocobolo, in this case) only strengthens the blade's standing. Seriously. this knife has an incredibly slim and slender design that looks like it might have been carried by a greaser gang, ala West Side Story – except with a little less singing and a little more slashing. And while we'd certainly never suggest using it for violence, the sleek-yet-aggressive appearance is a bonus, in this case.
Handle Wood: Cocobolo
Blade Steel: VG-10
Victorinox Swiss Army Ranger Knife
Swiss Army Knives are made with any number of handle materials, but we're especially fond of their wood-handled options, like the Ranger you see pictured here. Made from walnut and the brand's proprietary tool steel, this knife features a whopping seven different tools with over 10 different functions, including a corkscrew, saw blade, bottle opener, screwdrivers, wire stripper, and more. Everyone should own an SAK and this one gets bonus points for style.
Handle Wood: Walnut
Blade Steel: Victorinox Stainless
Case 10290 Trapper Pocket Knife
Case is one of America's oldest pocket knife brands. They also happen to be one of the best. And they're known for their unique old-school style, which is evident in their dual-bladed Trapper pocket knife you see here. Available with a wide variety of handle materials (including bone, metal, synthetic materials, and more), this particular one comes with a unique sycamore wood handle mated to surgical steel for a stylish and effective combination. It's also made in the United States, if you need a little more of a push to pick this one up.
Handle Wood: Sycamore
Blade Steel: Tru-Sharp Surgical
A.G. Russell K12 One Hand Knife
Like Case, A.G. Russell holds an esteemed position amongst the best pocket knife makers and designers of all time. And with offerings like their K12 One Hand Knife, it's easy to see why. This knife is actually available with three different handle options – including both G10 and white bone – but we particularly love the cocobolo option. For reference: cocobolo is a wood native to Central America and is notable for its interesting deep orange and black striped appearance. As you might imagine, this knife can be completely operated (including opening and closing) with just one hand, which is handy in a pinch.
Handle Wood: Cocobolo
Blade Steel: 9Cr13CoMoV
Benchmade North Fork Knife
Headquartered out of Oregon City, OR – just a short drive south from Portland – Benchmade makes some of the best knives in the world, bar none. And when it comes to wood handled EDC knives, that's no different. What makes their North Fork knife stand out in particular is that the handle scales are actually made out of a combination of wood and resin. Sure, that means it's not solid wood, but it does mean it's a lot more stable and durable, which is an especially enticing prospect if you plan to use your knife for actual cutting tasks over a long period of time. For a wood handled offering that will last through generations of use, pick this one.
Handle Wood: Stabilized
Blade Steel: CPM-S30V
The James Brand County Knife
When we first laid eyes on The James Brand's County Knife, we were awestruck. It's a gorgeously designed tool, to be sure. But then we looked into it a bit more and our anticipation to get our hands on it only grew, because this knife is loaded with goodness. From the Sandvik steel blade to its multiple handle materials, we admire everything about this knife. Pair that with the slipjoint style that mimics the kinds of knives we had when we were kids and what's not to love?
Handle Wood: Varying
Blade Steel: Sandvik Stainless
Spyderco C11WDP Delica Knife
Most of Spyderco's offerings tend to be a little more in the tactical realm. That's not to say that they aren't beautiful – as their unique appearance is definitely noteworthy – but they are often more practical than not. They're not without surprises, however, as evidenced by this mahogany Pakkawood-handled Delica knife. For reference, Pakkawood is actually not solid wood, but rather an engineered wood and plastic composite that is far more durable than natural wood. That means this knife looks great and will last for potential generations of use.
Handle Wood: Mahogany Pakkawood
Blade Steel: HAP40/SUS410
Al-Mar Knives 1003C Falcon
Limited to just 200 examples, Al-Mar's wood-handled Falcon knife is a gorgeous gentleman's style folder with a lock back, stainless steel bolster mated to cocobolo handle scales, and an AUS-8 steel spear point blade. It's beauty is nearly unrivaled, which is only bolstered by its rarity. Sure, it's a bit pricey, but it's a functional work of art that won't be around forever. And that makes it definitely worth a second glance – if you don't snatch it up after the first.
Handle Wood: Cocobolo
Blade Steel: AUS-8
Fallkniven Gentleman's Pocket Knife
With its classic Scandinavian appearance, Fallkniven's Gentleman's Pocket knife is an heirloom-quality folder that's both abundantly handsome and incredibly functional. With a manual opening and liner lock, It's as simple as it is gorgeous, and has the added benefit of a unique free-swinging shackle on the handle's end – perfect for, say, a paracord lanyard, necklace, or to attach it to your hiking backpack. After all, if you carry this blade, you're going to want to show it off.
Handle Wood: Cocobolo
Blade Steel: CoS
15 Best Minimalist EDC Knives
If you're looking to slim down your pockets, but don't want to compromise on utility, dive into our list of the 15 best minimalist pocket knives for everyday carry.