The 4th of July is just a couple days away. And, as always, that's reason to celebrate. After all, the United States is both our home and our favorite country. If you, like us, get extra misty-eyed and ultra patriotic around the birth of this great nation, then we have a treat for you.
As you likely already know, we deeply value American craftsmanship. The goods and services provided by our fellow citizens are most often of the utmost quality, a fact which you can clearly see in any of our best USA-made gear guides. And while we love everything made within our borders, there's always going to be stuff that soars above and beyond everything else. Which is what the following collection of items is representative of – top-tier gear made in the United States.
For clarification's sake, this is not a completely exhaustive list, but rather a breakdown by gear categories. Within each category, we have included two options: one that is more reasonably priced (without any sacrifice on quality) and another that, for lack of a better word, is our holy grail in its given category. So, without further ado, this is the best American-made gear on which you can get your hands.
Adventure Coolers
Best Value: Bison Coolers 12-Can Softpak
Made from incredibly tough vinyl that's tear resistant to 375 pounds, this is an incredibly rugged cooler that can store up to 12 beers and keep ice cold for 24 hours straight – even in 120-degree heat. Better still, it also has MOLLE webbing on one side, so you can attach modular packs of your choice to it.
Top Tier: YETI Tundra 45 Cooler
It's hard to beat YETI when it comes to adventure coolers. Which is especially true when it comes to their Tundra series. Made in the USA, this cooler can hold up to 26 cans and ice at a ratio of 2:1 – and it'll keep it cold for literal days. Seriously, this thing is as capacious and tough as they come and might be the greatest cooler of all time.
Adventure Pants
Best Value: Topo Designs Tech Pants
Lightweight, breathable, and stretchy – the Topo Designs Tech pants have everything that makes for a great pair of adventure bottoms. And while they're plenty comfortable, even with the slim fit, they're also finished with a DWR coating for extra weather resistance.
Top Tier: Filson Mackinaw Field Pants
Made with 100% virgin wool, these American-made outdoor pants are naturally water-repellant, which makes them great for any weather. And if you do plan on wearing them in the winter, that same water-resistant material is super warm. They also feature six pockets for all your gear, suspender buttons and belt loops, and a solid brass zipper cut by Filson.
Axes
Best Value: Estwing Special Edition Camper's Axe
Made from a combination of forged steel and genuine leather, this wood-cutting long-handled axe from Estwing is an excellent outdoorsman's tool – whether you're using it for firewood log splitting out behind your cabin or you're hauling it through the woods, building makeshift shelters as you go. Plus, it comes with a ballistic nylon sheath for safe and simple storage when not in use.
Top Tier: Best Made American Felling Axe
Designed from the ground-up in New York, this hefty cutting tool features an American-forged 5160 alloy steel drop-forged head, a premium hickory handle sourced from Appalachia with a unique paint job, and it comes with a premium leather sheath. A finer axe, we've never come across.
Backpacks
Best Value: Bramble Outdoor Daypack
Stylish enough to look great in an urban environment, but tough enough to handle the great outdoors, Bramble's Daypack is an exercise in functional minimalism – and an extremely successful one, at that. 18 liters of internal space, a sailcloth exterior construction (which also happens to be extremely water-resistant), and a built-in hydration sleeve, this is a perfect all-occasions backpack.
Top Tier: Defy Bucktown Backpack
Handmade right near the actual neighborhood for which it is named, Chicago-based Defy Bags' Bucktown Backpack is a perfect example of a carry solution in which no expense was spared. This bag is hardcore from tip to tail, thanks in large part to the M35 military truck tarpaulin vinyl out of which it is made. It also features a Cordura nylon interior liner, 23-liters of internal space, and a padded 17″ laptop compartment.
Board Shorts
Best Value: GoRuck Swim Trunks
Brought to you by the same brand that makes some of the most indestructible backpacks ever built, these swim trunks are super tough, stretchy for extra comfort, and will dry in mere minutes. And while they look and fit great, they also have the added benefit of a locking back pocket, so you can keep your most precious gear secure from pickpockets, even on the beach.
Top Tier: Birdwell Board Shorts
While $79 for a pair of board shorts might seem excessive, that's what you should expect to pay when you're getting the best of the best. Meshing classic styling with modern high-tech fabrics, these swimming trunks are comfortable, fast-drying, and as durable as they come.
Boots
Best Value: Danner Bull Run Work Boots
You can always depend on the offerings from Danner to be sturdy, handsome, and reliable. Their Bull Run work boots are no different. Made from premium leather and featuring an OrthoLite footbed, these work boots are comfortable enough to stand in all day and don't skimp on style or quality.
Top Tier: Red Wing Heritage Classic Moc Boots
In constant operation for over 100 years, Red Wing is an American heritage brand if there ever was one. And their history is backed up by the incredibly quality of their footwear. Take, for instance, their Classic Moc Boots. With a style that will always be in fashion, these are some of the toughest top-grain leather work boots out there. Really, it doesn't get better than this.
Bicycles
Best Value: Guerrilla Megatrail Bike
Built to handle rides to and from work just as well as it tackles hardcore alpine trails, this bicycle was built by folks who have a background in race car engineering – so you know it's got some of the best tech out there. It's also available with a number of different specs, from casual riding to racing, so you can pick your build depending on your personal preferences – for a price.
Top Tier: Mosaic Cycles Ct-1
Built from precision-machined titanium, this bike is the ultimate both in its beautiful appearance and a toughness to lightness ratio. It's simple (not fixed-gear simple, but not super far off), but it definitely gets major points for packing a lot of style in a minimalist package. And, while the price is certainly a high one, the American craftsmanship pairs perfectly with a ton of customization options, so your bike can fit your tastes to a T.
Dopp Kits
Best Value: Topo Designs Dopp Kit
Truly one of the best outdoor gear brands of our time, Topo Designs makes everything to superb standards. That's no different when it comes to their dopp kit. It's simple in its construction, but it still manages to be handsome as hell, lightweight and packable, and plenty spacious enough for all your toiletries.
Top Tier: American Bench Craft Leatherneck Dopp Kit
What really impresses us about this particular dopp kit isn't that it's made from super durable water-resistant ballistic nylon or that it features a MOLLE grid on one side. It's that it's actually made from retired assault pouches that were used by the U.S. Army. That means that, on top of being top-tier in regards to quality, these are also super limited.
Duffel Bags
Best Value: American Bench Craft Rescued Army Surplus Duffel
Like the dopp kit that came before it, this particular weekender bag is actually made from the same ballistic nylon bags the Army issues their soldiers, so you can be certain to depend on it for years of use – even in the harshest conditions in the world. It also features new leather accents, metal rivets, and comes with a lifetime guarantee.
Top Tier: Filson 48-Hour Duffel Bag
An American Heritage brand if there ever was one, Filson makes some of the most impressive gear available. That's especially true when it comes to their American-made gear – like this 48-Hour Duffel bag. As gorgeous as it is tough, this bag is water-repellant, has a 30-liter capacity, and has a whole host of pockets for easy organization.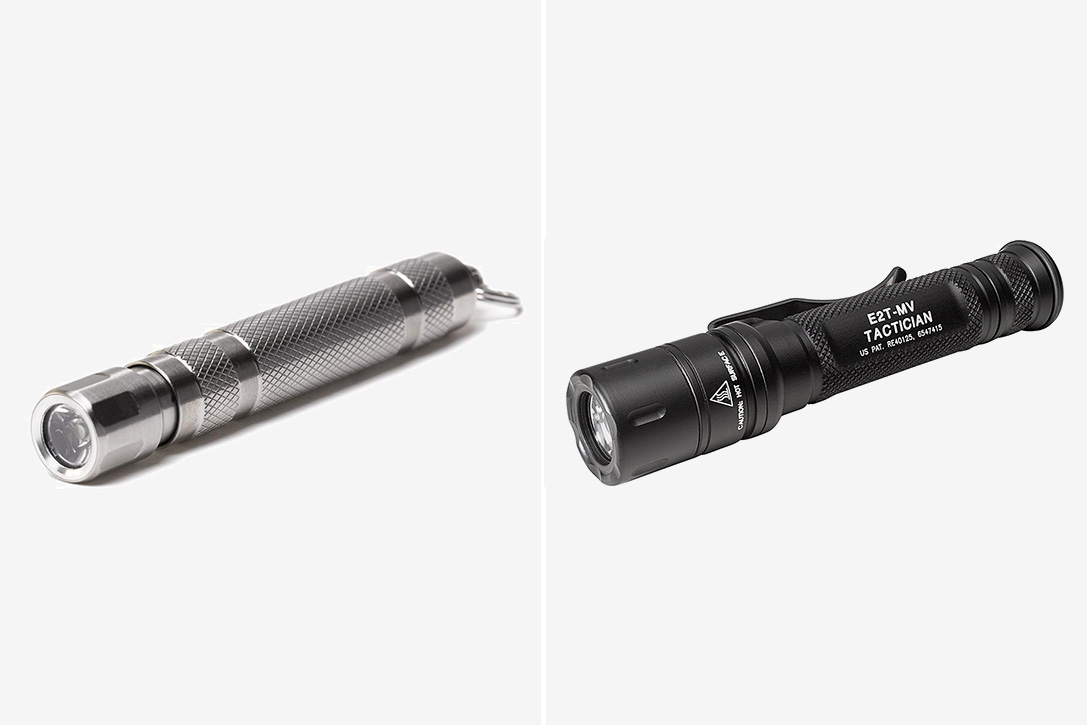 Flashlights
Best Value: Peak LED Solutions Eiger Flashlight
Technically speaking, some of the parts of this EDC flashlight come from overseas (read: the LED emitter). But we're giving it a pass because the rest of it comes from the USA and it was painstakingly machined here, as well. It also happens to be one of the best EDC flashlights ever built – which is reason enough to carry it with you.
Top Tier: SureFire E2T-MV Tactician Flashlight
Like the Eiger, this flashlight's emitter actually isn't from the U.S. – the rest of it is, however. This tactical flashlight is also built to military specifications, puts out 800 lumens, and can be used in self defense if the occasion should arise.
Hiking Boots
Best Value: Keen Rialto Traveler Hiking Shoes
Technically, Keen's Rialto Travelers are hiking shoes, not hiking boots – but they're just as capable as some of the toughest outdoor footwear on the market. They're water-resistant, have a high-traction treaded rubber outsole for excellent grip on any terrain, and feature a natural odor-control lining to keep them from stinking no matter how hard you go.
Top Tier: Danner Mountain Light Hiking Boots
It's hard to do better than Danner when it comes to hiking boots, which is only bolstered by the fact that these ones are made right here in the States. On top of that, they also feature GORE-TEX waterproof protection, a Vibram Kletterlift outsole for comfort and extreme shock absorption, and a superbly secure fit.
Jackets
Best Value: Iron & Resin Rambler Jacket
Waxed canvas makes for some really superb weekender bags and backpacks. But it can also be used to make some stunning apparel. Take, for instance, Iron & Resin's Rambler Jacket. This heirloom-quality outerwear is as unique in its appearance as it is durable and built to last. And its construction is also naturally water-repellant, so you can wear it even when the weather takes a bit of a turn.
Top Tier: Taylor Stitch Moto Jacket
When buying a leather jacket, you're not just getting a piece of clothing – you're investing in a garment that could be passed down for generations. Which is exactly the mindset you should approach Taylor Stitch's Moto Jacket with. Sure, it's expensive, but it's also handmade from absurdly high-quality leather, limited to just a few examples, and is only going to get better with age.
Jeans
Best Value: Buck Mason Standard Jeans
Made from a flexible Japanese indigo denim, this classic pant is Buck Mason's take on the classic blue jean. And, boy, did they get it done right. These bottoms are comfortable, look sharp as hell, and will stick with you through thick and thin for years of wear. These are jeans done right.
Top Tier: Jean Shop Bowie Jeans
$260 is a lot to ask for a pair of blue jeans, we know. But for that price you'll be getting what could potentially be the last pair of denim jeans you ever have to buy. These ones are comfortable in all the right places, have the perfect appearance – not too baggy nor too tight, and their 100% cotton selvedge denim is tough enough to last for generations of wear.
Keychains
Best Value: Arktype RMK Paracord Quick-Release Keychain
With a lot of keychain options out there, it can be hard to stand out from the pack. But Arktype's RMK Paracord Quick-Release Keychain is as unique as it is useful. Not only does it feature a sturdy rifle clip, but it also has paracord woven into its construction that can be used in an emergency or survival situation, and it features a neodymium magnetic quick release clasp that lets you access your keys quickly whilst staying secure when not in use.
Top Tier: Grovemade Brass Key Ring
Few brands do no-nonsense minimalism quite as well as Grovemade. And that's perfectly evident in their Brass Key Ring. It's a gorgeous single piece of machined steel that will keep your keys handy, doubles as a pocket and belt loop clip, and it can be used as a bottle opener.
Knives
Best Value: Kershaw Knockout
Not everything Kershaw has to offer is made in the USA. Their Knockout, however, is. It also happens to be one of their best offerings ever. With a stout 14C28N steel blade mated to an anodized aluminum handle – complete with a sturdy sub-frame lock – this knife is an excellent carry all-around. Give it a shot and it might just become your favorite EDC knife.
Top Tier: Chris Reeve Knives Sebenza 21
It's not the most expensive or the knife with the most features, but the Chris Reeve Sebenza (which comes in both a small and large version) might be the most coveted EDC knife of all time. At the very least, it's in the top 10 best knives ever and certainly qualifies as heirloom-quality. Whatever the case, this knife is a truly drool-worthy American-made blade.
Lighters
Best Value: Zippo Matte Pocket Lighter
When it comes to lighters, it doesn't get much better than a classic Zippo. They're iconic as they come, wind-resistant for use in just about any weather, refillable, and each and every one of them comes with a lifetime warranty.
Top Tier: Silver Piston Hobo Nickel Zippo Lighter
Of course, if you like a classic Zippo lighter, but you want something with a bit more uniqueness and character, then there's this absolutely gorgeous version from Silver Piston. Sporting a genuine hand-carved hobo nickel soldered to it and with a patinated exterior, this iconic solid brass lighter just got a whole lot better.
Multi-Tools
Best Value: EDC Card
What really sets this this particular multi-tool apart is its compact format. With 30+ functions built-in, this military-grade S35VN steel single-piece device is credit card-sized – meaning it can fit in your wallet. Which is especially handy when you consider that it's also TSA compliant.
Top Tier: Leatherman Charge TTI Multi-Tool
It's worth noting that Leatherman does source some of their components from overseas. That being said, their tools are still put together here in the USA and, when it comes to multi-tools, this brand is king. Their special edition titanium Charge is one of their best offerings, with 19 locking built-in tools, a nylon sheath, and a 25-year guarantee.
Pens
Best Value: Fisher Space Pen AG7 Astronaut Pen
Every single manned space mission since 1968 has carried upon it this very pen. And if Fisher Space Pen's AG7 is good enough for NASA, it's definitely good enough to carry in your EDC. It helps, too, that it can write upside-down, underwater, in zero gravity… you get the idea. This pen is simple one of the best ever made.
Top Tier: Tactile Turn Damascus Steel Slider Pen
Damascus steel is one of the most coveted when it comes to EDC blades, but that's not its only application – as can be seen in the Tactile Turn Damascus Steel Slider Pen. With an appearance as unique and handsome as its sliding bolt-action deployment mechanism, this is a pen that stands out against the boring Mont Blancs of the world.
Pocket Notebooks
Best Value: Field Notes Pocket Notebooks
Helmed by master designer Aaron Draplin, Field Notes is the foremost pocket notebook brand in the world. Everything they make – from their year-round offerings to their special editions – is superb and warrants being carried by anyone who still takes hand-written notes.
Top Tier: American Bench Craft Hemingway Journal
Made from premium, full-grain, vegetable-tanned leather, this stunning notebook is made completely by hand here in the USA, features no cloth stitching (with solid metal rivets instead), is guaranteed for lifetime of use, and can fit inside it a single pocket notebook of your choice. For reference, it comes with one from Field Notes.
Running Shoes
Best Value: Softstar PRIMAL RunAmoc Minimalist Running Shoes
Designed specifically to suit the natural shape of your foot, Softstar's PRIMAL RunAmoc running shoe is heralded as a much healthier long-term option for fast-paced exercising. They're flexible, roomy, can be made for the streets or the trails, and are hand-crafted in Oregon.
Top Tier: New Balance NB1 990v3 Running Shoes
New Balance might be the only major shoe brand that makes a huge variety of shoes in the United States. Sure, that makes them a little on the pricey side at times, but the overall quality is certainly worth it if you ask us. Their NB1 990v3 shoes feature a classic silhouette, performance-forward tech built-in, and a bevy of customization options – so you can make them look exactly how you want from the ground-up.
Shirts
Best Value: Buck Mason Pima Curved Hem Tee
Put simply, you do not know t-shirt comfort until you have worn one made by Buck Mason. Seriously, it's like wrapping yourself in a cotton cloud, only maybe better. And, even better, their offerings are pre-shrunk, so you don't have to worry about it fitting great the first time and then never fitting that well again.
Top Tier: Taylor Stitch Short Sleeve California Shirt
There are a lot of American-made brands out there that do one thing really great. Taylor Stitch is not one of them, however, as literally everything they make is superb. Take, for instance, their Short Sleeve California shirt. It's stylish, simple, comfortable, and strikes the perfect balance between the casual and the classy.
Sleeping Bags
Best Value: Feathered Friends Vireo Nano Sleeping Bag
When doing thru-hikes and/or climbing mountains, keeping your pack as light as possible is of the utmost importance – which is exactly what the Feathered Friends Viero Nano Sleeping Bag was designed for. It has no hood, no zipper, and weighs between just 466-546 grams (depending on the length). It's also water-resistant, breathable, comes with a handy stuff sack.
Top Tier: Western Mountaineering UltraLite Sleeping Bag
Another pack designed to shave down on weight as much as possible without sacrificing functionality, the Western Mountaineering UltraLite Sleeping Bag is rated at 20-degrees – making it a genuine 3-season bag with an incredibly light weight (1-pound 13 ounces, total). It is also made from super durable taffeta nylon – making it weather-resistant, easy to pack, and easy to clean, as well.
Sneakers
Best Value: PF Flyers Made In USA Center Hi Sneakers
As the saying goes, these are guaranteed to make you run faster and jump higher. Okay, maybe that's not entirely true, but they're still some of the absolute best shoes you can slip your feet into – what with their heavy weight canvas exterior, DESMA-injected midsole, and pigskin liner. And they're stylish as hell, to boot.
Top Tier: Frye Brett Perf Logo High Sneakers
The designers at Frye have this amazing ability to perfectly balance minimalism and opulence. Don't believe us? Just look at their Brett Perf Logo High Sneakers for confirmation. They're a handsome combination of top-grain leather and rubber, feature a subtle perforated design, and have style for days.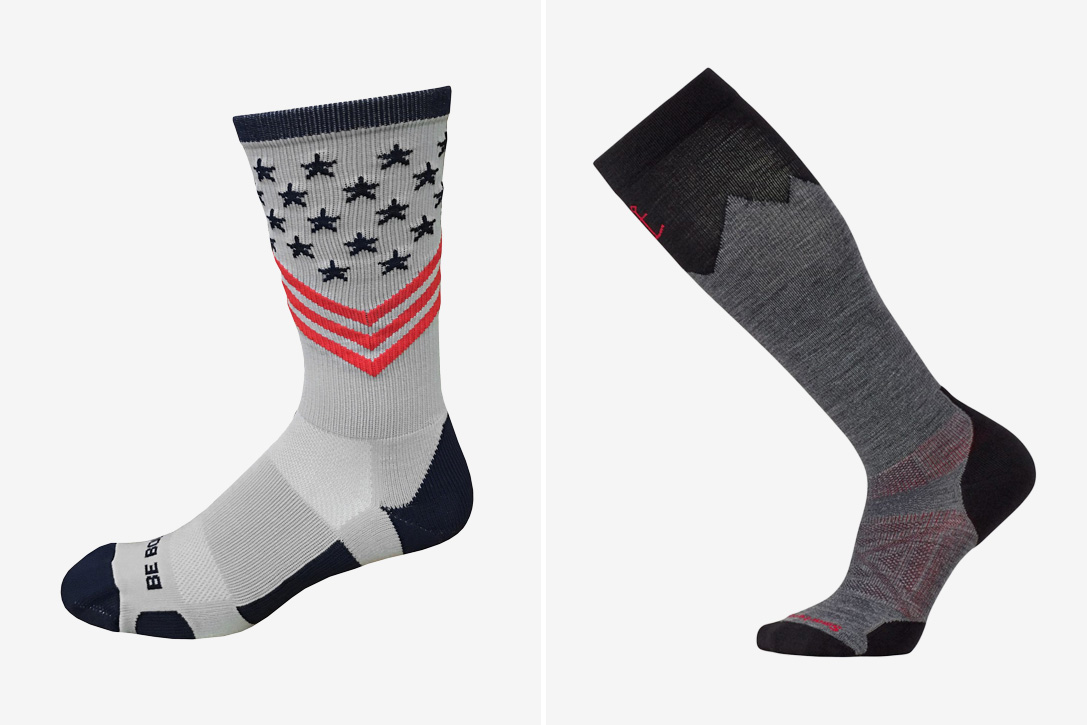 Socks
Best Value: Boldfoot Athletic Socks
This offerings from Boldfoot would be great even if they didn't donate 5% to U.S. military veterans – but they do, which is an excellent bonus. These socks are also super comfortable and durable. In fact, every pair comes with a 3-month guarantee against tears, rips, and the like. Put them through the paces – you won't be disappointed.
Top Tier: Smartwool PhD Outdoor Mountaineer Socks
You should never underestimate the importance of a good pair of socks when it comes to outdoor activity. Honestly, they can make or break your experience. And if you want the best of the best, turn to Smartwool. Made in the USA and with some unbelievable tech built-in to increase comfort, odor-fighting, and durability – these are socks you'll never want to take off.
Sunglasses
Best Value: Randolph Aviator II Sunglasses
Few sunglass shapes are as timeless as the aviator. And fewer aviator style sunglasses still are up to par with the offerings from Randolph. These sunnies feature sturdy metal frames, anti-reflective and scratch-resistant polarized lenses, and a tint that filters out fatigue-inducing colors.
Top Tier: State Optical Clybourn Sunglasses
Named for Clybourn Avenue in Chicago – the city that State Optical calls home and the location in which they manufacture their glasses – these timelessly-styled wayfarer-like shades are the pinnacle of eyewear both in regards to build quality and fashionability. Available in a number of different finishes, these sunglasses are a lifelong investment that just keeps paying off.
Turntables
Best Value: U-Turn Audio Orbit Basic Turntable
It's no easy task finding electronics that are made in the USA, but this one from U-Turn is – and it also happens to be relatively affordable, which is an incredible boon for patriotic audiophiles around the country. Simple in its appearance, but robust in its sound quality, this is an excellent record player for any home.
Top Tier: VPI Industries Classic Signature Turntables
If you're serious about the sound quality of your audio equipment, that should start with your turntable. And it just doesn't get more high-end than the VPI Classic Signature series. With an abundance of awards, these machined aluminum turntables are as good as it gets.
Valet Trays
Best Value: Bradley Mountain Large Valet Tray
Sure, you could just slap all your EDC gear down on a table at the end of the day, but you'd be doing it a disservice if you didn't at least consider keeping it safe and organized in Bradley Mountain's top-grain leather, brass-riveted valet tray. Handsome and useful, this is an accessory that looks good on any surface in your home or on your desk in your office.
Top Tier: Maxx & Unicorn Rectangle Valet Tray
Not only does Maxx & Unicorn's Rectangle Valet tray feature American craftsmanship, it's also made out of walnut grown on our shores. Pair that with the handy smartphone friendly organizational format and you've got yourself one of the best desktop accessories ever conceived.
Wallets
Best Value: Rogue Industries Front Pocket Wallet
What we really love about the Rogue Industries Front Pocket wallet is that it features a classic material appearance while staying fresh and unique. This is thanks to the fact that their leather is made from bison and moose. But it's also because this bifold wallet is shaped to conform to your front pocket, rather than sticking out like an awkward rectangle in your pants.
Top Tier: Trayvax Contour Wallet
Trayvax is one of the absolute best wallet-making brands in the world. And, guess what? They make everything they offer here in the USA. The cream of the crop, however, has to be their Contour Wallet. With its combination of top-grain oil-tanned leather and PVD-coated stainless steel, this minimalist wallet is built to take a beating and looks great through every moment of it.
Watches
Best Value: Shinola Runwell Watch
Shinola recently got into some trouble, as they actually use Swiss movements to power their watches. But we'd like to point out that the rest of the watches are assembled in their Detroit facility, which is more than we can say about most other "American" watch brands. Their quality is superb and their style is top-notch, as well – so we're giving them the credit we believe they are owed.
Top Tier: Weiss American Issue Field Watch
Weiss builds their own movements in their Los Angeles workshop – and that deserves recognition in and of itself. It helps, too, that the rest of their watches outside of their stellar movements are also some of the best we've ever seen. A better American watch brand we have yet to come across. We tip our hats to you, Weiss.
Water Bottles
Best Value: Nalgene Tritan Water Bottle
It's impressive when any brand name becomes normalized around the household, which is even more true when it comes to something as seemingly commonplace as a water bottle. But that's exactly what happened with Nalgene. And we can't help but think it has something to do with the fact that their bottles are made in the USA, BPA-free, and feature a handy and secure screw-top lid and a wide mouth opening.
Top Tier: Liberty Bottleworks Special Ops Water Bottle
Not only is this superbly durable aluminum water bottle made right here in the USA, but it is also crafted on American-made machinery – which is like Inception for United States craftsmanship. It certainly doesn't hurt either that this bottle is made from recycled materials and comes in a slick black-on-black stealthy colorway.
30 Best American Made Brands
What you see before you is merely a small sampling of all the excellent USA-made gear out there. Get even more intimately acquainted with it via our list of the best American-made brands. We're positive you won't be disappointed.