Very seldom do bonafide Swiss luxury watch brands produce quality everyday watches for less than four figures. And it's for this reason that the Tissot Gentleman Powermatic 80 Silicium is such a standout, as the $775 Swiss-made timepiece is touted as a legitimately viable alternative to many of the multi-thousand-dollar GADA watches currently on the market. While we've long been fans of Tissot, we were curious to see how the Swiss brand's Gentleman Powermatic 80 Silicium actually performs in real life — and whether or not it lives up to its unofficial "Baby Rolex" moniker. So, in an effort to find out for ourselves, we've spent the last few weeks with the watch on our wrist in order to deliver this hands-on review of the Tissot Gentleman Powermatic 80 Silicium.
At A Glance
Tissot Gentleman Powermatic 80 Silicium Specs
Case Size: 40mm
Lug to Lug: 48mm (Closer To 53mm In Practice)
Case Thickness: 11.5mm
Lug Width: 21mm
Case Material: Stainless Steel
Water Resistance: 100m
Movement Type: Automatic
Power Reserve: 80 Hours
Movement: Tissot Powermatic 80
Lume: Super-LumiNova
Crystal: AR-Coated Sapphire
Strap: Three-Link Stainless Steel Bracelet
First Impressions
Unpacking Tissot's Sub-$1,000 EDC Heavy-Hitter
Though it admittedly sounds hyperbolic, our very first thought after unboxing the Tissot Gentleman Powermatic 80 Silicium was "wow, this watch really does closely resemble a Rolex upon first glance." Between its generally top-shelf fit and finish, its Oyster-style bracelet, its polished bezel, and its dial layout, the Tissot is extremely reminiscent of the Crown's iconic Oyster Perpetual watch.
After getting the watch on-wrist, two more areas instantly jumped out at us. The first was the watch's stellar execution and craftsmanship, with its tolerances feeling incredibly precise and the different finishes adorning the case, bracelet, and dial affording the timepiece with a bit of extra visual flare and an unmistakably premium feel and aesthetic. Next is the watch's weight. At 5.78oz (or 0.3615lbs), the Tissot Gentleman Powermatic 80 Silicium does boast a substantial heft to it — a factor that, while some may appreciate and equate to a sign of quality, is less than conducive to daily wearing.
OP-Inspired Housing
The Tissot Gentleman Powermatic 80 Silicium's Case
While the Tissot Gentleman's bracelet and dial layout boast some lightweight Rolex vibes, it's the watch's case that draws the clearest comparison between the Tissot and the OP. Measuring 40mm in width, the Oyster-inspired case features straight, vertically-brushed lugs and a smooth, polished bezel that are complemented via an unprotected T-logoed knurled crown. Deviating from its Rolex-inspired motif is the housing's case back, which, instead of a plain steel item, employs a sapphire window that leaves the watch's custom rotor on full display.
And while the watch's case is generally inspired by the Rolex OP, it nonetheless sports a myriad of its own unique design elements too, such as a mid-case that's been horizontally brushed with a polished chamfer running from the top of the case and extending all the way to the end of the lugs — a clear departure from Rolex's polished, slab-sided mid-case setup.
While the Tissot Gentleman Powermatic 80 Silicium does punch well above its weight, it does possess a few areas that objectively fall short of some of the more high-end luxury GADA watches on the market, namely its bezel finish. Though it's nothing to scoff at, the bezel's polish lacks the crisp mirror-finish seen on Rolex references and instead features a somewhat distorted polish that's more in line with what would expect on a sub-$1,000 timepiece.
At just 11.5mm thick, the Gentleman will easily fit beneath a shirt cuff and at 40mm across and, the case is also perfectly sized for everyday use. With that said, the watch also features a lug-to-lug measurement of 48mm, however, the fact that the case's fixed male end links extend beyond the lugs, results in a lug-to-lug width that's closer to 53mm. The case's Achille's heel is undoubtedly its crown. Despite being rated at 10 Bar (100 meters), the case's push-pull crown simply doesn't inspire much confidence when it comes to taking the Gentleman Powermatic 80 into the water, as it would only take a small bump or snag to see the case flooded.
Balanced To Perfection
The Tissot Gentleman Powermatic 80 Silicium's Dial
Though it features a nice case design that's hugely complemented by its bracelet, what really elevates this watch — and makes it instantly recognizable as a genuine luxury timepiece — is its dial (and more specifically, its indices). Perfectly balanced, the face of the watch features faceted and applied hour markers that boast vertical brushing on top and a mirror-polished finish on the sides, along with a halved 3 o'clock marker that opens up enough space to fit a date window without the dial's design feeling overly cluttered. The date window also features a faceted metal frame — an admittedly minor design decision that speaks to the highly-calculated and thoroughly-considered nature of the watch's design as a whole.
Beautifully complementing the hour markers is the Gentleman Powermatic 80 Silicium's sword-like handset which boasts faceted hour and minute hands that share the same shape but sport different lengths. The text on the dial also contributes to its overall handsome appearance, with the "Tissot 1853" logo printed on two lines below 12 o'clock, and the "Powermatic 80 Silicium" script occupying the lines above the six o'clock market. Both blocks of text are broken up by a printed crosshair that splits the dial into four equal quadrants, as well.
One of our favorite aspects of the entire watch is the dial color options offered by Tissot. The Tissot Gentleman Powermatic 80 Silicium is sold in a whopping 20 different references, including the rich and vibrant sunray pattern green dial variant that we tested — which, in our opinion, also lends itself best to EDC duties. Regardless of the reference, each dial also rests beneath a slightly-domed AR-coated sapphire crystal.
Like the case, the Gentleman Powermatic 80 Silicium's dial is well-designed, though sports an Achilles heel of its own. This would undoubtedly be the dial's lume — or lack thereof — as its Super-LumiNova has been painted onto the hands and applied indices extremely conservatively.
A Polished Twist On A Classic
The Tissot Gentleman Powermatic 80 Silicium's Bracelet
Tissot took an interesting approach to pen the Gentleman Powermatic 80 Silicium's bracelet that saw the Swiss brand put its own spin on traditional steel bands. While the watch features a classic Oyster-style three-link item, the bracelet sees its center links hit with a very much non-traditional polished finish — a design element that's almost certainly the watch's most controversial.
While it does give the Tissot a slightly more dressy feel to it, it doesn't do so at the cost of it looking out of place in more casual settings, plus it matches the bezel and dial, while also making it markedly more conducive to more formal outfits as well,, thereby bolstering its overall versatility. The engraved "Tissot 1853" logo decorating the bracelet also adds an extra dose of style while simultaneously giving the timepiece a more upscale feel.
Though the Gentleman Powermatic 80 Silicium's bracelet feels extremely comfortable on-wrist — even with its hefty weight — we did uncover one minor gripe with the steel band during our testing period, and that would be its clasp. The watch uses a butterfly-style item that we feel could really benefit from being jettisoned in favor of a more standard folding clasp setup. The lack of adjustability that the butterfly clasp offers is definitely one area in which the Gentleman Powermatic 80 Silicium falls short of some of its more costly Swiss-made GADA watch competitors.
In-House Modified
The Tissot Gentleman Powermatic 80 Silicium's Movement
The Tissot Gentleman Powermatic 80 Silicium is powered by the brand's Powermatic 80 movement. Made by Tissot's sister company ETA, this Swiss-made, 25-jewel automatic movement is essentially a heavily modified version of the workhorse ETA 2824-2 movement that's been custom-produced for Tissot. Tweaks to this movement include seeing its beat rate slowed from 4 hertz to 3 — a factor that also helped Tissot to achieve the watch's beyond-impressive 1.5-day (80-hour) power reserve which is more than double that of the base caliber. Tissot has also bestowed the ETA 2824-2 with a silicon balance spring that massively bolsters the motor's resistance to magnetic fields while also improving its precision.
The movement also features a staggered-ticking second-hand sweep and a beautifully-designed custom Wave-decorated rotor that can be viewed through the watch's aforementioned transparent case back. It is worth noting that because the movement has been laser-regulated by Tissot at the factory — in lieu of using a traditional regulator — owners of the Gentleman Powermatic 80 Silicium will be required to ship their watch back to Tissot's headquarters in Le Locle, Switzerland when it comes time for servicing instead of simply visiting a standard watch repair shop.
A GADA Watch Punching Well Above Its Weight
Closing Thoughts On The Tissot Gentleman Powermatic 80 Silicium
The Tissot Gentleman Powermatic 80 Silicium manages to borrow a handful of Rolex's hallmark design cues without being an outright knockoff, instead leveraging some of these more notable aesthetic elements to deliver a viable OP alternative that possesses the look and feel of a five-figure luxury watch at a fraction of the price. This Tissot timepiece does see a few corners cut, but for a sub-$1,000 everyday watch, you really would be hard-pressed to find a superior option. So, is it deserving of the "Baby Rolex" name; 100%.
The 14 Best Everyday Watches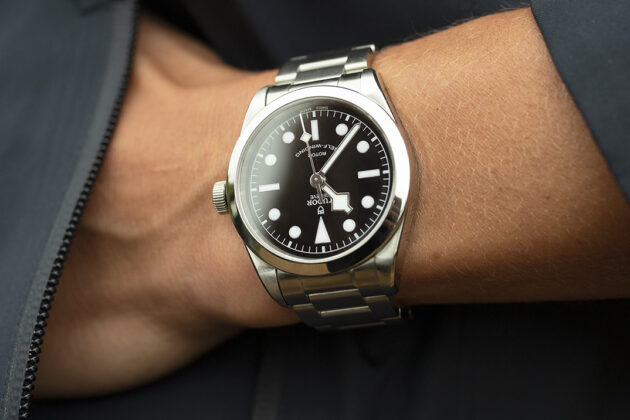 While the Tissot Gentleman Powermatic 80 Silicium is unquestionably our favorite sub-$1,000 GADA watch, there are plenty of other stellar options on the market — more than a dozen of which we've rounded up for this curated guide to the best everyday watches.