When shopping for a new watch, there is an almost endless roster of options from which to choose. If you want to go the luxury route and have the budget to do so, then you have a dizzying array of Swiss brands at your disposal (along with a few German and Japanese ones, too). If you're looking to stay in the more affordable realm, then you can have a look at some microbrand watches or traditional budget brands. Heck, you could even pick up a smartwatch if you're really after the latest wrist-worn tech. But, if it's real, lived-in heritage that you're after, then you shouldn't be looking at new watches at all. You should be shopping for vintage watches. To help you out, we've rounded up the best affordable vintage watches that you can currently score right now, but act fast — with the way the market's been blowing up, these prices won't stay this low for long.
Best Affordable Vintage Watches
Bulova Accutron Spaceview

Universal Genève Polerouter
The Current Market for Vintage Watches
The market for vintage watches is on fire, and while prices may have exploded over the past few years, but there are still plenty of great budget vintage watches out there that would be right at home on your wrist. The best affordable vintage watches –– for our purposes, we're talking around $1,000 and under –– all offer loads of real horological and/or cultural history, timeless looks, and build quality that will last at least another half-century or so. They're masterful conversation pieces, living relics from another time, and will make a killer addition to any watch collection, regardless of its current makeup.
Be Cautious When Buying Vintage
While we'd love to tell you that there are zero drawbacks to buying vintage watches and that you can throw caution to the wind while shopping for your classic timepiece, we can't, as that's just not the case. The truth is that buying vintage watches can be a bit of a minefield if you're not sure what you're doing. While new watches come with the benefit of a warranty in case something goes wrong, vintage watches typically offer no such safety net — especially at the prices we're looking at. In fact, you should expect things to go wrong on a vintage watch and be prepared to pay to have it fixed. You should also expect the water-resistance to no longer be anywhere near equivalent to what's claimed on the case, and you should expect poorer timekeeping performance than you would probably prefer. Remember, these are decades-old delicate machines utilizing centuries-old technology, and you have to appreciate them for what they are rather than expecting them to perform as a modern piece of technology.
Another piece of advice when buying a vintage watch: do your research. When it comes to vintage watches, as with many other vintage collectibles, original examples are worth more money. You need to be on the lookout for dials that have been repainted or refinished, parts like crowns or hands that have been replaced, and especially the dreaded "Frankenwatch" — watches that have been assembled from parts from various watches and passed off as authentic all-original timepieces. The best way to avoid falling into this trap is to do your research. Once you nail down what type of vintage watch you want to buy, find out everything you can about it by searching online watch forums and fan sites. Find out the correct movement, hand style, dial text, etc. of your desired piece so you'll know what to look for and won't end up with something different from what you wanted.
Skin Diver
Why We Love It
The genre of "vintage skin divers" flourished throughout the '60s and '70s and still offer an undeniably cool style and affordability.
For our first entry, you'll notice that we're not recommending a specific brand and model. Instead, we're pointing you toward an entire watch genre. Skin divers were a style that that flourished in the '60s and '70s. These are dive watches that are meant for shallow water swimming and snorkeling, so they're thinner and more sparse than your typical professional dive watch, often lacking crown guards and sporting extra-toothy bezels. They are undeniably cool and there are loads of affordable skin divers out there from brands like Caravelle, Bulova, Wittnauer, Waltham, Elgin, Tradition, Yema, and so many more. You really can't go wrong with any of them.
Peak Popularity: 1960s and '70s
Movement Type: Varies
Eterna KonTiki
Why We Love It
An iconic Swiss sports watch, the '50s-era KonTiki features an inspired design with some horological history behind it.
Even today, the KonTiki remains Eterna's signature model, and there are about a million different types of KonTiki watches to choose from. Some will cost well over $1,000, but many won't, making the KonTiki a great way to pick up an iconic Swiss sports watch model for not a lot of dough. First debuting in the late 1950s, the watch was named for the famous Kon-Tiki raft expedition that journeyed from Peru to Polynesia in 1947. The crew during the expedition allegedly wore Eterna watches, inspiring this model a decade later. It might be a dubious claim, but it's still a cool watch that has a lot of horological history behind it.
Original Release: 1958 to 1971
Movement Type: Automatic
Citizen Bullhead
Why We Love It
One of the best watches in Citizen's mechanical past, the Bullhead Chronograph features unique top-oriented pushers and interesting case designs.
Citizen makes very few automatic watches today, having gone all-in on their solar-powered Eco-Drive technology. But back in the day, like every other watch company, Citizen specialized in mechanical watches. And one of the best was the "Bullhead" chronograph. A racing chronograph utilized in motorsports, the Bullhead was powered by the renowned 8110A caliber automatic flyback chronograph movement. Technically called the Challenge Timer, the watch is colloquially known as the "Bullhead" due to the placement of its two pushers on the top of the case rather than on the side, giving them the appearance of horns.
Debut: 1970
Movement Type: Automatic Flyback Chronograph
Omega Seamaster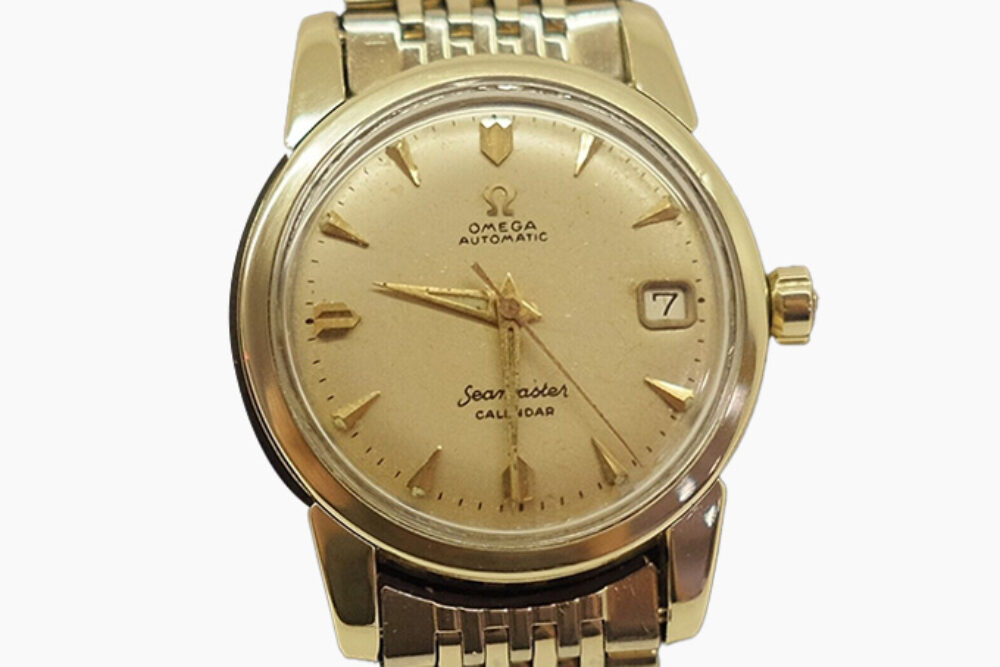 Why We Love It
One of the most iconic watches in any era, the Seamaster was exclusively a water-resistant dress watch in its early days.
Thanks in part to its quarter-century run as the official watch of James Bond, the Omega Seamaster is one of the most iconic watches of all time. And while the model is mainly known for its various dive watch references, from 1948 to 1957, the Seamaster was exclusively a water-resistant dress watch. And while you're unlikely to find a Seamaster diver for under a grand (well, maybe an '80s quartz one), the classic dressy Seamaster is still readily available in that price range and is arguably the most popular "budget vintage luxury watch" for most collectors.
Original Release: 1948 to 1957
Movement Type: Automatic
Seiko Pogue
Why We Love It
The Seiko Pogue was the first automatic chrono in space and is a compelling timepiece for its memorable design and color scheme.
When you think of watches that have been into outer space, you're most likely to think first of the Omega Speedmaster, AKA the Moonwatch. But that isn't the only watch that's made it to the final frontier. In 1973, NASA astronaut William Pogue brought his trusty Seiko 6139 to space without his superiors' knowledge, making the quirky Japanese model the first automatic chronograph in outer space. The watch has been known as the "Pogue" ever since, and even without the historic space connection, it would still be a compelling piece thanks to that golden yellow dial and Pepsi bezel.
Original Release: 1969 to 1979
Movement Type: Automatic Chronograph
Longines Ultra Chron
Why We Love It
Billed as the world's most accurate watch upon its '60s debut, the Ultra Chron utilized a high-beat movement that tops many of today's mechanical movements.
Speaking of modern watch reissues, it seems like it's just a matter of time before Longines brings back the Ultra Chron. One of the oldest Swiss watchmakers, the brand is constantly reissuing classic watches from their storied past. And the Ultra Chron is a bona fide classic. Claimed to be the world's most accurate watch when it was first sold in the 1960s, the Ultra Chron utilized a high-beat movement that oscillated at 36,000 bph. That high of a beat rate allows for a smoother sweep and more accurate timekeeping, and few brands make such movements even today. The Longines Ultra Chron was high-end stuff 50 years ago, and it still is today.
Debut: 1968
Movement Type: Automatic
Bulova Accutron Spaceview
Why We Love It
Proof of Bulova's knack for cutting-edge design, the Accutron Spaceview was futuristic in the '60s and a representation of how obsessed we were with what was to come.
While collectors go nuts for old-school mechanical watches today, back in the 1960s, consumers were all about the future and getting in on the next big thing. And one of those next big things was Bulova's Accutron movement. Powered by a battery and regulated by a fast-vibrating tuning fork, the Accutron Spaceview was one of the world's first electronic watches and pre-dated quartz watches by nearly a decade. Originally intended as a display model to show the technical wizardry of the movement, demand caused the transparent Spaceview to go into production, where the humming, smooth-sweeping futuristic timepiece became an icon.
Debut: 1960
Movement Type: Battery with tuning fork
Universal Genève Polerouter
Why We Love It
A magnificent dress watch, the Polerouter is the signature model from popular defunct watchmaker Universal Geneve, designed by the guy behind the Royal Oak and Nautilus.
Ask almost any watch aficionado what their favorite defunct Swiss brand is and you'll almost always get "Universal Genève" for an answer. The legendary watchmaker was one of the most consequential brands of the mid-century, and the Polerouter is arguably their signature model. Designed by Gerald Genta, the man behind the Audemars Piguet Royal Oak and Patek Philippe Nautilus, the Polerouter sports an iconic design and an interesting history — it was created to honor the opening of the Scandinavian Airlines Systems' polar route in the 1950s, marking a new era in international air travel. Various versions of the Polerouter can be had for under $1,000 — even some with a very desirable micro-rotor movement.
Original Release: 1954 to 1969
Movement Type: Automatic
Vulcain Cricket
Why We Love It
The first-ever mechanical alarm wristwatch in 1947, the Cricket is long associated with the U.S. President and still looks great today.
It's honestly hard to believe that you can get this watch for less than a thousand dollars. Not only was the cricket the first-ever mechanical alarm wristwatch when it debuted in 1947, but it's also known as "The President's Watch" due to its long association with U.S. presidents. President Harry S. Truman was gifted a Cricket on his final day in office in 1953, and nearly every president since has also received one of these chirping Swiss-made beauties, with Presidents Eisenhower, Johnson, and Nixon all having been known to be especially fond of the timepiece and its handy alarm.
Debut: 1947
Movement Type: Manual or Automatic
Hamilton W10
Why We Love It
One of the most legendary military pilot's watches of its era, the Hamilton W10 is increasing in price lately but is worth the hunt for some serious heritage.
Today, formerly-American-now-Swiss Hamilton is known for making some of the most iconic and authentic military watches of any brand. The creator of the quintessential field watch in the Khaki Field, Hamilton also made a killer pilot's watch in the mid-1970s for the British Ministry of Defense, and they're one of the best current buys if you're looking for an authentic 20th-century military watch. They can be a bit tough to find for under a grand these days, but given their heritage, they're definitely worth the hunt. The watch has proven so legendary that Hamilton released a modern-day reissue of the W10 in 2019.
Original Release: 1973 to 1976
Movement Type: Manual
The Best Places to Buy Vintage Watches Online
If you want more options for purchasing vintage timepieces, head over to our guide to the best places to buy vintage watches online.