Prior to Steve McQueen, the Hollywood image of men was, well, different. If James Dean first introduced an alternative to tuxedos and fedoras in the mid-1950s with his iconic silhouette, then Steve McQueen proved that his own laid-back style could actually be classy itself. Blowing up following his starring roles in the film The Blob and the Western TV show Wanted: Dead or Alive, both in 1958, the young star quickly became known for popularizing the relaxed look. Quickly laying down the blueprint for what is now the action movie star, the King of Cool and his antihero persona eventually turned into a brand all its own, and one that's still very much alive even to this day.
Whether it was a simple t-shirt or a suit and tie, Steve McQueen could make anything look fashionable. And stars of today, from Daniel Craig to Brad Pitt to Idris Elba, still mimic his iconic style. Still an icon of fashion and culture over 40 years after his untimely death in 1980, Steve McQueen was curiously brand-loyal, and many of those brands are still around today making the same products the actor loved so much back then. Here, we highlight several of his favorite items, all of which can be found in some version today. We'd be lying if we pretended like you could sum up all of the actor's signature styles in just one short list, but here are 15 of our favorite pieces from the King of Cool's ensemble.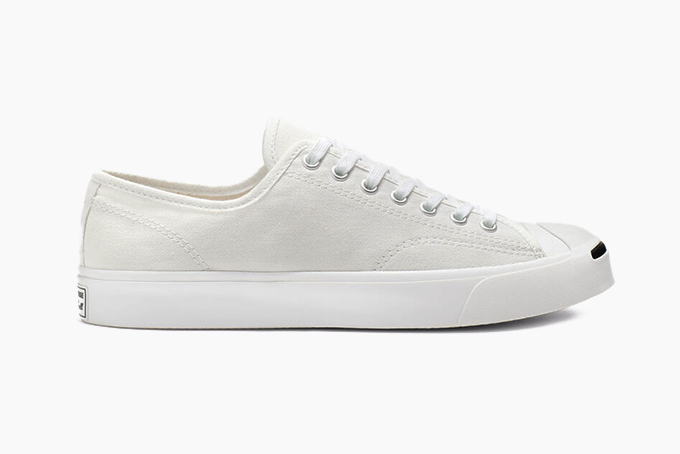 White Canvas Sneakers
They say shoes tell a lot about the man. And Steve McQueen was perhaps a fan of the subtle and functional more than anything, mirroring the very way he chose to live his life: under the radar. Likewise, his eager multipotentiality called for something versatile such as canvas sneakers — typically white — so that whether it was riding a motorcycle or waiting for his cues on set, he would be comfortable and ready for anything. The star was seen often donning a pair of these sneakers in his private life, and they've come to embody his nonchalance.
Our Pick – Converse Jack Purcell Canvas Low Tops: Simple, yet classy, Converse's Jack Purcell Canvas Low Tops are not unlike the ones McQueen frequently wore in the '60s, especially during a time before sneaker companies would brandish their logos all over the skins. The shoes are named after the famed badminton player who designed them for PF Flyers in the 1930s, and the trademark was bought by Converse in 1972.
Crewneck Sweatshirt
Few Steve McQueen costumes are more iconic than the blue sweatshirt that — spoiler alert — fallen hero Captain Viril Hilts wears in 1963's The Great Escape. The unlikely fame garnered by the top with the sleeves cut off at the elbows might be due to the unforgettable motorcycle chase scene McQueen endures as he attempts to flee a Nazi POW camp, or it could simply be because no one in their right mind would have assumed prior that it was a stylish fashion choice. Nonetheless, it came to be as such, and it was the moment most of the world realized how cool the actor really was.
Our Pick – Buck Mason Interloop Crew Sweatshirt: Cutting the sleeves off is optional on Buck Mason's Interloop Crew Sweatshirt in soft blue, almost identical in silhouette and color to the one McQueen is seen with on his bike in The Great Escape (absent the raglan sleeves). Making a statement through its subtlety, this mid-weight cotton sweatshirt is made from French terry to have a dense, lived-in feel.
White T-Shirt
From Marlon Brando to James Dean, the white t-shirt torch was again passed to another bellwether of coolness and quiet fashion. However, unlike his progenitors, McQueen totally embodied his antihero persona both on and off screen, often blurring the line between the two. Another example of comfort and simplicity over loudness, the white tee was worn frequently by the actor in film and in his private life. Some of the most famous photographs of McQueen see him in a tee atop a pair of light jeans.
Our Pick – Sunspel Classic T-Shirt: There's no brand more fitting to convey the timelessness of a white t-shirt that Sunspel, one of the first to make and perfect the cotton tee. The UK-based company's flagship classic is made with the finest California Supima cotton and comes in an array of colors, but there's really only one choice here.
Aran Knit Sweater
A sweater that's both complex and reserved, the Aran jumper is synonymous with Steve McQueen and is one of his most iconic pieces. Named after a trio of islands off the west coast of Ireland where it was historically worn by fishermen, the sweater was famously worn by the actor in 1968's The Thomas Crown Affair after the costume designer found one at a vintage shop in Boston, where the movie was filmed. The blended patterns parallel the same complications faced by the titular criminal mastermind protagonist. Fast forward to 2019 and Chris Evans is seen sporting the same style in Rian Johnson's Knives Out, also filmed in Boston, as a slight nod to McQueen.
Our Pick – L.L.Bean Signature Cotton Fisherman Sweater: This L.L.Bean Fisherman Sweater takes distinct beats from McQueen's. The Aran knit cotton design provides surprising warmth in the winter months and can be used as a single layer other times of the year. For the real McQueen look, pair this with a black dad cap and jeans (cigar optional).
Chinos
A master of the capsule wardrobe, Steve McQueen seemed to swear by two pairs of pants: jeans and khaki chinos. The latter were sported by the actor in both The Great Escape (while riding a motorcycle!) and The Thomas Crown Affair. The trim-fit beige pants were a go-to piece in the actor's personal wardrobe as well, perhaps because of their versatility.
Our Pick – Taylor Stitch The Slim Foundation Pant: Taylor Stitch makes some of the best chinos around, and the Slim Foundation Pant would have definitely been a favorite of McQueen's. Need more proof? These pants are actually modern recreations of the first-ever chinos, military-issued during World War II — the same war during which The Great Escape takes place.
Denim Shirt
Buttoned or unbuttoned, tucked or untucked, collared shirts were a near-daily staple by the actor back in the day. A lighter denim variety was donned by McQueen in his only Academy Award-nominated performance in The Sand Pebbles — which sold at auction a few years back — and a variation briefly appeared in The Magnificent Seven. However, a darker blue denim was preferred by the actor in real life, especially when going for that ranchhand look. Roll the cuffs up and throw on one of these babies with matching jean bottoms.
Our Pick – Barbour Steve McQueen Tom Shirt: In 2020, Barbour partnered with the actor's estate to craft the official Steve McQueen 100% denim shirt. The dark blue long sleeve Tom Shirt bears dual patch pockets on the chest and a button-down collar for the ultimate dress-down look. Barbour also sells a Steve McQueen Harrington Jacket as part of the same collection.
Shawl Collar Cardigan
A favorite of TV sitcom dads in the '50s and '60s, the shawl collar cardigan may be one of the most unlikely "cool" garments ever. But when Steve McQueen was first seen wearing the dark brown ribbed sweater in 1965's The Cincinnati Kid, all bets were off. Becoming the most essential piece of the actor's wardrobe, the cardigan saw life again and again. He wore a maroon version in Bullitt, and has been photographed wearing both navy and beige (with horizontal-striped pants, no less) versions in his private life. In recent years, Daniel Craig has been noted as adopting McQueen's style — including in his turn as James Bond — shawl collar cardigan included.
Our Pick – Banana Republic SUPIMA Shawl-Collar Cardigan: Banana Republic's SUPIMA Shawl-Collar Cardigan comes in four adaptable colorways for you to choose from when assembling your Steve McQueen ensemble. Always made from the finest materials, Banana Republic's sweaters are some of the best on the market for the money, and this soft SUPIMA cotton cardigan recognizes the stylishness of the actor's go-to knitwear without losing the essence of what made it so subtle and unspoken to begin with.
Slim-Fit Selvedge Jeans
It may seem obvious, but jeans are a must if you're trying to build up your McQueen-inspired wardrobe. Denim was a favorite of McQueen's, and at times it was literally all he wore. For bottoms in particular, the actor frequently donned slim-fit selvedge jeans to pair with a collared shirt, t-shirt, or… nothing at all. Also worn in the films Nevada Smith, The Sand Pebbles, and The Thomas Crown Affair, selvedge jeans are known for their crisp look, perfect for someone who always seemed to be a master of balancing both rugged and clean.
Our Pick – Toddy Snyder Slim-Fit Organic Selvedge Jeans: Todd Snyder's Slim-Fit Vintage jeans in indigo are the perfect choice for your ensemble. A pair of genuine selvedge denim jeans, these high-quality pants come equipped with antique rivets and chain-stitched embroidery. Likewise, the worn wash aesthetic looks completely natural here for a rugged, yet clean look.
Brown Suede Chukkas
Steve McQueen loved Hutton chukka boots. Less formal than dress shoes, but less casual than sneakers, chukkas found a nice in-between for the actor, whose oeuvre of antiheroes practically redefined the term. He wore a pair of Huttons on screen in The Blob, Love with the Proper Stranger, and even an episode of Alfred Hitchcock Presents. However, when the English brand gave its shoes a slimmer profile and rubber crepe soles, the actor almost never stopped wearing them. The Hutton Playboys, as they would be called, are seen on McQueen most famously in the film Bullitt.
Our Pick – Sanders & Sanders Hi Top Chukka Boot: Crafted with the same crepe soles and cushioned insoles as McQueen's, Sanders & Sanders' Hi Tops in the actor's preferred color of Polo Snuff Suede are as versatile as ever. From a company that's been around nearly 150 years, these chukkas are as durable as they are comfortable.
Tweed Blazer
Steve McQueen's brown herringbone tweed jacket over a dark blue roll neck sweater in Bullitt is a look all to itself. The 1968 classic didn't just usher in a new era of action films with its iconic car chases, it moved away from the relative stiffness of Dragnet and Perry Mason to change the capsule for cops in pop culture from then on out. This timeless piece has never truly gone out of style, although it's become repurposed now and again, and it's never looked cooler than when worn by the King of Cool.
Our Pick – Orvis Lightweight Highland Tweed Sport Coat: This classy jacket may not come equipped with the same leather elbow patches or ticket pocket that McQueen's had, but that's quite all right. One of the warmest sport coats you can find, the Orvis Highland is a tweed blazer for the new era, but not without maintaining most of what's made the style an undeniable classic for so long.
Harrington Jacket
This British classic has been worn by everyone from Frank Sinatra to Clark Kent, but the Harrington — or G9 as it's originally called — truly became coveted after McQueen wore a stone colorway on the cover of LIFE magazine in 1963. However, the actor had already worn a beige version in his first lead role in 1958's The Blob, and a navy blue version a decade later during a pivotal scene in The Thomas Crown Affair.
Our Pick – Baracuta G9 Harrington Jacket: Many have tried to copy Baracuta's G9 Harrington jacket, but nobody can beat the original, which is still being made by the British company today. Available in several colors, including the beige and navy versions that McQueen once wore, the Harrington might be understated, but it's still as fashionable as ever.
Sunglasses
When Steve McQueen came to set wearing his own pair of Persol 714s on the first day of filming The Thomas Crown Affair, the producers decided that the sunglasses would be incorporated into his titular character on screen. Since then, there may be no brand or style more synonymous with the actor. He had been wearing the fold-up model for a few years by that point, but the exposure in the 1968 film allowed the Italian sunglasses brand to break through into the American market. McQueen would wear them again on screen in Bullitt, Le Mans, and The Getaway.
Our Pick – Persol 714 SM: Persol has taken the McQueen-favorite 714 and given it some plus-ups with the 714 SM (SM stands for Steve McQueen, of course). The actor's name is engraved on the inside and the fold-up glasses go through an additional ten manufacturing steps compared to Persol's other models. These are available in several color options, including the same Havana variant that was worn in The Thomas Crown Affair.
Leather Jacket
The leather jacket has seen its ups and downs in style over the last century or so. But no one made it look as casual and effortlessly accessible as Steve McQueen in The Great Escape. Where most wearers would have the tendency to pair this Fonzie coat with denim jeans, McQueen made it work with his beige chinos atop his motorcycle.
Our Pick – The Real McCoy's Type A-2: While the exact look from The Great Escape has been made available in several places in the replica market, the fashionability of a more practical version is the way to go. The Real McCoy's has a knack for making quality clothes, and the Type A-2 is simply the best they have to offer. Featuring a World War II-inspired design, with a 1940s bell-shaped talon zipper and brown cuffs, this horsehide leather jacket is essentially a modern-day version of McQueen's.
Watches
A great watch can tie together any ensemble, and no one knew this more than Steve McQueen. They were an immensely important part of the actor's iconic image, and he was seldom photographed without one on his wrist. He often wore his own personal timepieces on screen, and several have become even more famous because of that connection.
Our Pick #1 – TAG Heuer Monaco: Cars and watches came together for Steve McQueen in the 1971 film Le Mans, where the actor wore the iconic square-case Heuer Monaco, perhaps for the last time ever. Nonetheless, the timepiece is forever associated with the actor. A total of six were worn throughout filming, but only two went home with McQueen — one of which sold for over $2 million a few years ago at auction.
Our Pick #2 – Rolex Submariner: Although McQueen had a Rolex Explorer II 1655 colloquially named after him and famously donned a Rolex Speedking in The Great Escape, it was his Rolex Submariner that was his personal favorite. Worn in The Towering Inferno and his final film, The Hunter, it was also on his wrist while filming Papillon. The actor favored either the 5512 or 5513 references; both no-date variants. Today's equivalent, if you're looking to avoid astronomical vintage prices, is the ref. 124060.
20 Style Brands James Bond Fans Should Know
Finished gathering together chukka boots and tweed blazers for your Steve McQueen wardrobe? Now try putting together a new capsule based on 007 with our guide to the 20 style brands James Bond fans should know.