Jackets are an undeniable staple in the menswear world, and for centuries, several distinct styles have risen to popularity. Among a torrential downpour of different constructions, styles, and types, the jackets that have stood the test of time often feature a rich heritage and unique design principle that have kept them prominent throughout the years. In turn, manufacturers have begun to innovate and replicate their timeless styles — bringing new variants and fresh construction ideals to the industry.
That being said, there are only a handful of styles for which every man should become familiar. From military-oriented designs like bombers and overcoats, all the way to modern garments like technical and puffer jackets — these iconic fabric-laden articles of clothing have transitioned into the modern man's go-to pieces of outerwear. Below, we'll outline the 10 jacket styles that every man should own, paired with a brief history on each, and of course a few of our favorite picks from each genre. Without at least one variant of each of these styles in your closet, it's safe to say that your collection still has room to improve — so let's dive into a nostalgic look at the man's most versatile piece of clothing.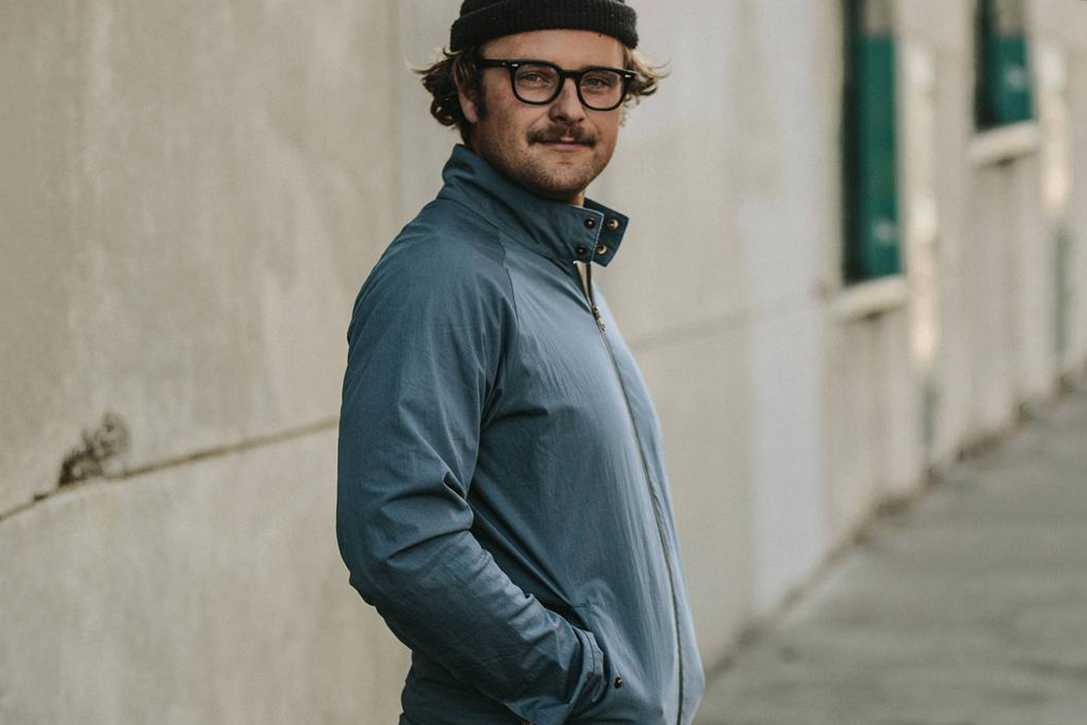 Harrington Jackets
The Baracuta League
Originally known as Baracuta jackets, Harringtons have made their appearance throughout history as a lightweight, waist-length garment. These fashionable pieces of menswear were typically constructed from suede, wool, polyester, or cotton, and made use of their casual profile to transition into pop culture as an iconic piece of outerwear. After being brought to the market in the 1930s by their original designer, Baracuta, the jacket was adopted by both celebrities and militant U.K. radical groups, becoming synonymous with a hard-cut style and outward appearance. In the west, however, Harrington jackets are often referred to as the quintessential "spring jacket," and have become of a must-have item in most men's wardrobes.
Taylor Stitch Montara
Taylor Stitch's Montara jacket revives the classic '30s silhouette with an updated, modern style. Made with a 7-ounce cotton shell and Raglan sleeves, this fully-lined offering sports a unique two-way separating zipper, adjustable snap cuffs, and an iconic look that will take your outfit to the next level.
Barbour Royston Waxed Jacket
Barbour's Royston jacket brings back the classic Harrington silhouette in the most efficient way imaginable — utilizing corduroy trim, zip fastenings, and pure cotton fabric. To bring the outerwear into modernity, the brand has added a signature four-ounce waxed cotton for waterproof characteristics, as well as lightweight fabric lining to keep you warm and on the move.
Motorcycle Jackets
The Road Warrior's Choice
Motorcycle jackets are a quintessential piece of menswear that can't be overlooked, and their rise to fame throughout the early 1900s wasn't by chance — they're just that damn attractive. The iconic leather jacket was brought to the masses in 1928 when Schott NYC decided to depart from making garments catered toward the rain, diving headfirst into thick leather fabrics. The jacket was originally sold through a Harley-Davidson distributor in Long Island, New York, and over the next couple decades, it would be popularized by film stars like Marlon Brando in the 1953 classic The Wild One, and worn into stardom by rock and punk aficionados. The classic motorcycle jacket quickly became a balls-to-the-wall style that could be pulled off by anyone — and today, it's even become a staple with "less edgy" outfits.
P&Co. Dresden Leather Jacket
P&Co's Dresden Leather Jacket harkens back to the classic design utilized by early motorcycle gear, utilizing a 100% Nappa lamb leather and cotton body lining. Antique silver metal hardware and custom zip toggles give the hard-wearing garment a heritage look, while acetate sleeve liners and a unique lower belt system give the jacket a look all its own.
InR x Understated Leather Men's Easy Rider
Iron and Resin have become somewhat of a staple within the motorcycle community and their lifestyle-oriented gear has helped to catapult them into the spotlight. In the vein of well-designed leather jackets of old, the brand's Leather Men's Easy Rider is built using a luxury hand-cut naked leather, a fully lined interior, and a number of zippered enclosures. This jacket is built to withstand the elements and protect the wearer when things go awry — but it works just as well as a handsome, stand-alone style piece.
Denim Jackets
The American Icon
Denim jackets have made their mark on American fashion, and with a rich heritage that dates back to as early as the 19th century, it's difficult to say that they aren't a beloved piece of outerwear. These jackets were typically constructed with durable denim and were brought to prominence in the 1880s by Levi Strauss, who had bestowed "jeans" upon the American workforce nearly a decade earlier. The jacket's tapered style, welted hand pockets, and bar tacks helped to define the garment as an early-era worker's jacket, and over the last century, it's become recognized as a cultural and generational icon for western outerwear.
Rag & Bone Selvedge Denim Jacket
Rag & Bone's Selvedge Denim jacket is a testament to the earliest iteration of western garb, utilizing a crisp and rigid silhouette that has contrasting orange seams and a dark-blue hue. Dual front slash pockets, buckled waist tabs, buttoned cuffs, and flap pockets on the chest of the garment provide ample room for storage, while the Selvedge construction ensures a long-wearing shelf life that'll compliment your outfits for years to come.
Freenote Cloth CD2
The Freenote Cloth CD2 is truly an updated classic and features a custom 14.75-ounce broken twill selvedge, a cinch back detail, and a nostalgic zig-zag stitch that references the garment's historic construction. No detail is left unchecked, including double-needle detailing, custom metal snaps, and hand-selected leather interior patches alongside a universal zipper system that compliments the handsewn style.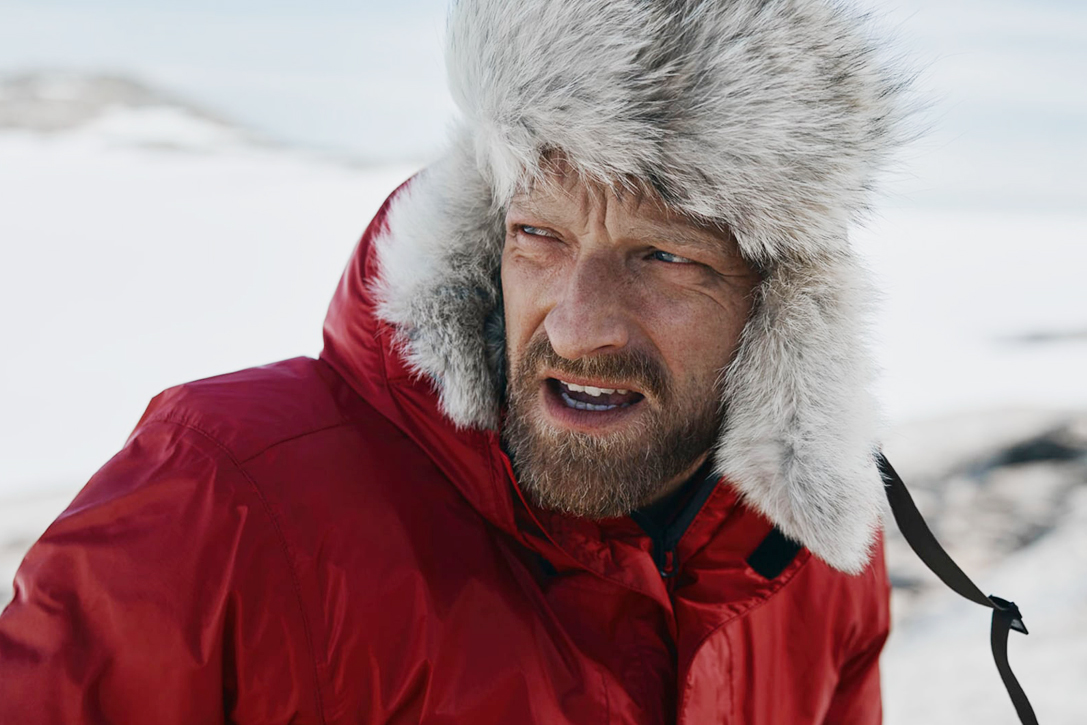 Parka Jackets
The Plush Protector
Parkas have been utilized for centuries as a premier hunting and survival coat, and as a trademark of indigenous tribes and individuals throughout history — the jacket has a storied past in the toughest climates on earth. Originally, the jacket was constructed from primordial leathers and fabrics provided by seal and caribou — species native to the frozen arctic. Due to the jacket's capability, the military eventually adopted the silhouette for use in climates that fell below -60 degrees Fahrenheit, developing the original snorkel parka in the 1950s. Eventually, the parka would break free of its military roots and find prominence in the mod subculture, where the fishtail parka that we know today was conceptualized. While the parka is often mistaken for an Anorak, there are two key differences — the parka is often zippered and sports a fur-lined hood, whereas the anorak is a waterproof pull-over that retains a normal hooded exterior.
Triple Fat Goose Chenega II Parka
Triple Fat Goose's Chenega II parka is an upgraded version of one of the most prominent silhouettes of all time, featuring waterproof zipper enclosures, premium fur lining, and a high-performance, tape-sealed construction that's been heat welded for the ultimate in protective outerwear. Combining a 700 Fill Power 15.5 Oz white goose down and a water repellant DWR-treated shell with HeiQ Technology, the Chenega II is a must-have for any mid-winter expedition.
Canada Goose Expedition Parka
Canada Goose is a renowned name in winter outerwear applications and their Expedition Parka has remained one of the most celebrated garments in the industry. This 100% nylon lined parka is filled to the brim with white duck down and features a natural coyote fur liner around the hood for exceptional comfort. The winter jacket is both waterproof and technical, protecting the wearer from a wide range of dangerous elements. It's timeless silhouette make it an essential piece of outwear that will offer years of stylish service.
Bomber Jackets
The Aviator's Garment
The bomber jacket is yet another iconic piece of menswear that found its popularization through military applications. Although they had been used prior to WWII as a means to keep pilots warm and protected in their open-air cockpits, these aviation-focused garments were pushed into popularity when they were used throughout the 1950s and 1960s by European pilots. The MA-1's iconic silhouette was perhaps the first notable style to be used outside of the military, and with more and more fashion-oriented men picking up on the style, the bomber was championed by various youth subcultures during the 1970s and 1980s. Today, the classic style piece is adorned in nearly every corner of the world and serves as a nostalgic reminder of our mid-century cultural shift.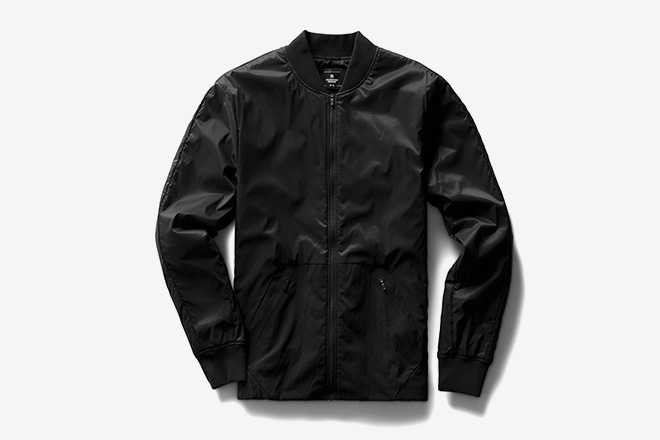 Reigning Champ Insulated Bomber
While Reigning Champ's Insulated Bomber is a well-designed reference to the garment's historic roots, this modern day offering is packed full of new-age fabrics and tech that will keep you at the top of your game. The lightweight bomber is built to withstand a number of stresses thanks to its water-repellent micro-ripstop nylon and Polartec Alpha 60 insulation
Mr P. Shearling-Trimmed Suede Bomber Jacket
Mr Porter's in-house brand always does a great job of referencing the greats, and their Shearling-Trimmed Suede Bomber is a modern offering that's pulled straight from the annals of time. Made with a high-quality chocolate lamb suede and a detachable cream shearling collar for the warmer months, this handsome garment features a ribbed trim, front welt internal pockets, and a fully lined silhouette constructed with virgin wool and cotton.
Chore Jackets
The Work Horse
Most of the stylish jackets we wear today are derived from an original, hard-wearing variant that was conceptualized for durable use in some of the world's harshest conditions, and the chore jacket is no different. Designed in the late 19th century for France's manual laborers as a means of keeping warm and dry, these minimalist jackets were constructed with preferred materials and utilized a heavy duck canvas or denim as their primary fabric. After making their way to America and becoming mass produced by workwear companies, the chore coat design was refined by the iconic workwear brand, Carhartt, who fostered the design into the future. These days, vintage chore coats have once again made a resurgence with slimmer cuts, premium materials, and other modern details that have helped to bring them into the limelight as a must-have piece of menswear.
FOLK Cotton Twill Chore Jacket
Folk's chore coat is as close as you'll get to the real heritage offering — constructed from a light Army green cotton-twill with front patch pockets that harken back to the original garment. Snap-fastened cuffs and enclosures work alongside the jacket's 100% cotton exterior for an adjustable, comfortable fit.
Filson Tin Cloth Packer
Filson is touted as one of the most tried and true heritage brands around, so it comes as no surprise that their Tin Cloth Packer chore coat is one of the most impeccable offerings of the category. The Packer utilizes two layers of Tin Cloth throughout the arms and yoke of the jacket, while a 24-ounce Mackinaw virgin wool-lined snap tab collar and weather-resistant zipper closure help to battle the elements. Solid brass zippers and storm flaps adorn the trusted piece of outerwear, utilizing a gusseted rear and generous cut for harmonious pairing with everyday outfits.
Technical Jackets
The Expeditionary Article
Technical jackets have been around for almost a thousand years, but recent innovations in moisture resistance and waterproofing technology have catapulted these jackets into prominence among outdoor enthusiasts, streetwear designers, and anyone who's looking to spend time in climates that are less than exemplary. It wasn't until a few decades ago that technical fabrics like Gore-Tex were introduced into outerwear, and while the practice of water-resistance has only been refined since then, the inclusion of this technology spurned a gigantic industry-wide movement toward technical fabric research. Originally, technical jackets were made from dense fabrics like gabardine that would provide proven weather resistance but weren't completely abject to moisture penetration. In an effort to remedy this, technical outerwear companies started introducing DWR treatments and fabrics into their modern clothing, pushing outdated materials to the wayside. Now, a number of athletic, exploratory, and heritage brands have utilized newly acquired waterproof fabrics in their gear, and the movement toward well-built (and attractive) moisture resistant outerwear has taken hold.
Aether Alpine Shell
Aether's Alpine shell jacket is a sleek, simplistic garment that houses everything you could want from a technical jacket. It utilizes a three-layer plain weave fabric that adjusts heat retention and breathability based on the current condition, a waterproof, wind resistant, and breathable sealed silhouette, and a three-point adjustable hood with ventilation to prevent overheating.
Arc'teryx Beta AR Jacket
The Arc'teryx Beta AR is an exercise in lightweight, packable technology that features a waterproof Gore-Tex Pro fabric, a helmet-compatible DropHood, and a high-performance design that can be used in various climates and conditions. Hand pockets, armpit zippers, and Cohaesive cord lock adjusters give the wearer a comfortable, adjustable fit while a tailored waist length provides the perfect protection against the cold.
Down Jackets
The Insulated Legend
"Puffer" jackets didn't start out as the technical, outdoor-oriented garment we know today — in fact, these jackets first found popularity on the runways of America's high-fashion industry thanks to Charles James. At the same time, outdoor enthusiast Eddie Bauer was experimenting with the idea after finding himself in a near-death experience during a wintery excursion. While the jacket grew to retain an established following within the alpine community, James' iteration quickly became a fashionable statement for men and women alike. Throughout the '90s, hip hop culture helped to boost the jacket into the limelight with artists often sporting the puffiest, shiniest garments they could find. As time went on, the jacket returned to its defined alpine roots, with a number of outdoor manufacturers capitalizing on the insulated piece of outerwear by introducing new, waterproof fabrics, water-resistant impregnation, and updated silhouettes.
Foehn Robson Down Hoody
Foehn's Robson Down hoody combines aesthetics and performance into one exceptional looking package, utilizing a two-way mechanical stretch fabric and a responsibly sourced 800 fill power down. Laser cut venting and a dependable DWR treatment ensure that the wearer is ready to face any environmental adversary while retaining the classic "puffer" style that we all know and love.
Black Diamond Cold Forge
Black Diamond's Cold Forge is a hard-wearing jacket that was built for the cold — utilizing a bluesign-approved Pertex exterior and a DWR treatment for light moisture protection. Underarm gussets and a number of pockets ensure adequate storage while providing a high-quality warming capability thanks to Primaloft Gold insulation.
Trucker Jackets
The Traveler's Texture
Much like the renowned denim jacket, the contemporary trucker jacket was brought to the masses by Levis in 1905. Throughout the years, the trucker has utilized numerous different styles of riveting, doubled pockets, logo buttons, and denim design changes, only to settle on a rough recollection of the original garment for today's modern offering. Style-wise, the trucker has long been a favorite amongst men — retaining an iconic, short, fitted silhouette that's easily recognizable due to its button front and double chest pockets, alongside well-constructed denim. These days, the jacket is an undeniable part of men's style, with everything from high-fashion designers and style moguls, all the way to heritage and vintage clothing brands releasing their own take on the classic garment.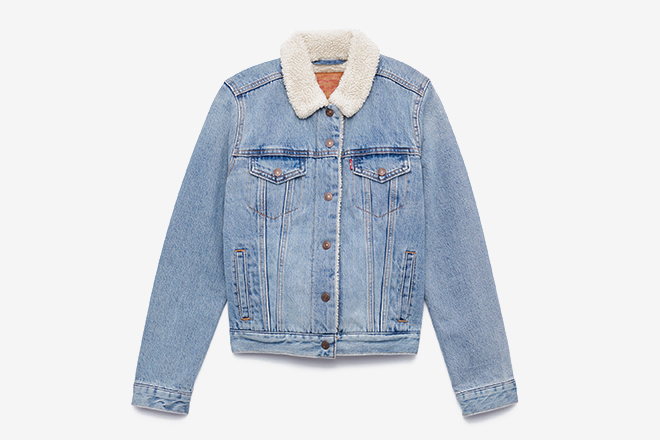 Levi's Sherpa Trucker Jacket
Levi's Sherpa Trucker is based on the jacket that started it all, with a cotton and lyocell construction, sherpa-lined point collar that features a front snap closure, and an iconic light-denim exterior that will pair well with a number of outfits. A sherpa-lined interior and quilted lining in the sleeves provide wearers with the ultimate in warmth and comfort, while side hem adjusters and a non-stretch silhouette keep you looking proper.
BLACKMEANS Cotton Trucker Jacket
The Blackmeans Cotton Trucker is heavily influenced by punk and motorcycle culture, which the original garment has become synonymous with over its lifespan. Featuring a tough cotton exterior and traditional details like snap-fastened pockets and side tabs, buttoned cuffs, and flap chest pockets, this classic trucker is an exercise in timeless style.
Overcoats
The Classic Silhouette
The overcoat has been at the forefront of sartorially-inclined menswear for centuries, and its adaptable style has been utilized for everything from evening wear, all the way to chilly city commutes. The knee-length silhouette was originally designed for use over the top of indoor clothing and it's a perfect option for staying warm throughout winter thanks to its heavy, dense materials. It holds a close kinship to the original military garments, which were made for officers and other important individuals on the field of battle — though, throughout the past century, it's been worn by celebrities, political influencers, and great minds — becoming synonymous with well-defined men's style in the process. When choosing the perfect overcoat, adhere to the classic, timeless shapes and colors — and make sure to keep yourself comfortable and warm with a tried and true material like wool.
PS By Paul Smith Wool Overcoat
Paul Smith's Wool Overcoat should be a staple of every man's wardrobe, utilizing a substantial wool-blend and notch lapels for a classic look that references the original garment. Buttoned cuffs, front welt pockets, and button fastenings provide the wearer with a timeless look, while nylon, cashmere, and buffalo horn bring the overcoat into modernity.
Officine Generale Slim-Fit Wool Coat
Officine Generale's well-sourced Slim-Fit Wool coat is made from the highest quality insulated wool, alongside covered buttons and welt pockets that harken back to military jackets of the early century. Notch lapels, non-functioning button cuffs, and a butterfly lining round out the iconic piece of menswear — and with Officine's renowned name behind the garment, its quality is undeniable.
The 15 Best Fall Jackets For Men
Now that you've brushed up on your knowledge of various jacket styles, head on over to our guide on the best fall jackets for men to find your new favorite garment for pre-winter wear.