While countless sweatshirts and sweaters come in different shapes and sizes, one of the most timeless is the good old-fashioned crewneck sweatshirt. As one of the most common silhouettes on the market, every brand has provided its take on this loveable garment, as it's long been the staple layer for everything from lazy Sundays on the couch to sweat sessions at your local boxing gym to running errands in chilly weather. That's why we've taken it upon ourselves to seek out the best men's crewneck sweatshirts on the market for this guide.
With an abundance of both plain and design-clad options across the space, it's no surprise that pinning down the right sweatshirt can seem like a tall task. Luckily, we scoured the web for you to simply sit back, keep warm, and not worry about diving into the miscellaneous specifications of an onslaught of sweatshirts. Whether you're looking to up your loungewear game or add a casual touch to your next outing, we've compiled a guide to the best crewnecks you can buy in adherence to any scenario.
Carhartt Loosefit Midweight Pocket Sweatshirt
Whether you're a blue-collar nine-to-fiver or a workwear enthusiast, you can't go wrong with Carhartt's entry-level offering. The Detroit heritage brand's sweatshirt is extremely comfortable thanks to its loose-fitting makeup but still keeps the crisp winds away thanks to its rib-knit cuffs and their stretchy, spandex reinforcement. For added convenience, it's finished off with a chest pocket to throw your spare nuts and bolts into.
Nike Sportswear Club Fleece Crew
If you find yourself looking to keep things subtly sporty, anything from Nike Sportswear serves as an impeccable choice. Thus, the legendary brand's Club Fleece Crew sweatshirt serves as an ideal additional layer if you find yourself on the court, at the gym, or simply grabbing lunch. Thanks to its brushed-back fleece composition, the Swoosh's option offers a skin-soft feel and subtle embellishment at the chest area.
Los Angeles Apparel 10oz Fleece Wide Crewneck
Built for annual wear, this 10-ounce sweatshirt is composed of a blend of 50% cotton and 50% polyester, then rounded out with a raised mock neckline for style's sake. Comfort aside, what stands out most about Los Angeles Apparel's crewneck is how the brand manufactures it. The SoCal-bred label's professional seamstresses are paid at a justified rate, going to show that it cares about its product as much as the people who put their time into it.
L.L.Bean Quilted Sweatshirt
L.L.Bean's cozy Quilted Sweatshirt adds a textured touch to the quintessential garment. The Maine-bred clothiers crafted this neat piece from a blend of cotton and polyester, giving it a versatile weight that's light enough to wear annually but still plush enough to keep you feeling cozy through the colder months. Plus, even though it's been brushed to provide an even softer feel, it's an incredibly rugged choice that's sure to last.
J.Crew French Terry Crewneck
J.Crew's sweatshirt serves as another exemplary choice from its wide portfolio of go-to garments. This particular crewneck is abundantly comfortable thanks to its French terry composition and comes available in a pair of subtle colors that are easy to wear on any occasion. In layman's terms, this may not be the flashiest choice, but it gets the job done through top-tier quality and classic styling (peep the under-collar "Dorito"), and that's what the shopping mall favorite is known for.
Taylor Stitch Heavy Bag Waffle Crew
While a seed stitch composition is more synonymous with plain thermals, leave it to Taylor Stitch to put its own unique personal spin on on another classic piece. Eschewing tradition, this raglan-sleeved crewneck starts with a custom-developed thermal with a waffle texture to provide enhanced breathability while still managing to keep you warm. It is made from a blend of recycled cotton and recycled polyester, managing to reduce any water waste en route to ensuring that you're keeping both warm and ecologically responsible.
Buck Mason Interloop Crew Sweatshirt
Anything Buck Mason produces is worthy of a spot in your wardrobe, ergo, it's no surprise that this midweight crewneck serves as a great mid-tier option. To prevent the Interloop Sweatshirt from getting smaller with every laundry day, the L.A. clothiers cut this piece's fabric against the grain, which assists in bringing vertical shrinkage to a screeching halt. The fabric at hand is a dense, formidable French terry that's guaranteed to keep you warm when needed on a breezy day.
Todd Snyder Midweight Pocket Sweatshirt
Todd Snyder is another name that's made its living off of reimagining American essentials with its personal touch. The New York fashion label's garment-dyed Midweight Pocket Sweatshirt serves as part of its collaborative effort with Champion, another name that knows its way around a sweatshirt. Composed of 18-oz. French terry, it is finished off with raglan sleeves and a V-stitch, making for a blend of warmth and style that the brand has consistently provided since hitting the scene a decade ago. The shirt comes available in as many colors as there are in the rainbow, so you can rest assured that it will go hand-in-hand with whatever outfit you may have in mind.
lululemon City Sweat Crew
lululemon's City Sweat Crew sets to take on exactly what its namesake consists of, that being the big city or your local gym. The four-way stretch, French terry-crafted sweatshirt looks to be in it for the long haul thanks to Lycra's stretchable fibers. Serving as part of the Canadian label's On the Move collection, it is a naturally breathable choice that is sure to bode well even if it's getting a bit too tepid outside. Plus, thanks to its pair of underarm gussets, it somehow proves to become even more comfortable with every added element.
Pangaia Recycled Cotton Sweatshirt
Pangaia is a humble, sustainable brand that's worth talking about no matter what the product is, so the fact that it crafts great ones serves as a nice little bonus. Composed of responsibly sourced, high-quality organic cotton, this sweatshirt is finished off with the label's trademark PPRMINT treatment, which is made with peppermint oil to provide antibacterial protection, something those around you will surely appreciate if you end up sweating in this sweatshirt.
Lady White Co. Relaxed Sweatshirt
Lady White Co. embodies the minimalism that has gradually taken the fashion world over, let alone the chic Hollywood neighborhood from which it hails. While this garment-dyed sweatshirt may not be as lively as the brand's velour pieces, it's equally notable — not to mention equally stylish. It's cut from lightweight French terry, boasts an oversized fit, and features double-needle construction for longevity. Seeing as this is a label that looks to create nothing short of the best products around, the fact that this is crafted within a five-mile radius of Lady White Co.'s offices is even more assuring.
Billy Reid Terry Dover Crew
Billy Reid's Southern roots may serve as a solid reason as to why it sticks to American classics so well – however, being based in a city named Florence is bound to result in a luxury touch, be it Italy or Alabama. While the brand came to fruition in the latter, its handsome Dover Terry Crew is composed in Canada and serves as an ideal addition to anybody's wardrobe. It is rounded out with a stylish, herringbone twill design and a pair of distressed leather patches on both sleeves.
Reigning Champ Merino Terry Crewneck
When it comes to getting a workout in, there are few names more notable nowadays than Reigning Champ. The Canadian athleisure brand crafts an immaculate crewneck composed of nothing but merino wool and just a tad of elastane for some certified stretchiness. Then, for added comfort, it's finished off with a pair of loose semi-raglan sleeves. As a result of its merino makeup, this is a moisture-wicking, odor-resistant, and standard-fitting sweatshirt that is sure to treat you right whether you're on a morning jog or simply working from home.
Acne Studios Logo-Appliquèd Mélange Sweatshirt
While the Swedish brand's premier denim pieces have often stood out in its array of products, garments like this cozy cotton-jersey sweatshirt have gone to show that these high-end clothiers can make anything fashionable. Acne's signature face logo makes a subtle appearance on the chest here, appliquéd to accentuate the hoary gray tone. Oversized for a comfortable feel, it's sure to make for a rather heavyweight piece that's still guaranteed to keep you warm for the remainder of winter.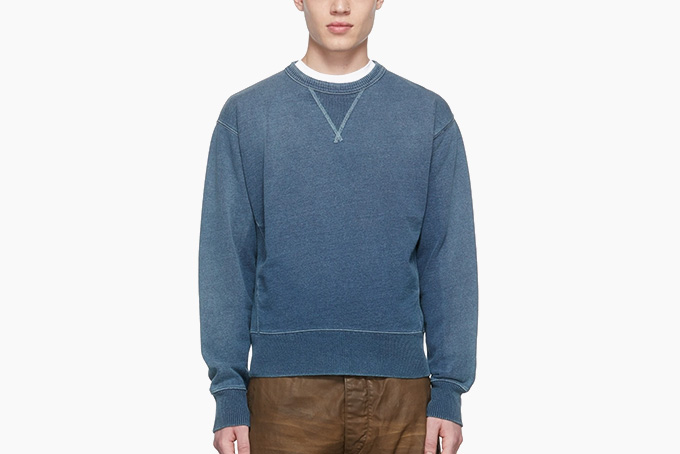 RRL French Terry Sweatshirt
While Ralph Lauren's Polo line may be the more prominent, we're fans of the designer's Americana-inspired RRL label thanks to its admiration for the wild west which has led to its manufacturing of top-tier garments with a hard-nosed touch. Its spin on the crewneck sweatshirt looks like it was crafted by a band of designers who haven't considered throwing a Polo piece on in years, as it boasts a faded indigo shade and V-stitch for sweat absorption. It is finished off with a rib-knit collar, cuffs, and hem as a sign that RRL sticks to the classics in every way possible.
Our Favorite Affordable Cashmere Sweaters for Men
If you're looking to keep things at a reasonable price range while upping your style a bit, then our helpful guide full of affordable cashmere sweaters is here to help you do just that.