Aug 14, 2019
Category: Style
Whether you're subject to weekends on your favorite sailboat or rambunctious nights in the city's deepest dives, it's difficult to think of an article as diverse as the chino. Not only does it offer you a professional silhouette that was popularized in the era of fashionable business, but it's also become so mainstream that manufacturers have begun to focus on the creation of more casual styles. That doesn't mean that the chino is any less of a tasteful choice, however; you'll be hardpressed to find a more flexible staple in the entirety of your summer-oriented wardrobe.
If you don't own at least a few pairs of chinos, you're missing out on one of life's finest pleasantries. From their comfortable, cotton construction to their slim, tapered architecture, there's hardly a garment in your entire lineup that can pull double-duty like these classic variants. If you're looking for a fresh new pair for the summer, we've done the heavy lifting for you. Below, you'll find our favorite picks when it comes to the lightweight, breathable legwear; so throw on your favorite pair of sneakers or business shoes — we're diving headfirst into a guide on the best chinos for men.
Uniqlo Men's Slim
Uniqlo is the go-to source for many of today's top styles, and if you're looking for a pair of affordable, attractive chinos, you'll be sure to find them here. Staying true to the brand's basic facade, the Men's Slim Chino is a comfortable offering crafted from high-density, stretchable materials, and feature a tailored architecture that'll leave you satisfied and stylish. As one of Uniqlo's flagship styles, the Slim Chino utilizes a premium brushed feel, pairing well with everything from a tucked-in shirt, all the way to a casual tee and sneakers.
Everlane Midweight Slim
Everlane is another quintessential brand that every guy should know, and thanks to the company's affordable Midweight Slim Chino, it's easier than ever to dip your toes into seasonal styles. These stylish pants are crafted from comfortable midweight cotton twill, making them exceptionally durable. However, thanks to a longer rise than other offerings, Everlane's attractive chino garners a more conservative fit, giving it a professional, upscale look that's comparable to more expensive variants. Slant and welt pockets adorn the Midweight's exterior, accenting the chino's breathable, two-way stretch construction.
Topman Navy Stretch Skinny
In the same vein as Uniqlo and Everlane, Topman has thrown its own comfortable pant into the fray. The brand's Navy Stretch Skinny Chino is made for the fashion-minded guy, discarding the traditionally straight-legged orientation of modern offerings for a skinny, streamlined construction. If you're weary of their fit, don't fret; they're crafted with stretchable materials, an intuitive button fly, and a durable 98% Cotton/Elastane mixture that promotes comfortable wear. Topman didn't skimp on stylish inspiration with these lightweight pants.
Brooks Brothers Soho
Brooks Brothers are best known for their tasteful outlook on the guy's modern style space, and the Soho Chino is a perfect example of that. Not only do these chinos look as if they'd be right at home on a houseboat, but they're also made for everyday wear — which is something you don't often see in high-end offerings. A comfortable cotton and spandex mixture provides enhanced mobility and comfort, while slim characteristics make the Soho a welcome addition to any fashionable wardrobe. Better yet, these tapered variants also utilize a great-looking Indigo dye, oxford pocketing, and stylish corozo buttons; proving, once again, that Brooks Brothers' articles are as refined as they come.
Club Monaco Connor Stretch
Club Monaco doesn't shy away from the recreation of menswear's most iconic styles, and that's exactly what they've done with the Connor Stretch Chino. With a focus on bringing the style into the modern-day, Monaco has re-envisioned what a chino should be, incorporating slim-fit construction and exceptional mid-weight cotton for year-round wear. Compared to the company's other offerings, the Connor is a bit more tame, paying homage to the style's professional roots.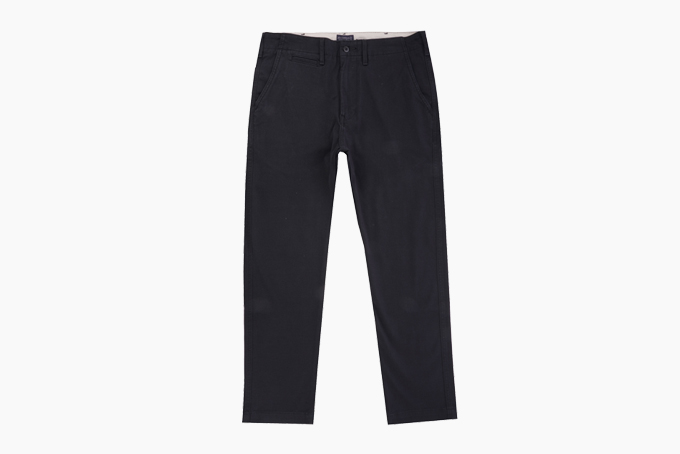 Levi's 502 True
Levi's isn't a newcomer to the pant game, and their 502 True Chino is a stark reminder of that. This all-arounder is outfitted with a classic taper for use in a variety of situations and features extra room throughout the leg for comfortable wear. To depart from the traditional, straight-leg fit of the modern chino, the company has placed a heavy emphasis on taper, stretch, and comfort, providing wearers with a pair of professional pants that can double up for a fun-filled summer night.
Bonobos Stretch Washed
Bonobos' Stretch Washed Chino is an exercise in purposeful legwear, offering buyers an exceptional 98% stretch cotton composition, a stylish curved waistband and pocket liner, and an Italian slide snap at the front. Like most of the company's offerings, the Stretch are tailored for use in a professional environment and take the cake when it comes to supplemental workwear. Here, you won't find a casual pair of rugged chinos — instead, you're paying for comfort, class, and stylish composure.
J.Crew 484 Slim
J.Crew's 484 Slim Chino pays homage to the classic piece of legwear while adding a perfect hint of modernity that's rarely achieved by manufacturers. To bring them into the realm of everyday-wear, J.Crew has opted to imbue these variants with a bit of additional flex or stretch, making them perfect for use in or out of the office. These elastic qualities give the 484 a leg to stand on when it comes to bicycling, walking, running, or a quick jaunt to your local market; proving, once again, that J.Crew has our best interests in mind.
Taylor Stitch Slim
Taylor Stitch has been known to make some of the most quintessential items in the guy's wardrobe, and with the company's Slim Chino, there's no denying their commitment to time-tested quality. These hard-wearing variants are constructed using 98% Organic Cotton, and have been outfitted with a touch of Spandex to keep them moderately stretch-worthy. The Slim's custom-milled twill is the perfect addition for mid-weight wear, while YKK zippers, brushed fabrics, and custom printed San Francisco vintage map pocketing bring the pant into the realm of artisanal taste.
Outerknown S.E.A Legs
Outerknown's S.E.A Legs Chinos are created with the weekender in mind, offering buyers a pair of hard-wearing khakis that can stand up to the trials of the city/sea, while retaining just enough class to head out for a night on the town. They're crafted with a rugged, durable twill that's reminiscent of your favorite pair of jeans, but feature enough stretch to make them a candidate for everyday wear. Here, you'll find the company's trademark 98% Organic Cotton composition, paired with sustainably-sourced Oceanworks buttons, a chemically-conscious manufacturing process, and above-average quality.
Todd Snyder Tab Front
Todd Snyder's slim Tab Front Chinos are the perfect pair of pants for the style-savvy city dweller, offering exceptional construction, durable components, and a tasteful silhouette that's become synonymous with the designer's trusted name. They operate under the guise of a tasteful office trouser, but transition just as easily into the realm of casual workwear, thanks to their elastane stretch, cotton composition, and slim fit. Snyder's Tab Front chinos are the perfect solution for the guy who's looking to take on the business-room during the week and pull double-duty on the weekends, all while wearing one of the most comfortable pairs of pants on the market.
Buck Mason Vintage Canvas 5-Pocket
Buck Mason is a one-stop-shop for everything that has to do with heritage style, and the Vintage Canvas 5-Pocket Chino is a prime example of the company's commitment to timeless classics. The Vintage are an ambitious take on the modern chino; they're cut in the same fashion as a blue jean, but constructed with a comfortable cotton canvas, a hint of stretch, and a breathable design that lends itself to year-round wear. As a result, they're softer than most, boasting a versatility that's often overlooked by less-prominent chino manufacturers. As the company's flagship pant, the Vintage Canvas 5-Pocket checks all the boxes when it comes to tasteful legwear — but if you're looking to pick up a pair for casual use, they'll fare well in any situation you decide to put them in.
Lululemon Commission Slim
Lululemon's Commission Slim Chino is inspired by the classic legwear style, but features the athletically-inclined attributes that we've come to expect from the brand. These leisure-ready variants are outfitted with the company's sweat-wicking materials, stretchy properties, and ABC engineering, giving them a comfortable, all-day orientation that won't let you down, regardless of the circumstances. They even feature flippable cuffs that house reflective detailing, and a hidden stash pocket for important peripherals, making them an interesting proposition for athletic individuals who want a pair of clean-looking dress pants.
Carhartt WIP Sid
Carhartt WIP's clothing is decidedly rugged, but that doesn't mean they can't make a pair of handsome chinos. The company's Sid is the perfect example, combining Lamar stretch twill, bartack stitching, and reverse pockets that marry purpose with poise. The chinos' comfortable cotton-poly blend, reinforcement in vital areas of the garment, and intricate stitching all lend themselves to trustworthy wear, staying true to the company's commitment toward dependable workwear.
Reiss Eastbury
Reiss' Eastbury Chinos foster a modern look that's as classy as they come, while also providing the perfect medium for casual wear. A brand's renowned cotton-blend has made its way into these handsome variants, while a subtle stretch provides comfortable qualities that aren't easily beat. Unlike most of our inclusions for this list, they sport a standard silhouette that's devoid of any form of taper, meaning that they're perfect for guys who are looking for a more traditional fit. Reiss' Eastbury are an undeniable staple that would fit right in with any guy's refined wardrobe.
Officine Generale New Fisherman
Officine Generale's New Fisherman Chinos find their inspiration in the workwear of old — most notably, the trousers worn by Breton sailors. Fortunately, they've been brought into modernity through the implementation of contemporary design, double-twisted cotton, and a fantastically-worn look that doesn't fall short when it comes to characteristic appeal. As one of the brand's flagship offerings, you can expect to find a pair of comfortable chinos that'll last for years to come, while also earning their right as one of your most-worn pieces of attire.
Mission Workshop Division
Mission Workshop's Division Chino is a testament to the quality of the brand's hard-wearing clothing, which has become a favorite among heritage-minded guys, the world over. Here, you'll find durable 4-way stretch nylon fabric, moisture management, and water repellency, helping to catapult the pants out of the realm of traditional chinos. Each pair is made in the U.S. and has been fashioned out of the finest Tweave 518C fabrics available, ensuring long life, and defined style.
Freenote Cloth Workers
Freenote Cloth prides itself on the creation of high-end menswear staples, and the company's Workers chino is nothing short of legendary. They're constructed using a Japanese twill, herringbone detailing, and custom metal hardware that the brand has contracted from Kentucky. If you're not convinced quite yet, they've even implemented custom Red Wing leather branding, a graded inseam, and a 100% cotton constitution that's sure to keep you in the throws of comfortable wear. If you're looking for the quintessential pair of summer-ready chinos, look no further than the traditionally-inclined Workers.
The 27 Best Dress Shoes For Men
Now that you've found a new pair of chinos for comfortable summer wear, head to our guide on the best dress shoes for men to take your casual and formal wardrobe to the next level.
HiConsumption is reader-supported. When you buy through links on our site, we may earn an affiliate commission. Learn more