Mar 21, 2022
Category: Style
Few other pieces of clothing are as important to have in your closet as is a trusty sweater. Because although a t-shirt will get you through the dog days of summer and a jacket will keep you warm during the worst of winter, they're out of their element when used in anything apart from their intended season. Sweaters, on the other hand, can be worn pretty much year-round. Good on their own or as a base underneath some heavier outerwear, they'll stick by your side through thick and thin, in everything from chilly spring mornings to crisp autumn evenings.
And that's not all — sweaters are also one of the easiest ways to add some complexity to an outfit, be it through texture, pattern, or layering. So, even if you wouldn't consider yourself "style-conscious" or "fashion-forward," a solid sweater will go a long way towards making your dressing decisions seem more deliberate. That being said, picking a sweater is a bit like choosing a streaming service. You recognize the fact that you need one and you appreciate that each style brings something slightly different to the table. However, when it comes time to pony up, the agony of picking the right one for your tastes often means that you've had enough long before it's even time to commit. Rather than inundating yourself with the sheer variety of what's on the market, just take a look at our guide. We've broken it down by style, with suggestions along the way for what we've deemed the 20 best sweaters for men.
Crewnecks
Everyday Dependability
Crewnecks are ubiquitous throughout mainstream menswear, and it's for good reason. With their round, collarless neckline, they make for an easy-to-match essential that goes well with virtually anything.
Flint And Tinder Reversible French Terry Sweatshirt
If you find yourself struggling to decide between two different fits, do yourself a favor and grab this offering from Flint And Tinder. Made from US-knit French terry, it features a reversible design that gives you two looks for the price of one. So, whether you opt to wear it with the loops facing outward for an upscale aesthetic or inward for a more classic cut, you can't go wrong either way — it's versatility at its finest.
lululemon City Sweat Crew
In addition to being stylish pieces of streetwear, crewnecks also make for great active apparel. Just take lululemon's City Sweat Crew, for instance. Like the above option, it's crafted using super-soft French terry fabric. However, because of its added lycra fiber, it offers both a four-way stretch fit as well as excellent breathability. And with seven different colors to choose from — including everything from 'Astral Graphite' to 'White Opal' — rest assured there's an option perfect for your personal fashion. As an added bonus, it even has a hidden pocket to stash your cash, keys, and other small essentials.
Fjallraven Ovik Knit Sweater
Jacquard knits and Fair Isle sweater patterns go together like Jack and coke, and this classic crew from Fjallraven is a case in point. Thanks to its 100% wool construction, it's naturally insulating, moisture-wicking, and odor-resistant, making it a perfect option to be worn on its own or layered underneath a heavier jacket. And with its rounded neck, raglan sleeves, and reinforced elbow patches, it offers a timeless cut that's comfortable to wear and ready for any adventure.
Outerknown Fisherman Sweater
As with each and every one of Outerknown's offerings, the Fisherman Sweater offers a sustainable spin on an iconic design. In practice, this means that it's made with 55% extra-fine Merino wool and 45% organic cotton, a combination that's not only environmentally-friendly (wool is naturally renewable and biodegradable) but also far safer for farmers because it does without harmful chemicals. But the best part is that because Outerknown opted for a side seam, it makes for a much more relaxed fit than your traditional fisherman sweater.
Norse Projects Sigfred Lambswool
Sure, that tired old crewneck from your glory days may hold a special place in your heart, but it's doing you no favors when it comes to your wardrobe. Instead, grab Norse Projects' Sigfred Lambswool sweater, an option that combines a classic collegiate silhouette with a premium Italian lambswool construction. With its set-in sleeves and single-rib collar, hem, and cuffs, it can be dressed down for daily wear or spruced up for special occasions.
Taylor Stitch Hardtack Sweater
Although cashmere usually gets all of the attention in any discussion about sweater softness, yak wool is — in many ways — a superior fiber. In the case of Taylor Stitch's Hardtack Sweater, it offers both longer-lasting durability as well as improved heat-retention (not to mention a super silky feel). Paired with some sheepskin elbow patches and a textured Donegal-fleck finish, the result is a sweater that's handsome, hard-wearing, and oh so warm. Don't sleep on this one — it's a best-seller year in and year out.
Saturdays NYC Kang Peace Mohair Sweater
In case you've missed it, bold patterns and block colors are back and better than ever, meaning that the Kang Peace Mohair Sweater by Saturdays NYC is a perfect pick for the style-conscious buyer who wants to stay on top of current trends. Because of its mohair blend, it has a unique luster to it (after all, it's not for nothing that it's considered the 'diamond fiber') that comes well-complemented by its checkerboard peace print. And with a fit that's incredibly cozy, you'll never want to take the Kang Peace Mohair Sweater off.
Filson Crew Neck Guide Sweater
If you're after an offering that can perform at its best no matter the weather, it doesn't get much better than Filson's Crew Neck Guide Sweater. For starters, its merino wool fabric can absorb up to 30% of its own weight in water while still being warm enough to keep you from catching a chill. What's more, because Filson has spun it using tightly-twisted yarns and a rib-knit collar, cuffs, and hem, it won't lose its shape over time — even despite its natural stretchiness. A true utilitarian workhorse, this is one sweater that's excellent for those days out of the office.
Turtlenecks
Cool Coverage
Although turtlenecks were once black-balled for being a bit too square, they've since experienced a resurgence. In fact, layer it up with one of these bad boys and you'll ensure that anything you're wearing looks that much cooler.
Uniqlo U Fisherman Ribbed Turtleneck Long-Sleeve Sweater
Designed by Christophe Lemaire, Uniqlo's U line offers high-quality essentials at an unbeatable price. And the Fisherman Ribbed Turtleneck is no different. So, despite its affordable $50 price tag, you get a sweater made from 19.5-micron extra-fine Merino wool and pile-resistant acrylic, with the yarn brushed in order to give it a cleaner look without the unwanted tags or fluff. No matter if you brighten things up with the 'Mustard' colorway or tone things down with the 'Brown', you can't go wrong with this one.
Club Monaco Boucle Turtleneck
Turtlenecks have the ability to add a level of class to any outfit, and with Club Monaco's Boucle turtleneck this proves especially true. That's because it is crafted from a loop-knit cotton blend, giving you a slightly textured finish that's understated enough to go with any outfit. In other words — you can rock it with anything from jeans and some white sneakers to a blazer and some cords to a trucker and a beanie and you'll stay looking sharp all the while.
Todd Snyder Cashmere Turtleneck
If your inclination to layer errs on the side of obsession, then this turtleneck from Todd Snyder will be right at home in your wardrobe rotation. Equally wearable on its own or under a button-down, its medium 14-gauge knit is the perfect weight for cooler temps. And because of its premium cashmere material, you better believe that it's as comfortable as they come. As is the case with any of Todd Snyder's pieces, the Cashmere Turtleneck is all but unrivaled in terms of its fit and feel.
Rag And Bone Haldon Mélange Cashmere Rollneck Sweater
Rounding out our tetrad of turtlenecks is the Haldon Mélange Cashmere Rollneck Sweater by Rag And Bone. As cozy as it is current, as soft as it is stylish, the combination of a 100% cashmere construction and a relaxed shape ensure that you'll be reaching for this one more often than not. Add to that some ribbed detailing at the side seams for a bit of extra flair and the result is a sweater that's sure to elevate your image in any setting.
V-Necks
Deep-Cut Versatility
Much like crews, V-Necks are incredibly adaptable garments that work in a variety of situations. Just be sure to rock a tee underneath — no one wants to see your chest hair.
Everlane The Cashmere V-Neck
Everlane consistently strikes the perfect balance between cost, quality, and design, making this V-neck a value proposition that's too good to pass up. It uses Grade-A cashmere sourced from inner Mongolia, with both extra-long and extra-fine fibers to ensure that it won't just stand the test of time; it'll get softer as it wears. And with four subdued hues to choose from — black, charcoal, heather grey, and navy — it's no wonder that this one's a hot seller upon each seasonal release.
Ralph Lauren The Iconic Cricket Sweater
There are tons of imitators out there with similar sweaters of their own, but no one else does it quite like Ralph Lauren. Based on the design originally released in 1972, it oozes classic country club style, with a cream-colored cashmere and cotton cable-knit body accented by some navy and red stripes at the neck and hem. And with a regular fit and some tailored sleeves, it's not for nothing that they call it 'The Iconic' Cricket sweater.
Mock Necks
Approachable Compromise
If you have your reservations about going full turtle, mock necks make for a great step-up from a crew. They also come in a wide range of styles, making it easy to find one that fits in with your particular taste.
Topman Tipped Roll Neck Sweater
For those who want a break from block colors but can't commit to a bright pattern, Topman's Tipped Roll Neck Sweater offers an excellent compromise. That's because it comes with just a bit of contrast at the collar and cuffs, making it playful enough for weekend wear but dressy enough for more formal settings. Made from 76% acrylic, 13% polyester, 9% nylon, and 2% elastane, it's comfortable, warm, and — most importantly — soft.
Schott Funnel Neck Military Sweater
As handsome as it is hard-wearing, this Funnel Neck Military Sweater from Schott takes its inspiration from classic standard-issue outerwear. So, in addition to offering a timeless aesthetic, its thick henley weave is also exceptionally warm. Button it up for a more high-end appearance or leave it open for more casual occasions; no matter which way you spin it, Schott's knocked it out of the park with this one. Were it up to us, we'd go for that cool "Coffee" colorway.
Cardigans
High-End Comfort
Although cardigans were originally inspired by the woolen waistcoats used by the British army, these days, they're decidedly less stuffy in their design. Arguably the ultimate cold-weather wardrobe piece, you'd be remiss if you didn't have one of these in your closet.
J Crew Cashmere Waffle-Knit Cardigan Sweater
As the purveyor of prep, J Crew is a brand that's well-steeped with cardigan expertise — something you'll quickly come to find with the sweater we've featured here. Certified to Aid by Trade Foundation (AbTF) standards, it uses only the most responsibly-sourced cashmere wool available. This means that it's not only more environmentally-conscious throughout the supply chain, but also that the resulting sweater is light, supple, and surprisingly durable for its weight. If you're looking for an understated cardigan with a classic cut, this is the sweater for you.
Pendleton The Sonora Cardigan
Were you to take one of Pendleton's cozy western blankets, give it some sleeves, and affix a couple of buttons, you'd be left something that looked a lot like this cardigan. Inspired by the Sonoran Desert, it sports an earth-toned stripe pattern across the chest and just above the hem. Add to that a shawl collar and some rolled cuffs and the result is a sweater whose timeless design speaks for itself. Buyer beware though — this one might inspire you to unleash your inner Lebowski.
Buck Mason Vintage Cashmere Shawl Cardigan
A quality cardigan is like a good bowl of soup — thick and comforting. In this case, Buck Mason's offering checks all the right boxes, because it's crafted using a chunky blend of both merino and cashmere wool. In other words, you get the structure and strength of the former with the unrivaled softness of the latter. And because it comes with a relaxed cut, it's just loose enough to give you that oversized aesthetic. A sweater this solid might seem too good to be true, but it's business as usual for Buck Mason.
Acne Studios Wool Blend Cardigan
Stockholm-based Acne Studios has been shaking up the fashion world with their characteristically-Swedish simplicity and bold reimaginings of iconic clothing designs. When it comes to the Wool Blend Cardigan, you'll find that although it's similar in shape to the above offerings, it's been given a deeper V-neck and some subtle ribbed detailing around the body. Available in either brown or black, it features a three-button design that layers well with tees, button-downs, and jackets alike.
The 20 Best Hoodies For Men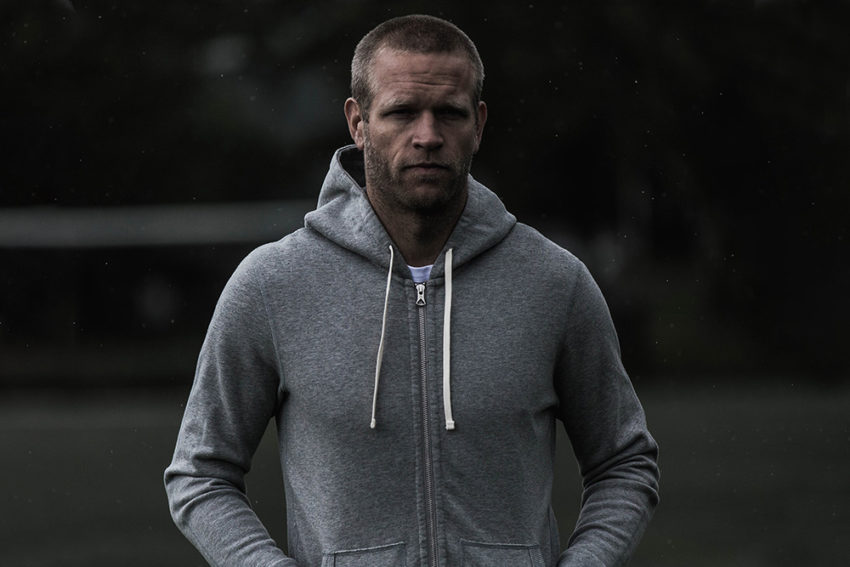 While this guide makes for a good start when it comes to essential men's midlayers, we recognize that everyone has their own sense of style. If you're looking for some more athleisure-minded outerwear, head on over to our guide to the best hoodies for men.
HiConsumption is reader-supported. When you buy through links on our site, we may earn an affiliate commission. Learn more