If you wear a watch that isn't a smartwatch, there's a pretty good chance that watch is a diver. Dive watches are far and away the most popular traditional watch style among men, having long ago supplanted dress watches as most guys' daily driver. Their mix of casual, sporty good looks and rugged tool watch utility make dive watches the perfect everyday companion. But with practically every brand offering at least one diver, it can be difficult to find the perfect one. That's where this guide comes in.
Whether you're a professional diver looking for a legitimate tool watch to take on your next icy plunge or you're an office drone who simply wants a solid desk diver, you're bound to find what you're looking for here. We've grouped together 20 of the best dive watches currently on the market, from budget picks to high-end luxury and everything in between. You'll find plenty of dive watch icons, some mega-cool vintage reissues, and the best of what modern watchmaking has to offer. But enough talk, let's dive in.
What Is A Dive Watch?
Below The Surface
The style of watch that we think of as a dive watch first came about in 1953 with the introduction of the Blancpain Fifty Fathoms and Zodiac Sea Wolf, followed by the Rolex Submariner the following year. While submergible watches had existed since the '30s, these were the first purpose-built dive watches, with high (for the time) water resistance in the neighborhood of 100m or more, large luminous indices, and uni-directional marked bezels for dependably timing dives. Today, these are still the hallmarks of the dive watch. A unidirectional dive time bezel is a must, as are high-contrast dials and hands with great lume. Modern dive watches also have greater water resistance — typically at least 200m — as well as a screw-down crown, which aids in the watches' water resistance. While these are the bare minimum requirements, it's not uncommon for divers to feature even more professional features, like a helium escape valve — this allows helium atoms to escape from inside the watch to prevent destructive expansion when decompressing after a saturation dive — or ISO 6425 professional dive watch standard certification.
Video Guide: 5 Best Dive Watches
For a much better idea of what these timepieces are like in the metal, have a look at our accompanying video guide to our five favorite dive watches on the market.
The Best
Our Favorite Divers
Longines Legend Diver
Best Non-Traditional: As one of the oldest continually-operating Swiss luxury watchmakers in existence, Longines has a generous back-catalog from which to draw inspiration for its myriad reissues. But never has the brand done so successfully as it did with the Legend Diver. A modern interpretation of a mid-century Longines diver, the Legend recreates the supercompressor style of dive watch that flourished in the 1960s and '70s. With a distinct look that features two crowns at 2 and 4 o'clock, an inner rotating bezel, and a stainless steel mesh bracelet, Longines' Legend stands out in the sea of luxury dive watches on the crowded market thanks to its unique — and devastatingly handsome — looks.
Case Size: 36mm, 42mm
Water Resistance: 300m
Movement: Automatic
Tudor Black Bay Fifty-Eight
Best Vintage-Style: Always anxious to step out of the shadow of its big brother Rolex, Tudor has unabashedly done so with the BB58 — one of the enthusiast community's favorite watches. While sometimes cited as the closest thing one can get to buying a brand-new vintage Submariner, Tudor's beloved diver stands on its own as a contemporary classic in its own right. Its pitch-perfect vintage styling cues include an oversized and unprotected crown, an ultra-thin coin-edge bezel with an aluminum insert and red triangle at 12, a rivet-style steel bracelet, a generously domed sapphire crystal, a gorgeous matte black dial accompanied by gilt hands, indices, and printing, and a conservative (and comfortable) 39mm case size.
Case Size: 39mm
Water Resistance: 200m
Movement: Automatic
Omega Seamaster Diver 300M
Best Modern: The classic "Bond watch" remains Omega's best-known model outside of the Speedmaster Moonwatch, and the modern incarnation is objectively the best version of the diver the Swiss luxury brand has ever made. All of the trademark stylistic hallmarks are still there — the wave dial, skeletonized rhodium-plated sword hands, twisted lugs, scalloped bezel, helium escape crown, and "tank tread" bracelet — but they've all been updated with more luxurious touches, like laser-engraved waves on the now-ceramic dial, to go along with the state-of-the-art METAS-certified Master Chronometer co-axial movement.
Case Size: 42mm
Water Resistance: 300m
Movement: Automatic
Rolex Submariner
Best Icon: Odds are that when you picture a dive watch, this is the watch that appears in your mind's eye. The Sub is far and away the most iconic diver in existence, if not the best-known watch in the world, period. Often replicated but never truly duplicated, Rolex's flagship has been setting the standard for sports watches since making its public debut nearly 70 years ago in 1954. Today's version is a little bigger and a little flashier than many past incarnations — though perhaps slightly less chunky when compared to last generation's Maxi-cased references — but it's still a rugged and ready tool watch at its core.
Case Size: 41mm
Water Resistance: 300m
Movement: Automatic
Blancpain Fifty Fathoms
Best Grail: The world's first modern dive watch, and still the one to beat among high-end luxury watches, Blancpain invented the market with the original Fifty Fathoms in 1953. While the watch was quickly surpassed in popularity by the Submariner among the general public, Blancpain's signature watch has arguably remained the one to beat among watch aficionados and discerning collectors thanks to its heritage and the centuries-old watchmaker's sterling reputation as an haute horological darling. From its impeccably-finished titanium case and sapphire bezel to its in-house Caliber 1315 automatic movement with three barrels and a 120-hour power reserve, this is the pinnacle of dive watchmaking.
Case Size: 45mm
Water Resistance: 300m
Movement: Automatic
Oris Aquis Date Calibre 400
Honorable Mention: Oris' Aquis was already one of the most acclaimed modern luxury divers on the market, but the famously independent Swiss brand still wasn't satisfied. So Oris gave the Aquis a major upgrade recently by jamming its new in-house Calibre 400 movement inside the watch's integrated bracelet-hugging case. The new engine is an impressive piece of engineering from Oris, as it boasts elevated magnetic resistance, a whopping five-day power reserve, and an unheard-of ten-year warranty to go along with its robust performance.
Case Size: 41.5mm, 43.5mm
Water Resistance: 300m
Movement: Automatic
The Rest
Other Fine Diving Options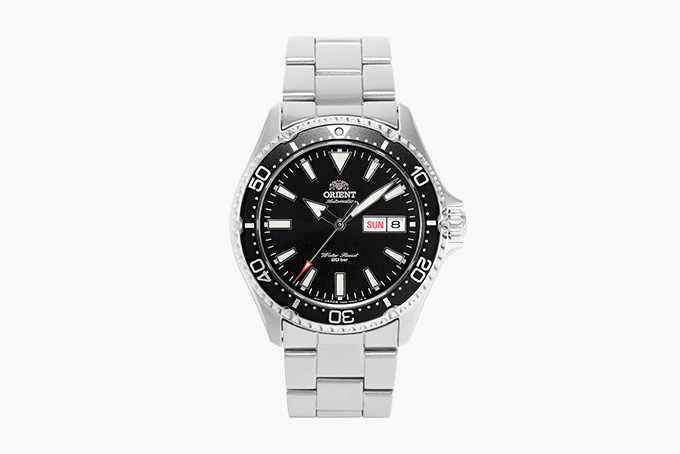 Orient Kamasu
Japanese brand Orient has been cranking out budget-priced mechanical watches since 1950, and the brand's divers have long been the budget entry point for watch enthusiasts. Following in the footsteps of the iconic Ray and Mako comes the more recent Kamasu, which adds a sapphire crystal to Orient's classic formula of a stainless steel case and bracelet, automatic day-date movement, and 200m water resistance.
Case Size: 41.8mm
Water Resistance: 200m
Movement: Automatic
Lorier Neptune
Darling of the microbrand world Lorier's first model was the Neptune, and the retro diver is still the NYC-based brand's handsome flagship. Designed to duplicate the experience of buying a brand-new dive watch in the mid-twentieth century, the Neptune looks like the lovechild of a vintage Rolex "Big Crown" Submariner and original Omega Seamaster 300 thanks to its thin aluminum bezel, domed plexiglass crystal, and broad arrow handset.
Case Size: 39mm
Water Resistance: 200m
Movement: Automatic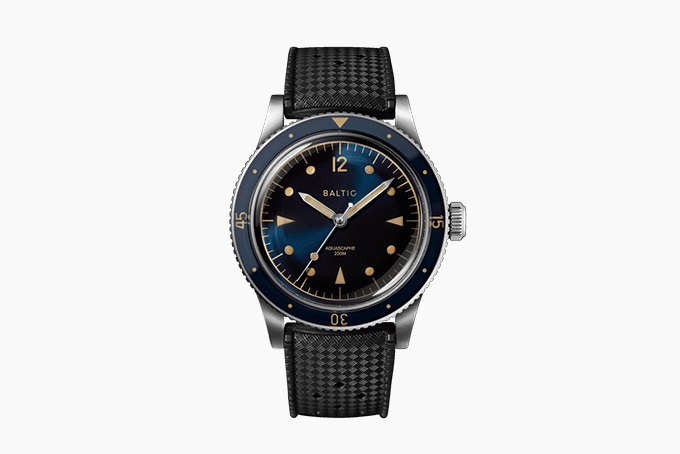 Baltic Aquascaphe
Another favorite microbrand diver comes from Lorier's chief (friendly) rival from Paris, Baltic. Like the Neptune with Lorier, the Aquascaphe is the beloved flagship of Baltic, but it takes a slightly different approach in its retro design. Here, you'll find more modern materials and touches — like a sapphire crystal and bezel insert and a quick-release bracelet — accompanied by a commensurate price increase.
Case Size: 39mm
Water Resistance: 200m
Movement: Automatic
Christopher Ward C60 Trident Pro 600
Arguably the best bang-for-your-buck diver over the past decade is CW's flagship, now in its highly impressive third generation. The watch boasts absolutely killer features that were previously unheard of at this price point; features like a fully-lumed ceramic bezel, a whopping 600m water resistance, myriad contrasting finishes on the "light-catcher" case, and the brightest lume on the market at the time of its inception.
Case Size: 38mm, 40mm, 42mm
Water Resistance: 600m
Movement: Automatic
Certina DS PH200M
Recently making its return to the U.S. market is classic Swiss brand Certina, and its DS PH200M diver is leading the way. A knockout vintage reissue of one of the brand's very first dive watches from 1968, the DS PH200M mixes retro flair with modern touches, incorporating a gilt-accented black dial, a unique rounded ceramic bezel that's fully graduated, and a stainless steel mesh bracelet.
Case Size: 42.8mm
Water Resistance: 200m
Movement: Automatic
Squale 1521
Squale is one of the most recognized names in the dive watch space, having crafted dive watch cases for many big-time brands — including Blancpain — in the '60s and '70s. These days, the family-owned brand exclusively makes its own watches, and the 1521 is a veritable icon. Especially popular in this Ocean Blue variant, the 1521 features Squale's most classic dive watch case, 500m water resistance, contrasting hour and minute hands, and a coin edge bezel.
Case Size: 42mm
Water Resistance: 500m
Movement: Automatic
Tissot Seastar 2000 Professional Powermatic 80
Long a forgotten member of its catalog, Tissot recently revamped the Seastar dive watch and it's now threatening to steal CW's crown as the best bargain in the industry. The watch's list of features is long for a ~$1,000 diver: it's got a chronometer-certified movement with an 80-hour power reserve, a ceramic bezel, 600m water resistance, a helium escape valve, ISO 6425 dive watch certification, and an exhibition case back… all from a Swiss heritage brand.
Case Size: 46mm
Water Resistance: 600m
Movement: Automatic
Zodiac Super Sea Wolf 53 Skin
Zodiac's Sea Wolf was one of the very first dedicated dive watches released back in 1953, and it was the first diver made for more budget-oriented shoppers. The brand is still cranking out Sea Wolves today, and its new 53 Skin is a delightful throwback skin diver take on the series. Boasting an in-house STP 1-11 automatic movement, DLC-plated stainless steel construction, and a ceramic bezel insert, this Sea Wolf has the modern bona fides to complement its vintage styling.
Case Size: 39mm
Water Resistance: 200m
Movement: Automatic
Seiko Prospex SPB143
Obviously, no best diver list can exist without Seiko. The brand has at least a dozen divers in its back-catalog that can be categorized as icons, ranging from the budget-based to the very high-end. For this guide, we've landed in the middle with the striking SPB143. It may not have as memorable of a name as the Turtle or Tuna, but this modern reinterpretation of the brand's original diver, the 62MAS, is like a chronicle of Seiko's entire dive watch history up to this point.
Case Size: 40.5mm
Water Resistance: 200m
Movement: Automatic
Mido Ocean Star Diver 600
A far less celebrated member of the Swatch Group roster when compared to popular stablemates Omega, Longines, and Tissot, Mido often flies under the radar. But if it keeps making watches like the Ocean Star, that's bound to change soon. Here we have an excellent modern diver with an 80-hour COSC-certified movement with a silicon balance spring, a luxe curved-end rubber strap, 600m water resistance, a helium valve, and a ceramic bezel insert that's infilled with uber-bright Super-LumiNova Grade X.
Case Size: 43.5mm
Water Resistance: 600m
Movement: Automatic
Rado Captain Cook
Rado gained a whole new identity a couple of years ago when it reissued its obscure '60s diver, the Captain Cook, and the Swiss-based brand has rebuilt practically its entire catalog around the suddenly red-hot diver. The watch's numerous quirks, such as its swinging anchor logo on the dial and concave ceramic bezel, help set it apart from the dive watch crowd, but it still maintains the specs and build quality you'd expect from a $2K+ luxury diver.
Case Size: 37mm, 42mm
Water Resistance: 300m
Movement: Automatic
Doxa Sub 300
A legendary name in the dive watch space is Doxa, the favored brand of famed undersea explorer Jacques Cousteau. But even if your uses aren't nearly as grand as Cousteau's, you'll still find plenty of value in Doxa's signature offering, the Sub 300. An icon in its "Professional" orange guise, the Sub 300 was introduced in 1967 with 300m water resistance and a unique unidirectional bezel featuring a dual scale for depth and dive time. Today's version throws in a domed sapphire crystal and a COSC-certified movement.
Case Size: 42.5mm
Water Resistance: 300m
Movement: Automatic
TAG Heuer Night Diver
James Bond has worn a few iconic dive watches in his day, most notably the Rolex Submariner and Omega Seamaster. But the fictional superspy also briefly (and unceremoniously) donned an '80s TAG Heuer diver in 1987's The Living Daylights. The watch featured a fully-lumed dial and a blacked-out case, and it's long been a bit of a legend among Bond aficionados. For 2021, TAG resurrected Bond's "Night Diver" as part of its revamped Aquaracer line, and the modern version brings contemporary luxury to the watch's '80s spy movie heritage.
Case Size: 43mm
Water Resistance: 300m
Movement: Automatic
Breitling Superocean Heritage B20
Breitling may be best known for its plethora of aviation watches, but the brand was an early adopter of the dive watch platform, having released the original Superocean diver in 1957. Today's heritage version of that watch certainly keeps some of the mid-century retro-cool styling, but it adds modern luxury elements for an overall contemporary feel. The watch equivalent of a retromod, the Superocean heritage features a shark mesh bracelet, sword and arrow hands, and an ultra-clean, numeral-free ceramic bezel.
Case Size: 42mm, 44mm, 46mm
Water Resistance: 200m
Movement: Automatic
Best Field Watches For Every Budget
Looking for an even more rugged and utilitarian tool watch? Then check out our roundup of the best field watches currently on the market for a thorough selection of military-tough wristwear.