You see, when it comes to footwear, there are a handful of options that can allow you to take on the highly-formal world, while still being able to dress them down for a day at the bar or the beach. We're talking, of course, about the chukka — a hybridized footwear example that was born in the sands of the Sahara but has since become something of a fashion staple, following its debut. Below, we'll guide you through and a handful of our favorite offerings from the heritage footwear world, while annotating what makes each unique model special So, without further adieu, let's dive into one of the style world's most versatile offerings.
clarks desert chukka boot
Clarks might just be one of the most recognizable names when it comes to style-savvy desert boots. So recognizable, in fact, that its very own chukka model is called the "Desert Boot" — demarcating its progenitive prestige, and its genre-defining presence. This versatile variant is an all-original silhouette from the brand's earliest days, and as such, it boasts a high-quality premium oak nubuck leather upper, contrasting stitching, and a signature crepe sole, paying homage to the bazaar-found footwear that was so popular during its initial run. Over the years, the Desert Boot has become a favorite of off-duty army officers and other military personnel, but these days, it's a must-have style staple for any guy with a lick of fashionable inclination.
thursday boot co. scout
Thursday Boot Co. has been on the up and up when it comes to the creation of iconic men's boots. While the company isn't necessarily as old, or as experienced, as its counterparts, it more than makes up for that (perceived) weakness by offering buyers well-informed essentials at a fraction of the price of premium models. That doesn't mean that Thursday throws construction, dependability, and style to the wayside, however. The Scout, for example, is a perfect representation of well-contrived fashion, adopting an ultra-sleek chrome leather exterior, stitch out attributes, and a fully-lined glove-leather interior, promising enhanced comfort for its wearer. Each model also utilizes a shock-absorbing Poron insole, giving the shoe antibacterial properties that complement its formative cork-bed midsection. To round things out, each of Thursday's footwear pieces is handcrafted with the utmost attention to detail, ensuring that you'll receive a top-of-the-line shoe, without paying top-of-the-line prices.
j.crew 1990 macalister boot
A timeless ethos is something J.Crew and chukka boots have in common, so it's not surprising that the former's take on the WWII-era steppers embraces the silhouette's heritage. The shopping mall staple's handsome MacAlister Boots are made in Italy, using locally sourced suede to compose its buttery smooth upper, then finished with stitched-out welt construction and rubber wool for tradition's sake.
rhodes tyler chukka
Rhodes' lightweight chukkas are expertly crafted in Leon, Mexico, where bootmaking is a pastime that proves the art of doing things the tired-and-true way never goes out of style. The Tyler's uppers are made from full-grain leather that's broken in and ready to wear from the moment they hit your doorstep. Plus, for added comfort, it sits on a cushioned Meramec PU outsole that promotes enhanced slip resistance.
astorflex greenflex chukka boot
By implementing an eco-conscious construction process and using uber-soft European leather, Astorflex took this staple silhouette to new heights. The handmade Greenflex Chukka sits on entirely natural rubber soles that are likened to "walking on a cloud," deeming them comfortable for you and the soil you walk on. Best of all, they are available in a trio of stylish colors, so you can choose the right one for any outfit — needless to say, you can't go wrong with all three.
red wing heritage weekender chukka
If you're a fan of men's footwear and you haven't heard of Red Wing Heritage, we'll have to question your devotion. Not only has the brand been around for over 100 years, but it's also become one of the most prominent names in the industry, thanks to its commitment to classic styles. While Red Wing certainly specializes in rough and rugged outdoor boots, the brand has a more refined side, which is exemplified through its Weekender. This chukka-styled silhouette was built for off-the-clock wear, and reminisces the fashion icon in its earliest days, while still including the brand's recognizable stitch-down construction, ComfortForce footbed, and shape. On its exterior, a copper leather construction, courtesy of S.B. Foot Tanning Company, provides a timeless look, overall, but also brings water, stain, and perspiration resistance to the table for interested buyers. To top things off, each model is crafted right here in the USA.
sanders hi top chukka
Sanders, like Clarks, is an English heritage brand that knows its way around a pair of desert boots. The brand's classy Hi Top iteration is as traditional as it gets, allowing you to bask in the idea of wearing timeless shoes that are bound to last you a while — that's the epitome of longevity. This option is available in several styles, including the pictured Dirty Buck Suede and additional, more vibrant hues.
taylor stitch the waterproof chukka
Denim shirts and fall jackets are probably the first things that come to mind when thinking of Taylor Stitch, but the San Francisco label's impressively versatile chukka is another exemplary example of its functional know-how. The sturdy silhouette is comprised of waterproof suede and lined with sumptuous sheepskin for a luxurious touch — but that's not all. This weatherized upper sits atop a Vibram mini lug sole finished with Goodyear welt construction for maximum traction and durability from top to bottom.
RANCOURT AND CO. BLAKE CHUKKA
Rancourt's Blake chukka is another more timeless model. Instead of adopting a plethora of modern traits and components, the brand stays true to the tried-and-true blueprint set forth by its genre's initial examples, including a natural leather midsole, a Horween Bulldog burnished cowhide upper and antique brass eyelets. That doesn't mean that it's afraid of change, though. To complement the shoe's braided wax cotton laces and unlined interior, a Reltex Lactae Hevea crepe sole has been introduced, providing enhanced comfort, durability, and traction for stubborn wearers who refuse to let the past slip away.
QUODDY KENNEBEC CHUKKA
It's difficult to create a respectable footwear list without the inclusion of Quoddy. As such, we've decided to reveal one of the brand's best-kept secrets: the Kennebec chukka. This hybridized boot/shoe combo is a delightfully-designed model that's remained under the radar for a vast portion of the market, and we're not sure why. It boasts a true moccasin construction, lacquered eyelets, rawhide laces, and a bespoke Vibram sole specially-developed for Quoddy. If that doesn't tell you something about the brand's quality, construction, and performance, then we don't know what will.
ALLEN EDMONDS CHANDLER CHUKKA BOOT
Wisconsin-bred shoemaker Allen Edmonds is no stranger to designing any form of footwear, so the Chandler chukka's minimalist appeal doesn't surprise us. And while the handsome shoe's lace-up look sticks to its mid-century roots, what's most notable about this option is its impressively functional comfort. The brand's signature CustomCork insoles mold to your foot over time, and while many other brands will say the same thing, few can compare to this trusty pair.
COMMON PROJECTS CHUKKA BOOTS
It's usually easy to tell when someone's wearing a pair of Common Projects boots or sneakers. And while the brand's signature number stamp speaks for itself, each silhouette's meticulous construction makes all the difference, as this leather-and-suede-lined pair of chukkas encapsulates Common Projects' expertise to a tee. One notable element that sticks out here is its pull-loop, which is bound to come in handy when you're in a rush.
MONCLER 1952 X CLARKS SHEARLING WALLABEE
Considering Clarks is a mainstay in this space, it only makes sense to ring it one more time, doing so here with a much fuzzier alternative to the traditional Wallabee. This winter-appropriate re-design is courtesy of the English heritage brand's partnership with Moncler, who does away with pricey puffer jackets to deliver a comfortable spin on this classic design. Most importantly, the sheep shearling fur upper doesn't diminish a sliver of the traditional Wallabee's walkability thanks to its roomy round moc toe and soft leather lining.
TOD'S LEATHER DESERT BOOTS
We're concluding our list with Tods' UK Leather Desert chukka — a sleek, timeless offering that's a prime contender for any fashion-forward guy's well-rounded wardrobe. To keep things simple, the brand has outfitted its all-black desert boot with a smart-looking almond toe, a lace-up front fastening, and a branded insole. But what makes this specific model so unique is its departure from the brand's traditional suede construction. Instead, it adopts an all-leather upper and a grippy, lugged sole, making it an attractive proposition for buyers who don't want to take on the difficult upkeep of an all-suede model. Like many of Tod's fabled footwear pieces, the Leather Desert is crafted in Italy, where its talented craftsmen put their best foot forward for each and every example.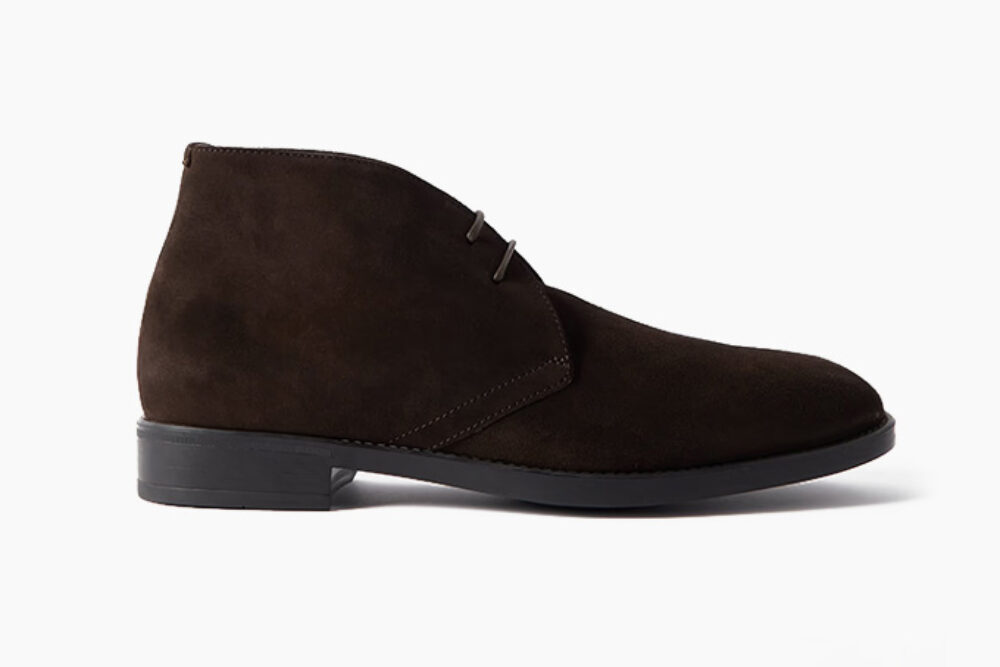 tom ford robert suede chukka boots
Well-versed in all things sartorial, leave it to Tom Ford to craft the most supple form of chukka boots on the market. The premium label's Robert silhouette is composed of enviously smooth calfskin suede and placed atop sturdy black rubber soles, granting the inimitable look a runway-worthy treatment that it doesn't receive nearly as often as it should. Whether you're dressing up, down, or somewhere in between, there's no room for error with these.
The Best Winter Boots for Men
Need a pair of boots prepared to tackle seasonal weather? Our guide to the best winter boots is sure to lend a hand.