Oct 31, 2021
Category: Style
Sometimes, our next social engagement calls for an outfit that's a bit more dressy. The problems begin when we realize that virtually every aspect of our wardrobe is catered toward its own niche, with "highly professional" and "highly casual" being the two clear winners. The truth is, many of our outfits don't straddle the line between the two worlds, and when we're faced with the difficult decision of what to wear to a mildly-formal occasion, we end up stuck. Luckily, there are choices out there that make our decision a little bit easier.
You see, when it comes to footwear, there are a handful of options that can allow you to take on the highly-formal world, while still being able to dress them down for a day at the bar or the beach. We're talking, of course, about the chukka — a hybridized footwear example that was born in the sands of the Sahara but has since become something of a fashion staple, following its debut. Below, we'll guide you through and a handful of our favorite offerings from the heritage footwear world, while annotating what makes each unique model special, outlining our favorite aspects, and giving you peace of mind while moving forward with your next big purchase. So, without further adieu, let's dive into one of the style world's most versatile offerings.
Rhodes Dylan
We're kicking off this list with one of our favorite models: the Rhodes Dylan. Not only does this stylish sand shoe bring signature craftsmanship and high-quality materials to the forefront, but it's also undeniably attractive, especially for a shoe that's been devised to take on the aridest climates in the world. Each individual model is composed of high-quality Italian leather, a 100% natural rubber sole, and a series of environmentally-conscious materials, meaning that you'll be able to wear them day in, and day out, without feeling like you're the least bit guilty. To round things out, a comfortable, unlined interior has been included alongside the shoe's classically-inclined waxed cotton laces, keeping its wearer cool whenever heat is unavoidable.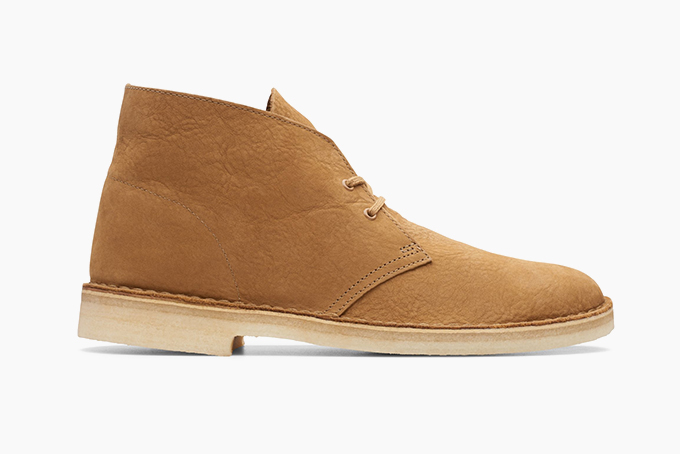 Clarks Desert Boot
Clarks might just be one of the most recognizable names when it comes to style-savvy desert boots. So recognizable, in fact, that its very own chukka model is called the "Desert Boot" — demarcating its progenitive prestige, and its genre-defining presence. This versatile variant is an all-original silhouette from the brand's earliest days, and as such, it boasts a high-quality premium oak nubuck leather upper, contrasting stitching, and a signature crepe sole, paying homage to the bazaar-found footwear that was so popular during its initial run. Over the years, the Desert Boot has become a favorite of off-duty army officers and other military personnel, but these days, it's a must-have style staple for any guy with a lick of fashionable inclination.
Lems Boulder
Lems' Boulder might not look like a traditional chukka, but rest assured — this contemporary silhouette still boasts all of the things that many boot fans hold dear. Obviously, it takes on a different appearance than its progenitor, thanks to its bold, dressy appearance, an iconic IBR outsole, and a more sneaker-like persona. If that's your bag, you'll be satisfied with the shoe's soft suede upper, moisture-wicking PU insole, and widened toe box. But where it really shines is in its comfort-focused implementations, including a LemsRubber air-injected outsole and zero-drop design. As a result, buyer's are gifted with a more refined shoe for everyday wear, while still being able to attend more classy engagements.
Cole Haan Colton
Cole Haan's Colton is a winter-focused chukka with a ton of personality. Unlike some of the other offerings on this list, it says true to the traditional design of the cross-laced legend, committing itself to near-exact mimicry of the genre's most popular models. Each example is outfitted with a 100% premium leather upper and boasts a two-toned upper for eye-catching contrast while worn day-to-day. Over time, the shoe's leather will take on a personalized fit and faded appearance, making it a truly unique model, without compromising the traits that have made the shoe style so elegantly appealing since its conception.
Thursday Boot Co. Scout
Thursday Boot Co. has been on the up and up when it comes to the creation of iconic men's boots. While the company isn't necessarily as old, or as experienced, as its counterparts, it more than makes up for that (perceived) weakness by offering buyers well-informed essentials at a fraction of the price of premium models. That doesn't mean that Thursday throws construction, dependability, and style to the wayside, however. The Scout, for example, is a perfect representation of well-contrived fashion, adopting an ultra-sleek chrome leather exterior, stitch out attributes, and a fully-lined glove-leather interior, promising enhanced comfort for its wearer. Each model also utilizes a shock-absorbing Poron insole, giving the shoe antibacterial properties that complement its formative cork-bed midsection. To round things out, each of Thursday's footwear pieces is handcrafted with the utmost attention to detail, ensuring that you'll receive a top-of-the-line shoe, without paying top-of-the-line prices.
Nisolo Emilio
If you're in the mood for a more classic take on the chukka, Nisolo's Emilio variant is where you want to look. Each Peru-made model is handcrafted by some of the country's finest craftsmen, and takes on an ultra-soft, full-length sheep leather insole, a cushioned, microporous interior, and a slip-free rubber heel cap, ensuring that you'll feel comfortable and secure throughout the day. To enhance wearability, Nisolo has also included built-in arch support, a sheepskin leather liner, and reinforced stitching in high-wear areas, prolonging the life of the shoe. Of course, it's also the recipient of a contrasting upper and sole, giving it a patchwork appeal that few of the genre's variants can match.
Red Wing Heritage Weekender
If you're a fan of men's footwear and you haven't heard of Red Wing Heritage, we'll have to question your devotion. Not only has the brand been around for over 100 years, but it's also become one of the most prominent names in the industry, thanks to its commitment to classic styles. While Red Wing certainly specializes in rough and rugged outdoor boots, the brand has a more refined side, which is exemplified through its Weekender. This chukka-styled silhouette was built for off-the-clock wear, and reminisces the fashion icon in its earliest days, while still including the brand's recognizable stitch down construction, ComfortForce footbed, and shape. On its exterior, a copper leather construction, courtesy of S.B. Foot Tanning Company, provides a timeless look, overall, but also brings water, stain, and perspiration resistance to the table for interested buyers. To top things off, each model is crafted right here in the USA.
FRYE Bowery
FRYE might be one of the most revered men's footwear proprietors, especially in the case of high-end dress models. The Bowery chukka follows suit, adding a rugged but refined example to the company's ranks. Drawing from over 150 years of shoemaking experience, the brand has adapted the style to fit its own unique tastes, outfitting the Bowery with a Goodyear-welted construction, distressed oiled suede, and a rubber-injected lug sole to provide unparalleled traction while traversing the concrete expanse. But that's not all. The inclusion of waxed fabric laces, antique brass hardware, and a breathable leather lining give the Bowery all it needs to maintain (and advance) the company's reputation while giving you one of the best-looking models on the market.
Lemaire Taupe Suede Desert
Lemaire's Taupe Suede Desert is an interesting adaptation of the timeless chukka, thanks, in large part, to its angular design. Instead of providing the wearer with refined curvature and rounded edges, the Suede Desert features an angular silhouette, raised detailing, and a tonal lace-up closure, helping it to stand apart from the masses of traditional chukka variants available on the market today. To give it even more individualistic appeal, it's also been adorned in buffed-leather trim, tonal topstitching, and a textured rubber sole, allowing you to negotiate everything from the city-savvy urban expanse, all the way to the sand-strewn wilds.
Quoddy Kennebec
It's difficult to create a respectable footwear list without the inclusion of Quoddy. As such, we've decided to reveal one of the brand's best-kept secrets: the Kennebec chukka. This hybridized boot/shoe combo is a delightfully-designed model that's remained under the radar for a vast portion of the market, and we're not sure why. It boasts a true moccasin construction, lacquered eyelets, rawhide laces, and a bespoke Vibram sole specially-developed for Quoddy. If that doesn't tell you something about the brand's quality, construction, and performance, then we don't know what will.
Rancourt Blake
Rancourt's Blake chukka is another more timeless model. Instead of adopting a plethora of modern traits and components, the brand stays true to the tried-and-true blueprint set forth by its genre's initial examples, including a natural leather midsole, a Horween Bulldog burnished cowhide upper and antique brass eyelets. That doesn't mean that it's afraid of change, though. To complement the shoe's braided wax cotton laces and unlined interior, a Reltex Lactae Hevea crepe sole has been introduced, providing enhanced comfort, durability, and traction for stubborn wearers who refuse to let the past slip away.
George Cleverley Nathan Distressed
George Cleverley's Nathan Distressed chukka departs from the traditional silhouette that we've all come to know and love, but it does so with well-informed intention. Not only does the shoe take on a signature chisel-toe last, but it's also been adorned in high-end distressed leather, allowing it to take on a well-worn patina over time. Each calf-leather-clad example boasts a refined lace-up closure, breathable leather lining, Goodyear-welted Dainite rubber sole, and neat linework to give it a standout appearance among its more "well rounded" counterparts, gifting buyers that classic Cleverly style, without having to buy a dressier shoe.
Mark Mcnairy D-Ring
Mark Mcnairy's D-Ring chukka is a more contemporary model that operates in a similar realm to Red Wing's Weekender. Like the aforementioned shoe, the D-Ring takes on a more modernized Vibram sole, Storm welt, and leather lining, while still staying true to the chukka formula. At its front, the simplified lacing structure that we've become so accustomed to has been swapped for a more unique D-Ring variant, helping the sleek model to stand apart from its traditionally-laced brethren. Plus, each pair is made in England, where the designer's talented craftsmen work day in and day out to provide guys with some of the most well-informed footwear on the planet.
Allen Edmonds Williamsburg
Allen Edmonds is another high-profile designer that earns a spot on virtually every gentlemen's footwear list. The Williamsburg chukka, one of the brand's most revered shoes, is a perfect example of why Edmonds' boots are so iconic. Each pair is handcrafted in Port Washington, where virtually all of its fine leathers are imported, compiled, and built atop its dependable 65 last. Premium calfskin leather, a single oak leather sole, and a 360º Bench Welt further confirm that the dress-savvy style is a prime contender in the world of ankle-high dress boots, while a plain, unassuming toe box, CustomCork insole, and classic two-eyelet lace structure bring a clean, contemporary, and comfortable appearance to interested buyers.
Tod's UK Leather Desert
We're concluding our list with Tods' UK Leather Desert chukka — a sleek, timeless offering that's a prime contender for any fashion-forward guy's well-rounded wardrobe. To keep things simple, the brand has outfitted its all-black desert boot with a smart-looking almond toe, a lace-up front fastening, and a branded insole. But what makes this specific model so unique is its departure from the brand's traditional suede construction. Instead, it adopts an all-leather upper and a grippy, lugged sole, making it an attractive proposition for buyers who don't want to take on the difficult upkeep of an all-suede model. Like many of Tod's fabled footwear pieces, the Leather Desert is crafted in Italy, where its talented craftsmen put their best foot forward for each and every example.
The 10 Best Crepe-Soled Shoes
Now that you've taken a look at some of the finest crepe-soled chukkas on the market, head over to your guide on the best crepe-soled shoes, where we dive into alternative styles that take on the generational foundation.
HiConsumption is reader-supported. When you buy through links on our site, we may earn an affiliate commission. Learn more