It's hard to think of a garment that evokes rugged masculinity the way leather jackets do. They're a timeless staple known for their variety of famous silhouettes, and while they originally started out as bulkier forms of outerwear, leather jackets have evolved to take on many different forms as time has progressed. Due to their weight and distinct look, many men steer clear of leather jackets as they often require a good amount of confidence to wear.
With that said, we believe that every man should have a leather jacket in their wardrobe, which is why we've come up with this guide to the best leather jackets for men. These stunningly stylish garments age like a fine wine and deserve to live in your main rotation, not in your sartorial periphery. To celebrate one of our favorite garments, we have curated a list of our favorite leather jackets currently on the market. All of these jackets are stylish and rugged statement pieces that turn heads and command respect, which is why we're ecstatic to show them to you.
Levi's Faux Leather Sherpa Aviator Bomber Jacket
It's no secret that leather jackets can be mind-bogglingly expensive due to their materials and craftsmanship. Levi's has found a way to create a handsome faux-leather aviator bomber jacket with a rugged silhouette and a solid amount of versatility. Sure, it's not real leather, but it's still a well-made jacket with the same timeless aesthetic. It features two chest pockets with snap closures, two lower welt pockets, and an interior pocket for extra secure storage. Even better, it sports a sherpa-lined interior and collar for both added insulation and visual and textural contrast. Just because this jacket is well-priced doesn't mean it's cheap quality.
Overland Memphis Lambskin Leather Bomber Moto Jacket
Overland has been making high-quality garments that are inspired by the American West since 1973. While its palpably stylish Bomber Moto Jacket may not have been what Western settlers wore back in the day, its ruggedness, premium lambskin leather construction, and purpose-built versatility are indicative of craftsmanship that you would see back then. It features a unique silhouette, blending bomber jacket and motorcycle jacket designs to create a hybridized piece that's the best of both worlds. The jacket sports a removable knit collar and bib for insulation and a classic high collar for added style points.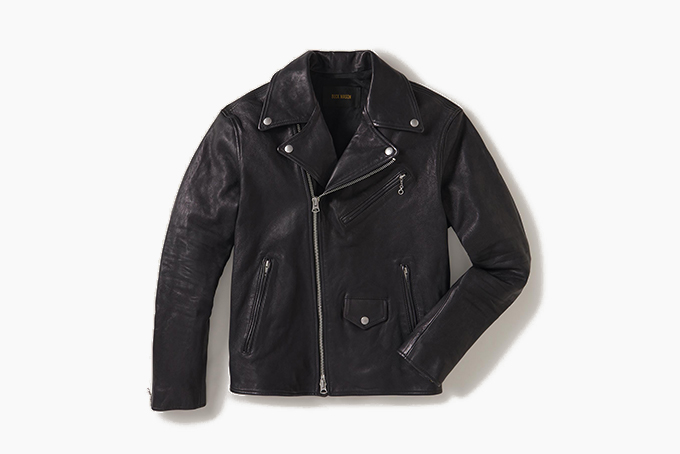 Buck Mason Bruiser Leather Moto Jacket
It'd be an act of style sacrilege not to include Buck Mason's iconic Bruiser Jacket in this list. With a rugged and outwardly masculine design, the Bruiser lives up to its rough-and-tumble name, evoking the vibes of someone who eats nails for breakfast. Featuring a soft, lambskin leather construction, the Bruiser is a classically stylish motorcycle jacket, with an asymmetrical zip-up front, zip pockets, zig-zag stitch detailing, and a slim fit. All of these design choices work in perfect aesthetic harmony to create a leather jacket that's truly worth wearing.
Orvis Spirit II Leather Jacket
The Orvis Spirit II Leather Jacket has all the hallmarks of a classic flight jacket and comes from a brand that has a pathological unwillingness to make anything that's less than phenomenal. The elegance from its deep brown color balances the masculine silhouette perfectly, while the shearling collar adds warmth and a bit of old-school cool. The Spirit II is made of sheepskin leather and features a placket-covered front zipper, rib-knit cuffs, and two snap-shut pockets on the front. This jacket exemplifies why classic aviation bombers are so iconic; it's a modern-day interpretation of a vintage classic.
AllSaints Cora Leather Jacket
AllSaints makes unforgivingly stylish garments, and its motorcycle-style Cora Leather Jacket is proof of its design excellence. The jacket features a sheepskin leather construction, a Mandarin-like collar, and a paneled, contemporary design that evokes a modern feel. Style-wise, it features a slim-fit design, which gives it a sleeker silhouette. Its contemporary look and slim build make it more versatile than your traditional leather jacket in that it doesn't require the wearer to have the outward masculinity of someone who smokes a pack a day and fights truckers for fun that certain other leather jackets require of their wearers. If you're looking for an everyday leather jacket, this is an excellent pick.
Reiss Mercury Suede Jacket
For an understated jacket that doesn't sacrifice style points, we recommend Reiss' Mercury Suede Jacket. Due to its delicate nature, suede can often be overlooked, but it's one of the premier materials for garment construction and this jacket explains why. Very rarely can you find a leather jacket with a subtle design and a minimalist silhouette, but Reiss managed to do the impossible with its soft, supple, goatskin offering. The jacket features an elasticated hemline, classic-looking point collar, and zip-up front with hardware made from polished silver-tone metal. Given its materials and lightweight build, the Mercury Suede Jacket is a more seasonal pick than some of the heavier offerings included on this list.
Belstaff Langley Logo-Appliquéd Distressed Leather Jacket
Belstaff has earned the reputation for making some of the best motorcycle jackets in the garment's storied history. Its Langley jacket, in particular, is a thing of beauty, taking design cues from classic motorcycle jacket. The Langley features a wider, more aggressive silhouette than other jackets on this list, but it doesn't concede elegance or tastefulness. Featuring a 100% calfskin leather construction, cotton lining, three front zip pockets, zipped cuffs, and an appliquéd designer emblem on its arm, the Langley is a leather-clad marriage of form and function. This jacket succeeds on all levels, down to the snap-fastening breast pocket.
Golden Bear Ashbury
Virtually any "best jacket" list can benefit from the inclusion of a Golden Bear. The San Francisco style standout has been making iconic jackets with unfathomable longevity for a century now, and this black naked cowhide leather baseball jacket is one of the brand's many examples of sartorial excellence. The Ashbury has a design that's similar to a bomber jacket in that it has a knit collar, cuffs, and waistband. Moreover, it sports an understated and casual silhouette that gives way to a contemporary and relaxed fit. It features double besom lower slash pockets, Pepper Chambray body lining, black satin sleeve lining, and a government black YKK zipper. For a modern-day interpretation of a leather baseball jacket, you won't find a better example than the Ashbury.
Todd Snyder Italian Suede Snap Front Dylan Jacket
For a pop of color and change in texture, look to Todd Snyder's resplendent Dylan jacket. These jackets have a ravenous following for good reason: they're head-turningly cool. It leverages retro inspiration while being a wholly contemporary jacket with a slim fit, which is a specialty of Todd Snyder's. The Dylan is made of 100% Italian calf suede and features front snap buttons, two button-through patch pockets, and two lower slant pockets for extra storage. Its trim silhouette and light construction give it versatility, while its smart-casual aesthetic and quality construction make it a timeless staple.
Taylor Stitch The Hangar Jacket
For a brand that doesn't specialize in leather, Taylor Stitch makes some of the best-looking leather jackets on the market. Its Hangar Jacket features a rugged yet timeless style that perfectly encapsulates the masculine spirit of Taylor Stich's design language. Simply put, it's just gorgeous. The Hangar is a vintage-inspired jacket that was designed through a modern-day lens. Features like its articulated shoulders and front storm flap evoke classic vibes while its form-fitting design, corduroy details on its undercollar, cuffs, and pocket flaps, as well as its streamlined finish, make it a contemporary garment. Add to this jacket its 100% cowhide leather construction and you have a modern classic on your hands.
Schott NYC Perfecto Motorcycle Jacket
This is it, folks. The alpha. The omega. The progenitor of motorcycle jackets. The Perfecto. It's hard to overstate the importance this jacket had on the trajectory of jackets as a whole since its ancestor was literally the first motorcycle jacket in history. While Schott has been a fashion giant for over a century, the New York brand is no doubt immortalized in the annals of sartorial history for making the Perfecto jacket. The jacket was further popularized when Marlon Brando showed it off in the hit film The Wild One back in 1954. Style-wise, this jacket laid the foundation for all motorcycle jackets to come, featuring an asymmetrical front zipper, brass hardware, snap lapels, collar and shoulder epaulets, and the iconic half-line belt with buckle closure. This jacket is a masterpiece and continues to be one of the most fashionable leather jackets in the industry.
Mr P. Nappa Leather and Shearling Trucker Jacket
Leave it to Mr P. to make a trucker jacket so stylish that it borders on art. While it is technically a trucker jacket, this particular offering transcends classification. You can wear it to the bar with some jeans or to a formal event with some stylish slacks. It is made out of luxurious Nappa leather and features black-colored 100% lamb shearling on the collar. Its streamlined design lends to an elegant silhouette that still maintains the ruggedness you'd want in a leather trucker jacket. The shearling trucker jacket also includes snap-fastening cuffs, two chest flap pockets, and two slash front pockets for extra storage.
The Real McCoy's B-6 Flight Jacket
When the name of your company denotes being the genuine article, you best have the goods. Thankfully, The Real McCoy's takes things one step further by leveraging maniacal attention to detail and an uncompromising approach to only using the finest materials on the planet. The vintage-inspired Japanese brand has garnered worldwide acclaim for its faithful recreations of classic military garb, and its B-6 Flight Jacket may be its most shining example yet. It's an achingly cool jacket with a classic aviator silhouette, lacquer-finished sheep shearling, horsehide shoulder pads, a buckled throat latch, and even an era-accurate Talon zipper. Short of creating a time machine and enlisting in the allied effort to get a B-6 flight jacket, The Real McCoy's is the closest, most stylish alternative you can get.
Saint Laurent Slim-Fit Leather Biker Jacket
It's no secret that Yves Saint Laurent has an incredible reputation for making leather jackets. Here, the French fashion house has made an iconic leather biker jacket that's wholly its own, borrowing classic traits like the asymmetrical zipper and snap-down collar while injecting some edge into the jacket with added zip pockets and snap belt loops. The gleaming hardware perfectly contrasts with the black, lambskin leather construction to give its aesthetic some added bite. It's a wonderful alchemy of rugged edge and elegant craftsmanship.
Brunello Cucinelli Leather Jacket
Rounding out our list is Brunello Cucinelli's leather jacket, a garment that is just achingly stylish with a sleek look that will never go out of style. While Cucinelli is known especially for his cashmere work, it's easy to make the argument that the designer could also be a leather specialist, because this pilot-style leather jacket is a work of art. From its Nappa leather construction to the streamlined sporty style, to its sharp narrow collar, this jacket excels on every level. Its two-way zip closure adds visual variety to this list, its channeled details bring a bit of added flair, and its metallic hardware on its four zip pockets on the chest and hips pop wonderfully. This jacket just wins.
The Best Bomber Jackets for Men
Leather not really your thing? Then check out our guide to the best bomber jackets you can buy for streamlined, military-inspired coats made from a variety of materials.