As the vessels used to transport and fortify the devices, accessories, and paperwork needed to do our jobs, one can make a good argument for work backpacks being the single most important genre of carry solution on the market. Absolutely essential for an enormous variety of jobs and career paths, work packs exist in a wide variety of forms, from minimalistic entry-level bags to highly-calculated backpacks engineered specifically for accommodating the modern worker's essential tech and peripherals. So, while there's undeniably no shortage of work packs available, there does exist a shortlist of models that represent the creme of the work bag crop. And it's this handful of industry-leading options that we'll be exploring today in this guide to the best work backpacks for commuting and office life.
The Best Backpacks For Work
The Best Affordable Pick

Timbuk2 Authority Laptop Backpack Deluxe

The Best Upgrade Pick

Bellroy Transit Workpack

The Best Overall Pick

Aer Tech Pack 2

The Editor's Pick

Evergoods Civic Panel Loader 24L V3

The Best All-Weather Pick

Mission Workshop Rhake

Chrome Industries Hondo Backpack

Topo Designs Daypack Tech

ARKTYPE Dashpack Special Edition Waxed Canvas Backpack

Black Ember Forge Backpack

Peak Design Everyday Backpack

Hardgraft Well-Rounded Backpack
What Makes A Good Work Backpack?
As carry solutions that were designed for a specific use, work backpacks need to possess a certain myriad of features in order to really lend themselves to commuting to and from the office. Below, we'll briefly touch on eight of the most crucial areas to take into consideration before buying a new work pack.
Video Guide: Best Work Backpacks

Want a more in-depth look at our favorite work bags? Then head on over to our 4K video guide to the best work backpacks for an even deeper dive into the latest and greatest carry solutions for tackling your commute to and from the office.
Primary Materials: A work backpack's first line of defense, the primary construction — or shell material — plays the most important role in determining a model's quality and durability. As such, the best work backpacks — and the best backpacks in general — tend to boast hardwearing and thoroughly modern shell materials such as waxed canvas, high-denier nylons, Dyneema, and CORDURA, as well as a variety of custom-developed proprietary constructions.
Secondary Constructions: While there's no denying that a backpack's primary construction is of more importance, it's still well worth looking into a bag's secondary materials, such as the constructions used for its liner, its bottom, and its handles or attachment points. Likewise, the type of materials used to construct a work backpack's shoulder straps and back panel are also worth reviewing.
Craftsmanship: It's not just the materials used in a bag that determines its overall quality or durability, as how said materials are pieced together — i.e. the construction technique(s) used — also plays a vital role in these areas. This includes reinforced stitching, bartack construction, and laser-welded seams, just to name a few. For the majority of work backpacks on our list, we've also opted for more premium packs that aren't mass produced and are instead made by boutique operations in small batches — a factor that allows for markedly higher quality control and construction standards and ultimately for an all-around better bag.
Hardware: While it may seem like a minor detail compared to elements such as a bag's primary construction, the type of hardware present on a backpack actually plays a major role in distinguishing more high-end offerings from their more budget-focused counterparts. This includes elements such as the type of zippers being used, along with a pack's buckles, attachment points, and fasteners. More premium bags also tend to utilize name-brand hardware such as YKK AquaGuard zippers, Duraflex hardware, or FIDLOCK buckles.
Size: As a whole, work backpacks should be fairly compact and streamlined, possessing just enough storage space to accommodate your daily essentials and not much more. In our experience, anything north of 15 liters should be sufficient for most daily work applications, however, larger packs can obviously provide additional real estate. It's also worth noting that some work bags — including several on this list — are offered in multiple sizes, though the smallest available versions are often the most conducive to everyday office use.
Tech Accommodation: Because so many modern workers schlep a myriad of devices, gadgets, and accessories with them to the office each day, a great many carry solution companies have designed work bags specifically to accommodate laptops, charging cables, and other tech essentials. If you happen to fall under this umbrella, we urge you can review the tech-specific amenities offered on any given work backpack.
Water-Resistance: While the importance of this factor will greatly vary depending on the climate where the user resides, having the ability to shield the contents of your bag from foul weather can be a huge plus. In addition to waterproof constructions, elements such as weatherproof zippers and PU and DWR coatings will help to afford a backpack with robust levels of water resistance. What's more, quite a few high-end work packs also feature underlying waterproof membranes.
Price: It isn't just a work backpack's overall quality, construction, and amenities that should be considered when shopping around, but also its price — and level of value, as some models deliver far greater bang-for-your-buck than others. And, while the more premium boutique outfits do tend to produce a more high-end and premium product, we will admit that you do often pay a premium for bags from these brands.
Selection & Testing Process
How & Why We Got Hands-On With These Particular Work Backpacks
The terms "work bag" or "work pack" can mean a lot of different things to a lot of different people depending on their jobs — as a coders and carpenters will obviously require different items and gear for their respective workdays. Over the last decade or two, however, there's been a major shift in the workforce that's seen a massive number of individuals start requiring laptops, tablets, and other tech and devices for their day-to-day work. In response, there's been a growing number of backpacks that have been engineered from the ground up to meet the needs of the average modern worker.
In a bid to uncover this product space's creme-de-la-creme, we've began our search by first generating a list of characteristics that were used to judge each respective bag, taking each model's material selection, features and design, style and appearance, and build quality and fit and finish into account. This criteria would ultimately allow us to come up with a shortlist of packs that we suspected may stand as some of the best work bags on the market. One can glean a considerable amount of information simply from looking at photos of a backpack online and reading about its various features and specs, however, it isn't until actually using the bag firsthand that you start to get a more complete sense of its overall quality and performance.
So, after making our initial selections, we then proceeded to physically test each backpack, one by one, in a variety of different settings and conditions — obviously including using each backpack for our daily commutes to and from the HICONSUMPTION's Los Angeles HQ. This hands-on testing phase of our process helped to shine a light on how each bag's features actually perform in practice, and gave a much better sense of the overall user experience. Just as important is the fact that this hands-on testing portion also revealed each backpack's overall level of build quality and craftsmanship — a particularly important area as this aspect plays a major role in distinguishing today's more premium packs from their cheaper counterparts.
After an extended, multi-phase hands-on testing and review process, we then used our firsthand findings to narrow down our initial selections to a final list of what we found to be the best work backpacks that money can currently buy.
Timbuk2 Authority Laptop Backpack Deluxe
Pros
Great value
Can house laptops up to 17″
Protected by lifetime warranty
Lightweight at only 2.4lbs
Cons
Shell offers solid weatherproofing but isn't very rugged
Best Affordable Pick: Weighing just 2.4lbs and offering a generous 28 liters of storage space, the Timbuk2 Authority Laptop Backpack Deluxe is a robust yet affordable work pack that comes loaded with a decent number of office-focused amenities. Crafted around a 630-denier nylon shell made entirely from pre-consumer materials, the Authority Laptop Backpack DLX sports a laptop compartment that fits models as large as 17" and can be accessed internally or externally. Equipped with a variety of organizers, the bag's main cavity is also supplemented via quick-access external pockets.
And, between its supportive harness system, weather-resistant construction, and swaths of reflective tape — the latter of which allows the wearer of the laptop pack to more easily be seen in inclement weather — this backpack is also incredibly conducive to commuting on a bicycle or motorcycle. Heavily-padded shoulder straps, padded grab handles, a luggage pass-through, metal buckle-equipped bottom compression straps, a hidden water bottle pocket, and a ventilated Airmesh back panel round out this pack's main features. We wouldn't mind seeing this bag be upgraded via a PU or DWR coating or gain a suspended laptop compartment, though considering its MSRP, it nonetheless offers a pretty great value — and that's before you consider the fact the pack comes backed by a lifetime warranty.
Capacity: 28L
Material: Recycled 630D Nylon
Dedicated Laptop Sleeve: 17"
Weight: 2.40LBs
Bellroy Transit Workpack
Pros
Super eco-friendly materials & manufacturing
Designed specifically for commuting to the office
Great fit & finish
Sold in 6 colors across 3 sizes (20L, 28L, 38L)
Cons
Not as rugged as most of the other bags on this list
Could benefit from all weatherproof zippers
Best Upgrade Pick: In typical Bellroy fashion, the Transit Workpack is a streamlined office-focused daily-use bag with a major emphasis on sustainability, utility, and style. Pieced together around a lightweight yet rugged, water-resistant shell made from Canva Weave — a polyester material completely derived from recycled plastic water bottles — the backpack features a clamshell design that runs the bag's full length, providing unobstructed access to the bevy of dividers, pockets, or organizers that lie beneath its zipper tracks — amenities that include numerous pen loops and a pocket for housing over-ear headphones and other larger items.
And, alongside a dedicated laptop compartment that fits notebooks up to 16", the work backpack also sports a hidden external side-access pocket and a soft-lined quick-access top pocket that's been strategically placed above and outside of the bag's crush zones. The bag also doesn't skimp on comfort, with a set of plush, heavily-padded shoulder straps mated to a highly-breathable, contoured back panel. Offered in 20-liter, 28-liter, and 38-liter sizes and in six different color options, the Bellroy Transit Workpack also comes protected by a three-year warranty. All in all, we really enjoyed our time testing Bellroy's Transit Workpack, with our only major complaint being that we'd have liked to see the bag's laptop compartment receive a waterproof zipper track.
Check out our in-depth Bellroy Transit Workpack review here.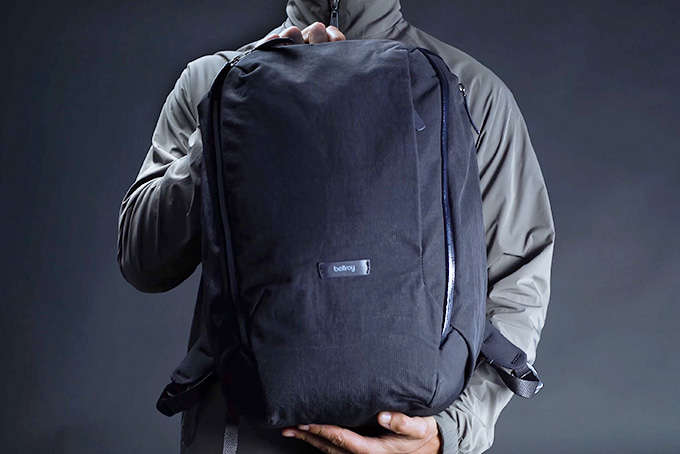 Capacity: 20L
Material: Canva Weave (Water Resistant Recycled Poly Fabric)
Dedicated Laptop Sleeve: 16"
Weight: 1.87LBs
Aer Tech Pack 2
Pros
Super rugged materials
Boasts a sleek minimalist exterior design
Solid water resistance
Stellar organizational amenities
Cons
Could benefit from (preferably matte black-finished) metal hardware
Best Overall Pick: Though there are some EDC and travel backpacks that just happen to lend themselves to office life and commuting, others — like the Aer Tech Pack 2 — have been purpose-engineered from the ground up for these applications. Equipped with a light structure that allows it to stand up on its own even when devoid of contents, this 17-liter work pack features a super durable, carbonate polyurethane-coated 840-denier nylon face paired with even more hardwearing ballistic-grade 1,680-denier CORDURA side panels. In addition to a plethora of organizers and compartments made specifically for housing tech and other office essentials, the bag also boasts a suspended, soft-lined quick-access laptop pocket that fits notebooks of up to 16", including the latest MacBook Pro.
The pack's hardware is also premium through and through, with Duraflex hardware and YKK AquaGuard zippers adorning the tracks of all its major compartments. A soft-woven lining helps to prevent the bag's contents from getting scratched or scuffed up while also providing the necessary contrast to more easily locate items. The amenities don't end there, however, as this second-gen tech pack also gets padded top and side handles, a breathable padded back panel, a luggage handle pass-through, Aer-branded zipper pulls, and an exterior water bottle pocket. Benefitting from ample field-testing and user feedback, Aer's second-gen Tech Pack really is a terrific work bag, with our only real gripe being the fact that it lacks a secondary compartment for a tablet or an additional laptop.
Check out our in-depth Aer Tech Pack 2 Backpack review here.
Capacity: 17L
Material: 1,680D CORDURA Ballistic Nylon & Carbonate PU-Coated 840D Nylon
Dedicated Laptop Sleeve: 16"
Weight: 3.80LBs
Evergoods Civic Panel Loader 24L V3
Pros
Made by a boutique brand
Crafted from a custom-developed shell material
High-end hardware & details
Can house laptops up to 17″
Editor's Pick: Created by the co-founder of GORUCK and an ex-product engineer at Patagonia, Evergoods is a smaller, lesser-known bag brand that's been giving some of the more established players in the carry solution space a good run for their money, constantly tweaking its designs to deliver increasingly calculated bags. Over the last few years, the Bozeman brand's Civic Panel Loader 24L has quickly emerged as an office and EDC favorite thanks to a laundry list of genuinely useful features. Outfitted with DWR-coated zippers, the now-third-generation is undoubtedly the best one yet, benefitting from a shell that's been custom-developed from the ground up specifically for the CPL24 V3. The bag is crafted around a bespoke 840-denier ballistic nylon 6 that's been balanced-woven with a durable water-repellent finish. This already-impressive construction has been draped over a thermoplastic polymer framesheet before also being outfitted with aluminum side stays.
Boasting 24 liters of storage space, the second-generation CPL24L features a clamshell opening that spans the entire length of the bag. Additionally, the CPL24 V3 utilizes a unique layout that sees all of its zippers (minus its top quick-access pocket) running vertically across the left side of the pack — a design decision that allows for ultra-quick and easy access to every single one of its pockets, even when slung over one shoulder while being worn. A dedicated padded laptop compartment fits notebooks of up to 17". On top of being able to also act as a hydration bladder thanks to the implementation of hose ports at the shoulders, the Civic Panel Loader 24L's laptop compartment also features a divider that allows a second laptop or tablet to be safely stashed away,. Another cleverly designed element clearly born out of real-world experience is the small wedge-shaped piece integrated into the CPL24's back panel — a feature that allows the back panel to better conform to the contours of the wearer's back.
Check out our in-depth Evergoods Civic Panel Loader 24 Backpack review here.
Capacity: 24L
Material: Custom-Developed 840D Ballistic Nylon 6 Balanced-woven w/ DWR Finish
Dedicated Laptop Sleeve: 17"
Weight: 3.10LBs
Mission Workshop Rhake
Pros
Super unique roll-top bag design
Tremendously weatherproof
High-end construction & hardware
Stellar organizational amenities
Can store a laptop & tablet (or 2 laptops)
Cons
Expensive price
HT 500D Nylon version doesn't come standard w/ Cobra buckles
Best All-Weather Pick: Since its debut in 2018, the Mission Workshop Rhake has undeniably stood as one of the best-designed and well-crafted work and everyday carry backpacks on the market. Made in America, this roll-top bag boasts a high-tenacity 500-denier shell, and, like all Mission Workshop backpacks, is further fortified via a dual-layer weatherproof construction. On top of featuring a 17" laptop pocket that's been supplemented via a second 10" pocket for storing tablets — both of which can be accessed externally — another major element that seperates this backpack from other work bags on the market is the pair of zipper-secured mesh organizational pockets adorning its face. These two pockets are held in place by a pair of buckles that open, allowing them to unfold. Equipped with quick-release buckles, horizontal exterior straps on the outside of the bag also make it easy to externally attach or store hats, jackets, and other larger items. Arkiv rails on the shoulder straps also allow for the attachment of numerous add-ons such as a cellphone holder.
Other noteworthy elements and features include an exterior accessory pocket, a hidden zip-away water bottle pocket, a luggage handle pass-through, a perforated foam back panel, and a zipper-secured interior admin pocket for housing magazines, notebooks, and other documents. And, on top of selling a kit to upgrade the front of this bag's hardware to AustriAlpin COBRA buckles, Mission Workshop also produces a limited-edition MultiCam Black Camo CORDURA variant of the backpack as well as an even more high-end and hardwearing version of the Rhake with a VX-21 shell and FIDLOCK hardware (known as the Rhake VX). It's also worth mentioning that the only complaints we had when testing the Rhake — aside from its admittedly steep price — is the fact that it could benefit from a more rugged shell construction and more high-end metal hardware, though both of these issues are remedied in the VX-spec version of that backpack.
Check out our in-depth Mission Workshop Rhake Backpack review here.
Capacity: 22L
Material: 500D High-Tenacity Nylon (or X-Pac VX-21)
Dedicated Laptop Sleeve: 16"
Weight: 3.80LBs (or 3.30LBs)
Reputable Runner-Ups
Supplementary Work Bag Selections Worth Considering
Chrome Industries Hondo Backpack
Taking inspiration from vintage bag designs, the Chrome Industries Hondo Backpack is another rugged and capable yet accessibly-priced pack. Backed by Chrome Industries' "365 TO LIFE WARRANTY," this 21-liter backpack is crafted around a PU-backed DWR-coated 1,050-denier nylon shell that opens to reveal a generous bevy of interior pockets and organizers as well as a padded laptop sleeve that can house devices of up to 15". A padded bottom panel provides additional support and protection for the work pack's laptop sleeve while a quick access accessory compartment offers storage for charging cables, flash drives, and other tech essentials. Boasting a minimalistic silhouette, the Hondo also offers ample comfort and support with a breathable EVA foam back panel and an adjustable ergonomic two-strap harness system with a removable sternum strap with custom hardware — elements that also make this backpack ideal for commuting on two wheels. This area is furthered by the inclusion of a pair of exterior side pockets designed for carrying water bottles or bike locks.
Capacity: 21L
Material: PU-Backed DWR-Coated 1,050D Nylon
Dedicated Laptop Sleeve: 15"
Weight: 1.92LBs
Topo Designs Daypack Tech
Produced in five color options, the Topo Designs Daypack Tech features an old-school understated appearance that conceals a host of modern amenities. Equipped with 21 liters of internal real estate, the backpack boasts a 1,000-denier nylon shell and a 210-denier nylon liner — both of which are derived entirely from recycled materials. With both internal and external laptop sleeves that both fit devices of up to 15" and a slew of interior organizational features, the Daypack Tech is more than capable of handling the daily office grind, though elements such as PackFast travel bag attachment loops, paracord with reflective ticking, ice axe loops, and an expandable water bottle pocket collectively allow the bag to lend itself to outdoor and hiking use, as well. Additionally, this Topo Designs bag also comes loaded with a RidgeBack back panel, coated heavy-duty #10 YKK zippers, color-matched hardware, a top carry handle, and an action leather lash tab.
Capacity: 21L
Material: Recycled 1,000D Nylon
Dedicated Laptop Sleeve: 15"
Weight: 1.85LBs
Incase ICON Pack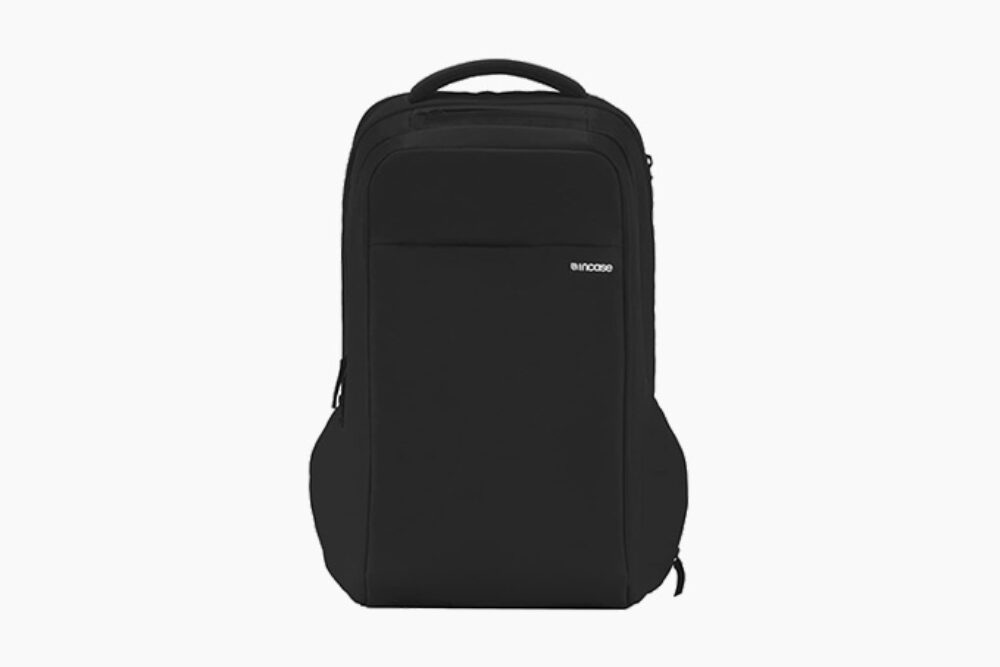 Engineered from the ground up as a mobile tech storage solution, the Incase ICON Pack features specific accommodation for everything from headphones and charging cables to wireless mice and external hard drives. Boasting an 840-denier nylon shell, this 17-liter work backpack sports a 16" laptop compartment along with main and secondary compartments to divide up and carry all of your daily devices and tech essentials. What's more, the ICON Pack also comes outfitted with a dedicated side access pocket made specifically for housing an iPad, as well as a hip-side "Power Pocket" with an integrated cable port that provides quick and easy access to mobile charging or audio cables. Incase also didn't skimp on comfort, opting for adjustable ergonomic padded shoulder straps.
Capacity: 17L
Material: 840D Nylon
Dedicated Laptop Sleeve: 16"
Weight: 2.65LBs
DSPTCH Gym/Work Pack
Characterized by its immense durability and equally impressive versatility, the DSPTCH Gym/Work Pack is an all-in-one storage solution aimed at the health-focused commuter. Equipped with storage needed for both daily office essentials and workout gear, this work and workout bag comes equipped with a padded laptop sleeve that can house notebooks of up to 16", as well as a ventilated shoe compartment that can fit workout sneakers as large as size 13, and an exterior pocket that's secured via a magnetic FIDLOCK closure. Weighing 3.5lbs and offering 25 liters of storage space, the bag is pieced together around an insanely-hardwearing 1,680-denier ballistic nylon shell that's backed by a DWR-coating and lined with a DWR-coated, moisture-resistant, 410-denier nylon packcloth. The Gym/Work Pack is also made entirely in America and comes protected by a generous lifetime warranty.
Capacity: 25L
Material: DWR-Coated 1,680D Ballistic Nylon
Dedicated Laptop Sleeve: 16"
Weight: 2.75LBs
ARKTYPE Dashpack Special Edition Waxed Canvas Backpack
An already award-winning bag that's been made all the better for its second-gen iteration, the ARKTYPE Dashpack Special Edition Waxed Canvas Backpack features a slew of organizational amenities in an ultra-rugged package. Made by hand in America from a 10oz Army Duck waxed canvas, this special edition pack has been thoroughly over-engineered and features YKK AquaGuard zippers with 550 paracord pulls, a 210-denier double-walled ripstop nylon liner, dual external water bottle holders, front ladder-stitched webbing made from 4,000-pound critical use Class I Mil-Spec webbing, and a top handle and side cam compression straps crafted from 2,500-pound critical use Class I Mil-Spec webbing. Not only can this backpack's primary laptop compartment store 15" notebooks, but it also features a secondary 14" laptop sleeve plus a 10" tablet compartment. The backpack is also tremendously comfortable and supportive thanks to a unique shoulder harness design utilizing four-panel seatbelt webbing and Duraflex Sliplok buckles, and shoulder and back panels that have been padded with Evazote high-density closed-cell EV50 foam.
Capacity: 15L
Material: 10oz Army Duck Waxed Canvas
Dedicated Laptop Sleeve: 15"
Weight: 2.25LBs
Black Ember Forge Backpack
Marked by its immense utility and versatility, the Black Ember Forge Backpack is a three-way bag that can serve as a regular backpack or act as a side handle-carried briefcase or an over-the-shoulder messenger-style bag. This work bag is made from a combination of 1,000-denier HYPALON and re/cor RN66 — the latter of which is an all-new, ultra-durable 500-denier construction that was developed by Black Ember in collaboration with CORDURA and is derived from recycled materials. Manufactured in small batches using laser-cutting and the brand's own proprietary bond-stitch construction, the Forge can be expanded or compressed depending on the user's needs, offering anywhere from 20 to 30 liters of internal volume. Using a layout that allows the bag to unzip 360-degrees, the Forge boasts a lengthy list of noteworthy features including YKK Aquaguard zippers, a luggage handle pass-through, a fully protected and suspended 15" laptop sleeve, a double-layered EVA foam back panel, a Maglock magnetic closure, and aircraft-grade black-anodized T6 aluminum and laser-etched hardware.
Capacity: Capacity: 20L (expandable to 30L)
Material: 1,000D HYPALON & 500D CORDURA re/cor RN66
Dedicated Laptop Sleeve: 15"
Weight: N/A
Peak Design Everyday Backpack
Offered in 20 and 30-liter sizes and produced in four different color options, the Peak Design Everyday Backpack is a work-focused EDC bag aimed at photographers. Derived from recycled materials, the backpack's shell is composed of a double PU-coated and DWR-impregnated 400-denier nylon canvas, and sees its contents shielded via weatherproof zippers. The use of magnetic MagLatch hardware also allows for an additional three liters of internal expansion (or eight liters of expansion on the 30-liter version). A protective laptop compartment that can fit 16" notebooks including Apple's latest MacBook Pro and also features a secondary slot for stashing away a tablet, while a pair of dual external side pockets are also equipped with enough stretch to accommodate full-sized water bottles or even camera tripods. The bag is also sold with a trio of FlexFold dividers that allow its main cavity to be custom organized based on the user's needs, devices, and hardware. Utilizing what Peak Design calls an "UltraZip design," this expandable work bag also gets a padded and vented, quick-drying mesh back panel, a luggage handle pass-through, shoulder straps that pivot at axial points, four external carry straps, and a stowable quick-connecting sternum strap.
Capacity: 20L (Or 30L)
Material: Recycled 2x Poly-Coated DWR-Impregnated 400D Nylon Canvas
Dedicated Laptop Sleeve: 16"
Weight: 4.43LBs (or 4.65LBs)
Tom Bihn Synik 22
Manufactured in more than 20 different color and pattern options, the Tom Bihn Synik 22 is another very traditional-looking backpack that hides a few clever tricks up its sleeve. Reinforced via a fully integrated and removable internal frame with an aluminum half-stay, the bag is made from a combination of 420-denier nylon ripstop and bluesign-approved and OEKO-TEX-certified 400-denier Halcyon — a modern construction that utilizes a 200-denier ripstop fabric woven in a square grid with 210-denier ultra-high-molecular-weight polyethylene (more commonly known as Dyneema). On top of an amalgamation of Duraflex, Nexus, and Woojin hardware, the bag also uses a combination of different YKK zippers including a #10 AquaGuard track, Racquet-Coil water-repellent zippers, and coil zippers. Utilizing a full clamshell opening, this 22-liter work bag sports a two-point access suspended 13" laptop pocket, removable internal tie-down straps, an updated grab handle, a luggage pass-through, a heavily-padded bottom, a closed-cell foam back panel lined in spacer mesh, and 0.5" edgeless EV50 shoulder straps.
Capacity: 22L
Material: 400D Halcyon & 420D Nylon Ripstop (or Ballistic Nylon, 420D Classic Parapack, or X-Pac Sailcloth
Dedicated Laptop Sleeve: 13"
Weight: 2.49LBs, 2.60LBs, 2.63LBs, or 2.51LBs
GORUCK GR1
The GORUCK GR1 is undoubtedly one of the most respected backpacks currently in production, and while better known as an EDC pack, travel bag, or rucksack, the GR1 is no less conducive to work applications. Cut from 1,000-denier CORDURA, the GR1 has an ultra-rugged, heavily-reinforced, 15" laptop compartment with ample padding and a false bottom. Inspired by military medical packs, the GR1 features a flat-opening design that provides access to the entirety of its contents. Other highlights include beefy padded shoulder straps, YKK zippers with paracord pulls, a top carry grab handle, and three rows of both internal and external MOLLE webbing. Stabilized via a removable, hard plastic frame sheet, this backpack is also largely weatherproof. Made in America and built to Special Forces standards, the GR1 also comes backed by a lifetime warranty. Alongside the 21-liter bag seen here, GORUCK also produces a 26-liter version of the GR1 — both of which are offered in eight different camo and solid color options, as well as in special waxed canvas variants.
Capacity: 21L (or 26L)
Material: 1,000D CORDURA
Dedicated Laptop Sleeve: 15" (or 16" for 26L model)
Weight: 2.80LBs (or 3.10LBs
Hardgraft Well-Rounded Backpack
Equal parts work bag and fashion statement, the Hardgraft Well-Rounded Backpack is an ultra-premium pick that's made by hand in Italy using a selection of some of the finest European-sourced materials that money can buy. The bag is composed of a combination of water-repellant Italian coated canvas and rich vegetable-tanned Italian leather — a shell that, while not fully waterproof, can easily stand up to precipitation. Measuring 12.2" x 17.7" x 6.7", the bag is sized to accommodate one's daily work and office essentials while still maintaining a compact footprint. This top-shelf leather backpack also sports a main cavity with a pair of internal pockets, along with a quick-access front pocket and a separate externally-accessed, zipper-secured laptop compartment. Metal hardware, covered zipper tracks, and matching black leather zipper pulls complete this elegant and thoroughly upscale package.
Capacity: 22L
Material: Leather & Coated Italian Canvas
Dedicated Laptop Sleeve: 13"
Weight: N/A
The Best Everyday Carry Backpacks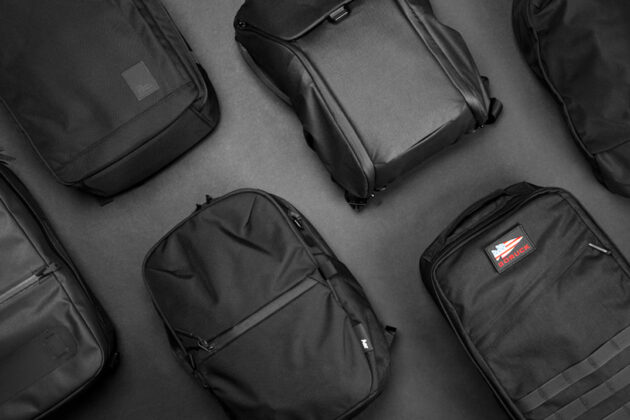 Looking for something a bit more versatile that's capable of taking on the daily office grind while still being good for weekend adventures? Then be sure to check out our guide to the best everyday carry backpacks for a handpicked selection of absolutely stellar — and highly versatile — carry solutions.