A great many of today's bag manufacturers claim to produce competent do-it-all packs that lend themselves to a wide variety of different uses and applications, however, the actual efficacy and utility of these items can hugely vary from backpack to backpack. One such brand is Mission Workshop, which released its take on the ultimate EDC and office pack back in 2018 with the Rhake — a waterproof laptop backpack with a unique organizational layout and a nearly $400 price tag. Wanting to discover how the pack performs in the real world — and whether or not its features and construction justify its steep MSRP — we've put the Mission Workshop Rhake to the test, setting out to discover if the San Francisco company has delivered a true game-changer of a carry solution or merely a needlessly complicated work bag that fails to deliver on innovation or utility.
First Impressions
Getting Hands-On
Not unlike gazing upon a piece of art from M.C. Escher, there's a lot to take in when first looking at the Rhake. Measuring 21" H x 13" W x 5" D, the Rhake's rather boxy profile is equipped with a generous number of zipper tracks, grab handles, Velcro patches, multiple openable panels, and a myriad of G-hooks, buckles, and other hardware — all wrapped in vertically and horizontally-running compression straps and capped off with a roll-top closure. Before even opening the Rhake, it's abundantly clear that the bag boasts an incredibly calculated design. And while we wouldn't venture to call the pack minimalistic, it does sport a surprisingly clean and design-conscious aesthetic considering its ample visible exterior features. Once getting your hands on the pack, its craftsmanship and quality instantly jump out at you, while its 3.1-pound weight suggests a thoroughly hardwearing construction.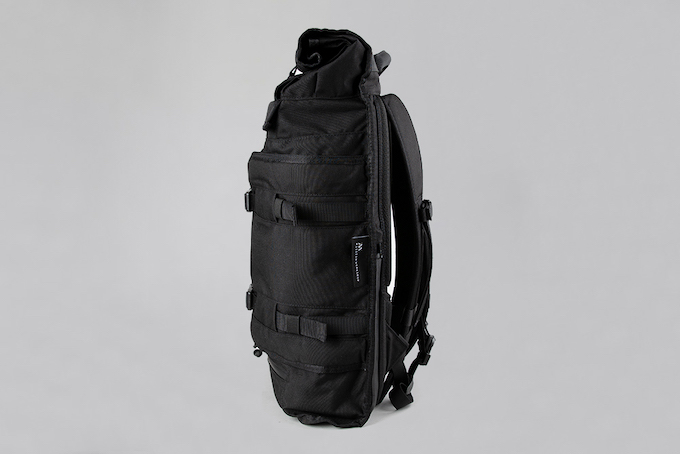 A Bulletproof Body
The Rhake's Materials & Constructions
After several weeks of utilizing the Rhake backpack, it became increasingly clear that the thing was designed first and foremost for utility and performance, with costs taking a backseat to functionality and durability. And this is very much reflected in Mission Workshop's choice of materials for the Rhake. Made in America, the bag is crafted around a high-tenacity 500-denier fabric body that, like all Mission Workshop packs, features a two-layer weatherproof construction that's impervious to practically any and all weather short of a hurricane or typhoon. While discussing the Rhake's materials, it's also worth mentioning that Mission Workshop produces a special edition 500-denier Black MultiCam Camo CORDURA version of the bag, as well as an even more top-shelf variant that features a Dimension-Polyant X-Pac VX-21 shell — and upgraded Fidlock V-buckle hardware.
Exterior Details
Buckles, Tracks, & Handles Galore
Each track, compartment, keeper, and piece of hardware adorning the Rhake's shell has been strategically placed, with each element offering an inherent function — rather than merely being decorative. The front of the pack features a G-hook securing its primary roll-top compartment, while directly beneath is a set of open and closable flap pockets held in place via a set of Duraflex buckles — items that can be upgraded to machined 7075 aluminum alloy AustriAlpin COBRA quick-release buckles with Mission Workshop's Rhake 1″ Cobra Set. What's more, the use of exterior straps with quick-release buckles also allows jackets, hats, and other larger items to be carried on the outside of the pack.
Flipping the bag over, the rear side of the Mission Workshop Rhake is just as feature-laden as the front face. The back of the pack has been outfitted with a perforated, ventilation-boosting, foam back panel — the bottom third of which has an opening that enables it to double as an integrated pass-through for hard luggage handles. In addition to a sternum strap, the Rhake's heavily foam-padded shoulder straps also boast Mission Workshop's patented Arkiv rail system that allows for the attachment of a number of optional add-ons such as a utility pocket or a dedicated weatherproof smartphone pocket.
The Rhake's four largest compartments are all fortified via heavily-weather-resistant YKK AquaGuard zippers, too, while the side of the backpack has also been outfitted with a hidden water bottle pocket that can be zipped up when not in use. Minimal branding also furthers the Rhake's decidedly clean appearance, with just a lone Mission Workshop tag on the side of the bag and an MW logo decorating the left shoulder strap. Rounding out the Rhake's exterior details are a heavily-reinforced and padded nylon grab handle and two Velcro patches running vertically across the top of the bag that can be used to further secure its rolltop compartment.
EDC-Specific Organization
Internal Storage & Features
Though the Rhake is a great-looking pack, it's what's underneath the surface that really makes it special. This 22-liter backpack features a primary rolltop compartment for storing larger, bulkier items — such as jackets, packing cubes, and Dopp kits — that can be adjusted in size and volume based on the user's needs thanks to a compression system. Below the rolltop closure is one of the bag's most unique and noteworthy features; a set of buckles that secure a pair of zippered, fold-out organizational pockets made specifically for housing everyday carry and tech essentials such as mice, pens, notepads, cables, chargers, and sunglasses.
Not only does the Rhake feature a main padded laptop compartment that can accommodate notebooks as large as 17", but it also sports a secondary laptop or tablet compartment that can house smaller 10" devices. What's more, both device pockets are also accessible from the exterior of the pack. Supplementing the tech storage in the fold-out pockets is also a horizontally-running zippered pocket on the pack's front face that provides additional real estate for EDC and tech peripherals. And, while we're increasingly living in a digital world, Mission Workshop has still opted to outfit the Rhake with a dedicated zippered interior admin pocket for stashing away magazines, notebooks, and documents.
What We Liked
The Highlights Of A Brilliantly-Designed Bag
Whether developing rucksacks or racecars, nothing beats real-world knowledge and experience being applied when designing a product, and it's abundantly clear that the Rhake benefits from this in spades. The pack affords ample storage and an abundance of organizational amenities, though more importantly, all of its compartments are incredibly easy to access and sort through — while still providing stellar coverage and protection for their contents. This methodical design puts an end to rummaging through giant main or secondary compartments when seeking out the pack's contents.
What's more, what makes the pack special isn't just its unusual layout or generous bevy of pockets and features, but how immensely calculated and thoroughly considered every detail and inch of the bag truly is. Every element serves a clear function that provides genuine convenience and/or utility. Even more importantly, every one of the Rhake's features has been designed for real-world daily needs, rather than aspirational amenities that you may or may not someday use — such as ice axe loops or attachment points for tripods or rifles.
What We Didn't Like
Downsides & Drawbacks
As much as there is to like about the Rhake, our time spent using the bag did uncover a few small areas where improvements could be made — all of which are admittedly very minor gripes and none of which are real deal breakers. The use of AquaGuard zippers for the bag's four largest compartments provides ample weather protection for the bulk of its contents, though we wouldn't mind seeing these weatherproof tracks used for the entirety of the Rhake's zippered pockets. As rugged as the bag's American-made Duraflex hardware is, we'd also have liked to see these items swapped out for Cobra buckles on the front face of the bag and metal items on the back and sternum straps. In addition to outfitting the pack with metal hardware as standard, we also wished Mission Workshop offered the option to upgrade to Fidlock buckles like those present on the Rhake VX. Also, considering the pack's nearly $400 MSRP, we wouldn't mind seeing the Rhake be sold with an included attachment or two for its set of Arkiv rails.
And, while the Rhake's rugged construction and robust weatherproofing make it a great choice for those who commute via motorcycle or bicycle, it could definitely benefit from a few reflective details for use in inclement weather. An optional waist strap would also be a stellar addition to the Rhake's list of available add-ons — especially considering the fact that Mission Workshop already makes an available waist belt that sadly isn't compatible with the Rhake.
Verdict & Final Thoughts
Reaching A Conclusion
At the end of the day, we can honestly say that the Mission Workshop Rhake is not only one of the greatest everyday carry and work-focused packs we've ever tested but is simply one of the best backpacks we've ever gotten our hands on, period. It's not perfect, but it's just about as close to a backpack has come in our experience. Every detail is functional and thoughtfully designed, its materials and construction are top-notch, and its level of organization and ease of access are truly second to none.
The 25 Best Everyday Carry Backpacks
The Mission Workshop Rhake is unquestionably one of the best daily-use packs on the market, however, it isn't the only stellar option for an EDC bag. Knowing this, we've rounded up the space's latest and greatest offerings for our curated guide to the best everyday carry backpacks.