In an age where anything from a video game console to a massage gun can be stowed on the go, there are very few portable gadgets as essential as a laptop. And while you can always toss your laptop into any ol' backpack — not that we suggest that — you're much better off seeking out a dedicated laptop bag for your prized personal computer. This is why we've come up with this handpicked guide to our favorite men's laptop bags currently on the market.
When it comes down to it, you probably paid a lot of your money for your laptop, so you're better off keeping it as safe as you can for as long as you can. Thankfully, a solid number of premier manufacturers craft durable choices to stow your digital companion, whether you're heading for a day at the office or a weekend getaway. If you're on the hunt for a computer carrier in leather, canvas, or nylon, we've got you covered with our guide to the best laptop bags to protect your electronics.
The Best Laptop Bags Breakdown
Best Budget Laptop Bag

Herschel Gibson Messenger Tech

Best Laptop Messenger Bag

Chrome Industries Citizen Messenger Bag

Best Laptop Totepack

Peak Design Everyday Totepack

Best Laptop Bag Overall

Bellroy Tokyo Work Bag

Best Laptop Backpack

Aer Tech Pack 2

Best Laptop Tote Bag

Mission Workshop Drift

Best Leather Laptop Bag

Hardgraft Flat Pack

Best Laptop Briefcase

Filson Original Briefcase

Best Premium Laptop Briefcase

Killspencer Briefcase 2.0
what is a laptop bag?
As EDC gear and bags get more advanced, purpose-built laptop compartments are becoming more common. While these compartments can be useful and offer ample protection, it's best to use a bag that's designed specifically for laptops because they can provide better protection in a more manageable size. While laptop bags will usually be smaller than their counterparts, they still come equipped with plenty of compartments and durability to carry other gear (like chargers, papers, etc.).
Are Laptop Bags Worth It?
Not only do laptop bags look more professional than a traditional backpack or tote, but they also offer more compartments, protection, and other features that make them very convenient and definitely worth it (especially if you're carrying your laptop around often). Also, if you have an expensive laptop, it's extremely important to have both a case and a protective bag to make sure it stays safe. These bags also come with internal and external compartments to carry your chargers, keyboards, and other laptop equipment, making them a convenient solution for carrying all of your gear.
Laptop Bag Vs. Backpack
A laptop bag is a better choice if you're going for a more sleek and structured appearance, and a backpack is more versatile and comfortable (although less professional), especially for longer commutes or if you need to carry extra gear. This decision really comes down to personal preference, work environment, and the amount of gear you need to carry on a daily basis.
What to look for
Use: Everyone's commute is different, so getting a laptop bag that improves it is important. For those who bike, walk, or take public transportation to work, getting a smaller bag with good weather resistance is advised. Those who drive can worry less about carrying something bigger and maybe made with leather, like a briefcase. Much like choosing between a laptop bag and a laptop backpack, your workspace should play a big role in the style you choose. Backpacks are good for WFH situations where you can hit the coffee shop and casual office spaces, while smaller bags will be better for a more traditional office space.
Size: Since these bags are designed specifically for laptops, the most important thing is to make sure the bag you're eyeing can fit the one you have. Some bags are designed for specific laptop models (like 15″ MacBooks), while others offer adjustable compartments to accommodate more sizes.
Material: You're looking for a bag made from sturdy, high-quality materials (like ballistic nylon, canvas, or leather) so your bag can stand up to your daily routine. If you want a more premium look, leather is a great choice, but it requires more maintenance (and it's not as versatile in rainy weather).
Protection: You want a bag with solid padding in the laptop compartment to protect your device from harm. Water-resistant and/or waterproof materials can also help protect your laptop from spills (inside and outside the bag) and rain.
Compartments: Something with multiple pockets and compartments to keep your accessories organized along with your laptop can be convenient, and some bags come with specific pockets for stuff like chargers and pens.
Herschel Gibson Messenger Tech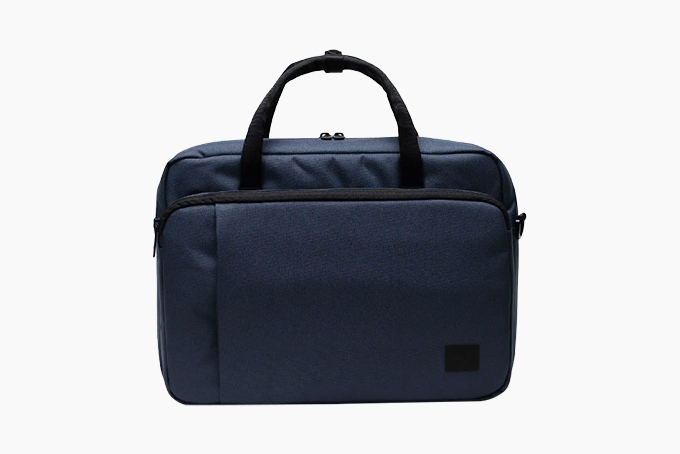 Pros
Made with 100% recycled materials
Great durability and style for the price
Trolley sleeve for easier travel
Sleek and simple
Cons
Could fit 17″ laptops with just a bit more room
Best Budget Laptop Bag: As one of the more popular bag makers around, the tech-centric messenger bag from Herschel serves as a great option to kick this list off. If you're a café regular and don't have much gear on your hands through your daily outings, this small-scale carrying case is a perfect choice thanks to its pair of primary compartments, dual EVA-reinforced handles, and EcoSystem 600D fabric (which is made from 100% recycled materials). Along with the padded laptop compartment capable of holding up to a 16″ laptop, you're also getting a trolley sleeve making this a worthy travel companion as well. It comes available in a handful of handsome colors to suit your style perfectly.
Material: EcoSystem 600D fabric
Size: 11″(H) x 15.5″(W) x 5.5″(D), 18L
Laptop Size: 16″
Chrome Industries Citizen Messenger Bag
Pros
Made with recycled material
Reflective materials (good for biking)
Buckle has a bottle opener
Weather-resistant outer with a waterproof liner
Cons
Pricing varies with bag color
Best Laptop Messenger Bag: Elemental protection is something to keep in mind when buying one of these bags, and Chrome Industries does all the hard work, so you don't have to. The label's Citizen Messenger Bag is crafted from water-repellent nylon that's durable and keeps more than your files safe. Thanks to its internal wet/dry compartments for small accessories and a front organizer panel to keep your phone or wallet nice and safe, there's little room for error when taking this out on the go… especially if you happen to run into some inclement weather. It also comes with a padded shoulder strap to make on-foot commutes more comfortable, and a seatbelt buckle with a cheeky bottle opener to tie it all together.
Material: 1050D Nylon and 500D TPE Tarp
Size: 13″(H) x 22″(W) x 7″(D), 24L
Laptop Size: 15″
Peak Design Everyday Totepack
Pros
Weatherproof nylon canvas shell
Solid carrying capacity
Great for those with extra devices
Customizable internal dividers
Best Laptop Totepack: Peak Design are experts at designing purpose-built gear meant to carry your essentials, and they've been doing it since 2010 when the founder Peter Dering made a device for carrying and protecting your camera. The Peak Design Everyday Totepack combines years of experience in a hybrid pack that's designed to carry and protect your laptop and camera gear. It's made with a weather-resistant nylon canvas shell and comes with a waterproof bottom liner to ensure your devices are safe from rain and water. You're getting a padded laptop sleeve (15″), a dedicated tablet sleeve, and customizable internal dividers for personal organization.
Material: 400D double poly-coated DWR-impregnated nylon canvas shell, 900D waterproof bottom liner
Size: 46cm(H) x 38cm(W) x 38cm(D), 25L
Laptop Size: 15″
Bellroy Tokyo Work Bag
Pros
Leather accents
Multiple specific compartments
Detachable shoulder strap
Made with recycled materials
Cons
Can't stand on its own when set down
Best Laptop Bag Overall: As one of the leading names in the bag game, Bellroy comes through with the Tokyo Work Bag, made with 100% recycled external fabric. It comes with a padded 16″ laptop sleeve, a tablet slip, and a divided front pocket for maximum organization. This is bolstered by the multiple compartments like the mesh sunglasses pocket, side water bottle pocket, and internal slips. You're also getting a water-resistant main zipper and luggage pass-through slides to make your travels more convenient. This bag is a sleek-all-arounder with impressive capacity and compartments, and a style that can fit in pretty much anywhere.
Material: 100% recycled external fabric
Size: 440mm x 360mm x 160mm, 20L
Laptop Size: 16″
Aer Tech Pack 2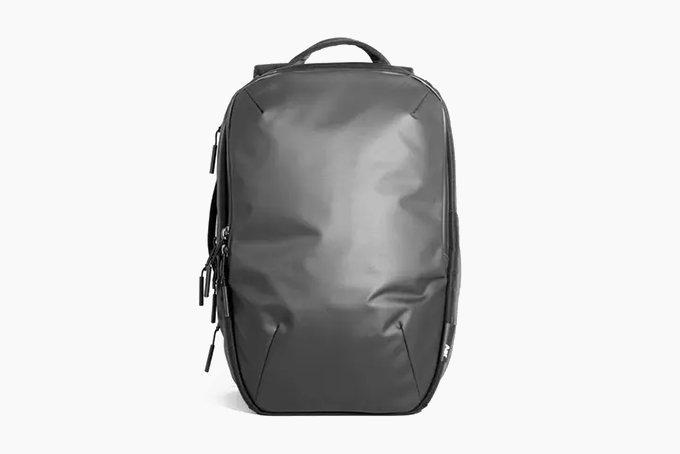 Pros
Weather-resistant
Padded mesh back panel
Quick-access laptop compartment
Stand upright on its own
Best Laptop Backpack: The SF-based label Aer started in 2014 with a mission to combine the convenience of a gym bag with the style of an office bag in a minimalist package. You can see the success of this mission in the Tech Pack 2, which is packed with rugged and convenient features in a sleek design. The padded quick-access laptop compartment can fit a laptop up to 16″, and the bag is made with weather-resistant nylon and ballistic nylon, and features YKK AquaGuard zippers, making this the perfect pick for those living in rainy climates. As a backpack, it's super comfortable, too, with a padded mesh back panel and padded handles for convenient carrying.
Material: Weather-resistant 840D nylon face, 1680D Cordura ballistic nylon side exterior
Size: 18″(L) x 12″(W) x 7″(D), 17L
Laptop Size: 16″
Mission Workshop Drift
Pros
Made in USA
Weather-resistant
Great for multiple devices
Best Laptop Tote Bag: Mission Workshop's Drift almost has no excuse for being this affordable, as it is one of the most functional laptop bags that we've found. The tote bag is entirely weatherproof, made durably with water-resistant nylon, and comes equipped with a large zippered organizational pocket, interior zippered mesh compartments, and comes rounded out with an adjustable shoulder strap. It also comes available with luggage pass-through handles granting you more ways to take on your travels. If all that wasn't enough, the Drift comes in a variety of options, allowing you to choose from eight different shades for your fabric and buckles.
Material: HT500 high-tenacity nylon, MultiCam Black Camo Cordura
Size: 15″(H) x 7″(D) x 16″(W), 28L
Laptop Size: 16″
Hardgraft Flat Pack
Pros
Comes in two size options
Classic style
Large zip opening
Cons
Shipping and tax make it more expensive
Best Leather Laptop Bag: A gorgeous option from one of the most-coveted leather goods brands around, Hardgraft's sleek Flat Pack is built to take on your laptop, charger, and a handful of other essentials. The streamlined bag is crafted from vegetable-tanned leather and padded top-to-bottom. It comes equipped with a buckled adjustable strap and a large zip opening at your convenience. What's more, the wool-lined carry-all is available in a pair of sizes, with the largest capable of taking on Apple's latest 16" MacBook Pro. It also comes in sizes that accommodate 13″/14″ laptops if you're looking for a smaller option.
Material: Vegetable-tanned leather
Size: 15.8"(L) x 11"(H) x 3.3"(D)
Laptop Size: 16″
Filson Original Briefcase
Pros
Material comes from a historic British mill
Made in USA
Detachable shoulder strap
Travel-friendly
Best Laptop Briefcase: Having been around for well over a century, it's hard to go wrong with anything from Filson, and its Original Briefcase has stayed the course dating back to 1994. It is composed of an extremely durable, rugged twill material and boasts a pair of external pockets and internal dividers. Seeing as this is a Filson product, it wouldn't be right if it didn't garner some sort of refined craftsmanship component, which is where the saddle-grade, American-sourced-and-tanned leather makes an appearance. It comes with a 15″ laptop pocket, and 2 external full-width pockets providing you with a solid amount of storage options. And, since it's a Filson product, it's backed by a lifetime guarantee.
Material: Twill and bridle leather
Size: 16″(W) x 12.5″(H) x 4″(D), 13L
Laptop Size: 15″
Killspencer Briefcase 2.0
Pros
American-made
Cobra buckles and a Swiss-made zipper
Premium full-grain leather
Classic briefcase style
Best Premium Laptop Briefcase: Everything in this California-bred bagmaker's catalog is worth mentioning, and the timeless-looking Briefcase 2.0 serves as the perfect blend of form and function. It boasts a sleek, Swiss-made Riri zipper that provides some shine thanks to its antique silver finish. Then there's the bull hide leather handle and a pair of the brand's signature Cobra buckles for easy carrying and guaranteed security. It's finished off with a padded interior that is equipped with a nylon-lined compartment that can fit a 15″ laptop, so you won't be left wanting anything with this one.
Material: Premium full-grain leather
Size: 17″(L) x 2.5″(D) x 11.5″(H)
Laptop Size: 15″
The Best Backpacks for Everyday Carry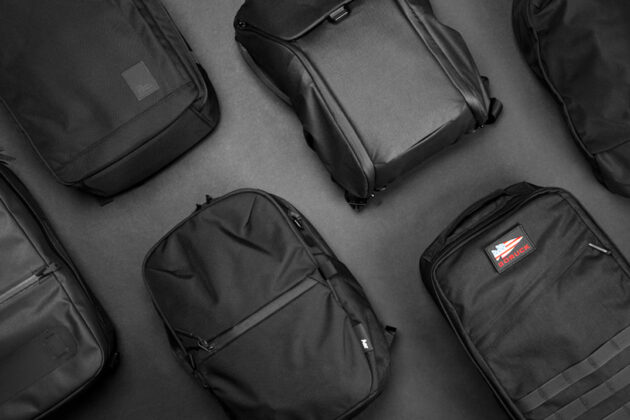 If you're more comfortable walking around town with a traditional backpack, then we've got you covered there, too. Any of the picks our picks on the guide to the best EDC backpacks will make for great choices to stow away your laptop and other essential gear.