Sep 6, 2019
Category: Gear
There are hundreds or even thousands of options on the market when it comes to travel bags. But you can certainly narrow down the possibilities by looking into your particular needs. If you're the kind of jet-setter who takes quick trips and doesn't like having to deal with baggage claim and its inherent risks, you might want a single carry-on bag.
But even in that smaller category, there are tons of options — including the classic rolling suitcase, more avant-garde messenger bags, and (of course) the iconic and always-in-style backpack. It's the latter that concerns us today, as we've rounded up the 20 best travel backpacks for all of your airborne exploratory needs. For short-form getaways and as a companion bags to your checked luggage, you'll not find better options anywhere.
Piorama The Adjustable Bag A10
A quick glance at the A10 from Piorama and most can discern that it isn't simply a backpack, but rather a hybrid duffel that easily and quickly transforms at your convenience. It's also made from water-resistant PU-coated nylon for some extra durability and water resistance. But the big winner here is that this bag actually expands to three different capacities: 31, 46.6, and 62 liters — that gives you plenty to work with no matter your adventures. And it's got a lot more going for it than just that.
Capacity: 62L
Exterior Material: PU-Coated Nylon
Thule Subterra Backpack
If Thule sounds like a familiar brand name to you, it's probably because of their roof racks and roof-mounted cargo boxes and bags. As it turns out, they've pared that automotive exploration expertise into human-hauled bags, as well — like their Subterra backpack. It's got clean lines, plenty of internal space with organizational options, and even has a 15″ laptop pocket. That's compounded by its durable nylon exterior, included collapsible packing cube, and water-resistant rolltop closure.
Capacity: 34L
Exterior Material: Nylon
Osprey Porter Travel Backpack
Osprey is probably best known for their hiking and outdoor-focused bags and gear. But, as it turns out, that focus pares pretty brilliantly into their Porter travel backpack you see here. Built from sturdy nylon, this handsome pack hinges on two things: a 46L internal storage capacity and "straightjacket" compression straps to keep everything in order whether you're traversing the tarmac or hoofing it to the bus stop (or any other kind of adventure, really). It also boasts a locking hideaway laptop tech pocket for extra security.
Capacity: 46L
Exterior Material: Nylon
Patagonia Black Hole Pack
Patagonia's Black Hole line of bags is already legendary, but they just made the whole collection even more enticing by using 100% post-consumer recycled materials in their construction. Now, these brilliant bags are all-the-more eco-friendly on top of being superb at hauling your gear. This particular offering boasts 32L of storage, a weather-resistant flip-top closure to complement its TPU-coated polyester exterior, nylon webbing for modular attachments, and five different colorways from which to choose. And that's just the beginning.
Capacity: 32L
Exterior Material: TPU-Laminated 300D Ripstop Polyester
Aer Flight Pack 2
Aer is definitely a brand of which you should be aware if you have an appreciation for stylish and capable carry solutions. And their Flight Pack 2 is a prime example of why they're so highly-respected in the industry. Made from an eco-friendly dyed polyester, it's plenty tough, but it also features top-notch minimalist styling that does nothing to betray its comprehensive organizational interior. It also has a 15.6″ laptop pocket, a number of exterior quick-access pockets, and even a luggage pass-through for easier airport hauling along with your rolling luggage.
Capacity: 21L
Exterior Material: 900D Polyester
Incase EO Travel Backpack
Incase offers a wide variety of carry solutions, but they really shine when it comes to travel-focused gear — especially for folks who are nit-picky about organization. Their EO Travel Backpack is no exception to that rule and works perfectly in that regard. It has a clean, seemingly minimalist exterior, but its multiple storage pockets are adorned with a number of smaller pouches and slots for all your minutia — like power cables, accessories, everyday carry gear, and more. Of course, it also has a laptop pocket and a triple weather-resistant coating on the outside to ensure all your gear stays safe and dry.
Capacity: 24L
Exterior Material: 300D Ecoya Polyester
Timbuk2 Wander Backpack Duffel
When a brand chooses an obvious, on-the-nose name for their travel bag, it should strike you as something done with great confidence, for it means the brand did so with purpose and intention. And, in the case of Timbuk2's Wander hybrid duffel-backpack, they've succeeded in creating a pack worthy of such a name. It's handsome, water-resistant, boasts plenty of internal space, has compression straps to keep everything tight, has a wealth of internal organization, and the list just keeps going on and on.
Capacity: 40L
Exterior Material: Coated 420D Ripstop
Arc'teryx Covert Case C/O Travel Pack
If you're surprised to see Arc'teryx make our list of the best travel backpacks, then you haven't been paying attention. The Canadian outdoor manufacturer has been making superb adventure-ready gear for years. This bag is certainly no exception — loaded to the brim with their knowledge and expertise in the form of a clean, minimalist exterior alongside things like a spacious interior, internal and external organizational pockets, compressions straps, stowable shoulder straps, a quartet of grab handles, and much more.
Capacity: 40L
Exterior Material: Silicone-Treated N500p-HT ATY Nylon
Tortuga Setout Backpack
Tortuga might not have the recognition of larger outdoor brands, like The North Face or Patagonia, but that's not because they don't make superb haulers. In fact, they've won plenty of awards for their superb suite of offerings. Their Setout backpack is one such offering that has garnered the brand accolades. It's made from recycled polyester — made from water bottles — which gives it plenty of weather resistance. But it also has a DWR coating for even more weatherproofing alongside two sizes from which to choose, internal and external organizational options, and a wide array of other features.
Capacity: 35L-45L
Exterior Material: 900D Polyester
Chrome Industries Macheto Travel Bag
If you ever want to be certain the bag you're hauling is going to be tough enough to weather any adventure, pick one up that's made from mil-spec materials — like the Chrome Industries Macheto travel bag. This backpack is built from battlefield-ready ballistic nylon, so it can survive just about anything you might throw at it. It's also expandable from 42-48 liters, has sturdy seatbelt compression straps, heavy-duty hardware, and a tear-resistant truck tarpaulin liner. If you're the type of traveler who takes to his or her adventures on a bicycle, this might be your ultimate travel backpack.
Capacity: 42L-48L
Exterior Material: 1680D Ballistic Nylon
Cotopaxi Allpa Travel Pack
One of the bigger downsides of many travel backpacks is that, while they often have plenty of internal room, they don't offer much in the way of organization regarding your clothing. That's not an issue with the Cotopaxi Allpa travel pack, as this bag actually boasts a system similar to those found in traditional airplane luggage — zippered mesh pouches for all your apparel and accessories. It's also water-resistant thanks to an ultra-tough coated exterior, comes with a 15″ laptop pocket, and comes with a rainfly for even more weatherproofing.
Capacity: 35L
Exterior Material: TPU-Coated 1000D Polyester
Heimplanet Transit Line Travel Pack
You might be familiar with Heimplanet for their groundbreaking inflatable tents — which look not-unlike something you might see in a science-fiction film. But they also make a wide variety of bags, including their stellar Transit Line travel pack. Imbued with their signature clean lines and styling, this bag boasts enough internal space and organization for multi-day getaways, which is bolstered by a weatherproof exterior, a full-access clamshell opening, quick-access pockets, a built-in laptop pocket, and more. Somehow both minimalist and comprehensive, this is a bag with which to venture far and wide.
Capacity: 34L
Exterior Material: 800D Nylon & 660D Polypropylene
Tom Bihn Travel Backpack
Tom Bihn is another brand that definitely doesn't get the respect it deserves, but you'll likely become a believer and supporter with just a quick glance at their Travel Backpack. Not only is this carefully-considered bag an adventure-friendly hauler with plenty of external pockets, internal organization, and more — but it's also one of the few that comes with a wide variety of colorway options. Just be aware that there are two different exterior constructions when making your purchase and you should be fine. Regardless of what you choose, this is still one of the best all-around travel backpacks on the market.
Capacity: 25L
Exterior Material: 400D Halcyon & 420D Ripstop Nylon or 525D Ballistic Nylon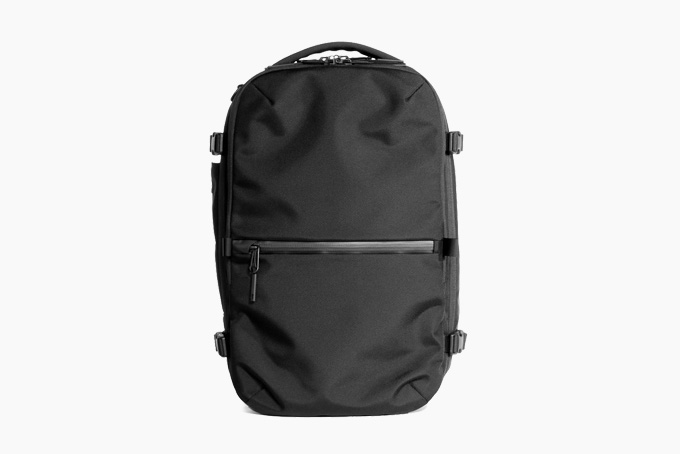 Aer Travel Pack 2
Whereas Aer's Flight Pack 2 is perfect for abbreviated jaunts, their Travel Pack 2 is a bit more capacious for longer getaways. It's still loaded to the gills with all the same stuff we've come to expect from Aer, however. That includes a ballistic nylon exterior for superb weather-resistance and durability, plenty of internal space with a handy organizational scheme, a laptop pouch, and more. This one also benefits from a separate, ventilated shoe pocket so you can bring a second or even third pair of kicks along for the ride.
Capacity: 33L
Exterior Material: 1680D Cordura Ballistic Nylon
Lexdray Tokyo Pack
Lexdray specializes in handsome haulers that range in size and style, yet they're all carefully-considered and beautifully-made. Their Tokyo Pack, a mid-sized travel backpack, is certainly no exception. Rather, it exemplifies what makes this brand great. Its features include plenty of organizational pockets — both internal and external — a weatherproof exterior, a fleece-lined padded laptop pocket, and a hideaway rainfly cover. And that's just the beginning.
Capacity: 22L
Exterior Material: 1000D TPE Ripstop Nylon & Neoprene
Minaal Carry-On 2.0
There are a lot of backpacks out there that are suitable for travel, but much fewer that were actually made specifically with jet-setting in mind. The Minaal Carry-On 2.0 very much fits into that latter category, as you might've guessed from its name. On top of a format that's perfect for air travel, it also boasts a weatherproof exterior, a shockproof laptop compartment, tuck-away shoulder straps and a briefcase-style carry handle, lockable zippers, and so much more.
Capacity: 35L
Exterior Material: Custom 600D Nylon & 1000D Nylon Accents
Peak Design Travel Pack
Like Minaal's above, Peak Design's Travel Pack was built specifically with air travel in mind. Thusly, it fits the carry-on guidelines for most major airlines. On top of that, it's also got a unique clamshell that opens from the back pad for unfettered access and increased security. It's also expandable from 35-45L for greater storage and versatility, has 360-degree grab handles, hideaway straps, and a weatherproof exterior. This truly is the kind of bag that, once you've had your hands on it, you never want to fuss with a different one ever again.
Capacity: 45L
Exterior Material: 400D Nylon
Triple Aught Design Axiom Pack
Though they certainly specialize more in outdoor- and tactical-focused gear, TAD has still thrown their ring into the travel backpacks ring in spectacular fashion with their Axiom Pack. Built from an extremely tough exterior material that's as sleek as it is durable and water-resistant, this discreet bag is perfect for quick jaunts to just about any locale. It also has a reconfigurable interior organization scheme so you can customize it to your particular needs at any given time. And it definitely doesn't hurt that this pack was made in the USA.
Capacity: 24L
Exterior Material: VX-21 Ripstop
Alchemy Equipment AEL012 Daypack
Designed specifically to function as a solo travel bag — meaning this is the only pack you'd take with you on a given adventure — the AEL012 is the perfect pack for minimalist travelers yet it still has plenty of room for all your essentials and then some. It has an ultra-durable exterior — compounded by a PU-coated base for extra toughness — and boasts an EVA skeleton for a bit of structure, allowing your gear to stay safe even if the bag isn't completely full. It also has a 15″ laptop pocket with a self-ejection system for easy access and the bag meets international carry-on guidelines.
Capacity: 40L
Exterior Material: 630D ATY Nylon & 3x PU-Coated Base
Mission Workshop The Rhake VX Backpack
Mission Workshop's Rhake is the brand's most popular bag, but that doesn't mean they've just sat on it. In fact, they keep finding ways to improve it. In this case, they opted to construct it from VX-21 fabric from Dimension Polyant, imbuing it with even more durability than ever before. It also still has a wealth of pockets, a 17″ laptop pocket, a dedicated tablet sleeve, a hideaway water bottle pocket, Fidlock buckles — the list just keeps going. It's pricey, but it's definitely worth the cost in the long run.
Capacity: 22L
Exterior Material: VX-21 Dimension Polyant
The 15 Best Travel Shoes For Men
Now that you're squared away when it comes to hauling your gear, you're going to want to make sure you're properly equipped yourself. And with long stretches of standing, walking, and maybe even hiking, your footwear is of the utmost importance. Make sure you're ready with a pair of the best men's travel shoes.
HiConsumption is reader-supported. When you buy through links on our site, we may earn an affiliate commission. Learn more