For just about as long as we've been following the everyday carry space, Bellroy has been a staple in it, having spent the last decade-plus churning out high-quality, streamlined takes on wallets, folios, electronics cases, and other EDC accessories. Despite our continued proclivity for the Aussie outfit, our personal experience with its products has been largely limited to their wallets and smaller goods, so when we began testing travel packs earlier this year, we set out to determine if Bellroy's signature brand of sleek, minimalistic designs and premium, eco-friendly materials yields as good of a backpack as it does wallets — leading to this hands-on review of the Bellroy 28-liter Transit Pack.
Video Review: Bellroy Transit Pack
For a more in-depth look at Bellroy's Travel Pack, be sure to check out our full-length video review of the flight-ready bag in stunning 4K.
First Impressions
Getting Acquainted With The Transit Pack
The first thing that jumps out at you when checking out this backpack is its size and shape, with the vessel looking and feeling more like a compact everyday use backpack than it does a travel pack — despite its carrying capacity proving otherwise. This is because the Transit Pack was designed to fall in a sweet spot, with the bag being just big enough to accommodate everything needed for a business trip or weekend away, while still being compact enough for everyday use. Completely devoid of any logos or branding — save for a single, small Bellroy patch adorning the face of the shell and an embossed owl logo on the sternum strap — the bag is extremely spartan aesthetically, with a clean and uncluttered appearance. And, in typical Bellroy fashion, the Transit Pack boasts a quality feel, fit and finish, and level of attention to detail that all point to an ultra-exacting QC department.
Modern Materials
Bellroy's Eco-Friendly Construction
Material selection has always been of the utmost importance to Bellroy, with the firm choosing to craft products from sustainable and environmentally-friendly eco-tanned leathers, recycled fabrics, and plant-based constructions that offer stellar performance and functionality. And the Transit Pack is no different in this regard, with a woven, water-resistant shell that's composed of a combination of Baida and Dura nylon, Canva Weave and Canva Ripstop polyester, and Gold-Rated Naked leather. These materials were not only selected for their longevity and durability, but also for their ability to age gracefully, as they should slowly achieve a unique and subtle patina over the course of their life.
Exterior Elements & Features
Minimalist Form Meets Maximalist Function
Wildly intuitive and uncomplicated, the exterior layout of Bellroy's Transit Pack is one of the best we've ever seen, with pockets for everything you need for traveling or commuting, while only using four zippers in total — a main compartment clamshell, a separately-accessed padded laptop sleeve, a soft-lined top sunglasses pocket, and a front organizer pocket. Meeting carry-on size restrictions, the Transit Pack features a simple pair of shoulder straps and a padded back panel, though it also sports a few more premium touches such as waterproof zippers with eco-leather pulls, a magnetic-coupling sternum strap, and a heavily-reinforced, mil-spec top grab handle.
Internal Storage & Organization
Calculated Carrying
Equipped with a clamshell-style design, the bag's main compartment opens on three sides, giving completely unrestricted access — a layout that's more akin to a traditional piece of hard travel luggage than your average backpack. Another design element borrowed from travel luggage is the primary compartment's magnetic-coupling compression straps, which allow users to secure down clothing or serve as an impromptu tablet or magazine sleeve. Behind the main opening is a quick-access laptop pocket that can accommodate notebooks up to 16" and features a secondary cord and tech organizer pouch. The fact the laptop compartment has its own zipper makes it incredibly easy to breeze through airport security without having to dig out half of your belongings in order to locate your notebook. A pair of externally-accessible quick-access pockets also make it incredibly easy to take out a wallet, smartphone, or passport on the fly. The front of the shell features an organizer compartment with a bevy of dividers and a key clip, while the aforementioned soft-lined sunglasses pocket sits at the top of the pack.
Verdict
Final Thoughts After Testing
Often times when testing a bag, we'll develop initial first impressions that will slowly change and evolve over the course of the time we spend using it. But this wasn't the case with this Bellroy vessel. Sold in four color options and available in 20-, 28-, and 38-liter sizes, the backpack is very much an example of "what ya see is what ya get," with a simple and intuitive design backed by quality, modern materials — and a three-year warranty. Its layout and limited number of zippers and compartments afford an incredibly streamlined user experience, while also making it ridiculously simple and easy to learn your way around the pack. Every element of this backpack feels carefully considered, and its materials and construction techniques point to a pack that's built for extended use. And, without being bulky or over-engineered, Bellroy's Transit Pack also lends itself to everyday carry duties better than any travel backpack we've tested thus far. So if you're a one-backpack type of person, this may be the pack for you.
The 15 Best Travel Backpacks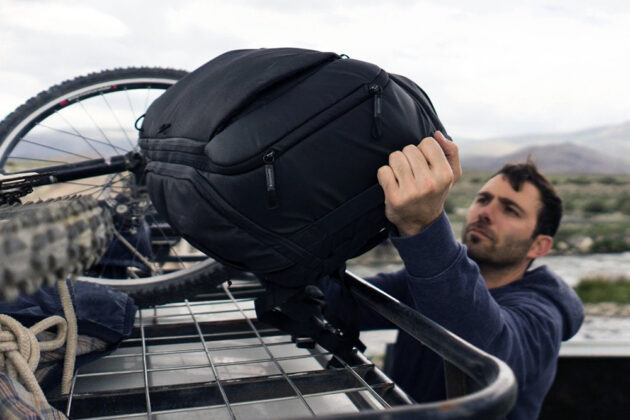 If Bellroy's Transit Pack doesn't resonate with your globetrotting needs, then be sure to check out our guide to the best travel packs for more than a dozen additional stellar flight- and travel-ready bags.