Whether you're spending a weekend out of town or taking off on an extended world tour, traveling almost always requires a bag or vessel for organizing and carrying your essential gadgets, gear, and other belongings. While practically any backpack or bag will offer some utility in this area, your average pack can't hold a candle to a travel-specific backpack that's been engineered from the ground up specifically for globetrotting.
Though once a fairly niche space, the travel backpack market has absolutely exploded in recent years, giving way to dozens of rucks and bags with highly-calculated designs. And while the sheer abundance of available options gives buyers an enormous selection of choices, it can also make it difficult to hone in on the handful of bags that objectively stand above the rest. And it's this very group of bags we'll be counting down today in this guide to the best travel backpacks.
The Best Travel Backpacks Breakdown
Best Overall Travel Bag

Aer Travel Pack 3

Best Eco-Friendly Pick

Bellroy Transit Backpack

Editor's Pick

Peak Design Travel Backpack

Best Minimalist Pick

Minaal Carry-On 3.0 Bag

Most Rugged Pick

GORUCK GR2
What Exactly Is A Travel Backpack?
Though on the outside they don't look all that different from regular everyday carry or work backpacks, travel packs are fairly unique as far as their design and amenities are concerned. Often borrowing elements from regular backpacks, duffle bags, and hard travel luggage, travel-specific backpacks are usually larger in volume than your average everyday carry bag and at times can be expanded to afford even more storage space. More importantly, travel packs are designed with globetrotting in mind, and feature amenities and elements dedicated to this use such as luggage handle pass-throughs, passport pockets, hidden stash spots, locking zippers, concealed smart tracker pockets, and full clamshell openings.
Additionally, most travel-focused backpacks adhere to standard airline carry-on luggage sizing. It's also common to see travel backpacks with pockets or cavities than can be accessed or opened from more than one place/side of the bag. Even more common in this space is the use of grab handles and backpack and duffel-style shoulder straps that can be stowed away when not in use. And, because the last place you want to have your bag break, tear, or otherwise fail is when overseas, thousands of mies from home, the vast majority of the latest and greatest travel backpacks are crafted from rugged materials that are pieced together using equally hardwearing — and often reinforced — construction techniques.
Travel Carry Solutions Shopping 101
The Main Factors To Consider When Buying A Travel Backpack
Now that you're up to speed on just what exactly a travel backpack is, let's begin unpacking the factors that you should consider when shopping for one — the most important of which we've briefly outlined in this condensed guide directly below.
Video Guide: Best Travel Backpacks
Want a more in-depth look at our favorite travel backpacks? Then head on over to our travel backpacks video guide where we break down our top five travel bags in greater detail.
Materials: The materials used to craft a bag — and the construction techniques used to piece said materials tougher — undoubtedly play the biggest role in determining a travel backpack's overall quality, more so than any other factor. Engineered to standup to millions of miles of globetrotting, these travel packs are typically cut from hardwearing shell constructions such as high-denier nylon and waxed canvas, as well as proprietary materials like Dyneema and CORDURA.
Amenities & Organization: Travel backpacks are specifically engineered to accommodate the regular essentials most globetrotters use when jet setting to another land. With that said, the number of available organizational elements offered can greatly vary, as can the efficacy, utility, and practicality of each element. As such, when reviewing this area, you'll want to explore each backpack's spec sheet in order to discover their full list of organizational items such as pockets, slips, compartments, dividers, etc.
Hardware & Secondary Materials: Hardware & Secondary Materials: Though it's a travel backpack's shell material and construction technique(a) that determine much of the bag's overall durability and quality, secondary materials are another factor that separate today's best travel packs from their objectively inferior counterparts. This includes elements the backpack's liner construction and trim elements, as well as the hardware used such as the bag's zipper tracks, attachment points, and buckles.
Size: While everyday carry packs only need to accommodate a work day's worth of kit, travel backpacks need to house markedly more garments and gear. As such, travel backpacks are almost always larger than their EDC-focused counterparts, with most travel-specific backpacks boasting around 20 to 35 liters of internal storage space.
Accessibility: Another way in which travel backpacks are different from regular packs is in the way their pockets and compartments can be accessed. This includes items such as full-length clamshell openings that provide completely unobstructed access to the entirety of the bag's contents, as well as pockets with interior and exterior zippers that allow them to be accessed from inside out outside of the pack. While discussing travel backpacks' accessibility, we also advise looking into whether or not any of its pockets or compartments can be locked or secured in any way.
Selection & Testing Process
How & Why We Got Hands-On With These Particular Travel Wallets
In order to generate our list for the best travel backpacks on the market, we first began by exploring the wider space and piecing together a broad list of the latest and greatest packs before beginning to narrow that initial round down to a shortlist of potential candidates — all of which were selected based on each travel backpack's design and layout, materials and hardware, and list of travel-specific features and organizational amenities. This ultimately enabled us to come up with a list of packs that we could then proceed to put to the test in order to determine which of these carry solutions would be making the final cut and which would fall by the wayside.
One can admittedly get a decent sense of a travel backpack's features, dimensions, and build quality by simply getting hands-on with the bag for just a few minutes. With that said, the only way to really get an understanding of how these carry solutions actually perform in their intended application is to book airline tickets, load the bags up, hop a plane, and truly put them to the test. And while it only consisted of short trips, that's exactly what we did; utilizes these backpacks as they were intended to be used, on various planes, trains, and busses. This provided a wealth of insights and information that we otherwise wouldn't have uncovered by merely checking them out for a few minutes.
The Best
Our Fave Bags For Travel
Aer Travel Pack 3
Pros
Crafted around insanely rugged 1,680D CORDURA shell
Stellar organizational amenities
Has Duraflex hardware & YKK zips
Has hidden AirTag/tracking device pocket
Equipped w/ load lifters & compression straps w/ magnetic fasteners
Also sold in even more rugged X-Pac VX-42 shell version
Cons
Heavy when unloaded at over 4lbs
Luggage handle passthrough is effective but difficult to use
Best Overall Travel Bag: If we had to select a single bag as the best travel backpack, it would have to be Aer's third-generation Travel Pack. Crafted around an ultra-tough 1,680-denier ballistic-grade CORDURA shell, Aer's Travel Pack 3 also sports a quick-access top pocket, Duraflex hardware, lockable YKK zippers throughout, reinforced handles on all four sides, a hidden smart tracker pocket, an expandable water bottle pocket, a rolling hard luggage handle pass-through, a series of compression straps with magnetic fasteners, a soft-lined, padded and suspended laptop pocket that can accommodate notebooks of up to 16", and an internal frame-sheet that affords enough structure to allow the pack to stand on its own, even when empty. Weighing in at 4.2lbs, this bag offers 35 liters of collective storage space and utilizes a luggage-style lay-flat main compartment that makes accessing its contents a breeze. This bag is also offered in an equally rugged X-Pac construction version.
Check out our in-depth Aer Travel Pack 3 review here.
Capacity: 35L
Exterior Material: 1,680D CORDURA (or X-Pac)
Bellroy Transit Backpack
Pros
Sustainably made from eco-friendly, recycled materials
Internal compression straps keep contents firmly in place while in transit
Sports sleek minimalistic exterior
Also sold in 20L and 38L sizes
Cons
Shell lacks durability of other travel packs on this list
3-year warranty doesn't point to lifetime of use
Best Eco-Friendly Pick: A minimalistic yet fashion-forward design that's offered in a trio of color options and three different sizes (20L, 28L, and 38L), Bellroy's Transit Backpack was specifically designed for the modern globetrotter. As such, it meets carry-on size requirements and boasts a plethora of genuinely useful features for traveling such as a stealthy, quick-access passport pocket, a soft-lined sunglasses pocket, and a quick-access laptop compartment. Backed by a three-year warranty, this Bellroy bag is made from a water-resistant woven fabric that's composed of recycled materials. Internal compression straps also assist in mitigating bulk while simultaneously preventing its contents from shifting around during travel. Our favorite version of this bag — the 28-liter variant — also offers plenty of storage space while still tipping the scales at under 4.5lbs.
Check out our in-depth Bellroy Transit Backpack review here.
Capacity: 28L
Exterior Material: Water-Resistant Recycled Fabric
Peak Design Travel Backpack
Pros
Award-winning expandable pack engineered specifically for travel
Stellar organizational amenities
Meets domestic & international carry-on sizing requirements
Front pocket can be accessed internally or externally
Features full clamshell-opening rear door
Ultralight padded foam provides security and structure around entire bag
Cons
Laptop sleeve is built into rear clamshell door/back pad
Hidden ID pocket not large enough to fit wallet or passport (or anything larger than a single ID or card)
Editor's Pick: Though Peak Design's 45-liter Travel Backpack may not offer any groundbreaking or innovative features, it nonetheless represents one of the best all-around travel packs that money can buy, with an extremely calculated design that excels in just about every area a world traveler could ask for. Crafted around an ultralight padded foam structure, this bag is made from fully-waterproof and fully-recycled 400-denier nylon canvas that's been reinforced with an even harder-wearing 900-denier waterproof bottom. Winner of a slew of coveted awards — including a trio of best-in-show titles — this backpack sports numerous primary and secondary compartments, a suitcase-style flat-lay opening setup, several hidden stealth pockets, a stowable hip belt and sternum strap, 360-degree grab handles, axial strap attachments, and a high-visibility light gray interior that makes it easier to find its contents. Peak Design also makes a handful of packing cubes and other accessories to further optimize this already stellar travel bag.
Check out our in-depth Peak Design Travel Backpack review here.
Capacity: 45L
Exterior Material: DWR-Coated Recycled 400D Nylon Canvas
Minaal Carry-On 3.0 Bag
Pros
Engineered from the ground up specifically for travel
3rd-gen design benefits from updates born out of customer feedback
Meets domestic & international carry-on sizing requirements
Fits laptops up to 16"
Features flay-lay opening and packing setup
Sold w/ included rain cover & lifetime warranty
Cons
Expensive price
Not waterproof (w/o using included rain cover)
Best Minimalist Pick: Utilizing ample real-world field testing from tens of thousands of airline miles as well as abundant public feedback, Minaal's third-generation CARRY-ON Bag boasts a slew of improvements over its second-gen predecessor such as a new flat-lay clamshell opening, a more comfortable and ergonomic shoulder strap and back panel setup, and a primary 600D Picton fabric construction that's made from recycled materials and is now 22% stronger and less prone to tearing. Compliant with both U.S. and European airline carry-on sizing requirements, this bag is also reinforced with 1,200-denier Picton fabric in key stress and high-abrasion areas, plus features Minaal's new and improved Unified Harness system. Other additions include new markedly more rugged zippers, Woojin and UTX alloy buckles throughout, a four-point harness adjustment system, a new stealth integrated stash pocket, and the brand's patented shockproof DeviceNest double device sleeve which can accommodate tablets and notebooks of up to 16". Protected by a lifetime warranty against defects, this bag is also compatible with an array of hip belts, packing cubes, shoulder slings, extender straps, and a myriad of other available add-ons.
Capacity: 35L
Exterior Material: 600D Picton Fabric
GORUCK GR2
Pros
Based on Special Forces medical packs' clamshell opening designs
Cut from ultra-rugged & heavily-reinforced 1,000D ballistic-grade CORDURA shell
Made in America & backed by lifetime warranty
Genuinely built to last a lifetime
Sold in 26L, 34L, and 40L sizes
Cons
Expensive price
Lack of hip strips greatly limit rucking capabilities
Unmistakably military-inspired appearance can be pro or con depending on taste
Most Rugged Pick: Whether you're in the market for an everyday carry backpack, an outdoor rucksack, or a travel bag, we'd always recommend checking out the available options from the experts at GORUCK, as the Florida-based brand produces gear that's as incredibly well-thought-out as it is tremendously rugged — with GORUCK's GR2 backpack being far from an exception. Sized to meet carry-on sizing restrictions, the GR2 is modeled after Special Forces medical packs, and as such uses a flat-opening setup that affords instant and completely unobstructed access to all of its contents. The GR2 also features two primary compartments, plus a trio of smaller inner and outer pockets and an insanely secure, heavily reinforced, suspended laptop compartment with a false bottom.
Capacity: 40L (or 26L or 34L)
Exterior Material: 500D Nylon
The Rest
More Bags For Your Wanderlust
Osprey Farpoint Travel Pack Carry-On 40
Winner of multiple prestigious awards, the Osprey Farpoint Travel Pack Carry-On 40 is a well-calculated backpack engineered from the ground up to be the ideal travel bag. Made around a 210-denier nylon Mini Hex Diamond Ripstop nylon shell, this bag's primary construction is supplemented via a 600-denier packcloth bottom and accents. Alongside dual compression straps and a bevy of organizers, this backpack also uses Osprey's LightWire frame suspension which can neatly stow away in its padded and ventilated mesh back panel when not being used. On top of offering the Farpoint Travel Pack in two different sizes and two color options, Osprey also produces a range of accessories made specifically for this bag, such as a zippered document folio, a roll organizer, and a packing cube set.
Capacity: 40L
Exterior Material: 210D Nylon Mini Hex Diamond Ripstop
Topo Design Global Travel Bag 30L
Largely characterized by its immense versatility, aesthetically pleasing design, tremendous durability, and use of sustainable materials, Topo Design's Global Travel Bag is a streamlined take on a travel pack that's crafted from an incredibly hardwearing combination of 210-denier, 400-denier, and 1,000-denier nylon, plus 1,680-denier ballistic nylon — all of which are derived from recycled materials. Protected by Topo's MAP Guarantee, this backpack also features U-shaped main and secondary entries, internal mesh organizers, a semi-rigid foam internal structure, zippered security pockets, a 15" padded laptop panel, a pass-through panel, top and side carry handles, expandable side water bottle pockets, heavy-duty YKK zippers, Topo's PackFast attachment clips, vertical daisy chain webbing, and an advanced suspension system made up of a removable adjustable padded shoulder strap and waist belt, load-lifter straps, and a sternum strap.
Capacity: 30L
Exterior Material: Recycled 1000D & 1680D Nylons
Cotopaxi Allpa 35L Travel Pack
Carry-on-compatible while still boasting 35 liters of storage space, Cotopaxi's Allpa 35L Travel Pack aims to offer a streamlined minimalistic bag that still provides the necessary space and organization needed for globetrotting duties. The backpack's TPU-coated 1,000-denier polyester primary construction has been paired with 840-denier ballistic nylon paneling, giving it immense durability while also affording it solid water resistance. Sold with an included rain cover, this brilliantly engineered travel pack sports a weight-distributing, low-profile harness system, a removable waist belt, padded laptop and tablet sleeves, a zippered passport pocket, locking YKK security zippers, four carabiner lash loops for carrying additional gear on the outside of the bag, tuck-away shoulder straps, four reinforced grab handles, and a main compartment opening with a suitcase-style, full wraparound zipper. This ultra minimalist-style bag is also produced in several additional color combos.
Capacity: 35L
Exterior Material: TPU-Coated 1000D Polyester & 840D Ballistic Nylon
Timbuk2 Never Check Expandable Backpack
Backed by a generous lifetime warranty, this bag from Timbuk2 was designed to suit a wide variety of travel applications and settings. The Never Check Expandable Backpack offers 24.5 liters of internal real estate, though it can also be expanded to unlock an additional three liters of storage space — thanks to the use of a clever wraparound gusseted zipper design. Other highlights of this backpack include weatherproof zippers throughout, an ultra-plush padded back panel, and dedicated electronics storage with a padded tablet pocket for devices as big as 9.7" and a laptop pocket that can fit notebooks as large as 16". In total, Timbuk2's Never Check Expandable Backpack manages to weigh in at just 2.6lbs, giving it a pretty incredible storage space-to-weight ratio of less than 0.1lb per liter.
Capacity: 27.5L
Exterior Material: 420D x 2000D CORDURA
Mystery Ranch Mission Rover Backpack
Mystery Ranch undeniably makes some of the finest outdoor and everyday carry packs in existence, though the Bozeman brand has more recently taken its immense expertise and applied it to the creation of a purpose-built travel pack known as the Mission Rover. Capable of being carried as a shoulder bag, a backpack, or a suitcase, this item is made from a plain-spun nylon fabric with a 210-denier nylon liner. Produced in three sizes and three color options, this bag has been bestowed with a myriad of travel-focused features such as a luggage handle pass-through, lockable YKK zippers, a trio of inner divided pockets, a padded 15" laptop sleeve, a dirty laundry and shoe compartment, a fold-up waist belt, and a dedicated compartment for pens, USB flash drives, and office supplies.
Capacity: 30L
Exterior Material: Plain-Spun Nylon Fabric
HEIMPLANET Transit Line Travel Pack
HEIMPLANET has long been one of the most renowned gear and bag makers in operation, and with offerings like the Transit Line Travel Pack, it really isn't hard to see why. Utilizing a full-length U-shaped main clamshell-style opening, HEIMPLANET's Transit Line Travel Pack boasts a reinforced grab handle, a collapsible water bottle pocket, multiple smaller quick-access zippered pockets, and ultra-waterproof WATER-R zippers. Affording 28 liters of internal storage space, this bag is made from HEIMPLANET's proprietary main fabric known as DYECOSHELL — a dope-dyed nylon yarn weave with excellent abrasion resistance that's created using a markedly more sustainable manufacturing process compared to other equally hardwearing materials. This bag can also be upgraded via optional compression straps, a sternum strap and hip belt, and several other available upgrades offered by HEIMPLANET.
Capacity: 28L
Exterior Material: DYECOSHELL
Able Carry Max Backpack
Able Carry's Max Backpack wasn't just designed to be the ultimate travel pack, but instead strives to excel in every area possible, from a work bag to an everyday carry backpack to a gym bag, and everything in between. Tipping the scales at just under 4lbs, this 30-liter pack is made from an extremely rugged combination of X-Pac fabric and 1,000-denier, ballistic-grade CORDURA nylon. This bag also features a closed-cell foam back panel, a luggage handle pass-through, lockable zippers, a padded laptop compartment that can accommodate models up to 17" in diameter, and a dedicated work gear and tech organizer for housing cables, chargers, earbuds, and wireless mice. In addition to offering customers a two-week money-back trial period, Able Carry also stands behind this product with a lifetime warranty — should you somehow manage to compromise or damage its insanely rugged constructions.
Capacity: 30L
Exterior Material: X-Pac & 1000D CORDURA
Tom Bihn Synik 30
While it may resemble your average JanSport-style bookbag, the Tom Bihn Synik 30 conceals a myriad of impressive features under its high-denier shell that make it ideal for travel. Building on its already impressive predecessor, this backpack is constructed around a fully-integrated — yet removable — internal frame sheet with an aluminum half-stay and features a full clamshell-style opening, a new and improved grab handle, a padded bottom, a luggage handle pass-through, removable internal tie-down straps, and a two-point access suspended and padded laptop compartment that can fit a single notebook of up to 16" — or two 15" laptops. Tom Bihn also produces the Synik 30 in more than 25 different color options, patterns, and materials.
Capacity: 30L
Exterior Material: 400D Halcyon, 420D Nylon Ripstop, or 525D 2×2 Ballistic Nylon
Evergoods Civic Travel Bag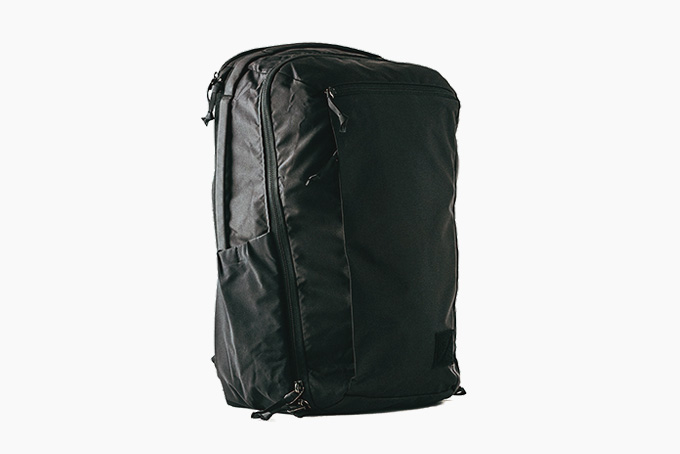 Evergoods' Civic Travel Bag is a purpose-built travel pack that massively benefits from the same, ultra-rugged 420-denier high tenacity nylon fabric and PU knifecoat as the brand's outdoor-focused Mountain Line. Under its minimalistic exterior, this travel pack features a quick-access top pocket, an exterior panel stash pocket, a luggage handle pass-through, a stowable, 3D-patterned, ergonomic waist belt, a mono-mesh construction back panel that offers best-in-class durability and breathability, a Velcro-secured padded and suspended laptop pocket that fits models of up to 17", and an interior panel pocket for housing crucial items like wallets, smartphones, and passports. This bag also boasts Zotefoam EV50 EVA foam shoulder straps that are created using Nitrogen gas in a high-pressure manufacturing process, affording them remarkably consistent density and compression even when worn for extended durations.
Capacity: 35L
Exterior Material: DWR/PU-Coated 420D Nylon
Tortuga Outbreaker Travel Backpack
Utilizing a front-loading configuration with a clamshell opening, the Tortuga Outbreaker Backpack is a super rugged travel bag that's crafted from extremely hardwearing X-Pac VX21 laminated pack fabric before being finished with Duraflex buckles and hardware and water-resistant and lockable YKK zippers. In addition to a back lined with a soft, sweat-wicking foam padding, the rear face of the pack is also equipped with a height-adjustable suspension system with a weight-bearing removable hip belt that's supplemented via load-lifters and an adjustable sternum strap. Tortuga also makes a larger 45-liter version of this bag that doesn't meet the size requirements for international carry-ons, however, it does meet the U.S. sizing restrictions as a carry-on, perfectly fitting into most plane's overhead bins.
Capacity: 35L
Exterior Material: X-Pac VX21
The Best Travel Wallets
Don't yet own a travel-specific vessel for safely carrying your passport, paper currency, tickets or boarding passes, and other vital documents? Then be sure to head over to our guide to the best travel wallets for the latest and greatest models that perfectly pair with the above travel backpacks