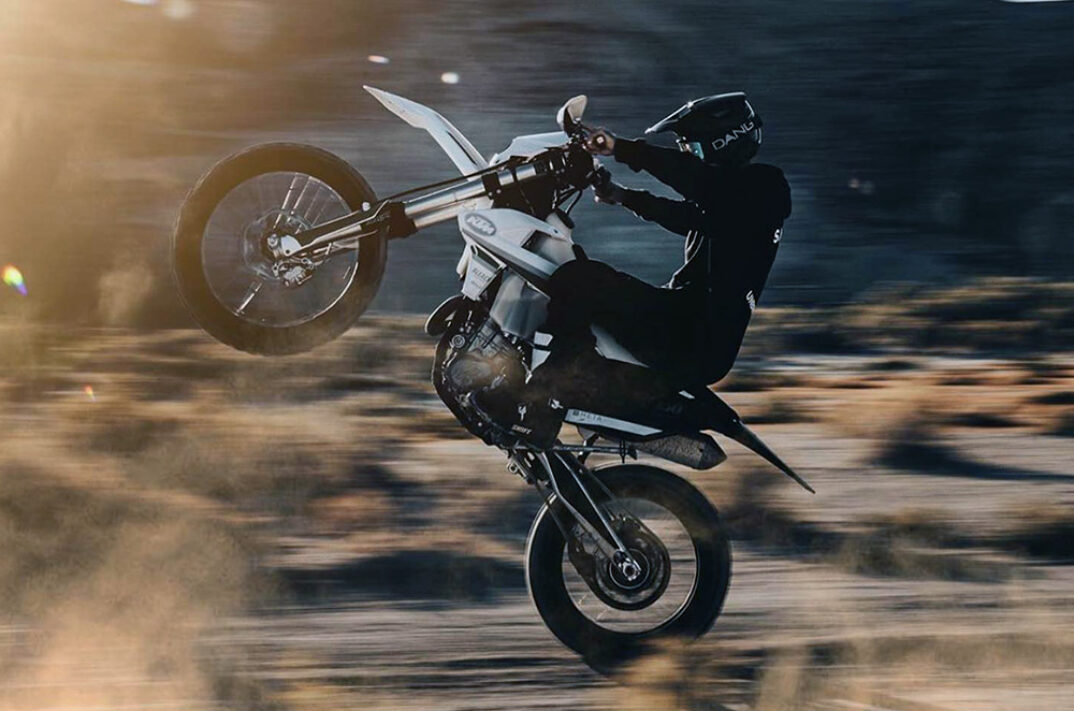 Really great gear — regardless of the category — should be built to last. And while careful construction and master craftsmanship can go a long way to ensuring that anything you utilize is long-lasting, the materials chosen will inexorably have a significant impact therein. That is to say: if you really want your equipment, apparel, and everyday carry to survive through all your adventures, you should carefully select gear crafted from durable, reliable materials.
Some of the materials people have typically turned to for long-lasting gear include the likes of leather, metals (especially stainless steel), and synthetics like ballistic nylon. However, modern technology has elicited some tremendous advancements that are worth consideration when it comes to shopping for new gear in any category. In the case of this guide, we're focused on Dyneema, a "miracle material" that's pliable as nylon, exceedingly lightweight, waterproof, and as much as 15x stronger than steel by weight. Everything on this list utilizes Dyneema in its primary construction — and all of it is worth your hard-earned money. This is the best Dyneema gear you can buy right now.
What Is Dyneema?
A Super Material
As mentioned, Dyneema is a synthetic fiber that can be woven into a fabric that's extremely lightweight (to the point that it floats on water), as pliable as nylon, and up to 15x tougher than steel (by weight). But what is it exactly? Well, like many great inventions, Dyneema was actually created entirely by accident in 1968 when a chemist was experimenting with and doing research on plastics and, completely by happenstance, developed a fiber he was unable to pull apart. However, the gear world didn't see too much of this impressive fabric until only recently.
Today, ultra-high molecular weight polyethylene (UHMwPE) is a completely proprietary fabric owned by DSM (there was another version formerly known as Cuben Fiber that was eventually purchased by DSM) more commonly known as Dyneema. Today, it can be found in a bevy of different item types and, while it can be quite expensive, represents one of the most durable, weatherproof, lightweight textiles currently known to man.
The Complete Guide To Dyneema
If you want to learn more about the history, development, makeup, and usage of this miracle material, you can find everything you need to know on our complete guide to Dyneema.
Hyperlite Mountain Gear Dyneema Repair Kit
We're sad to say that even Dyneema is not completely indestructible. No matter how slight, there's always the chance that you could end up with a tear or puncture in your Dyneema gear. When that happens, you'll be glad you brought along Hyperlite Mountain Gear's Dyneema Repair Kit, which comes with two patches and tape to seal that damage while you're out adventuring in the great outdoors. It won't make the damage go away, but it will stave off worsening until you can properly repair or replace your gear.
Hawbuck Dyneema Wallets
As lightweight, slimline, and durable as it is, Dyneema makes perfect sense to use as a material in the construction of perhaps the most ubiquitous piece of everyday carry gear: the wallet. And Hawbuck has done a beautiful job with its numerous offerings. While all of these wallets feature a Dyneema composite construction — making them ultra-tough, waterproof, and slim enough for front-pocket carry — they still feature a traditional bifold format with plenty of room for all your cards, cash, receipts, and more. And, as it stands right now, there are 20 appearance variations available — some solid colors, others with artist-designed imagery and patterns.
Peak Design Clutch 3.0 Camera Strap
A camera strap should be designed to do two specific things: keep your camera close at hand and ensure that it remains safe and secure. And while most (at least those from reputable brands) can do that relatively well, wouldn't you perhaps be more apt to trust a material like Dyneema to get the job done right? Peak Design seems to think so, which is why they made their cord out of the stuff. That material is also aided by the inclusion of Hypalon, EVA foam (for comfort), nylon, and anodized aluminum. A camera strap is just a camera strap unless it's this one from Peak Design.
The Anix x DSPTCH Technical Face Covering
As further proof of Dyneema's versatility, the folks at DSPTCH — in collaboration with The Anix — have actually made a protective face mask out of it. Aptly and simply named the Technical Face Covering, this mask combines ripstop nylon with Dyneema to create a covering that's exceedingly lightweight, packable, and comfortable for all-day wear. As if that's not enough to get it on your radar, it was also made in the USA.
Hyperlite Mountain Gear Versa Sling Bag
One of the big reasons a person might opt for a sling bag, as opposed to a backpack, is that they're much more compact and lightweight. Of course, that latter factor is even easier to manage if your sling bag of choice happens to be made out of ultralight Dyneema, like the Hyperlite Mountain Gear Versa Sling Bag you see here. Stylish enough for city wear but tough enough for off-the-beaten-path outdoor adventure, this is as futuristic, versatile, and reliable as fanny packs get.
Sherpa Adventure Gear Gurkhali Pant
A pair of adventure-ready pants is an essential buy for every outdoorsman, especially those who want to keep exploring as the weather gets colder. But some pants are just made tougher than others, which is exactly the case with the Sherpa Adventure Gear Gurkhali Pant you see here. Crafted from a blend of two types of cotton, Lycra, polyester, and (of course) Dyneema, these pants are stretchy and comfortable enough for all-day wear, but they're also rugged and durable enough to survive even the most harrowing of off-the-grid expeditions.
ECCO Exostrike Dyneema Boots
Due to its ultralight, ultra-tough nature, you'd think Dyneema would be the new standard for outdoor boot uppers. However, it's still somewhat difficult to find in practice. Difficult, but not impossible, as evidenced by ECCO's Exostrike Dyneema Boots you see here. Paired with grippy rubber outsoles, a hidden lacing structure for extra protection and security, a shock-absorbing midsole, and a cozy breathable liner, these impressive boots are ready for adventure.
Pandomoto Dyneema Base Layers
Nobody would argue that motorcycling is a dangerous hobby, but donning a helmet is just one way you should be protecting yourself from potential crashes. In conjunction with your dome protector, you'll want to outfit the rest of your body with protective apparel, and you can't go wrong with an abrasion-resistant Dyneema base layer, like that which Pandomoto offers. Not only can these garments protect you from slides of up to 16 meters, but they're also stretchy, lightweight, and super comfortable.
DSPTCH Ridgepack
Backpacks are designed to carry all the things you might need for a given trip, activity, and/or day, so wouldn't it make sense to keep the weight of your bag manageable so as to avoid adding excess stress to your poor back and shoulders? We think so, and it can be easily managed with DSPTCH's stylish new Ridgepack. Along with a Dyneema exterior that makes it super-lightweight, nigh-indestructible, and weatherproof, this bag also boasts urban-friendly minimalist styling, an internal padded laptop sleeve, and the whole thing was made in the USA.
Icon Variant Pro Construct Helmet
As mentioned earlier, motorcycling is a dangerous activity in which to partake. But the risks can be somewhat managed with protective gear. And the most important piece you can don is a helmet, like the Icon Variant Pro Construct Helmet you see here. This full-face moto helmet not only looks smart, but it's made from a combination of Dyneema, carbon fiber, and fiberglass — offering plenty of protection for even the speediest of rides. And you can choose from either a black or white finish.
SA1NT Unbreakable Dyneema Denim Jeans
For those in the know, there's one brand that does Dyneema jeans better than any other: SA1NT. In fact, the brand's Unbreakable jeans have been called the "most advanced denim on the planet" — a bold claim with which we're inclined to agree. And while it's remarkably tough and lightweight, helped by the fact that they managed to offer top-tier protection with a single-layer garment, these jeans also come with integrated elastane for even more comfort and a better overall range of motion than its more traditional competitors. These aren't jeans so much as they're high-tech, futuristic armor for moto enthusiasts.
Speedland SL:PDX Trail Running Shoes
Yes, Speedland's SL:PDX Trail Running Shoes have an impressive, lightweight, ultra-tough Dyneema upper. But that's just one of the many things that makes them so formidable. You see, they're also designed so that you can customize the lugs on the outsole, you can actually have the outsoles replaced when they wear down, they boast a secure and quick Boa closure system, and they have a removable carbon plate. How do you like them trail runners?
Specialized S-Works Ares Road Shoes
If you find yourself preferring sitting atop a saddle, rather than hoofing it, you're not out of luck. That's because the folks at Specialized have actually crafted their S-Works Ares Road Shoes with nigh-indestructible, lightweight Dyneema layers sandwiched between layers of TPU. They also feature carbon plates, BOA fitment systems, PadLock heels, titanium alloy cleat nuts, and more. And all of that comes in a package that still weighs just under 7.8oz per shoe.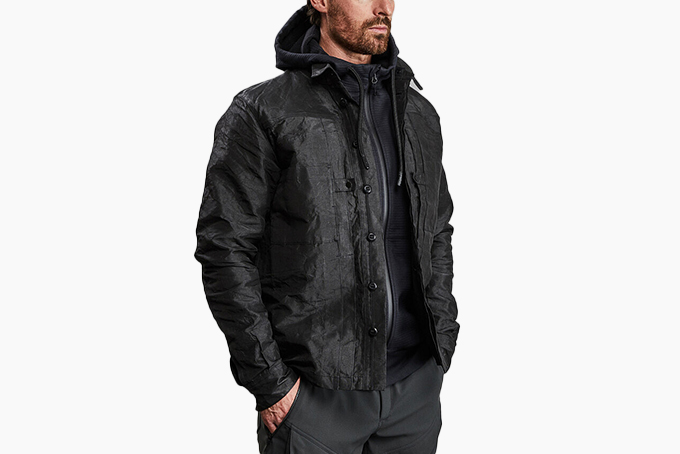 Vollebak Indestructible Jacket
The denim jacket, birthed in 1880, is one of the most iconic garments ever made. And while some traditionalists will always decry innovation, we welcome some advancements with open arms, as is the case with the Vollebak Indestructible Jacket. You see, this WWI-pilot's-jacket-turned-modern-marvel is made with a 100% Dyneema outer shell, making it lighter, stronger, and more waterproof than any denim jacket that came before it. It also gets stronger the colder it is. And it definitely doesn't hurt that it looks fantastic with just about any outfit. Bravo, Vollebak!
Hyperlite Mountain Gear Ultralight Tents
When it comes to ultralight backpacking tents, it's hard to beat those offered by the folks at Hyperlite Mountain Gear. After all, they make all of their super-minimalist structures with an ultralight, insanely durable, waterproof Dyneema. Plus, they offer plenty of add-ons for all your needs, including full and half mesh inserts to stave off pesky insects, additional tarps (to function as secondary shelter and/or vestibule), ground cloths, and more. If you want a 4-season tent that keeps the ounces to a minimum, go no further than HMG.
The Complete Guide To Graphene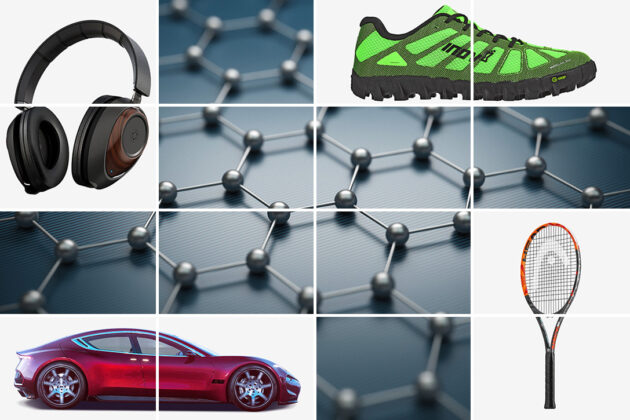 Though it is quite impressive, Dyneema is far from the only high-performance material out there. If you want to take a dive into one of its high-tech contemporaries, we suggest having a gander at our complete guide to graphene.