Jul 24, 2019
Category: Gear
When you spend the majority of your time on the road, you learn relatively quickly that an unorganized lifestyle is more trouble than it's worth. Whether you're trying to keep track of your business essentials, clothing, or peripherals, a jumbled briefcase is often an enemy of progression — causing you to stress over something that could be remedied by a bit of foresight.
Instead of throwing all of your important clothing, electronics, and toiletries into one single pile, invest in a set of packing cubes. They're the perfect way to organize, separate, and coordinate all of your favorite attire, allowing you to spend more time doing the things you need to do, without wasting all of your precious minutes searching for "that one piece of clothing." Below, we'll run through a list of the industry's most sought-after organizers, helping you to take the stress out of your next big trip. So wash, fold, and pack way — with our guide on the best packing cubes for travel, you'll never have an off-day again.
Peak Design Packing Cubes
If you're used to moving from place to place on the whim of your next big job, Peak Design's photography-oriented Packing Cubes are the perfect solution to store your essential items. Functionally, the brand's durable cube is built with a self-healing 70D nylon/polyester blend, providing adequate protection and support for your clothing, gear, and technology. On the interior, bespoke "tear-away" zippers allow quick access to your items, complementing Peak Design's internal divider, which lets you separate your clean and dirty clothing with ease. Better yet, each compartment expands and contracts based on its contents — giving you an adaptable setup that's fit to confront a variety of situations.
Eagle Creek Pack-It Specter Cubes
Eagle Creek takes pride in their technical expertise, boasting one of the longest-running suitcase organization systems of any on our list. For over 20 years, the company's original Pack-It range has helped businessmen, travelers, and packing connoisseurs to keep their bags free of clutter — but, as with any classic product, a modern update was in the cards. Que the Specter, a set of packable cubes that utilize adaptable sizing, a lightweight, two-ounce orientation, and an ultra-durable 30D Silnylon Ripstop construction. Their nylon constitution provides adequate protection against water, moisture, and external elements, while an easily-recognizable, translucent exterior helps to organize your clothing in the most efficient way possible.
Tortuga Setout Packing Cubes
Tortuga is a well-known name within the packing space, and thanks to the company's Setout cubes, they've garnered an even greater reputation within the industry. While most traditional packing cubes are made with less-than-exemplary materials, these top-of-the-line alternatives feature high-quality heathered 900D polyester, YKK zippers, and piped edges for easy, adaptable packing. Better yet, if you're looking for a bag that'll pair perfectly with these modular mesh cubes, rest assured in the knowledge that they've been built for utilization within the brand's Setout 45-liter backpack, taking the guesswork out of time-consuming organization endeavors.
Osprey Ultralight Packing Cube
Osprey stands behind some of the most iconic packing essentials in the industry, and the company's Ultralight Packing Cubes are yet another set of quality offerings that help to round out their storied catalog. Constructed with a lightweight, 40D polyester ripstop, durable webbed handles, and extra-large zipper closures for easy access to your essential items, the Ultralight boast a design that's perfect for the minimalist traveler. At just 1.1-, 0.7-, and 0.5-ounces, these packable tools marry exceptional weight savings and purposeful construction for stress-free organization. But, if you're looking for something to keep your gear warm and dry, you might have to search elsewhere — Osprey's open-ended packing cubes weren't built to battle the world's wettest environments.
Arc'teryx Index 5+5
Arc'teryx specializes in outdoor-ready attire, but that doesn't mean that the Index 5+5 packing cube isn't one of the best options for the organized traveler. This hard-wearing bag is light enough to accompany you up to the top of Everest but robust enough to carry all of your clothing for a conventional business trip. At 5-liters, you won't have any issues organizing your most important gear, separating the dirty from the fresh, and recognizing what's what through the use of a simplistic mesh panel. And, since it's Arc'teryx we're talking about, you can rest assured knowing that your gear is protected behind the industry's most durable materials.
GoRuck Padded Field Pockets
The GoRuck Padded Field Pocket might come off as a piece of essential EDC gear, but it's the perfect companion when it comes to the storage of your electronics, gear, or minimalistic clothing. Not every packing cube is meant for robust clothing, and that's where GoRuck's small, packable alternative comes into play. Three interior pockets help to keep your gear protected, while organizational mesh faces provide visual recognition of what's inside. Better yet, the Padded Field Pocket is compatible with most Modular Lightweight Load-carrying Equipment (MOLLE) grids, so it'll pack nicely into any military or utilitarian bags you might have sitting around the house.
Away The Insider Packing Cubes
Away The Insider created the perfect organizational tool for the avid traveler, providing buyers with an all-encompassing solution for clothing, electronics, and essentials. Each cube is made with hard-wearing, waterproof nylon that helps to protect your items from unsavory inhibitors, while mesh panels help you to find what you need without unpacking your entire travel bag. There are two different sets/layouts, depending on how you pack your attire — If you're a minimalist, you can opt for a smaller set of four. For those who are a little more enthusiastic about their wardrobe, a set of six provides the perfect opportunity to enlist all of your favorite outfits.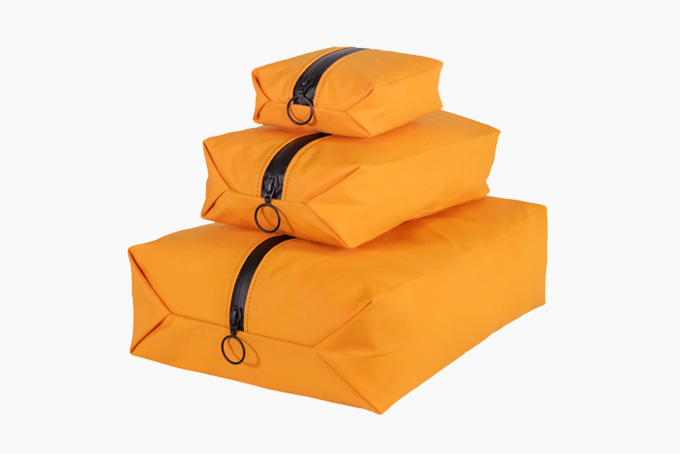 Trakke Foulden Packing Cubes
Trakke's Foulden Packing Cubes have become a favorite of the discerning traveler, helping on-the-go individuals to organize, arrange, and carry their most important peripherals. These all-encompassing cubes come in a variety of sizes, depending on your needs, and feature a dry-finish waxed canvas construction that's sure to keep your favorite items safe from harm. Better yet, each of the company's bright orange examples is outfitted with a weatherproof finish, which means that you'll never have to worry about rogue moisture ruining your clothing.
Flight 001 Spacepak
Flight 001's Spacepak is an award-winning organizer that comes with three utilitarian cubes, each with their own bespoke purpose. Internal organizers help you to separate your clothes, shoes, toiletries, and essential items with ease, while a secondary compartment, accessed via zipper, provides an area for already-used attire. The Spacepak's robust design can store up to two weeks worth of clothing, offering an attractive proposition for traveling professionals who might not have the time to keep everything clean, day in and day out.
Leatherology Nested Travel Cubes
Leatherology's Nested Travel Cubes are a cut above the rest when it comes to luxurious organizers — thanks, in large part, to their specialized, fine-grain leather silhouettes. Each full-grain example is strong enough to protect your tech, clothing, and essential items while providing a long-lasting structure that won't lose form while empty. Mesh storage pockets, dividers, and metal closures pair with the bags' water-resistant lining to keep your most important gear out of harm's way. If you're looking for a high-end alternative to traditional packing cubes, Leatherology has you covered with these one-of-a-kind essentials.
15 Best Travel Gadgets
Now that you've found your favorite packing system for your next trip, head over to our guide on the best travel gadgets to create the quintessential kit.
HiConsumption is reader-supported. When you buy through links on our site, we may earn an affiliate commission. Learn more