When traveling, one of, if not the single most important item we carry, is our passport. These government-issued identification and travel documents are vital to international travel and are almost always required when crossing borders. This alone makes passports essential to keep secure and protected — and that's before factoring in the rampant black market for passports that drives the theft of these items and results in literally millions of passports being stolen annually.
With mandates being lifted across the planet and international travel now opening back up for the first time in several years, it seems like the perfect time to revisit the world of travel and passport wallets. Below, we'll not only be counting down our choices for the best travel and passport wallets currently on the market, but we'll also be delving into the main factors to consider when shopping for one.
Passport Protection 101
The Seven Main Factors To Consider When Buying A Travel Wallet
Though travel and passport wallets are admittedly fairly straightforward items, there are a surprising number of minor details one should be privy to before making their purchase. Below, we've outlined seven of the most crucial areas to consider when shopping for a passport wallet.
Materials: Arguably the most important factor to consider when purchasing a travel wallet is the material — or materials — used to create it. This element will not only play a substantial role in the look and feel of a given travel wallet but will also determine its durability and much of its overall quality. Not unlike regular wallets, passport wallets now come in a slew of different materials, from more traditional constructions to cutting-edge fabrics and textiles.
Construction Technique(s): Just as important as the materials being utilized is how those materials are pieced together — also known as a construction technique. Today's travel wallets feature a variety of construction techniques, from traditional stitching to laser-welds.
Closure: Most travel wallets on the market open up to reveal a passport and other vital travel essentials. As such, the majority of these items feature some type of closure system to hold them shut when not being used. This includes everything from zippers to snap buttons to embedded magnets.
Amenities & Organization: Though a travel wallet's main job is typically to protect your passport, plenty of models on the market also boast additional travel-focused features and amenities. This includes pockets and organizers for stashing things like credit cards, boarding passes, and other tickets, as well as pen loops, key leashes, and holders for Airtags and tracking devices. And, not unlike regular EDC wallets, a great many of the travel-specific wallets currently being sold also feature RFID protection.
Size: Because most travel wallets are built to accommodate a passport, they unsurprisingly tend to sport a rectangular, semi-passport-shaped profile. With that said, there are travel wallets that offer storage and organization for other essentials for globetrotting — like key cards, boarding passes, SD cards, licenses, and other documents. What's more, there are also family and group-oriented travel wallets that include slots for housing multiple passports. The size of a travel wallet also determines other important factors such as whether it can easily be slipped in a pant pocket or quick-access compartment of a travel pack.
Style: Just like with regular everyday use wallets, travel-specific models are produced in all manner of different shapes and styles. While we subscribe to the belief that factors like materials and amenities should serve as the main guiding forces in your search, there's still nothing wrong with factoring your personal aesthetic taste into the equation when shopping around for a passport or travel wallet.
Price: Travel and passport wallets are offered across a wide range of prices. Because these items aren't absolutely essential, it can sometimes feel difficult to justify the purchase of one of the more premium items on the market. The reality, however, is that you tend to get what you pay for in this segment, with the higher-priced passport wallets typically boasting markedly better quality — along with the ability to last a lifetime. A travel wallet can also save you money in the long run, as it can protect passports and other vital items that would be exorbitant to replace if lost or damaged.
Video Guide: 5 Best Travel Wallets
Want a more in-depth look at our go-to travel wallets? Then head on over to our video guide where we break down our top five picks in greater detail — and in stunning 4K.
The Best
Our Five Go-To Passport Wallet Picks
Fjällräven Kånken Travel Wallet
From Fjällräven's immensely popular Kånken lineup, this five-pocket travel wallet features organization for accommodating a passport, paper money, and other vital documents, plus a fleece-lined pocket specifically for housing smartphones. The Fjällräven Kånken Travel Wallet also features an open exterior pocket as well as several slots for credit cards. The wallet is made from G-1000 HeavyDuty Eco S — an eco-friendly yet rugged poly-cotton blend. Weighing less than a quarter of a pound, Fjällräven's Kånken Travel Wallet is also sold in a whopping ten different color options, ranging from vibrant hues to earth tones.
Dimensions: 4.3" H x 7.4" W x 0.98" D
Primary Construction: G-1000 HeavyDuty Eco S
RFID Protected: No
Code Of Bell ANNEX CASE
Blurring the lines between a passport holder and a sling pack, the Code Of Bell ANNEX CASE is an incredibly versatile three-way travel wallet. Engineered from the ground up to meet the needs of the modern globetrotter, the ANNEX CASE is crafted from a waterproof fabric and features heavily-water-resistant YKK zippers that open to reveal a bevy of compartments and organizers. Boasting RFID protection, this item also sports reflective tape across the front panel, a high-contrast orange liner, and a removable shoulder strap that allows it to be carried over the shoulder, across the body, or by hand.
Dimensions: 8" H x 4.3" W x 0.8" D
Primary Construction: Waterproof Fabric
RFID Protected: Yes
Dango PO2 Pioneer Travel Wallet
Made in America, the Dango P02 Pioneer Travel Wallet is a tactical take on regular passport holders, with a proprietary DTEX construction that's supplemented via zipper tracks and nylon straps equipped with metal clasps. RFID protected, the P02 is large enough to accommodate a trio of passports and up to eight cards, plus can even fit a smartphone. Tipping the scales at only 0.21lbs, the P02 also features dedicated pen and notebook holders and is also sold with an included five-function stainless steel MT01 Clasp multi-tool. Dango also sells an optional shoulder strap for the P02.
Dimensions: 4.5″ H x 6.75″ W x 0.4" D
Primary Construction: DTEX
RFID Protected: Yes
Pioneer Passport Wallet
Produced in four color options, the Pioneer Passport Wallet sees the San Francisco-based brand put its own signature spin on the travel wallet genre. This means the item is crafted from its proprietary 10XD construction — an ultra-high-molecular-weight-polyethylene material that's some 10-times stronger than steel — before being treated to a custom 3PN, three-ply DWR finish. Good for housing a single passport plus 4-8 cards and a few folded bills, this RFID-protected item features two top-loading pockets, two inward-facing inner card slots, and a single inward-facing large pocket. Weighing only 0.15lbs, this travel wallet measures 5.3" tall by 8.4" wide by 0.15" deep.
Dimensions: 5.3" H x 8.4" W x 0.15" D
Primary Construction: 10XD
RFID Protected: Yes
Bellroy Travel Wallet
Big enough to house your passport and all of your vital travel documents while still being compact enough to slip into a pant pocket, the Bellroy Travel Wallet is a minimalistic, RFID-protected passport cover that's crafted from premium, environmentally-certified leather that's sourced from hides tanned under gold-rated Leather Working Group environmental protocols. Boasting space for housing between 4-10 cards, this wallet also features a hidden cash pocket, a dedicated SIM card slot, and a built-in micro travel pen. Backed by a three-year warranty, Bellroy's Travel Wallet is also sold in five different color options.
Dimensions: 3.8" H x 5.9" W
Primary Construction: Environmentally-Certified Leather
RFID Protected: Yes
The Rest
Five More Stellar Travel Wallet Options
Zero Grid RFID Blocking Multiple Passport Holder & Wallet
Aimed at families and those traveling abroad in groups, the Zero Grid RFID Blocking Multiple Passport Holder & Wallet offers room for up to eight passports and eight cards, while still having enough space to accommodate IDs, tickets, and some paper money. Sold with an included pen that comes in its own dedicated holder, this passport travel wallet is crafted from dual layers of water-resistant ripstop nylon that's been embedded with RFID blocking and outfitted with YKK zippers inside and out. Tipping the scales at 0.39lbs, this item also comes backed by a 100% lifetime satisfaction guarantee.
Dimensions: 5.7" H x 7.5" W
Primary Construction: Water-Resistant Ripstop Nylon
RFID Protected: Yes
Red Wing Passport Wallet
Crafted in America by legendary heritage boot brand Red Wing Boots, this high-end passport wallet is about as minimalistic as they come. Made from premium American leather, the Red Wing Passport Wallet consists of a single folding leather panel that opens to reveal just four pockets — one of which is meant to accommodate a passport while another has been divided into two sections in order to house cards. The wallet's black leather construction has also been pieced together using black threaded stitching — furthering its minimalistic appearance. And, while its exterior faces are completely devoid of any labels, tags, or branding, the inside of the wallet does sport an embossed Red Wing logo.
Dimensions: 4″ H X 6.25″ W
Primary Construction: Premium Leather
RFID Protected: No
Tanner Goods Travel Wallet
Another minimalistic, American-made passport carrier, the Tanner Goods Travel Wallet was designed in Portland, Oregon before being crafted in Minneapolis, Minnesota where it is burnished, dyed, waxed entirely by hand. The wallet is made from a 3.5oz natural tooling leather that will slowly form a unique patina over time with use. Protected by a limited lifetime warranty, this item can fit a passport and small notebook, along with a pair of cards and some paper currency. Made in four color options, this product is also available with an optional custom monogram for an additional $20.
Dimensions: 4.5″ H x 6.375″ W
Primary Construction: 3.5oz. Natural Tooling Leather
RFID Protected: No
Bellroy Apex Passport Cover
While the inclusion of two items on this list may suggest that we possess a major proclivity for Bellroy — and while this is undeniably the case — the reality is that the company objectively produces some of the best wallets and EDC accessories on the market, as evidenced by items like the Bellroy Apex Passport Cover. Utilizing a similar design to the fan-favorite Apex Slim Sleeve wallet — albeit using dimensions appropriate for accommodating a passport — the Apex Passport Cover features a precision-molded leather construction that's pieced together using a stitchless lamination process. In addition to RFID protection, room to carry a passport and 2-4 cards, and an included onboard travel pen, this passport wallet also boasts a clever and easy-to-use magnetic closure system.
Dimensions: 4.2" H x 5.7" W x 0.5" D
Primary Construction: Pre-Molded Leather
RFID Protected: Yes
Hardgraft Trip Passport Cover
Slim enough to easily fit in your back pocket, Hardgraft's Trip Passport Cover is as minimalistic as it is premium, being crafted by hand in Italy from a top-shelf selection of Italian and European-sourced materials — in this case, an ultra-supple top-grain washed vegetable-tanned Italian leather that's been mated to an equally premium microsuede lining. This passport cover opens to reveal four card slots that sit opposite a passport holder that's secured by a pair of hide-away pockets. The interior of this travel wallet also features additional storage for paper currency, tickets, hotel key cards, and other vital travel essentials.
Dimensions: 3.74" H x 5.31" W
Primary Construction: Italian Leather
RFID Protected: No
The 15 Best Travel Backpacks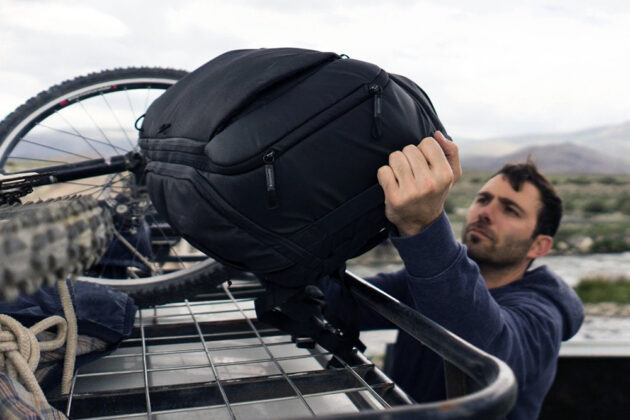 Need some larger storage and carry solutions for an upcoming trip? Then be sure to check out our guide to the best travel backpacks for a curated list of more than a dozen flight-ready bags and packs.