Jan 12, 2022
Category: Gear
Even when you take into account the negative sides of the collegiate system, the pursuit of higher education is a noble one that has the potential to send you down a promising career path. But embarking on that journey isn't as simple as just showing up to class. You also need to make sure that you're prepared, mentally and physically — the latter of which is our concern today.
Of all the things you should be bringing with you to class, a bag might actually be the most important, as they give you the ability to actually haul all your other gear — be that a stack of books, your laptop, school supplies, or all of the above. Of course, it would help if that bag is well-suited to the unique challenges of academia. It's with this in mind that we've put together the following list of the 20 best college backpacks for men. Pick one of these up and get to studying!
JanSport Recycled SuperBreak Backpack
A JanSport is about as classic as school bags get, but this particular version of the SuperBreak is special. That's because it is a good deal more environmentally friendly than its counterparts, thanks to an exterior that's made from 100% recycled materials. If you're looking for an iconic, classic, minimalist option — and you don't mind that there isn't a dedicated laptop pocket — you definitely can't go wrong with this budget-friendly find.
Exterior: Recycled Polyester
Capacity: 25L
Laptop Pouch: N/A
Lexdray San Diego Pack
Named after the sunny Southern California city just a couple of hours south of Los Angeles, Lexdray's San Diego Pack is a lot like classic JanSports but elevated in its overall design and material construction. At just 12L, it's the smallest backpack on our list, but that might just be to its benefit — especially because it still comes with a fleece-lined pocket that's large enough for most modern tablets. If you want to pare down your care to the bare bones, this is a superb offering.
Exterior: 1680D Ballistic Nylon
Capacity: 12L
Laptop Pouch: N/A
Incase ICON Lite Backpack
The Incase ICON is one of the best all-around backpacks on the market, especially for those that like to travel — thanks in part to its rigid structure and compartmental organizational scheme. However, for school usage, it can be a bit cumbersome. That's why we like the ICON Lite you see here, which has many of the same features in a pared-down 20L capacity. Of course, it still has a generous 16″ padded laptop pocket, a weatherproof exterior, and plenty of pockets and pouches inside and out.
Exterior: Woolenex
Capacity: 20L
Laptop Pouch: 16″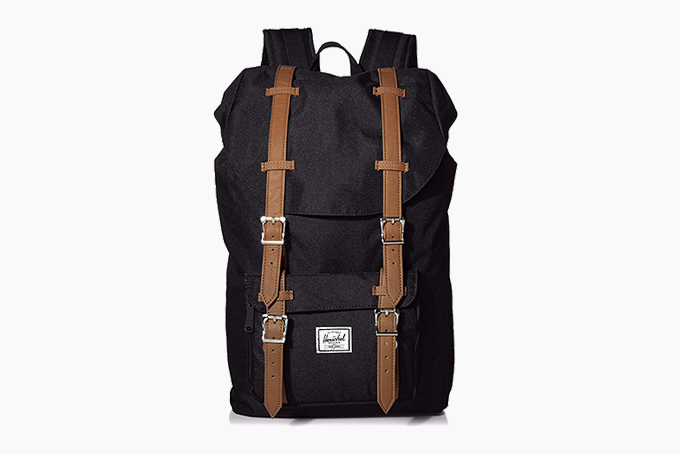 Herschel Little America Backpack
A great alternative to the rank-and-file JanSport-style bookbags out there, Herschel adds a bit of much-needed style with the Little America backpack. Marked by a flip-top closure with synthetic leather straps, this rucksack-inspired book bag comes in two sizes (17L and 25L) and, either way, can house laptops of up to 15″ inside a fleece-lined pocket, has numerous organizational pockets and pouches (both inside and out), and it even has a headphone port — so you can feed a 1/4″ cable through to your smartphone or music player.
Exterior: Polyester & Nylon
Capacity: 17-25L
Laptop Pouch: 15″
Wexley Stem Daypack
Brilliantly balancing material fortitude with minimalist design, the Wexley Stem Daypack is one of our favorite backpacks for school, everyday carry, or otherwise. It's exterior is crafted from high-tensile Cordura nylon, which makes it naturally weatherproof and abrasion-resistant, and it still has a padded EVA foam back alongside a 15″ laptop pocket. Created by the same person that invented the PDA, this minimalist backpack is sure to be a hit amongst some of the more discerning minimalists in the EDC community.
Exterior: 1000D Cordura Nylon
Capacity: 17L
Laptop Pouch: 15″
Topo Designs Rover Pack
Topo Designs offers a truly impressive range of gear and apparel, much of which is centered around outdoor exploration. However, some of their offerings are remarkably well-suited to urban living, as well. Case in point: the Topo Designs Rover Pack Tech you see here. Designed specifically as a technical option for city living, this bag is marked by a recycled nylon exterior (making it both lightweight and weatherproof), a 15″ laptop compartment, and a deceptively expansive 24.3L capacity.
Exterior: 1000D Recycled Nylon
Capacity: 24.3L
Laptop Pouch: 15″
Fjallraven Kanken Backpack
Fjallraven is having a bit of a moment right now, thanks largely to the brand's Kanken backpack lineup — which can be seen on the backs of students, explorers, and EDC enthusiasts around the world. And while any version of the Kanken is certainly going to serve you well, we prefer this one for collegiate usage. Not only does it offer 20L of internal storage and a roomy 17″ dedicated laptop pocket, but it is also crafted from a material called Vinylon F that's dirt-resistant, water-resistant, and super easy to clean.
Exterior: Vinylon F
Capacity: 20L
Laptop Pouch: 17″
Mystery Ranch Urban Assault Backbone Scholarship Backpack
Don't let the name fool you; the Mystery Ranch Urban Assault backpack is not solely for tacticians and mil-spec enthusiasts (although it can and will perform at a very high level in those veins). It also serves beautifully as a go-to college bag with its 21L capacity, convenient triple zipper closure system, tough exterior, and more. Plus, as an added bonus that might just push it over the edge, 10% of the proceeds from these unique packs goes toward Mystery Ranch's Backbone Series and Scholarship, which benefits Federal Land Management Agency employees seeking to better themselves.
Exterior: 500D Cordura Nylon
Capacity: 21L
Laptop Pouch: 15″
Arc'teryx Blade 20 Backpack
Though most well known for their technical outdoor gear, Arc'teryx is no stranger to making college-ready packs, as exemplified by the Blade 20 backpack you see here. Yes, it still has all the hallmarks of the Canadian brand: a minimalist design, tough-as-nails materials, and uncompromising attention to detail — but this backpack is pared into a format that better suits school usage. That includes, of course, a dedicated 15″ laptop pocket, an additional tablet slot, and so much more. If you're big into technical gear, this may very well be the college backpack for you.
Exterior: Nylon
Capacity: 20L
Laptop Pouch: 15″
DSPTCH Bookpack
Though we wouldn't quite call them a household name, you should definitely be familiar with DSPTCH if you're into the juxtaposition of everyday carry and streetwear. And, wouldn't you know it, they actually have a school-specific backpack appropriately called the DSPTCH Bookpack. It's built from DWR-coated Cordura nylon, has an 18L total capacity (including its 15″ laptop pouch), comes slapped with a lifetime guarantee, and was made in the USA.
Exterior: 500D DWR Cordura Nylon
Capacity: 18L
Laptop Pouch: 15″
Mission Workshop The Fraction Backpack
Mission Workshop's Sanction Rucksack is one of the brand's bestselling backpacks, but it can be a little cumbersome for pared-down day-to-day usage — the kind that suits college-going students. So, they made a version that's even more compact and minimalist and called it The Fraction. This pack still has the same signature styling, a rugged nylon exterior, and an internal laptop pocket. But it is also a good deal smaller, with a 14L total capacity. Oh yeah, and it's still made here in the USA.
Exterior: 1000D Nylon
Capacity: 14L
Laptop Pouch: 13″
Arktype Dashpack Mark II
If you have a flair for the tactical, but you still want a relatively pared-down book bag for all your college needs, you're in luck, as that's exactly what you'll find in the Arktype Dashpack Mark II you see here. It boasts a ballistic nylon exterior with a DWR weatherproof coating, modular webbing on the bottom quarter of the exterior, a compact 15L capacity, and water-repellent zippers. It isn't boastful, but it will get the job done right the first time every time.
Exterior: 1680D DWR Ballistic Nylon
Capacity: 15L
Laptop Pouch: 13″
Bellroy Transit Workpack
Bellroy makes some of the best everyday carry gear, period. So it should come as no surprise that, when we were hunting for the best college backpacks, this Aussie brand made the cut. And that will make even more sense when you see just how great the Transit Workpack is with its recycled weatherproof exterior, serviceable 20L capacity, externally accessible 16″ laptop pocket, full clamshell opening, ventilated back padding system, etc. This is less a backpack and more an office you can carry around with you.
Exterior: Recycled Water-Resistant Fabric
Capacity: 20L
Laptop Pouch: 16″
The North Face Kaban Charged Backpack
There's a pretty good chance that your college classrooms will have some kind of access to power outlets, but there might not be enough for everyone to go around and you might not always be in a classroom. For those occasions, there's The North Face's Kaban Charged Backpack, which has its own integrated Joey T3 Smart Pack System hinging on a battery that's capable of juicing an extra 25 hours of talk time to your smartphone. It also boasts a 26L capacity, a dedicated laptop pouch, and plenty of internal organization for all your school supplies.
Exterior: 900D TPE PVC-Coated Polyester
Capacity: 26L
Laptop Pouch: 16″
Aer Tech Pack
Even though Apple and several other smartphone manufacturers have started to imbue their tech with water-resistant properties, most of the tech we carry around on a day-to-day basis is pretty delicate. So when Aer decided to make an everyday carry pack geared specifically toward hauling technology, they built it from 1680D ballistic nylon with a PU coating for extra weatherproofing. That feature alone — which really only scratches the surface of what makes this bag great (check out the organizational scheme inside, for reference) — might be enough to make this your go-to college backpack.
Exterior: 1680D Cordura Ballistic Nylon
Capacity: 18.5L
Laptop Pouch: 15.6″
Tom Bihn Brain Bag
When it comes to customizable bags, Tom Bihn is a tough name to beat. That goes for college backpacks, too, if the Brain Bag you see here is any indication. In fact, along with the customization options, this is the only bag on our list that was actually made to hold more than one laptop computer. Sure, not everyone will need that, but there are 19 other options that don't have that feature, helping this one stand out. All seven color options are also made from ballistic nylon, the pack holds up to 36L of gear, and there are many more features than that.
Exterior: 525D bluesign-Certified Ballistic Nylon
Capacity: 36L
Laptop Pouch: 17.3″
Peak Design Everyday Backpack
Not everyone wants a nylon bag that can be crushed, folded, and smushed. Some, especially those with valuable tech, might prefer something with a little more structure. And you'll find exactly that in the Peak Design Everyday Backpack. And while its rigidity is certainly a highlight, it's also still relatively lightweight, it has a 20L capacity (marked by a clever modular internal storage system) and 15″ laptop pocket, and it's made from a recycled nylon with a DWR coating for better weatherproofing.
Exterior: 400D DWR Kodra
Capacity: 20L
Laptop Pouch: 15″
Defy Bucktown 'Project Hybrid' Backpack
You might not know this, but the mil-spec canvas used to cover military transport trucks is some of the toughest synthetic fabric around. That's probably part of the reason Defy has incorporated it into this version of the Bucktown backpack. To compound that, the rest of the bag (the parts that need to compress, expand, fold, and unfold) is built from another impressive material: ballistic nylon. And that's just the start of what makes this bag truly exceptional. It also has closed-cell foam padding, water-repellent YKK zippers, super-tough seatbelt-style straps, and more.
Exterior: M35 Military Truck Tarpaulin & 1050D Ballistic Nylon
Capacity: 23L
Laptop Pouch: 17″
GORUCK GR1 Slick Backpack
Legendary in the tactical and everyday carry communities for its sheer ruggedness — thanks in large part to its incredible bombproof laptop slot — the GORUCK GR1 is one of the best backpacks ever made (if not the king of them all). But this special edition, a Huckberry exclusive, makes for an even more college-friendly hauler, thanks to its minimalist exterior that lacks the modular webbing of its more mil-spec counterparts. Available in both 17L and 26L versions, this USA-made pack is damn-near unbeatable.
Exterior: 1000D Cordura Nylon
Capacity: 21-26L
Laptop Pouch: 17″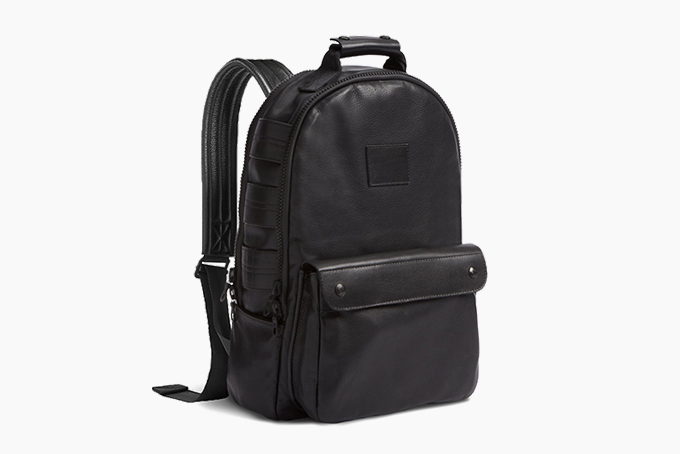 Killspencer Utility Backpack
While the price is certainly going to scare plenty of folks off, there's an eliteness to the Killspencer Utility Backpack that will draw others in. This particular bag is crafted mostly from top-grain premium leather, but it also has bullhide accents, mil-spec webbing, a fireproof and water-resistant lining, and an externally accessed laptop pocket that can fit folding computers up to 16″ in size. For the uncompromising streetwear fanatics, it's possible that no other bag will do.
Exterior: Full-Grain Leather
Capacity: 21.3L
Laptop Pouch: 16″
The 10 Best EDC Pocket Notebooks
Physically writing down your notes is still one of the best ways to ensure that you retain information. And that's hugely valuable in the pursuit of higher education. So, if you're going to be getting a college backpack, you might also want to fill it with one or two offerings off our list of the best EDC pocket notebooks.
HiConsumption is reader-supported. When you buy through links on our site, we may earn an affiliate commission. Learn more