Though definitely the most common carry solution, backpacks aren't actually the best option for all people and/or situations. In fact, they can be a downright liability in some cases — especially if you're concerned with speed, small-scale manageability, and (in some cases) security. But there are plenty of other options, if you're smart enough to look for them.
Perhaps the most significant small-scale backpack alternative is the sling bag. These streetwear staples evolved from the fanny packs of the '80s and '90s, transcending their predecessors to become far more versatile and stylish than ever before. They're also often convenient, quick, and much more manageable than larger, bulkier bags. But finding the one that's right for you is fairly personal, which is why we've rounded up the best sling bags for men you can presently buy — and a bit of info on what they are and why you might want one for yourself.
Why Pick A Sling Bag?
Metrics To Consider
If you already own a backpack (or a few backpacks), you might be wondering why you'd want to swap it out for a far smaller cross-body bag. Well, we've already mentioned a couple of the reasons — size, security, and speed — but there's more to it than just those simple mentions. As such, we've taken the time to outline some of the metrics that make sling bags stand apart from their brethren with the hopes of helping illuminate their value and making your search for the perfect sling bag all the simpler.
Size: Most backpacks, especially those that play off of classic book bags, tend to hover in the 10-20L arena. If you're hauling around books, a laptop computer, perhaps a lunch bag, and more, that size is quite manageable and makes it easy to get from place to place with your full loadout. However, if you're leaving the bulky stuff at home — perhaps you're going to lunch, meeting up with friends, or just wandering about the city — you'll find your backpack has a lot of extra, unused space. In these cases, where you really only need a few EDC essentials, a sling bag — which is typically between 1-10L, usually on the lower end of the spectrum — is much more manageable and reasonable to utilize.
Speed: For longer excursions, a backpack — with its dual shoulder straps — is a pretty great way to manage and spread out the weight of whatever you're carrying. However, they can be a chore to access in a speedy fashion, as gaining access requires the wearer to take the bag off one or both shoulders in order to unzip the bag's various compartments. By contrast, sling bags have a single cross-body strap, which lets the wearer quickly shift the bag from back to front (and back again) without having to remove it. It's also easy to access all the compartments without having to physically take the bag off, which can make all the difference in a pinch.
Security: The biggest security risk in regards to backpacks is actually built into their name: you wear them on your back. That means, unless you're an owl or some kind of high-tech cyborg, you're not going to be able to keep your eyes on it at all times. That can be the perfect opportunity, especially in crowded spaces like subways or elevators, for a pickpocket to quietly steal things from inside your bag. However, since sling bags are easy to shift from your back to your front, you can keep a closer eye on them with less overall effort and awkwardness. Sure, you could just turn your backpack around as well, but that doesn't look very good and it's quite inconvenient and cumbersome.
Versatility: We can't rightfully say that backpacks don't offer versatility. But it still needs to be said that sling bags offer a similar amount of versatility, especially those made from tougher materials like ballistic nylon or Dyneema. That means, while this type of cross-body bag is perhaps more common in the streetwear scene, many of them can perform just as well out on the trails. And they're the perfect size for more grueling day hikes where you might not want a back-suffocating bulky backpack weighing you down, but you still want to carry some incidentals, snacks, and the like.
Video Guide: 5 Best EDC Sling Bags
If you're looking to see these bags on-body and in action, give our video guide to the best sling bags for EDC a watch.
A Choice Selection Of Top-Notch Slings
Our Picks
Now that you've got a handle on what a sling can add to your carry, it's time to take a look at what the market has to offer. What follows are what we consider to be the best all-around sling bags for EDC, broken down into our top three picks and followed by an editor's pick as well as an honorable mention.
Chrome Mini Kadet
Select 1: Cyclists need not be left out of the sling bag conversation — at least while Chrome Industries is around. While the brand offers a suite of spectacular cross-body bags, we're especially fond of the Mini Kadet you see before you. The smaller sibling to Chrome's best-selling Kadet sling, it comes in at a little over half the size, boasting some 5L of storage compared to the original's 9. Made from the same top-notch materials, it marries a water-resistant nylon shell with a durable 70d polyester liner and a hard-wearing webbing shoulder strap. Of course, because the Mini Kadet is a product designed with pedalers in mind, it comes with a handy U-lock holster and a set of cinchable straps for jackets.
Capacity: 3.5L
Exterior Material: Polyester
Heimplanet Transit Sling Pocket
Select 2: If the name Heimplanet seems unfamiliar to you, it's time to change that, as this brand makes some of the most interesting outdoor-ready gear around — like their inflatable tents. As it turns out, they also make some excellent carry solutions, like the tiny Transit Sling Pocket you see here. Sewn with four elasticated pockets around the edge of the 2L main compartment, it even features a flat-pack pouch for storing things like notebooks, wallets, and passports. In other words, what it lacks in all-out capacity, it more than makes up for in accessory management. Add to that a beautifully minimalist exterior and some subtle but stylish branding elements, and the result is a bag that's a true cut above the rest.
Capacity: 7.3L
Exterior Material: 1,000D Nylon
Bellroy Sling
Select 3: At first glance, the Bellroy Sling's 7L capacity might be too much for some to manage — but that's a worry that should be quashed, as this bag actually collapses down to a much more EDC-friendly size for day-to-day usage, leaving the full expansion for those days when you need more room. Better still, it's made from a woven fabric made from recycled water bottles and has a remarkably intuitive expansion scheme that "pinches" the bag into a smaller size via its durable nylon strap. Available in 12 beautiful colors, Bellroy has hit it out of the park yet again with the simply-named Sling.
Capacity: ~1.2
Exterior Material: Dyneema
Aer City Sling 2
Editor's Pick: It's no secret that Aer is one of our favorite active brands around, and their City Sling is a pretty good example as to what makes them so special. Beautifully designed to be minimalist without sacrificing quality or internal organization, this sling bag has an exterior crafted from your choice of 1680D Cordura ballistic nylon or X-Pac sailcloth, a middle-of-the-road 2.5L capacity, lightweight-yet-durable Duraflex hardware, YKK zippers, and more. If you looked up the definition for "sling bag," this might be the picture featured next to it.
Capacity: 2.4L
Exterior Material: 1680D Cordura Ballistic Nylon or X-Pac
Codeofbell X-Pod Sling Pack
Honorable Mention: For anyone who likes a unique suite of genuinely impressive bells and whistles (that you'll actually use regularly) in an incredibly handsome, well-built package, you absolutely can't go wrong with the Codeofbell X-Pod Sling Pack. Truly, this is a marvelous cross-body bag by any standard. It has an exterior made from X-Pac and Cordura — meaning it's incredibly tough and lightweight — along with expandability between 2.3L and 7L, a comfortable and durable shoulder strap with a self-locking magnetic buckle (which is ultra-secure when it needs to be and super easy to detach when it doesn't), plenty of organization (and even a couple of hidden pockets), and so much more. If you want a master class in sling bags, pick this bad boy up.
Capacity: ~0.5L
Exterior Material: Waterproof Cordura Nylon
The Rest
Barely Edged Out
Sure, these slings didn't make it into our top five, but they're nevertheless worthy options in their own right. On the off chance that one of the above choices wasn't right for you, any of these bags is bound to serve you well. If anything, they're just a bit too specialized for a general recommendation.
Herschel Seventeen Hip Pack
Herschel is well-known for balancing budget-friendliness, so it shouldn't be all that surprising to discover that the same ethos extends to their sling bags. While they do offer several different variations, we're fond of the simplicity of the Seventeen Hip Pack you see here with its mid-range 3.5L size, sturdy polyester exterior, and dual-compartment design. If you're going for the retro fanny pack look, this is probably the best inexpensive option out there.
Capacity: 8L
Exterior Material: PU-Coated 840D Nylon & 1680D Cordura Ballistic Nylon
Topo Designs Quick Pack
Topo Designs does a really great job of taking outdoor-focused styling and paring it into city-worthy wear and carry. And while they're probably most closely associated with the wilderness, their Quick Pack is ripe for urban EDC. With a 7.3L capacity, it is on the larger side and serves well as an alternative for anyone who isn't quite ready to make the full jump away from larger backpacks and similar bags to ultra-compact cross-body packs. It's also available in eight different color combinations, has both a removable shoulder and stowable waist strap, and plenty of onboard organization.
Capacity: 2L
Exterior Material: 840D Ballistic Nylon
Hyperlite Mountain Gear Versa Sling Bag
If you're the type to count every ounce that you carry, your best bet for a sling bag might just be the Hyperlite Mountain Gear Versa, as this incredibly fanny pack weighs a grand total of just 2.88 ounces — yes, you read that right. That incredible lightness is due largely to the fact that this bag is crafted from Dyneema, an ultralight fabric that's stronger than steel (by weight) and practically impossible to puncture or scratch in regular use. It also happens to be waterproof, which, when paired with a water-resistant zipper, makes this one of the most weatherproof slings on our list. As you can see, this cross-body bag definitely earned its spot here.
Capacity: 3L
Exterior Material: DYECOSHELL & 800D x 660D Nylon PU
Aer Tech Sling 2
Turns out, Aer offers multiple slings that suit multiple purposes — and all of them are worth your hard-earned money, especially the Tech Sling 2 you see here. This pack, as its name suggests, is the perfect tech-focused middle ground between bulky backpacks and more fashion-forward cross-body packs. In fact, its 8L capacity was actually specially-formatted so that a 13″ laptop could fit inside of it, alongside all your other tech accessories and everyday carry gear. It also has added weather protection in the form of a PU-coated front, so your fragile tech will stay even safer in transit. For technophiles, this sling bag is damn-near perfect.
Capacity: 7L
Exterior Material: Recycled Venture Weave
Black Ember TKS Sling Bag
If you've been waiting around for something a little more streetwear- and technical-focused, the wait is finally over. Allow us to introduce you to the Black Ember TKS sling bag. Crafted from a triple-layer waterproof textile — and equipped with water-resistant zippers — the TKS is ready to take on any adventure, rain or shine. But it also has numerous other impressive details you can't really find anywhere else. That includes things like interlocking zipper pulls (for security purposes), a Fidlock V-buckle, a phone pocket with a charging pass-thru, and a unique internal organization scheme. If you can afford it, this is a tough bag to beat at any price.
Capacity: 2.5L
Exterior Material: Microhex HTX
Peak Design Everyday Sling
Versatility is the name of the game when it comes to the Peak Design Everyday Sling, as this bag is actually offered in three different sizes — 3L, 6L, and 10L — so you can pick out the one that best fits your lifestyle. Are you a photographer? Well, the 10L will fit your camera and all your gear while keeping it organizes and safe. Are you a speed-hiking maven? Well, the 3L will give you enough room for the small number of things you need to keep on your person — like your phone, wallet/ID, a protein bar, etc. And it doesn't hurt that it was meticulously and brilliantly designed, meaning it looks as good as it functions.
Capacity: 2.3L (Collapsed), 7L (Expanded)
Exterior Material: X-Pac & Cordura Nylon
DSPTCH Unit Sling Pouch
As mentioned earlier, Dyneema is ultralight, waterproof, and so tough you will have a hard time tearing or puncturing it even if you're trying to damage it. That's probably why it's the material DSPTCH turned to when building their Unit Sling Pouch. Along with its insanely badass exterior, this bag has a DWR-coated packcloth lining, water-resistant zippers on both externally accessible pockets, an adjustable removable shoulder strap, enough space in the main compartment to fit a Nintendo Switch alongside your other EDC, and the list just keeps going on and on.
Capacity: 3L, 6L, or 10L
Exterior Material: 400D Double Poly-Coated DWR-Impregnated Nylon
Defy Insidious Jr. X-Pak Sling Bag
There are a whopping nine different offerings across four different materials in Defy's Insidious Jr. sling bag lineup, including bags made from Cordura ballistic nylon, waxed canvas, X-Pac sailcloth, and a limited-edition combination of Horween leather and ballistic nylon. As if that's not enough to get people interested, each also has enough space inside to fit an iPad, Thermos, camera, etc. The bags also come with a padded strap equipped with an unrivaled Cobra quick-release buckle, and so much more. And now for the cherry on top: it's made in the USA.
Capacity: ~1.5L
Exterior Material: Dyneema
côte&ciel Isarau
When you're looking for a bag to elevate your storage setup, you can't go wrong with the Isarau sling from côte&ciel. Inspired by traditional Japanese armor, it comes with a water-repellent polyester construction, a grippy rubberized finish, and a breathable mesh fabric liner. Stretching some 7.9″ x 14.7″ x 4.3″, it boasts room for tablets up to 9.7″ in size and as much as 5L of total carrying capacity. As if that wasn't enough, though, the Isarau also comes with an external zippered pocket for organization and a hidden stash pocket for securely stowing that crucial carry.
Capacity: 6L
Exterior Material: X-Pac, Waxed Canvas, or Ballistic Nylon
Bedouin Balian Sling Bag
As is the case with just about every gear category, there's always a holy grail option that stands head-and-shoulders above its competition. In this case, it's the Bedoun Balian Sling Bag — which has a price to match just how impressive this pack is all-around. This bag was actually co-designed by Carryology (a name any gearhead should know by now), and it features a high-end construction combining Dyneema with vegetable-tanned Italian leather, a seatbelt nylon strap equipped with a Cobra quick-release buckle, modular external nylon loops, and plenty of organizational options. It has a high price, to be sure, but it's definitely worth the investment for those that can afford it.
Capacity: 4.5L
Exterior Material: Dyneema & Leather
*Additional Contributions by Sean Tirman
The Best Accessories For Everyday Carry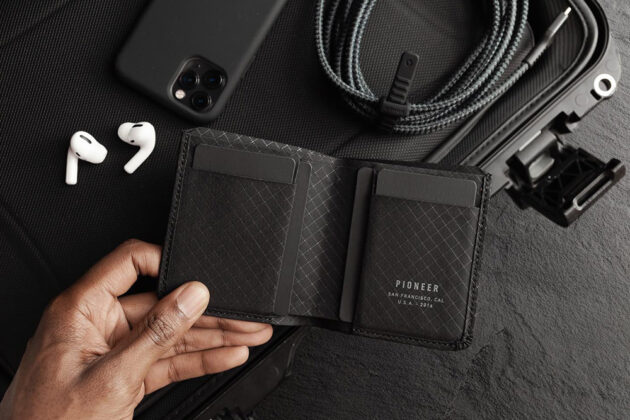 Having armed you with the knowledge of the best sling bags for EDC you can buy, you should now begin to dial in your essentials accordingly. Head on over to our guide to the best accessories for everyday carry, where you'll find a roundup of premium, pocketable peripherals.