Though minimalistic duffel bags were the standard for decades, a growing number of highly-calculated purpose-built gym and workout bags have begun popping up over the last few years. Benefitting from ample real-world experience and field testing, these custom-designed exercise packs boast a number of key advantages over their spartan, single-pocket predecessors. And while athletes and gym rats now have more options to choose from than ever before, the already abundant and rapidly expanding market can make it incredibly difficult to hone in on the few standout products the segment has to offer — a selection of bags that we'll be highlighting in this guide to the best gym bags.
From backpacks to duffles to duffle-pack hybrids, these hardwearing bags provide an ideal organization and transportation solution for workout enthusiasts, whether they be weekend warriors, hardcore athletes, or bodybuilders. Below, we'll not only be unpacking our picks for the best available gym bags and backpacks currently on the market but also delving into the five most pivotal factors to take into account when shopping around for a new workout-specific bag. So, without further ado, let's get into it.
The Best Gym & Workout Bags
The Best Outdoor-Inspired Bag

Topo Designs Classic Duffel 20

The Best Lightweight/Minimalist Bag

Bellroy Lite Duffel

The Editor's Pick

Aer Gym Duffel 3

The Best Office-to-the-Gym Bag

DSPTCH Gym/Work Bag

The Best Luxury Gym Bag

KILLSPENCER Duffle
The Most Crucial Areas To Factor In When Buying A Gym Bag
While buying a new gym bag is a fairly straightforward process, it does help to be privy to a handful of finer points pertaining to the segment. Knowing this, we've pieced together this condensed guide on the five most crucial areas to think about prior to pulling the trigger on your purchase.
Video Guide: Best Gym Bags

Want a more in-depth look at our favorite exercise bags? Then head on over to our 4K video guide to the best gym and workout bags for an even deeper dive into the latest and greatest carry solutions for going from the office to the gym.
Materials: Just like with any other type of everyday use or travel bag, the materials used to create a gym bag will play an enormous role in determining its overall strength and quality — and more often than not will also play a key role in determining its price. While there's no shortage of constructions utilized in this segment, we tend to gravitate toward the more durable materials used such as high-denier nylons, leathers, waxed canvases, and proprietary constructions such as CORDURA. And, as important as primary and secondary materials are, it's also worth exploring whether a bag's composition has been further fortified via special treatments such as a PU or DWR coating.
Construction Technique(s): In addition to the materials used to craft a bag, you'll also want to explore the way in which said materials have been pieced together. Features such as laser-welded seams and reinforced stitching will almost always yield a markedly more durable bag. This is especially important if you plan on using your new bag to transport weight-training devices such as plates or kettlebells.
Size: The size — or volume — of a bag is another wildly important area to take into consideration when buying a gym bag, as this one metric will determine how many garments, pieces of gear, or accessories you'll be able to accommodate. Typically speaking, anywhere from 15 to 30 liters will usually be sufficient, though larger bags are recommended for activities and workouts that require full sets of gear — such as football or lacrosse.
Workout-Specific Features: As the gym bag market has grown more and more competitive over the last few years, we've seen an increasing number of clever gym- and workout-specific features bestowed upon these vessels. This includes everything from pockets for storing oversized water bottles to ventilated shoe and dirty laundry compartments to quick-access pockets for gym membership ID cards and/or fobs. These types of features hugely bolster a gym bag's overall utility and ultimately provide a markedly better user experience.
Versatility: While your intended workout use should ultimately be the single most important determining factor when shopping, it's also worth noting that a great many of today's gym bags have been specifically designed to be extremely versatile. As such, there are workout bags that are designed to accommodate not only your gym gear but also all of your tech and work essentials — streamlining one's carrying and allowing one to opt for a single bag on gym days. Some of these gym bags can also be incredibly conducive to travel and even outdoor applications, as well.
Selection & Testing Process
How & Why We Got Hands-On With These Particular Gym Bags
In an attempt to suss out what currently stand as the best gym bags that money can buy, we checked out an enormous number of available options. To narrow down the sea of available offerings, we started viewing each bag through a lens that considered criteria such as design and features, primary and secondary materials, hardware and trim, and style and aesthetics. Additionally, pricing was also taken into account, along with the level of value and bang for your buck afforded by each gym bag. The warranty offered with each gym bag was also factored into our decision. Using these traits to guide our search, we were able to generate a shortlist of picks that we suspected may represent some of the latest and greatest gym bags available.
Though factors such as design and materials admittedly play a monumental role in determining the overall quality of a gym bag, it's almost impossible to glean a complete sense of a bag's overall quality and day-to-day user experience without actually testing the thing in real life. So, in order to obtain a more comprehensive understanding of each bag, we proceeded to order and get hands-on with every single model from our initial shortlist of best gym bags. Carried out over the course of several weeks, this hands-on testing phase would allow us to better judge and assess both the performance and quality of each bag, with this portion of our process revealing smaller details such as each model's build quality and craftsmanship, overall fit and finish, and how well-designed and effective each bag's features are in practice. Using the information uncovered during our hands-on testing phase, we were then ultimately able to narrow down our original list to a finalized list of what we found to be the best gym bags currently on the market.
Topo Designs Classic Duffel 20"
Pros
Vintage-inspired design brought to life using modern ultra-premium materials
Reinforced w/ 1,680D ballistic nylon
Equipped with genuine leather accents
Comes with grab handles & removable shoulder strap
Cons
Limited internal organizational amenities
Shoulder strap is uncomfortable when bag is loaded w/ heavy items
Best Outdoor-Inspired Bag: The Topo Designs Classic Duffel 20 is a thoroughly modern and rugged take on a minimalistic duffel bag. Boasting nearly 26 liters of internal storage space, the duffel features a 1,000-denier nylon primary construction that's been supplemented via a 210-denier nylon pack cloth liner and ultra-hardwearing, ballistic-grade 1,680-denier reinforcements.
Other highlights on the bag include a main heavy-duty YKK zipper, durable hardware, heavy-duty seatbelt strap handles, and natural leather accents on the handle and lash tabs. Though it's overall a fairly spartan bag, this 20″ model features everything needed to carry your gear to and from the gym.
Capacity: 25.7 Liters
Primary Construction: 1,000D & 1,680D Ballistic Nylon
Weight: N/A
Dimensions: 20″ W x 10″ H x 10″ D
Bellroy Lite Duffel
Pros
Ultra-clean minimalist design
Made using sustainable manufacturing
Ripstop shell fabric derived entirely from recycled PET plastic bottles
Lightweight & highly-packable
Cons
Not the most rugged shell material
Best Lightweight/Minimalist Bag: A recent addition to the company's Lite bag lineup, the Bellroy Lite Duffel is a surprisingly durable 30-liter bag that tips the scales at only 1.3lbs. Backed by a three-year warranty, the duffel is made from a diamond ripstop fabric that's derived from 100% recycled PET plastic bottles.
Packable and rollable, the bag boasts a reinforced rim with a full-length zipper, an adjustable and detachable padded shoulder strap, smooth, folded-edge grab handles, internal slip pockets, an integrated key clip, and internal cap pockets at each end of the bag.
Check out our in-depth Bellroy Lite Duffel review.
Capacity: 30 Liters
Primary Construction: Diamond Ripstop Fabric
Weight: 1.32LBs
Dimensions: 15.748" W x 12.9" H x 9.05" D
Aer Gym Duffel 3
Pros
Crafted around insanely-rugged 1,680D CORDURA ballistic nylon shell
Features ventilated compartments to reduce odor buildup
Interior liner treated w/ antimicrobial coating
Dedicated shoe compartment fits pairs up to size 13
Equipped with soft-lined padded laptop that fits notebooks up to 16"
Cons
Could benefit from the use of more premium (ideally metal) hardware
Editor's Pick: Designed specifically to meet the needs of the modern gym rat, the Aer Gym Duffel 3 is a highly-calculated, cleverly-engineered workout bag built for a lifetime of use. Crafted around an ultra-rugged 1,680-denier CORDURA ballistic nylon shell, this 24.1-liter bag sports an interior liner that's been treated with an antimicrobial coating, Duraflex hardware and YKK zippers throughout.
Other highlights include a padded soft-lined laptop compartment, a luggage handle pass-through, a padded and adjustable shoulder strap, exterior and interior water bottle pockets, a quick-access back pocket, a massive ventilated primary compartment, and a ventilated sneaker compartment that can fit pairs of gym shoes as large as a men's size 13.
Check out our in-depth Aer Gym Duffel 3 review here.
Capacity: 24.1 Liters
Primary Construction: 1,680D CORDURA
Weight: 2.90LBs
Dimensions: 17" W x 11.5" H x 9" D
DSPTCH Gym/Work Bag
Pros
Features insanely-rugged 1,680D ballistic nylon shell
Equipped with ventilated shoe compartment
Has dedicated laptop compartment
Incredibly versatile
Made entirely in America & backed by lifetime warranty
Cons
Top-shelf materials & build quality come at high price
Best Office-to-the-Gym Bag: Made entirely in America and protected by a lifetime guarantee, DSPTCH's Gym/Work Bag was engineered from the ground up to serve as the ultimate hybrid duffel needed to accommodate all of one's office essentials along with all of their necessary gym gear. On top of a spacious main compartment, this also includes dedicated padded sleeves for laptops and tablets, multiple organizers for pens, flash drives, and tech cables, and a ventilated compartment for shoes or dirty laundry.
Sold in several material and color options, this bag is also compatible with shoe straps and a variety of other accessories from DSPTCH. In typical DSPTCH fashion, this bag is made in small batches, each of which often employs a different shell construction — granted every variant is objectively high-end.
Check out our in-depth DSPTCH Gym/Work Bag review here.
Capacity: 23 Liters
Primary Construction: DWR-Coated 380D Poly-Nylon Blend Or DWR-Coated 1,680D Ballistic Nylon
Weight: 2.3125LBs
Dimensions: 18.5″ W x 11.5″ H x 8.5″ D
KILLSPENCER Duffle
Pros
Handmade in Los Angeles
Constructed around premium full-grain leather shell
Stellar craftsmanship & fit & finish
Sports fire retardant interior with waterproof nylon lining
Equipped w/ Bullhide leather handles and accents
Boasts all blacked-out hardware including Swiss-made Riri zippers
Best Luxury Gym Bag: Made by hand in Los Angeles, KILLSPENCER's plainly-named Duffle is a super-top-shelf gym bag that's cut from premium full-grain leather and accented via bull hide leather accents on the handles and straps. Under the surface, the bag also boasts an IFAC class 1 fire retardant interior with a waterproof black nylon lining.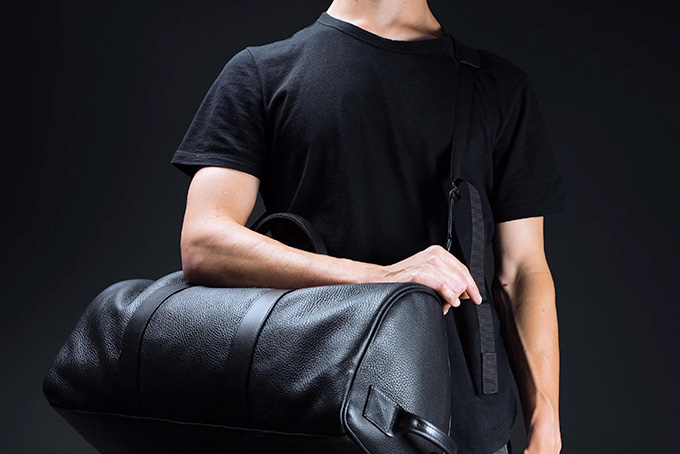 Other highlights include an internal zippered pocket, blacked-out hardware, and Swiss-made Riri zippers. On top of being offered with an optional custom monogram, KILLSPENCER also produces this ultra-premium duffle in black ripstop nylon or waxed canvas variants, as well as in an OD green English parachute construction version.
Capacity: 34 Liters
Primary Construction: Full-Grain Leather
Weight: Approx 3.50LBs
Dimensions: 21" W x 10" H x 10" D
The Rest
More Stellar Gym Bag Options
Carhartt Legacy Gear Bag 35L
Sold in four colors and a trio of different sizes (20", 23", 30"), the Carhartt Legacy Gear Bag is technically a workwear-focused duffel meant for accommodating tools and gear, however, it's immensely durable makeup and suite of organizers also make it an ideal candidate for use as a gym bag. Built atop an abrasion-resistant Duravax base and outfitted with ultra-hardwearing top and side haul handles, the Legacy Gear Bag features a 1,200-denier heavy-duty polyester shell that's been fortified via a proprietary Rain Defender durable water repellent finish.
Capacity: 35 Liters
Primary Construction: Rain Defender-Coated 1,200D Polyester
Weight: 1.5LBs
Dimensions: 20" W x 12" H x 9" D
Matador Freefly Packable Duffle
With certain bags, it quickly becomes abundantly clear that they were born out of extensive real-world experience, and such is the case with Matador's Freefly Packable Duffle. Part of Matador's Advanced Series — the brand's most weatherproof, lightweight, and packable product range to date — the Freefly Packable Duffle is crafted around an ultralight UHMWPE-reinforced Robic nylon shell and features a UTS coating, sealed seams, sealing zippers, an adjustable shoulder strap, multiple grab handles, and buckle closure compression straps that allow the bag to be used as a backpack, duffel, or secured to a cargo rack.
Capacity: 30 Liters
Primary Construction: UHMWPE-Reinforced Robic Nylon
Weight: 0.531LBs
Dimensions: 22" W x 11" H x 8" D (or 3.75" x 3.7" x 5.5" packed)
lululemon lab Convertible Large Duffle Bag 29L
The lululemon lab Convertible Large Duffle Bag 29L is a lightweight and versatile item that was designed to lend itself to as many applications as possible, with the ability to be worn like a backpack or carried like a standard piece of hard luggage. Measuring 20.1″ x 7.9″ x 10.6", the 29-liter hybrid-style bag from the athleisure leader features a nylon shell and trim that's heavily water-resistant and comes paired with a polyester liner and poly-mesh pockets. Amplifying this bag's versatility — both inside and outside of the gym — are a luggage handle pass-through, stowable backpack straps and grab handles, an exterior water bottle pocket, a plethora of internal pockets and organizers, and a full-size padded laptop sleeve that can accommodate notebooks as large as 16" in diameter.
Capacity: 29 Liters
Primary Construction: Water-Repellent Fabric
Weight: N/A
Dimensions: 10.5" W x 20.5" H x 7" D
Peak Design Travel Duffel
Peak Design's Travel Duffel is an incredibly versatile bag that lends itself to an enormous variety of uses — largely thanks to its rugged construction, a well-thought-out bevy of organizers, and its intuitive layout. Constructed around a DWR-impregnated and double poly-coated, recycled 600-denier nylon canvas shell with a 900-denier waterproof bottom liner, this weatherproof duffel boasts anodized aluminum and glass-reinforced hardware throughout, UltraZips zippers with abrasion-resistant UHMPE threading, fairtrade leather accents, Hypalon zipper pulls, reinforced stress points, and a high-visibility gray nylon interior that makes it markedly easier to find contents inside the bag. On top of being sold in two color options, Peak Design also offers the Travel Duffel in a massive 65-liter size, plus packing cubes made specifically for this bag.
Capacity: 35 Liters (or 65L)
Primary Construction: DWR & Double Poly-Coated Recycled 600D Nylon Canvas
Weight: 2LBs (or 2.9LBs)
Dimensions: 22″ W x 14″ H x 10" D (or 13.4″ x 29.9″ x 12.6″)
Joshuvela Small Duffle In Canvas
The JOSHUVELA Small Duffle in Canvas is the San Francisco-based bagmaker's attempt at delivering a contemporary interpretation of a timeless sports duffle. Made by hand in Northern California, the duffle is crafted from an 18-ounce cotton twill that's been accented via bridle leather straps, solid copper rivets, and antique brass construction zippers. Affording around 19 liters of internal storage space, this premium sports bag will slowly form a unique patina over time with regular use.
Capacity: 19 Liters
Primary Construction: 18oz Cotton Twill
Weight: 1.1875LBs
Dimensions: 18.5" W x 9" H x 9" D
Aer Duffel Pack 3
Considered by many to be the ultimate gym-office hybrid pack, Aer's Duffel Pack 3 features just about every amenity one could hope for in a workout or work bag. This includes an insanely-rugged 1,680-denier CORDURA ballistic nylon exterior, YKK zippers and Duraflex hardware throughout, an antimicrobial-treated interior lining, a ventilated shoe compartment with a collapsible stowaway design, a soft-lined padded and suspended laptop pocket that can fit notebooks up to 16", exterior pockets for housing full-sized water bottles, a luggage handle pass-through, a heavily-padded mesh back panel, and a weight-distributing set of shoulder straps that are helped along by a supplementary sternum strap.
Capacity: 21.4 Liters
Primary Construction: 1,680D CORDURA
Weight: 2.9LBs
Dimensions: 20.5" W x 11.75" H x 8" D
Mystery Ranch Mission Duffel
Taking numerous cues from modern military rucksacks, Mystery Ranch's Mission Duffel was engineered to carry heavy loads — making it a stellar option for everything from rucking to trips to the gym. Crafted around a 1,000-denier CORDURA shell, this fully-lined gym bag boasts a pair of padded, removable, and adjustable shoulder straps that can tuck away into a zippered compartment, plus a full-length horseshoe-shaped primary opening that's secured via YKK zippers, a quick-access zipper-secured exterior pocket, and four zippered internal organization pockets. Also offered in a waxed nylon version and in a TPU-coated 840-denier variant, this 40-liter bag even meets carry-on size requirements for air travel.
Capacity: 40 Liters (or 55L or 90L)
Primary Construction: 1,000D CORDURA
Weight: 3.1LBs (or 3.4LBs or 4.2LBs)
Dimensions: 13" W x 22.758″ H x11.75″ D (Or 13" x 25" x 11.5″ or 15" x 29.25" x 15")
Shinola Canfield Classic Holdall
An elegant, spare-no-expense take on a classic duffel, Shinola's Canfield Classic Holdall is cut from an incredibly soft, Italian-sourced natural grain leather that's accented via genuine Vachetta leather. Utilizing old-world craftsmanship, the bag also boasts a leather card pocket, a 15" laptop sleeve, a zipper-secured exterior quick-access pocket, a detachable and adjustable shoulder strap, a lined interior, matte nickel hardware throughout, and a pair of interior slip pockets for housing smartphones and other gadgets. Sold in black or brown color options, this bag will also form its own distinctive patina over time with regular use. What's more, the fact that this is an heirloom-grade item means that, after a lifetime of use, this timeless bag can be passed down to future generations of gym-goers.
Capacity: 41 Liters
Primary Construction: Italian Leather
Weight: 3.6LBs
Dimensions: 19.75″ W x 14″ H x 8.75″ D
The Best Men's Weekender & Duffel Bags For Travel
Still in search of that perfect duffel-style carry solution? Then be sure head to over to our guide to the best weekender bags for men for a curated list of some of the latest and greatest models to hit the market.