If you were to ask someone about athleisure a decade ago, chances are you'd probably be met with a strange and confused look, which makes sense. Fashion trends fluctuate like the stock market from year to year, especially when a worldwide pandemic flips the world on its head. Athleisure's surge to prominence was a long time coming, but the real catalyst for the hybridized style's ubiquitousness was the COVID-19 pandemic. People just don't want to wear business casual wear in their living rooms all day, it just feels… off. It's the same feeling as wearing a suit to eat at a Waffle House. Sure, it's acceptable, but when compared to your backdrop, you stick out like a well-dressed thumb.
We are living in unprecedented times, which means we need unprecedented threads to stay current and stylish. Thankfully, we have athleisure to deliver us from our pandemic-induced sartorial purgatory. Athleisure exists to elevate casual garb to heights we didn't even think existed, as it helps us look and feel comfortable without sacrificing our dignity. It's form-fitting and functional without having you come across as a meathead; cool and casual without the lack of respect. Athleisure is a new frontier for fashion and through its grace, anything is possible. As a celebration of this new style, we have compiled a list of our favorite athleisure brands that every man should know.
Activewear Vs. Athleisure
To Gym Or Not To Gym?
Before we go on to our list of best athleisure brands, it's important to make note of the differences between athleisure and activewear. Both style names connote physical activity and focus on performance and comfort, however, athleisure will always be more fashion-forward and brings more versatility to the party than activewear. Athleisure also tends to have more minimalist designs, relying more on neutral colors, an absence of logos, and an overall elevated sense of casualness. These are pieces built for the work-from-home lifestyle that transition seamlessly to an informal setting, all while being comfortable and stylish on the go. Yes, you can wear athleisure to the gym, but its true purpose is to be worn outside of fitness settings.
Alo Yoga
A Los Angeles-based yoga institution, Alo Yoga has garnered critical and popular acclaim for its high-end and fashion-forward athleisure wear. Like many yoga-based brands, Alo primarily started by making apparel for female yoga enthusiasts, but its line of menswear has recently taken off and is on track to make a similar impact. While its clothes are form-fitting and have technical aspects to them, you'll find that most Alo garments are far more stylish than traditional yoga wear, which is the brand's central aim. Alo prides itself on being a trend-forward brand, and as a result, their clothing has more of a contemporary design that forgoes the form-fitting, gym-centric look.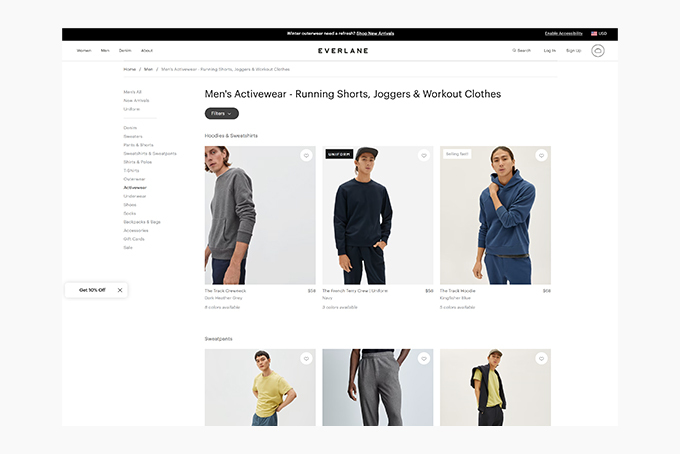 Everlane
While Everlane may not be the first brand to come to mind when thinking of athleisure, its designs and quality are fantastic, and its activewear is every bit as great as the rest of its offerings. From a design perspective, Everlane focuses mainly on minimalistic, contemporary aesthetics that look akin to elevated everyday essentials. Its clothes would mainly be worn outside the gym, but they do have the versatility to be worn for exercise. One of the real standout traits of Everlane, aside from its cool, stylish, and versatile clothes, is its endeavor to make its garments as ethically, transparently, and sustainably as possible. Everlane focuses on making clothes that not only look fantastic, but also will last you for years, which is a wonderful departure from the fast-fashion paradigm that has been plaguing the space for the last decade or so.
lululemon
Founded by Chip Wilson in Vancouver, Canada in 1998, lululemon got its start making technical clothing for yoga practitioners. As far as athleisure brands are concerned, lululemon is unquestionably one of the style's progenitors, creating workout clothing that was high-quality and chic enough for people to wear about their everyday lives. While the Canadian brand got its start by catering mostly to women, its line of menswear took off and is now one of the go-to brands for men's athleisure wear. Performance-built from the very start, lululemon's flagship store started as a design studio by day and a yoga studio by night. Now, the brand makes clothing "for yoga, running, cycling, training, and most other sweaty pursuits for women and men."
Myles Apparel
Myles was founded by a group of friends who set out to make an athleisure brand that bridged the world of old, ratty "gym clothes" and overpriced, super technical "high-performance" gear, and they did exactly that. There's a youthful energy that the Myles brand evokes through its no-frills, utilitarian clothing. Myles' laid-back ethos extends to its design language without conceding style points, quality, or versatility. To make its clothes, the brand combines cutting-edge fabrics with timeless styles to create activewear worthy of being wardrobe staples. Even better, Myles offers a five-year warranty on its clothes, on the very off chance that you tear one of its garments.
Nike Sportswear
At this point, it's definitely easier to find someone who does know about Nike than someone who doesn't as it is THE sports brand. Transcending its humble roots as a performance shoemaker, Nike has become a fashion juggernaut, making quite literally every type of article of clothing you could think of. Given its scope and resources, Nike makes trendy-looking garments for every major sport and athletic endeavor, as well as fashion-forward streetwear, all of which are of impeccable quality. Aside from their quality, one of the best qualities of Nike's garments is that they cover a wide variety of designs and styles, and you'd be hard-pressed to not find the exact piece of athleisurewear you need among its vast catalog.
Olivers
Olivers offers some of the best-looking athleisure garments on the market. Its clothes are stylish, comfy, and incredibly well-made, and the brand truly elevates casual wear. While Olivers' clothes are classic in design and style, they're made with high-performance fabrics like superfine 18.5-micron merino wool, which creates a lot of very small insulating air pockets to keep you warm in cold settings and cool in warm settings. You wouldn't believe it due to its clothes looking so stylish, but Olivers takes a function-first approach to design, which is why its garments are so long-lasting. If you're looking for a comfortable, stylish, and versatile brand that you can wear year-round, definitely check out Olivers.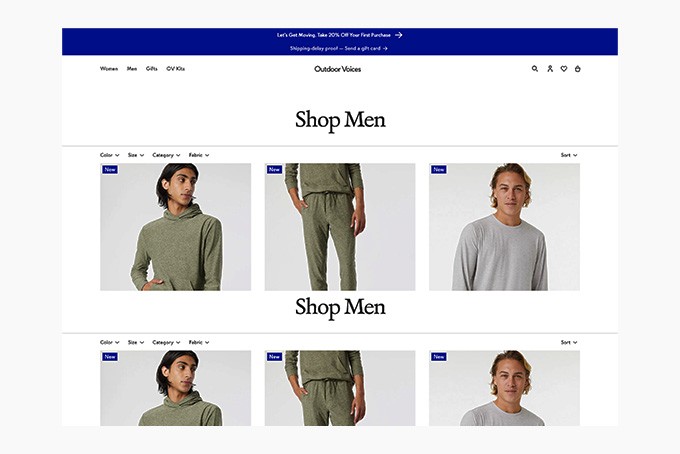 Outdoor Voices
Leaning a little more on the casual and performance-specific side, Outdoor Voices sports really fun designs and is made to make your commute, workout, or work-from-home shift sweat-free. The brand has got great-looking clothes that come in a myriad of different technical and sustainable fabrics, like the "lightweight crazy-soft" Cloudknit, sweat-wicking Sweatee Mesh, and 63%-recycled wool MegaFleece. Given the technical aspect of the materials used, you can sweat from a hard workout in Outdoor Voices clothes and be dry and odor-free by the time you commute to a casual lunch. Outdoor Voices' clothes aren't as fashion-forward as most of the other entries on this list, but they're indubitably stylish and can be worn all over the place without making you look like a gym rat.
Public Rec
Public Rec was created by a former JP Morgan banker, so you can bet that the brand's offerings exude stellar attention to detail and high-end craftsmanship. It's a brand that allows you to have your cake and eat it too, with more formal offerings than a lot of the entries on this list. Public Rec makes button-up shirts and a couple of different varieties of sweaters, which allows you to bring the comfort and versatility of athleisure to slightly more dressed-up occasions. Like all of the brands on this list, Public Rec understands that comfort is the currency of the realm, but it's managed to elevate the style in a way all its own.
Reigning Champ
Another Canada-based standout, Reigning Champ got its start making streetwear before making the transition into athleisure. And while the brand's street-level origins remain apparent, make no mistake, this is gear that's built to perform. Expect to find clothes that emphasize rugged construction while also balancing their signature streetwear look and technical, performance-based materials. The brand's approach focuses on even the smallest details, which is why its clothes look and feel so impeccably made. If you're in the market for clothes that are casual in nature and masterful in design, you've got to check out this Vancouver staple.
Rhone
A pound-for-pound style champion, Rhone's clothing fuses form and function with a technical edge. Rhone creates performance-driven clothing with each piece being designed for versatility while also looking criminally stylish. One of the fun and appreciated design characteristics of Rhone's clothing is the embrace of bright, vibrant colors. Of course, the brand has plenty of pieces that utilize neutral colors, but Rhone's variety of colors is a departure from the typical earthy tones of most Athleisure brands. Even more impressive, Rhone makes some of its garments with GOLDFUSION technology to eliminate odor and enhance durability.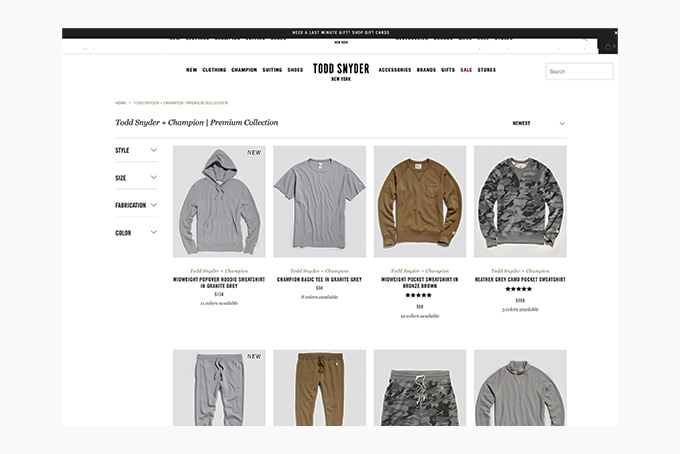 Todd Snyder
Todd Snyder's main claim to fame is its stranglehold on modern menswear design, but the brand also has a solid athleisure output thanks to its bevy of collaborations with activewear brands such as Champion, New Balance, and several other athletic mainstays were such massive hits. In particular, the Todd Snyder x Champion collection has some of the coolest and coziest athleisure garments out there — not to mention some of the most fashionable. The collection is certainly more casual than Snyder's usual ultra-stylish offerings, but it's nevertheless an amazing and good-looking collection of athleisure clothes.
Uniqlo
Uniqlo is a standout in the fashion space and is arguably the best place to pick up accessibly-priced basics. While its pieces tend to look more designer-forward, Uniqlo's Sport Utility Wear collection is athleisure at its finest. The collection hits all the hallmarks of athleisure in terms of simplicity, comfort, and versatility while staying true to the fashion-forward style tenets that launched the Japanese brand into the limelight. Boasting "innovative technology and endless style," the Sports Utility Wear collection features technical fabrics that provide all the strengths of activewear with the elevated style and versatility of athleisure.
Vuori
A California staple and one of the most respected brands in the athleisure space, Vuori's apparel draws inspiration from the active Coastal California lifestyle. Vuori's blend of fitness, surf, sport, and art creates a unique and oh-so-good-looking lineup of clothes that's wholly its own. While it markets itself as a label that makes just performance apparel, Vuori has done an excellent job of redefining what performance wear is. Each piece is functionally built with durable materials for intense workouts while also balancing comfort and an elevated, casual style that transitions perfectly into everyday life. With fantastic quality, awesome designs, and a laidback vibe that you could only find in California, Vuori is without a doubt an athleisure heavyweight.
Western Rise
Western Rise prides itself on its contemporary design, futuristic materials, and quality construction to make you long-lasting, technical garments. Even better, it's a certified climate-neutral brand, which is something hardly any other company on the planet can boast. By focusing on technical fabrics, timeless styles, premium construction techniques, and sustainable manufacturing (which are its four pillars), Western Rise separates itself from the pack by melding modern-day sensibilities with classic designs that are made to last for years. In fact, Western Rise is so confident in its products' versatility, that it boasts its pants are the last you'll ever need. Simply put, Western Rise has made simplicity and versatility a beautiful art form.
Y-3
A true "sportswear with style" brand that comes from adidas, Y-3 is a fashion-forward sub-brand that has elevated sportswear like no other label. Founded in 2002, Y-3 was one of the first brands on the market to make elevated activewear, blending the performance-focused utility of adidas with the progressive style of famed designer Yohji Yamamoto. In a way, Yamamoto found a way to combine haute sensibilities with the utilitarian nature of adidas' sportswear to create a brand that's arguably the most eye-catching of the athleisure lot. The Y-3 collection features minimalist, streamlined silhouettes and striking designs that modernize old-school classics. It's contemporary, fashionable, and head-turning, and we love every bit of it.
The Best Hoodies for Men
If you're still in the mood for something stylish and comfortable, go peruse our list of the best hoodies for men for some more killer comfy looks.