From duffels to slings to briefcases to messenger bags and backpacks, there's no shortage of options on the market for hauling your gear and belongings. However, if you're looking for pure utility, durability, and cargo space, there's objectively no better choice than a modern rucksack. Utilizing a simplistic design where fashion takes a backseat to function, contemporary rucksacks were first introduced to meet the needs of military personnel, and have since become an integral component of the U.S. Army Special Forces' training program, which sees trainees carry packs heavily loaded with military equipment and supplies over vast distances.
Characterized by their spartan and incredibly rugged nature, military rucksacks were eventually adopted and adapted by the civilian world, where the bags are often slightly tweaked in order to better lend themselves to everything from everyday use to camping to hiking — or "rucking." With so many options on today's market, we thought we'd take the time to round up our picks for the latest and greatest models currently available in this guide to the best rucksacks you can buy. In addition to counting down our picks, we'll also be delving into what exactly a rucksack is, the bag's history, and what to consider when shopping for one.
The Best Rucksacks
Best Outdoor Pick

Fjällräven High Coast Foldsack 24

Best Cyclist Pick

Chrome Industries Barrage Cargo Backpack

Best Vintage-Inspired Pick

Topo Designs Rover Pack Premium

Best USA-Made Pick

DSPTCH Ruckpack

Best Overall Pick

Mission Workshop Rhake VX

Best Heirloom-Grade Pick

Filson Rugged Twill Rucksack

Best Military Ruck Pick

Mystery Ranch Mountain Ruck
From Early Mankind To Modern Military
A Condensed History Of The Rucksack
Taking its name from "der rücken," the German word for "the back," rucksacks have been used by military forces for decades, though they also represent some of the very first bags ever used by humans, dating all the way back to the Copper Age. These bags were essentially primitive, single-pocket backpacks with a soft flap opening that were often crafted from animal skins or furs and typically constructed around a rigid frame — not unlike a modern backpacking pack. In fact, Ötzi the Iceman mummy was famously discovered in the Val Senales Valley in Italy with a primitive fur-construction rucksack.
Some of the earliest military use of what we'd today identify as a rucksack began with Union soldiers in the Civil War, who used a canvas knapsack with a single main compartment, a flap opening, and leather straps for securing additional gear. This design saw continued use into the early 1900s, receiving minor tweaks along the way. In 1909, the U.S. Army Infantry Equipment Board convened to review standard-issue gear for soldiers, resulting in new specifications that led to the creation of the olive drab canvas haversack. From this point, the U.S. Military began using increasingly purpose-built and specific bags such as the M1936 haversack.
In 1941, the War Department tasked the National Ski Association with evaluating multiple new bag designs, leading the NSA to select a rucksack. Built around an external metal frame, this rugged bag was made from duck canvas or rattan and was engineered specifically for military personnel engaging in mountain warfare. Capable of supporting heavy loads thanks to reinforcements at key stress points, these bags featured a truly game-changing shoulder and waist strap system that better-distributed weight across the wearer's body — a design that's been utilized on the majority of rucksacks and backpacks ever since.
Over the last 80 or so years, rucksacks have continued to evolve, gaining ever lighter, more rugged, and more weatherproof materials and construction techniques, additional pockets and organizational systems, and a slew of other contemporary updates. Despite their advancements, the basic concept of rucksacks has gone largely unchanged, with the bags being designed to carry heavy loads across long distances — a practice that's known as "rucking."
Hardwearing Haulers
Unpacking The Finer Points Of Rucksacks
Though very similar to backpacks in many ways, rucksacks are engineered with a single focus in mind: hauling heavy loads on foot for prolonged periods over vast distances. As such, rucksacks tend to be markedly more rugged and robust compared to traditional bookbag-style backpacks. In addition to being able to carry more weight — and often afford more cargo space — rucksacks also do a far better job of spreading the bag's weight across the upper body of their wearers thanks to suspension systems comprised of shoulder straps paired with waist belts and sternum straps.
Frequently capable of accomodating several hundred pounds of gear, most rucksacks sport a clamshell or soft-flap opening at the top of the bag that grants access to the main compartment. Like most military garments or pieces of gear — or military-inspired offerings — rucksacks tend to boast an extremely minimalistic outward appearance, with spartan designs that favor function over form. Compared to backpacks, rucksacks can often be overkill for most daily-use needs, however, for applications such as camping, backpacking, and hiking, rucksacks are truly hard to beat.
Bang For Your Ruck
Factors To Consider When Buying A Rucksack
Though they're pretty much all designed for the same purposes, rucksacks do possess a myriad of finer points to which one should be privy when shopping. Below, we've highlighted five of the most crucial areas to take into consideration before pulling the trigger on your purchase.
Primary Storage: Because rucks are meant for schlepping around heavy loads, the amount of storage space that they offer is immensely important. This metric is usually measured in liters (or gallons). Additionally, you'll also want to explore a bag's weight capacity (i.e. how many pounds of gear it can accommodate without ripping or failing).
Supplementary Storage: Rucksacks are typically focused on and built around a single main compartment, though in recent times we've seen these primary areas supplemented with additional exterior pockets, as well as straps, MOLLE webbing, and other attachment points for hauling extra gear on the bag's exterior. Some rucksacks are also expandable and can be opened up to unlock even more storage space.
Materials: Just like with any regular backpack, the materials used to construct a rucksack play an enormous role in its overall durability and quality. This is especially important when dealing with rucksacks as these vessels need to be able to withstand immense loads. As such, rucksacks tend to be crafted from particularly hardwearing materials like CORDURA, X-Pac, and ballistic-grade and other high-tenacity, high-denier nylons.
Load-Bearing Capabilities: Unsurprisingly, a rucksack's load-bearing capabilities play an enormous role in determining its overall quality, as the entire purpose of these bags is to be able to carry ample gear for extended durations. As a result, factors such as the construction techniques used to produce a bag and what areas are reinforced both play pivotal roles in a rucksack's performance and capabilities.
Style: Though rucksacks put a premium on functionality and utility over aesthetics, these bags nonetheless come in a wide variety of different styles, as well as in a host of different colors. This segment is comprised of everything from hardcore military packs to rucksack-backpack hybrids and practically everything in between. So, while we'd always recommend focusing more on utility when buying a ruck, there's nothing wrong with letting your personal taste play a minor role in your decision.
The Best Rucksacks
Fjällräven High Coast Foldsack 24
Pros
Made entirely from recycled materials
Is foldable & packable
Super lightweight at only 1.01LBs
Offered in 11 color options
Cons
Lacks build quality of more expensive/robust bags
Best Outdoor Pick: Extremely lightweight at just over 1lb, the Fjällräven High Coast Foldsack 24 is a versatile, outdoor-ready carry solution that's crafted entirely from recycled 210-denier polyamide. Produced in more than 10 color options, the exterior of the pack boasts padded shoulder straps, a quick-access pocket, and a detachable hip belt. Offering 24 liters of storage space, the bag's primary compartment features a zippered fold-top closure that's secured via an aluminum G-hook. Inside, there are multiple organizers, along with a dedicated laptop sleeve capable of accommodating notebooks of up to 15" in size.
Primary Construction: 210D Polyamide
Volume: 24 Liters
Weight: 1.01LBs
Laptop Sleeve: 15"
Chrome Industries Barrage Cargo Backpack
Pros
Offers exceptional value
Has a completely watertight main compartment
Equipped w/ a great harness system
Exterior rows of webbing offers ample gear-mounting options
Cons
Laptop sleeve isn't padded
Best Cyclist Pick: Offering incredible value considering its extremely rugged materials and build quality, the Chrome Industries Barrage Cargo Backpack is an expandable roll-top pack that boasts a main compartment with a watertight seal that offers between 18 and 22 liters of storage space. Inside, the bag is lined with a floating, welded waterproof bucket liner while its exterior has been fitted with a padded back panel and a series of criss-crossing webbing adorning its front face. In addition to its watertight seal, the fact this pack comes loaded with a 15" laptop sleeve and an advanced ergonomic harness system — that includes a sternum strap with one of Chrome's signature buckles — also make it a great choice for cyclists and motorcycle riders.
Primary Construction: 1,050D Nylon & 500D TPE Tarp
Volume: 18L to 22L
Weight: 3LBs
Laptop Sleeve: 15"
Topo Designs Rover Pack Premium
Pros
More top-shelf version of best-selling bag
Main flap secured via dual ladder lock buckle closures
Boasts custom Tops Designs-branded hardware
Offered exclusively fully-blacked-out colorway
Has separate internal & external 15" laptop sleeves
Best Vintage-Inspired Pick: Made in America, Topo Designs' Rover Pack Premium is an updated, top-shelf take on one of the brand's most popular backpacks that sees its standard construction replaced with a combination of 1,000-denier ballistic-grade nylon and 200-denier nylon before being fitted with 450-denier TPE-coated polyester ripstop and a 210-denier nylon pack cloth liner. Offered exclusively in a fully-blacked-out colorway, this old-school-inspired design conceals an internal laptop sleeve, a 20-liter main compartment, and a pair of zipper-secured exterior pockets — one of which is built into the bag's storm flap.
Primary Construction: 1,000D & 200D Nylon
Volume: 20 Liters
Weight: 2.25LBs
Laptop Sleeve: 15"
DSPTCH Ruckpack
Pros
Made in America & backed by lifetime warranty
Shell cut from super rugged 1,680D ballistic nylon w/ DWR coating
Lined w/ DWR-coated 410D nylon packcloth
Uses Duraflex hardware & Mil-Spec webbing
Great organizational features
Cons
Would benefit from alloy hardware
Best USA-Made Pick: Though DSPTCH's Rucksack is a modern and thoroughly-calculated bag, it nonetheless possesses all of the hallmark traits of a classic ruck. Engineered with a focus on loadbearing and long-term comfort, the bag features mil-spec webbing, a panel-loading design, Duraflex hardware, and 25 liters of internal storage space. Made entirely in America, the bag is made from ultra-rugged 1,680-denier nylon, though if you somehow manage to damage this ballistic-grade material, DSPTCH stands behind the product with a generous lifetime warranty. On top of a 1-inch-thick padded laptop sleeve, this rucksack — which is based on traditional military rucks —also features an expandable top with a drawstring closure and a flap-top with two integrated quick-access pockets.
Primary Construction: DWR-Coated 1,680D Ballistic Nylon
Volume: 25 Liters
Weight: 3.25LBs
Laptop Sleeve: 16"
GORUCK GR1
Pros
Flat-lay-opening design inspired by Spec-Ops medical packs
Unparalleled mil-spec durability & build quality
Strength-tested at over 400 pounds
Made in America & backed by lifetime warranty
Cons
Doesn't feature waist & sternum straps
Expensive price
Best EDC Pick: When it comes to modern rucksacks, nobody does it better than the seasoned experts at GORUCK, as the company's bags have been setting the standard in the segment since the Floridian firm's inception in 2008. Sold in 21- and 26-liter sizes and produced in seven solid and camo color options, GORUCK's immensely popular GR1 bag was designed by Special Forces soldiers operating in Baghdad and modeled after the medical rucks they carried — leading to its flat-lay-opening setup and ridiculously durable 1,000-denier CORDURA construction. Other highlights on this TSA-compliant bag include three external rows of MOLLE webbing, an external slant pocket, a trio of interior pockets, a removable hard plastic frame sheet, glove-friendly YKK zippers with 550 paracord pulls, shoulder straps with ultra-thick padding, and a literally bombproof suspended laptop compartment with a false bottom. This extremely rugged, American-made bag also comes backed by GORUCK's SCARS Lifetime Guarantee.
Check out our in-depth GORUCK GR1 backpack review here.
Primary Construction: 1,000D CORDURA
Volume: 21 Liters (or 26L)
Weight: 2.8LBs (or 3.1LBs)
Laptop Sleeve: 15" (or 16")
Mission Workshop Rhake VX
Pros
Made in America in small batches
Super unique roll-top bag design
Tremendously weatherproof
Boasts ultra-high-end construction & hardware
Absolutely stellar organizational amenities
Can store a laptop & tablet (or 2 laptops)
Best Overall Pick: Made in America in small batches to ensure the highest possible levels of craftsmanship and quality control, the Mission Workshop Rhake VX is a super premium roll-top bag that's been engineered using a spare-no-expense design ethos. Crafted from insanely durable — and completely waterproof — X-Pac VX-21 sailcloth, the Rhake VX offers 22 liters of storage space that includes an externally-accessible 16" laptop sleeve, a secondary 10" tablet sleeve, and a pair of front fold-out pockets secured using FIDLOCK buckles. Alongside one of the best build qualities we've ever seen, this bag also gets a FIDLOCK-secured sternum strap, a triple-secured Velcro and G-hook-secured roll-top closure, and weatherproof tracks used for all of its external zippers. While it admittedly doesn't come cheap, the Rhake VX undoubtedly represents one of the finest backpacks that money can currently buy.
Check out our in-depth Mission Workshop Rhake backpack review here.
Primary Construction: X-Pac VX-21
Volume: 22L
Weight: 3.8LBs
Laptop Sleeve: 16"
Filson Rugged Twill Rucksack
Pros
Made in America & backed by lifetime warranty
Can be paired with other matching Filson Rugged Twill luggage & bags
Cut from Rugged Twill & fitted with Tin Cloth liner
Uses custom sand-cast brass hardware & brass main zipper
Cons
Doesn't have a laptop sleeve
Very expensive price
Best Heirloom-Grade Pick: Sporting a classically-styled design that's been brought to life using super premium, ultra-durable materials, the Filson Rugged Twill Rucksack is a 33-liter heirloom-quality backpack that comes backed by a lifetime warranty. Made in America, the Rugged Twill Ruck is pieced together from a lightly-waxed Rugged Twill construction that's been supplemented via vegetable-tanned Bridle leather accents and genuine brass hardware that's been custom-sand-cast for Filson. The bag's main compartment is covered by a storm-flap that's secured via a pair of leather straps and a rustproof heavy-gauge YKK zipper that's also made from brass. Rounding out this pack is a Filson's signature Tin Cloth construction used at the binding of all interior seams.
Primary Construction: Waxed Rugged Twill & Bridle Leather
Volume: 33L
Weight: N/A
Laptop Sleeve: None
Mystery Ranch Mountain Ruck
Pros
Made in America & backed by a lifetime warranty
Constructed around NICE frame
Engineered from ground up for hardcore rucking
Built of custom spec'd 500D CORDURA w/ Teflon & PU coatings
Has massive 87.5-liter capacity
Is Berry-compliant
Cons
Not particularly useful for non-military/rucking use
Doesn't have a laptop sleeve
Very expensive price
Best Military Ruck Pick: While other offerings on this list are merely inspired by military gear, Mystery Ranch's Mountain Ruck is a bonafide mil-spec vessel that's been engineered from the ground up for hardcore, long-range rucking. As such, the ruck is made in America from a custom Teflon and PU-coated 500-denier CORDURA, is compatible with H-style jump harnesses, and is equipped with Mystery Ranch's Bolstered Ventilation and Stability system that allows the pack to comfortably be worn over plate carriers and body armor. Affording a whopping 87.5 liters of storage, this bag also features water-repellent YKK zippers, PALS webbing, autolocking buckles, two internal hydration pockets, and removable bolsters.
Primary Construction: Teflon & PU-Coated 500D CORDURA
Volume: 87.5 Liters
Weight: 7.8LBs
Laptop Sleeve: None
The Best Backpacks For Everyday Carry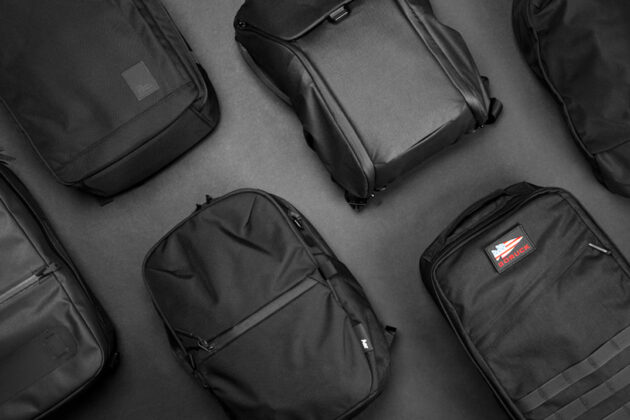 Looking for a bag that's a little more streamlined and a bit less over-engineered? Then be sure to check out our guide to the best everyday carry backpacks for the finest options currently in production.