Across its four different collections, Aer makes a total of ten backpack silhouettes, so it's safe to say that the brand knows a thing or two about what goes into a quality carry solution. As such, it doesn't matter if you're a hardcore gym rat or a jet-setting globetrotter – chances are pretty good that Aer makes a pack that'll work with your lifestyle.
But here's the thing: while bags like the Fit Pack or the Tech Pack can double as your daily carry companion, they're honestly just a little overbuilt for what most people need. When you're merely looking for something to get your essentials to the office, you don't need spacious shoe garages or multiple tech sleeves. For this reason, Aer introduced the City Pack as a much more manageable alternative. In this review, we get hands-on to see how it stacks up to its stablemates.
Video Review: Aer City Pack
Want to see the Aer City Pack in stunning 4K action? Check out the HICONSUMPTION YouTube channel for our in-depth video review.
First Impressions
A Quintessentially Aer Aesthetic
Though there isn't a whole lot of branding to be found around the outside of the City Pack, it's still readily recognizable as an Aer original. In fact, in many ways, the bag is even more "Aer-ey" than some of the brand's other offerings. Between the simple, uncluttered face and the beefy YKK zips, the City Pack is strikingly minimalist in a way that reaffirms Aer's trademark aesthetic.
This is also partly due to the bag's relatively compact design. Clocking in at 18" long by 12" wide by 5" deep, it's just the right size for bringing along your carry without being burdensome to wear. Admittedly, the City Pack is a bit conservative insofar as its total storage capacity is limited to just 14L. But that's because it's designed to haul your daily necessities – things like computers, notebooks, and office supplies – not double as your weekend getaway bag.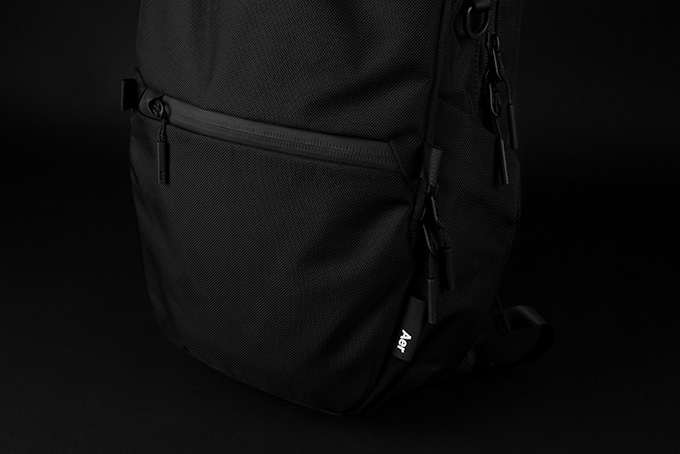 Materials & Hardware
Dependable Daily Carry
Nevertheless, any self-respecting EDC backpack should be able to take a beating, so Aer has built the City Pack with only the most premium of materials. Like other bags in the brand's catalog, the outside is made from 1680D Cordura ballistic nylon. Along with giving the City Pack an understated look, this also means that it'll stand up to many a daily commute. In fact, we've been putting our City Pack through its paces for a while now, and – as of yet – it's showing no signs of slowing down.
Around the rest of the bag, you'll find the usual mix of oversized YKK zipper pulls and chunky Duraflex hardware. On the front, there's a waterproof AquaGuard closure for extra element protection, bordered by a pair of handy pull loops to facilitate smoother operation. At the top of the bag, Aer has fitted a smaller locking zipper and a soft padded pocket for keeping your more critical carry secure. Above the water bottle holder and at the front of the shoulder strap, there's a set of D-rings for attaching carabiners and other accessories. Of course, being an Aer backpack, there has to be a magnetic fastener on the bag somewhere; in this case, it features on the removable sternum strap. These days, such buckles are pretty commonplace, but we love them in applications where traditional designs might lead to pinching.
As is the case with many bags on the market, Aer has outfitted the City Pack with an integrated luggage pass-through. Simply slip it over the handle and slide it down to mount on your roller bag. When combined with a pair of padded, seatbelt-style handles – one at the top and one to the side – the result is a pack that's incredibly easy to grab and get going.
Internal Orgnization:
Pocketable Provisions Aplenty
Unzip the City Pack, and you're immediately struck by just how well Aer has managed to fill the bag with storage options. Inside the main zippered compartment, you'll find a laptop pocket that comes with room for up to a 16" MacBook Pro. Lined with a soft woven material and suspended above the ground with a false bottom, it offers plenty of padding to protect your device from drops and bumps. Below, there's a stretchy divider for stashing things like tablets, notebooks, and even magazines should you feel so inclined. Even with these items, the compartment offers more than enough room to stuff a small organizer and a light jacket. The most innovative feature, however, has to be the hidden tracker sleeve. Capable of fitting an Apple AirTag or a Tile tracking device, it allows you to keep tabs on your City Pack should it ever go missing.
And the organizational amenities don't end there; within the secondary compartment, the City Pack is abounding with pockets. At the bottom, it comes with a pair of elasticated pouches that are perfect for holding bulky items like hard drives. Adjacent, you'll find a series of stretchy dividers for notebooks and pens, as well as a mesh pocket for holding things such as charging banks and smaller cables.
As if that were not enough, the City Pack comes with a small pocket out front. Secured with a YKK AquaGuard zipper and built with an integrated lanyard clip, it offers a quick and convenient way to access those items you may need at a moment's notice – like keys, for instance. Add to that a secure soft-lined top pocket – great for easily damaged items like phones and sunglasses – and you've got a pack that offers everything you need to take control of your carry. We could fill the bag with everything we'd require for a day out, and it would still have plenty of pockets to spare.
On-Body
Ergonomic Excellence
Along with being exceptional organizational pieces, Aer's packs are also super comfortable to wear – and the City Pack is certainly no exception. This is because the bag features a unique contoured back panel that's designed to curve with your shoulders for a more ergonomic fit. Where other backpacks tend to hang away from your body and bounce against your lower back, the City Pack instead stays firmly in place, hugging your torso. And, because it comes with some vented mesh panels, it's still plenty breathable.
Strap-wise, the City Pack sports some of the most generous padding you'll find – especially for a bag of this size. Made from a combination of 1680D Cordura and plushy vented mesh, they come with beefy Duraflex buckles and durable nylon webbing. Accordingly, it takes just a quick tug on each strap to have the bag adjusted. As an added bonus, they're built with a pair of elasticated length keepers, allowing you to manage the excess in a way that ensures the bag doesn't become a tangled, flappy mess.
Closing Thoughts
Compact Carry Redefined
Aer launched the City Collection in order to round out its catalog with some streamlined, urban-ready alternatives to its larger, more feature-full bags. Having spent a good deal of time with the City Pack, we'll be the first to tell you: the brand has definitely succeeded in its directive. Granted, the bag does fill out a tad smaller than some of the competition; however, it's leaps and bounds ahead of the pack when it comes to things like build quality, organization, and on-body comfort. Between the tough Cordura construction, the dependable Duraflex hardware, and the comfortable shoulder straps, the City Pack is a bag that you'll want to reach for day after day.
The 25 Best Everyday Carry Backpacks
If you're not quite sold on the City Pack, stay calm — there are plenty of other worthwhile bag options to consider. Just be sure to check out our guide to the best everyday carry backpacks for our expansive, 25-pack-strong roundup.