While Hollywood has always been the star-studded medium that we turn to for our daily dose of entertainment, dramatic overture, and visual immersion, it goes without saying that the once narrative-focused world of on-screen talent and award-winning screenplays has generally shifted more toward cultural impressionism and away from storytelling. Not that the films of old weren't chock full of their own celebrated participants — in fact, iconic actors from every era (and every walk of life) have found household prominence thanks to the silver screen. And from the early 1920s cinema all the way to modern-day film, well-realized caricatures have served to immortalize the talented men and women who have undertaken them. Whether it be through accurate portrayal, heartfelt emotion, or impeccable style, a number of men throughout history have served as cultural icons for impressionable youth, star-struck moviegoers, and a variety of counter-culture movements — so today, we're going to talk about the enviable guys who helped to define their generations — the best-dressed male movie characters of all time.
"For fashion-forward men everywhere, there are innumerable influential characters that have taught us to grow, thrive, and become who we are today."When it comes to timeless style, the exposure and outreach of the celebrity are rarely understated. They shape our impression of culture, define our interactions with the opposite sex, and teach us (whether knowingly, or unknowingly) how to adapt and conform our ideals to that of the trend-setter. For fashion-forward men everywhere, there are innumerable influential characters that have taught us to grow, thrive, and become who we are today, and along with this obstinately standardized train of thought, they've brought to prominence a voracious amount of era-defining apparel, clothing, and character traits — many of which have become synonymous with their respective time period. From well-designed three-piece suits, top hats, and heritage-oriented accessories, all the way to lackadaisical streetwear staples like sweatshirts, bombers, and sneaker shoes, it's undeniable that our understanding of modern and classic style has been defined by the silver screen. Now, it's time to pay our respects to the best-dressed men in film history — so let's dive right in.
Patrick Bateman
Patrick Bateman is the picture-perfect poster boy of the white-collar business world — he's calm, collected, and basically rakes in the cash as one of his company's leading executives. But sometimes, the life of a playboy New York businessman is a tad bit stressful. Mass homicide might be a good stress reliever for a psychopath — but aside from the immersive plot and well-shot cinematography in American Psycho, Bateman's costume design was meticulously executed. Valentino Couture suits, Oliver Peoples glasses, and classic '80s suit styles were utilized throughout the course of the story. Bateman wasn't the only one who was expensively dressed — his costars also sport high-end tailored suits that speak to the lavish lifestyle of Wall Street denizens during the yuppie heyday of the 1980s.
Film: American Psycho
Year: 2000
Genre: Drama/Slasher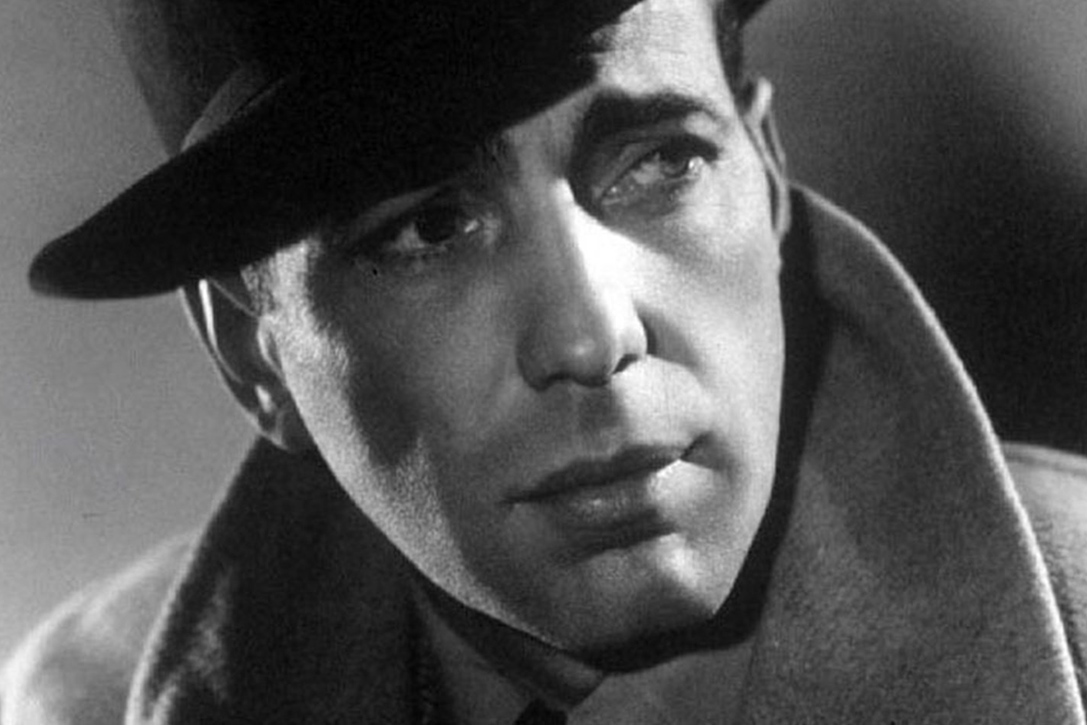 Rick Blaine
Rick Blaine might be the owner of Morocco's most popular socialization spot, but it goes without saying that his role in the lives of local alcohol lovers is only usurped by his impeccable sense of style. Aside from the trademark Ivory dinner jacket, Blaine's casual attire and tasteful choice in headwear put most modern day men to shame — but perhaps the most iconic look of them all is his standard khaki cotton gabardine drill trench coat, made by none other than the renowned designers at Burberry. This classic look was utilized heavily during the 1940s and '50s and idealizes an era when men dressed with intention and taste.
Film: Casablanca
Year: 1942
Genre: Drama/Romance
James Bond
There isn't a "best dressed" list in this world that would hesitate to include the International Man of Mystery, James Bond — and rightfully so. Throughout the past century, the super spy has worn some of the most iconic styles to ever grace the silver screen. In the process, Bond has become an idealistic fashion symbol for every style-conscious man the world over — but the visually-enticing light mohair and wool suit that was featured in Dr. No is on an entirely different level. As one of the most fundamental Bond actors of all time, Sean Connery took no prisoners with this iconic spy-style outfitted to carry the character's trademark Walther PPK. Let's not forget — aside from espionage and death, Bond's biggest strength was swooning the ladies with his impeccable sense of style, intense mystery, and all-around manliness — taking notes is definitely encouraged.
Film: Dr. No
Year: 1962
Genre: Thriller/Action
Axel Foley
Axel Foley might not be the most stylish guy in a traditional sense but around Beverly Hills, he's the quintessential '90s undercover cop — leaving an immeasurable impression as one of the best-dressed guys on the force. His trademark "lazy" style and clean Letterman Jacket paint a perfect picture of popular street attire for the era that pairs surprisingly well with a tattered Mumford Physical Education t-shirt, blue jeans, and sneakers for a look only he can pull off. There aren't any suits, ties, or fancy wingtip shoes here — instead, Foley utilizes a well-put-together casual style that straddles the line between "slacker" and "I mean business." Now, if only the rest of us could pull off this look so nonchalantly.
Film: Beverly Hills Cop
Year: 1984
Genre: Drama/Thriller
Jay Gatsby
If you're Jay Gatsby, you've got an image to uphold. That's made crystal clear in the sensational film revolving around the multi-million dollar playboy. If there's one thing we know, winning back the admiration of your long-lost lover is difficult to do when you're not dressed to the nines, and Gatsby takes strict note of this — a lavish 1920s brown wool, peak lapel, windowpane pattern, four button jacket, and complimentary plaid tie give the character an iconic look. Not to underplay Gatsby's other styles — his trademark three-piece tuxedo and extensive collection of perfectly preened button-down shirts solidify his placement as one of the finest-dressed gentlemen to ever grace the cinema screen.
Film: The Great Gatsby
Year: 2013
Genre: Drama/Melodrama
Gordon Gekko
Gordon Gekko might be a troublesome Wall Street tycoon during his nine-to-five, but his unerring style-sense defines his character to the utmost extent. A boisterous selection of contrasting collars, wide-set silk ties (that were "all the rage" during the period) and a generous collection of perfectly pleated pants give Gekko a leg to stand on when it comes to fashion-forward business attire. As one of the most aggressive dressers on this list, Gekko utilizes blocky, padded dress coats, extravagant wrist, finger, and cuff accessories, and a wide selection of colorful shirts that pair perfectly with their contrasting collars. While his style is difficult to pull off today, Gekko's interpretation of Wall Street-style set a dynamic baseline for viewers who had never seen the menswear woes of the lavish (and immoral) upper class.
Film: Wall Street
Year: 1987
Genre: Drama/Crime
Dickie Greenleaf
Dickie Greenleaf might just be one of the most iconic menswear idols of all time — providing a dramatic caricature that revolved around romance, friendship, confidence, and secrecy — but focused wholly on the dynamic of era-specific (and image-conscious) outerwear. Greenleaf's 1950-themed getup was so much more than tasteful, casual dress — it served to elevate the idea that, within a society full of bland, dull, and drab menswear, the influence of Italy, Mambo Kings, and the Riviera was alive and well. Open collar, airy button-up shirts, loose neckties, mid-thigh pleated Bermuda shorts, and lavish slip-on shoes play the perfect contrasting role against Greenleaf's suit-and-tie styles, providing an understated backdrop to the entirety of the film's impeccable costume design.
Film: The Talented Mr. Ripley
Year: 1999
Genre: Film Adaptation/Drama
Frank Lucas
Frank Lucas was one of New York's biggest kingpins during the '70s, and his intricately crafted repertoire of clothing suggests that he was one of the best-dressed gangsters to ever grace the rough and tumble streets of Harlem. A minimalist in nature, Lucas' primary objective was creating a dominating, immovable presence around his friends, family, and cohorts while ensuring a that he didn't "stand out" — that he was known for his status, nature, and charisma solely based off personal rapport. This reflected equally in his numerous, well-tailored (but unassuming) suits and apparel, ranging from overly-expensive chinchilla coats and top hats, all the way to exquisitely represented double-breasted blazers and striped ties. Lucas might have been one of the most infamous mobsters in the history of New York, but his fashion-sense and general demeanor have solidified him as one of the most stylish mainstays on our list.
Film: American Gangster
Year: 2007
Genre: True Crime/Drama
Thomas Crown
Thomas Crown was the quintessential wealthy businessman — well off, popular among his peers and friends, and a man who harbored a surprisingly criminal secret that would lead him down a path of questionable decision making. While he might have enjoyed robbing banks a little "too" much, Crown had an undeniable aura that set him apart from other characters during the period. Three piece plaid suits, earthy, tobacco suede footwear, and nylon bombers were all mainstays of the character's calm, cool, and collected persona — while rugby jackets, Vans sneakers, and classic Persol glasses serve to round out a gratuitous number of well-crafted outfits. In one of the movie's most iconic scenes, Crown even sports a lightweight tracksuit-type bomber and black, ankle-length slacks to scale a rooftop at night — what an overachiever.
Film: The Thomas Crown Affair
Year: 1968
Genre: Drama/Thriller
Jacob Palmer
Jacob Palmer is the man's man, illustrating what it might be like to be a suave lady's man who has everything he could ever want in life, only to find out that he's hopelessly awkward when it comes to dating the girl of his dreams. We can all relate — but there's no denying that Palmer's penchant for immaculately tailored menswear and impeccable fashion sense were the true stars of the show. Selima Optique glasses, fitted Albert Hammond Jr. suits, and Versace dress shoes highlight one of the greatest getups in the movie — and since Palmer sports a spectacular new style in nearly every scene, it's safe to say that he clocks in as one of the best-dressed characters in recent memory.
Film: Crazy, Stupid, Love
Year: 2011
Genre: Comedy-Drama/Drama
Sam Rothstein
Being a mob associate as well as a Las Vegas casino executive has its perks and Sam Rothstein provides the perfect glimpse into what the storied combination of enviable titles might look like. Aside from the numerous high-tier styles that Rothstein utilizes throughout the length of the film, three or four of them definitely resonate on a spiritual level. A handsomely paired blue button up and plaid blazer combine with a matching necktie, while a charcoal and pink suit combination, a mint green button up and fleck blazer, and a tastefully obscene blue and green plaid suit make impressionable appearances throughout the film. Rothstein loves his outlandish layering techniques, and he's right at home among this list as the character with the single greatest suit selection we've ever had the pleasure to see on the silver screen.
Film: Casino
Year: 1995
Genre: Drama/Crime
Marcello Rubini
Marcello Rubini was more than just a mysterious nocturnal gentleman in La Dolce Vita, which was among the first films to bring continental style to the collective cultural consciousness. Instead, he was an entirely new breed of European man, helping to define a new era of fashion and style with his consistently "kept" appearance, finely drawn suits, and seductive persona. Single breasted blazers, close-cut tailoring, and flamboyant attire define Rubini throughout the film, but it's his dedication toward elegant appearances that really has us impressed. Whether it's a bow tie, traditional necktie, iconic Persol glasses, or an open-collared button up, Rubini's style is one for the history books.
Film: La Dolce Vita
Year: 1960
Genre: Drama/Comedy-Drama
Jim Stark
Jim Stark was the perfect amalgamation of bad-boy charm, clean-cut appearances, and an aversion for trademark looks, offering up a heaping portion of 1950s style that's certainly hard to forget. Sporting an iconic red windbreaker, white t-shirt, and jeans, the angst-ridden teen set a precedent for men everywhere with an immensely true-to-life "coming of age" tale that would imprint itself into the hearts and souls of viewers everywhere. A Jim Fleck coat and tailored dress pants gave moviegoers a glimpse of Stark's mild conformist nature, while his white t-shirt, denim jeans, and uniform jacket helped to popularize the "outsider's" look among youthful individuals the world over.
Film: Rebel Without A Cause
Year: 1955
Genre: Drama
Jules Winnfield
No style list would be complete without Jules Winnfield, an on-the-edge errand boy for one of L.A.'s most prominent mobsters. As a professional criminal, Winnfield was crucial in the reformation of the modern mob aesthetic, sporting an iconic black suit and tie complete with padded shoulders, center divides, and welted breast pockets — all of which were prominent among successful businessmen of the era and weren't often associated with a belligerent lifestyle. Pleated slacks and polished black Oxford shoes round out Winnfield's classic look, and coupled with a menagerie of gold-plated accessories, the mid-level mobster made an impression among viewers through his intense persona, collected demeanor, and impeccable fashion sense.
Film: Pulp Fiction
Year: 1994
Genre: Drama/Crime
Reynolds Woodcock
Reynolds Woodcock painstakingly portrays what it might be like to be a sensationally talented couturier in the post-war world of London, serving as a semi-biographical reference to more than of few of the industry's most revered seamsters. As an unrelenting designer inundated with his pursuit of perfection, it goes without saying that Woodcock values his appearance above all else — made intensely clear by his ridiculously elegant wardrobe. Period-correct trousers, padded dinner suits, and generously draped clothing pay homage to the most prominent style choices of the era, while Donegal wool jackets, Paisley silk scarves, and cashmere peripherals outline some of the character's most iconic outfits. Woodcock's search for the ultimate aesthetic garment might have been effervescent, but the one thing he'll never have to worry about is the acquisition of tasteful style-sense.
Film: The Phantom Thread
Year: 2017
Genre: Drama/Crime
The Ultimate Guide To Business Casual
It's obvious that well-tailored clothing is a key component to every man's wardrobe, so take a look at the ultimate guide to business casual to bring a new level of style and sophistication to your Friday attire.