Sep 27, 2019
Category: Style
Dress shoes are a touchy subject for most guys; after all, if you're not immersed in the culture of formal footwear, business casual, or high-end gatherings, there's no real reason to own a pair of expensive, over-the-top variants. Well, that's not entirely true, and in a sense, we're here to change your viewpoint when it comes to the industry's most adulated examples.
The truth is, formal footwear is far more versatile than people give it credit for. These days, it's become increasingly popular to pair high and low-end offerings, styles, and genres with one another, creating a veritable slew of stylish outfits that don't always conform to the standards of conventional wear. Chukka boots and Chelseas are often utilized alongside a pair of cuffed jeans, Wingtips and Oxfords look great when paired with a set of tailored chinos, and fashionable staples like the monk strap and loafer stay relatively relaxed, breaking away from the prim and proper lineage that they once shared with their noble counterparts. Amidst all of this, one thing remains true: the dress shoe is a great-looking addition to any stylish wardrobe, regardless of the subject matter. Below, we'll outline our favorite genres of dress shoe, along with a handful of offerings from each specified subset.
Johnston & Murphy Melton Classic
Johnston & Murphy's Melton Classic Oxford is a premium shoe in an entirely affordable package, boasting a comfortable calfskin upper, Optima Comfort System, and multi-layered cushioning for the ultimate piece of everyday footwear. Inside, you'll find perforated leather lining to enhance breathability and promote years of purposeful wear, pairing perfectly with the shoe's generous Goodyear welt.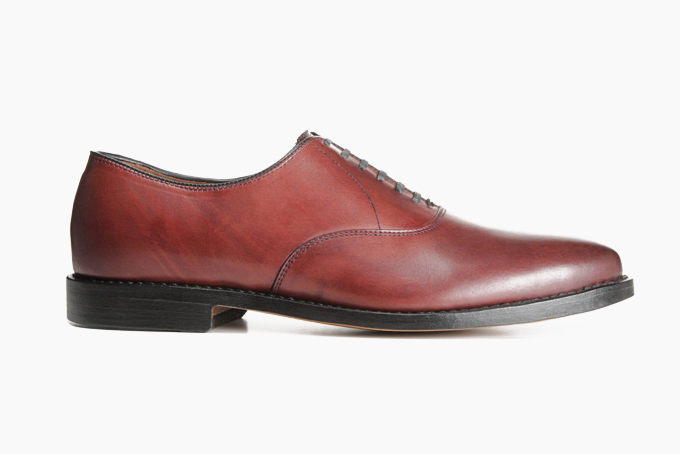 Allen Edmonds Carlyle
Allen Edmonds' Carlyle Oxford is a great-looking shoe with an encumbrance of character. It's perfect for dressing up, or down, and features a 360-degree Bench Welt construction for added durability, stability, and poise. An oak sole and comfortable CustomCork insole ensure that the shoe fits true to size; and if you're asking, it makes the Carlyle look a whole lot better, too.
To Boot New York Brandon
To Boot New York prides itself on the creation of quintessential footwear, and while they specialize in more traditional avenues, the Brandon is an esteemed Oxford that can keep up with the industry's best. It features a minimalistic exterior, cap toe, and a great-looking polish to keep it as dressy as possible while providing the perfect middle-ground between formal and casual use. Each pair is crafted in Italy and boasts the company's well-sourced leather, liner, and sole.
Florsheim Cardineli Cap Toe
Florsheim's Cardineli Cap Toe Derby is an affordable dress shoe that won't let you down when it comes to durability and comfort. For the price, it boasts a surprisingly handsome silhouette and a classic profile that's often seen in higher-end offerings. The shoe's simplistic leather upper remains relatively sleek, while a premium leather lining and fully-cushioned footbed provide all-day comfort for any stylish wearer.
River Island Black Line
River Island's Black Line Derby is another affordable offering that looks as if it belongs in a luxurious, high-end wardrobe. A faux leather fabric upper and stylish square toe give the shoe a decidedly classic look, while embossed detailing, a stacked block heel, and lace-up fastening provide the perfect amount of character.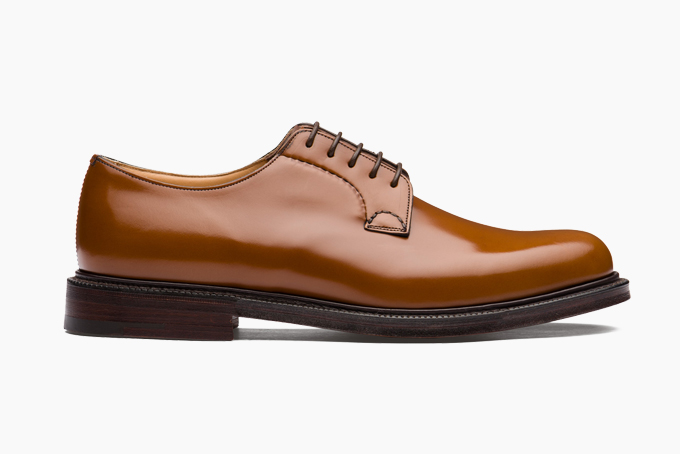 Church's Shannon Leather
Church's Shannon Leather Derby is as minimal as they come, but thanks to the shoe's hand-stitched stylings, whole-cut leather, and polished binder finish, it exudes an aura of pure class. To complement the shoe's nostalgic tastes, a Nappa bellow tongue, leather laces, Goodyear storm welt, and a durable leather double-sole give it a characteristically refined exterior. Inside, you'll find handwritten shoe info and a comfortable interior liner, helping to keep your feet in optimal condition throughout the day.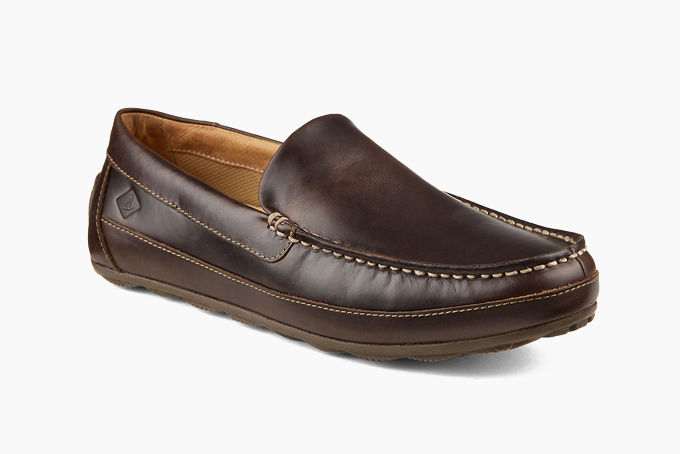 Sperry Men's Hampden
Sperry's Men's Hampden Driving shoe is an ultra-sleek example that blends premium leather and hand-sewn accents with ease. Not only does the shoe achieve an effortless style due to its use of high-end materials, but it also places wearer comfortability at the forefront, thanks to a full-length foam-cushioned footbed, non-marking rubber outsole, and molded Wave-Siping. Whether you're wearing the Hampden in wet, or dry weather, you can rest assured knowing that your footing will stay true.
Jack Erwin Parker
Jack Erwin's Parker is the perfect driving shoe; not because the shoe is as expensive, or robust, as its counterparts, but because of its commitment to wearer satisfaction. Each pair has been designed to mimic the owner's foot with a seemingly tailored fit, offering unsurpassed comfort, aesthetic, and style for an affordable price. The shoe is available in both Suede and Nubuck, and thanks to its fully-lined leather interior, rubber wedge, and Arneflex microfoam, you'll be able to bask in the Parker's exceptional comfort, without all of the unneeded additions that alternative manufacturers choose to throw in.
Tod's Gommino
Tod's Gommino is a lavish driver that's packed to the brim with premium characteristics. If the shoe's velvet suede upper and exposed hand stitching don't enlighten you to its timeless qualities, then the company's hot-stamped monogram, iconic rubber pebble outsole, and front tie will. Each pair is crafted in Italy by master shoemakers, and features a vintage silhouette that's among the industry's most revered.
Ace Marks Vincent
When it comes to brogued shoes, Ace Marks knows what it's talking about. The company's Vincent wingtip is an exercise in legendary design and boasts a uniquely-brouged Italian leather upper, a hand-crafted silhouette, and a durable blake flex construction to keep things operating at optimum efficiency for years to come. Pair those attributes with the shoe's punch-hole detailing, waxed peripherals, and formal persona, and you've got one of the industry's finest dress shoes.
Cole Haan Kneeland
Cole Haan is a staple in almost every fashion-forward guy's wardrobe, and if you're looking to add a pair of high-end footwear to the mix, the Kneeland brogue should be right up your alley. The Kneeland features a handsome leather upper, outsole, and liner, complementing the shoe's Grand.ØS and Grand 360 technology — a proprietary construction method that ensures the utmost quality, comfort, and lightweight appeal.
Thom Browne Pebble Grain Longwing
Thom Browne's Pebble Grain Longwing brogue is a classic rendition rooted in the golden age of footwear. It features a luxurious Pebble Grain Leather exterior, supple calfskin lining, and a welt-stitched leather sole for exceptional durability throughout the life of the shoe. A signature Grosgrain loop tab and tasteful lace-up fastening adorn the exterior of the Longwing, providing a timeless look that's sure to turn a few heads while you're out and about.
Florsheim Berkley Penny
Florsheim's Berkley Penny loafer is certainly a timeless classic, offering wearers a great-looking silhouette that's both stylish, and comfortable. The shoe's moc toe orientation, fully-cushioned footbed, and crazy horse leather exterior are brought together by the company's genuine, handsewn construction, complementing its stacked heel, unlined interior, and transcendental silhouette. Like most loafers, the Berkley Penny pairs well with everything, from a tailored suit to casual essentials like jeans and a button-up shirt.
Thursday Boots Lincoln
Thursday Boots specializes in the creation of the industry's most handsome lace-up silhouettes, but that doesn't mean that they can't make a great loafer. The Lincoln is proof of the company's commitment to great-looking styles and includes a Chromexcel Horween Leather upper, Goodyear Welt, and a glove leather interior lining that promotes breathability and comfort. To accent the shoe's simplistic silhouette, you'll find a capable cork-bed midsole and heel stack, alongside a leather outsole that utilizes TPU studs for additional traction on virtually every surface. Each example boasts legendary materials from Chicago's Horween Tannery and is handcrafted with integrity by the company's master shoemakers.
Vince Camuto Borcelo
Vince Camuto's Borcelo loafer is an attractive slip-on that's been built by Portugal's revered craftsman. Their passion for footwear is apparent here, thanks to the implementation of Silverstone bit hardware, premium suede, and a moc-stitched toe that exudes an aura of classic taste. The shoe has been outfitted with a selection of the country's finest leathers to create a dependable upper, lining, and sole, offering wearers a one-of-a-kind silhouette that's been built to bridge the gap between casual, and formal wear.
La Milano Wing-2-Cognac
La Milano's Wing-2-Cognac is a monk-strap-style shoe that's found the perfect balance between affordability, and quality. It features a great-looking cow leather upper, synthetic lining, and a stacked heel that serve to enhance its prestigious aesthetic, without placing it in the upper echelon of premium offerings. Here, you'll find a sophisticated silhouette that fosters its look through the use of a tapered toe, hand-burnished Argentinian leather, and a delicately-fashioned monk strap, making it the perfect choice for outings where formal/dress attire is recommended.
Charles Tyrwhitt Black Performance
Charles Tyrwhitt's Black Performance shoe is an attractive monk-strap variant that boasts the trappings of a high-end dress shoe, at an affordable price point. They feature a 100% calf leather upper, leather comfort insole, and a blake-stitched construction to promote years of wonderful wear, while an ultra-comfortable molded sole adheres to the wearer's foot shape and contour.
Wolf & Shepherd Gambit
Wolf & Shepherd's Gambit shoe is an exercise in premium craftsmanship, calling upon a full-grain Italian calfskin leather, or water-repellent suede upper to provide the perfect foundation for its timeless look. Inside, you'll find an instant-forming memory foam footbed, sheepskin lining, and high-density EVA foam heel for the ultimate in refined comfort. Paired with the shoe's frosted brass buckles, resoleable forefoot and heel, and a long-lasting thermal rubber outsole, and you've got a classic monk-strap variant that stands head and shoulders above its competition.
Chelsea Boot
The New-School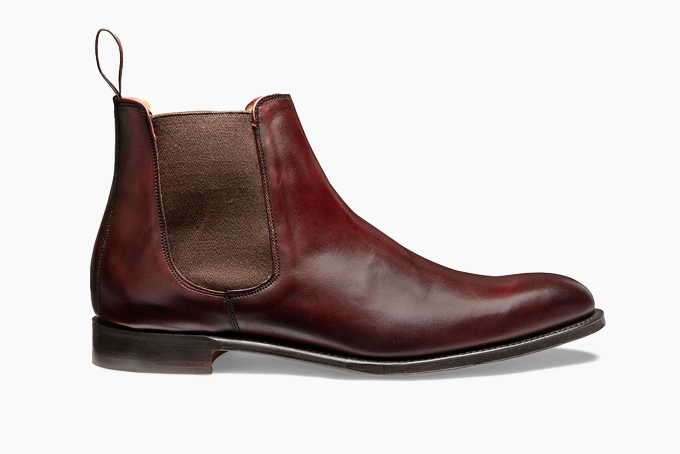 Cheaney Threadneedle
Cheaney is known far and wide for its expertise in footwear, and when it comes to Chelsea boots, the company has found the perfect balance of stylish materials, essential design principles, and vintage prestige. The Threadneedle is a perfect example of Cheaney's idealistic view, offering wearers a premium calf leather upper, tailored elastic gusset pattern, and a tasteful pull tab for efficient donning and doffing. These fitted boots are the perfect choice for any fashionable guy who's looking to turn a few heads as autumn/winter draws ever closer.
Grenson Declan
Grenson's Declan is an attractive take on the classic Chelsea boot, offering a mixture of contemporary design cues, a premium black suede upper, and a single leather sole to buyer's who know the worth of the refined staple. When it comes to the Declan, simplicity is key; and, as such, the shoe is the perfect addition to any guy's stylish wardrobe.
Common Projects Suede
Common Projects' Suede Chelsea is a prime example of top-end quality. They boast an understated design that's inherently attractive, a tapered style that exudes an aura of pure class, and a cushioned rubber-crepe sole that complements any seasonal outfit with ease. On the exterior, you'll find a tasteful selection of accents, including pull tabs, elasticated goring, and gold-stamped serial numbers. Each pair is made by a master craftsman in Italy and features a sand suede upper that's as luxurious as they come.
Thursday Captain
Thursday's Captain boot plays to the strengths of the company's established designers. To create the perfect middle ground between a dress boot and a great-looking casual style, they've brought together a Goodyear Welt construction, brown Chrome leather, and premium flat-waxed cotton laces for a well-rounded, and capable silhouette. Inside, you'll find a comfortable cork-bed midsole, DuraEVA comfort strip, and a Poron Antimicrobial insole to keep foot odor to a minimum.
Taft Rome
Taft's Rome boot is one of the company's most popular styles, and after taking one look at its beautifully-envisioned exterior, it's obvious why. The Rome's illustrious exterior is the product of four different coats of paint, creating a rich finish to complement the boot's great-looking leather. The result? A perfectly capable boot that isn't confined to use with professional outfits, and fits in well with everything from casual to formal attire.
Allen Edmonds Sullivan Street
Allen Edmonds' Sullivan Street boot is a lace-up example that's catered toward formal use. It features a sophisticated, tapered profile, a 360-degree Bench Welt construction, and a comfortable CustomCork insole that molds and conforms to the wearer's foot for enhanced stability. On the shoe's exterior, you'll find a classic cap-toe design, lending itself to the Sullivan's classic silhouette. To round things out, a durable Dainite rubber outsole — complete with a dependable split reverse welt — has been implemented, giving the boot an undeniable err of reliability.
Hudson Calverston
Hudson's Calverston chukka is the perfect unison of fashion, and function, offering wearers an established silhouette that's been crafted from the company's exceptional brown leather. On the exterior, a durable rubber sole and classic lace-up structure make these chukkas a force to be reckoned with when it comes to casual wear; but don't worry, if you're looking for something a bit more professional, the Calverston is easily adaptable.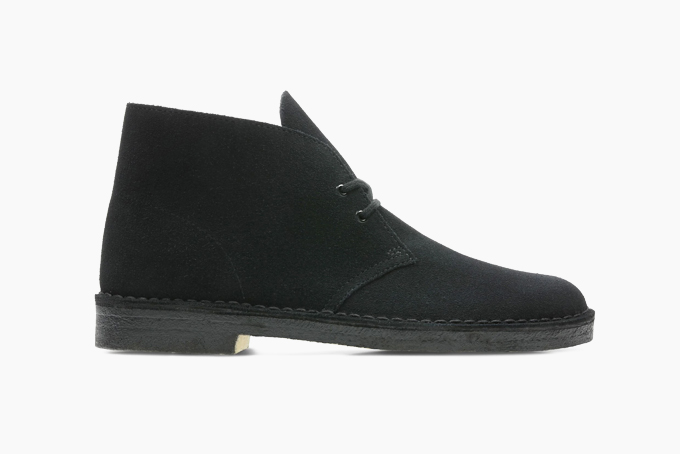 Clarks Desert Boot
Clarks is a trusted name within the footwear realm, and the company's Desert Boot might just be one of its most famous silhouettes. These great-looking variants are handmade at the company's Somerset factory and utilize a supple black suede, sourced from the famous Charles F. Stead tannery. The boot's military roots and vintage aesthetic make it all-the-more attractive, providing the perfect foundation for the chukka's purposeful lace structure and signature crepe sole.
Frye Chase
Frye's Chase chukka rounds out our list as one of the most artisanal offerings in the industry. It's been tailored toward the dapper man and offers a tumbled, waxed Italian calf leather, hand-stained leather outsoles, and a luxurious leather lining to promote exceptional comfort. As part of the company's lauded "Made In Italy" collection, the Chase has been hand-antiqued to give it a stunning visual presence. Pair that with the boot's rich polish and exceptional durability, and you have a chukka that straddles the line between high-end style, and casual, everyday wear.
The 12 Best Men's Suits Under $1,000
Now that you've delved into our selection of the best dress shoes for every occasion, head over to our guide on the best men's suits under $1,000 to find the perfect piece of attire for your next high-end outing.
HiConsumption is reader-supported. When you buy through links on our site, we may earn an affiliate commission. Learn more