Ever since the creation of the original Jeep Cherokee XJ in 1984, the SUV as we know it has been trapped in a perpetual identity crisis. For though it started out with a heavy emphasis on its middle qualifier — utility — over time, it's come to fulfill a much more performance-oriented purpose. In other words, most options on the market these days really put the 'sport' in SUV. As such, it's evolved into a peculiar double standard in which we expect our vehicles to be safe enough for the family but spirited enough for some fast driving, roomy enough to haul bikes, and yet high-riding enough to roll off-road. No car should be able to exist under such juxtapositions, but here we are.
After all, SUVs have been getting faster for a while now and they'll only continue to do so for some years to come. It may be beyond all sense of reason — becoming a "can we" rather than a "should we" — but automotive engineers will forever be interested in seeing how fast they can make their four-wheeled creations go. What follows are the fruits of their labors, the quickest 4x4s the industry has to offer. They may be big and weigh 5,000-plus pounds; however, these vehicles are made to move. Between powerful engine configurations, intelligent suspension setups, and track-focused componentry, these options have what it takes to be considered the 15 fastest SUVs you can buy off the lot. So buckle your seatbelts and read on to find out what made the cut.
2021 Ford Mustang Mache-E GT Performance Edition
0-60mph: 3.5s
Sure, many Mustang purists consider the Mach-E blasphemous, but we're here to set the record straight. With its two electric motors, it produces some 480hp and 634lb-ft of torque, a combination that takes the GT Performance Edition to 60mph in 3.5s and means it's more than quick enough to wear the iconic pony car's badge. Along with the upgraded drivetrain, you're also getting an extended-range battery and eAWD, giving you up to 235 miles of driving with sure-footed traction all the while. If you really want to see what Ford's next-gen Mustang is capable of, be sure to check it out seven-motor 1,400hp drift car guise.
Engine: Dual Electric Motor
Power: 480hp
Torque: 634lb-ft
Weight: 4,394lbs
2021 Dodge Durango SRT Hellcat
0-60mph: 3.5s
With Dodge disbanding its SRT division, the Hellcat as we know it is soon to be gone for good. Don't miss an opportunity to own a piece of muscle car history and snatch up some of the remaining inventory while you still can. With 710hp and 645lb-ft of torque on-tap, the supercharged 6.2L Hellcat V8 hiding under the hood is enough to make it the most powerful gas SUV on the planet. Sprinting from 0-60mph in just 3.5s before blistering all the way to 180, the Durango is a beast with a bark so fierce it can be surpassed only by its bite. Buyer beware, though, there's no way a trip to the pump can be cheap.
Engine: 6.2L Supercharged Hellcat V8
Power: 710hp
Torque: 645lb-ft
Weight: 5,710lbs
2021 Alfa Romeo Stelvio Quadrigfoglio
0-60mph: 3.6s
Alfa's speedier Stelvio remains one of the fastest SUVs to round the Nürburgring, at one point even breaking the course record with its blistering 7:51.7 time. It might no longer boast the fastest lap, but that doesn't take away from the fact that it's still very much a solid performer. Under the hood, you'll find a punchy twin-turbo 2.9L V6 that, when mated to an 8-speed auto box, delivers 505hp and 443lb-ft of torque to all four wheels. With a carbon-fiber driveshaft, near-perfect 50/50 weight distribution, and active suspension all around, the Quardrigfolio is as much race car as it is a ride to soccer practice.
Engine: 2.9L Twin-Turbo V6
Power: 505hp
Torque: 443lb-ft
Weight: 4,313lbs
2021 Jaguar F-Pace SVR
0-60mph: 3.8s
Jaguar's F-Pace SVR represents the sum of its SUV expertise, combining a lively drivetrain with a comfortable ride to give you a vehicle enjoyable no matter how which way you spin it. Of course, some of the competition's offerings are decidedly quicker, but they compromise their cruisability for the sake of all-out speed. As is to be expected of a Jag, the presence of a supercharged 5.0L V8 under the hood only adds to the experience, surrounding the driver with 550 thundering horses as it spirits you to 60mph in 3.8s. Because of its soft-tuned suspension setup, you won't even feel a thing.
Engine: 5.0L Supercharged V8
Power: 550hp
Torque: 516lb-ft
Weight: 4,800lbs
2021 Jeep Grand Cherokee Trackhawk
0-60mph: 3.5s
We love the Grand Cherokee Trackhawk because it's pretty much the antithesis of the Jeep brand identity, eschewing any sense of off-road practicality in the pursuit of uncompromised lap-carving performance. Packing the same supercharged 6.2L V8 as the Durango Hellcat we have above, it comes just a bit lower on power output (707hp) but manages to go toe to toe on torque. And here's the thing — with its track-tuned suspension, launch control, and powerful Brembo brakes, the Trackhawk is good for more than just straight-line speed.
Engine: 6.2L Supercharged HEMI V8
Power: 707hp
Torque: 645lb-ft
Weight: 5,356lbs
2021 Mercedes-AMG GLE 63 S
0-60mph: 3.7s
The GLE 63 S made for big news in the Mercedes-AMG world when it was announced this year, for it was the first model to feature the 48V EQ Boost hybrid system motor-generator. Mounting between the engine and the 9-speed auto box, it powers the car's electric accessories and can also add up to 21hp and 184lb-ft of torque as needed. When you consider that such a party trick results in a grand total of 603hp and 627lb-ft of torque, the Merc SUV is made all that much more capable on the road, arriving at 60mph in 3.7s and topping out at 174mph.
Engine: 4.0L Twin-Turbo AMG V8 + EQ Boost Motor
Power: 603hp
Torque: 627lb-ft
Weight: 5,467lbs
2021 Audi RSQ8
0-60mph: 3.7s
If you can't pony up the $218-odd grand that Lamborghini is asking for its Urus SUV, don't fret — the RSQ8 is basically the next best thing. Underneath, it's built around the same VW group MLB Evo chassis, and it even shares a similar (albeit less powerful) version of the 4.0L twin-turbo V8. Riding on adaptive air suspension and precise four-wheel steering, it slices through corners far better than anything this size has right to. But let's be clear here — it may come with hill hold control and boast decent enough ground clearance; however, Audi engineered it to be an on-road performer above anything else.
Engine: 4.0L Twin-Turbo V8
Power: 591hp
Torque: 590lb-ft
Weight: 5300lbs
2021 BMW X5 M Competition
0-60mph: 3.8s
As is the case with both Audi as well as Mercedes-Benz, BMW has any number of sporty SUVs from which to choose. However, at 3.8s to 60 and 177mph flat-out, the X5 M Competition spec is by far the fastest of the lot. And it's for good reason. Making 617 horses courtesy of a BMW M Power 4.4L twin-turbo V8, it sends power to all four wheels via an xDrive adaptive AWD system. Add to that an electronically-controlled limited-slip differential, adjustable suspension, and a set of powerful 6-piston brakes, and the result is an SUV that blurs the line between practical and performance-oriented in every way.
Engine: 4.4L Twin-Turbo V8
Power: 617hp
Torque: 552lb-ft
Weight: 5,093lbs
2021 Land Rover Range Rover Sport SVR
0-60mph: 4.3s
Between the crackling exhaust and the brazen carbon fiber styling, you have to be a special kind of buyer to want the Range Rover Sport SVR. However, assuming you can live with the loudmouth Landie, it's sure to impress with its sonorous 577hp supercharged V8 and responsive eight-speed automatic transmission — a combination made only better when you consider the quality of the interior. And for those who are actually brave enough to take a six-figure SUV off-roading, it even comes with dedicated terrain modes for snow, mud, sand, and rock-crawling. Just be sure to swap out those 21- or 22-inch aluminum wheels for something a bit more robust.
Engine: 5.0L Supercharged V8
Power: 575hp
Torque: 516lb-ft
Weight: 6,613lbs
2022 Tesla Model X Plaid
0-60mph: 2.5s
Tesla has performed some unprecedented feats with its innovative electric vehicles, so it should come as no surprise that the Model X Plaid is leading the pack at a scant 2.5s to 60mph. If you want to get a piece of this lightning-quick 1,020hp SUV for yourself, be sure to do so as soon as it goes on sale. With the Model 3 and the Model Y proving far better sellers, it might get killed off before we know it. However, this is one car that we auto enthusiasts can't afford to lose. Where else are you expecting to find a family-friendly grocery-getter that can run the 1/4-mile in 10 seconds or less?
Engine: Tri Electric Motor
Power: 1,020hp
Torque: N/A
Weight: 5,390lbs
2021 Maserati Levante Trofeo
0-60mph: 3.8s
Maserati's top-tier Trofeo Levante might skew more towards high-riding grand tourer than out-and-out performance SUV, but that doesn't take away from the fact that it boasts some pretty impressive straight-line speed. Because let's face it. Even though you won't be cornering like a Cayenne in this piece of Italian luxury, it can still get you to 60mph plenty quick at 3.8s. And while it may have neither the brakes nor suspension of its racier rivals, it does boast a Ferrari-built bi-turbo V8 with an exhaust note unlike any you've ever heard. Trust us when we say that you'll want the windows down for this one.
Engine: 3.8L Twin-Turbo V8
Power: 580hp
Torque: 538lb-ft
Weight: 5,070lbs
2021 Porsche Cayenne Turbo S E-Hybrid
0-60mph: 3.6s
Porsche's E-Hybrid vehicles are consistently some of the quickest cars in their class, be it the high-performing Panamera Turbo S or the Cayenne SUV we've featured here. Between its 541hp twin-turbo V8 and its 134hp electric motor, it puts down an impressive combined 670 horses, with a commensurate 633lb-ft of torque to boot. In addition to giving it some added eco-friendly appeal, that hybrid drivetrain also means that it can rocket to 60mph in just 3.6s before continuing all the way to 183.
Engine: 4.0L Twin-Turbo V8 + Electric Motor
Power: 670hp
Torque: 663lb-ft
Weight: 5,675lbs
2021 Aston Martin DBX
0-60mph: 4.5s
Rounding out our list is Aston Martin's first effort at an SUV: the 2021 DBX. With its graceful styling, lively ride, and capable off-road chops, the luxury British crossover has proven wildly popular ever since its debut. So, even though its AMG-sourced 4.0L V8 is a touch underpowered (meaning its 0-60 time suffers), the driving experience isn't made any less enjoyable because of it. On the contrary — thanks to the impressive amount of personalization options and the elegant interior furnishing, the DBX is just as refined as any of Aston Martin's other offerings. Left up to us, we'd have it as Bond would — Silver Birch on black.
Engine: 4.0L Twin-Turbo V8
Power: 542hp
Torque: 516lb-ft
Weight: 5,128lbs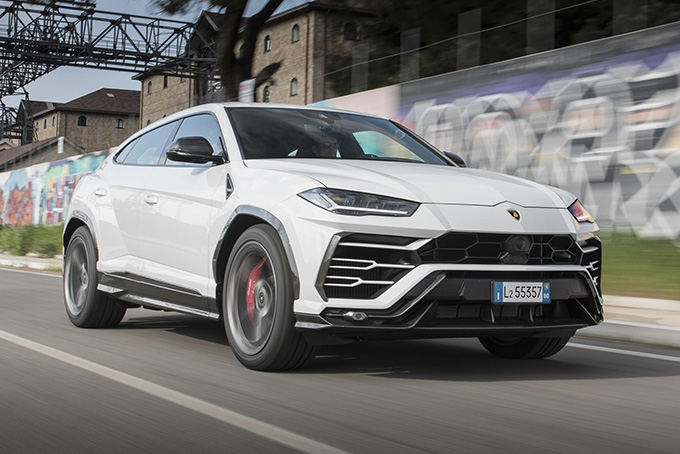 2021 Lamborghini Urus
0-60mph: 3.6s
It's not often that an esteemed Italian automaker like Lamborghini decides to build a four-door SUV, so when they do it better be something special. Thankfully, the Urus is that and more, combining a 641hp Audi-sourced 4.0L twin-turbo V8 with a platform borrowed from the Q8 for a capable mix of speed and grip. Granted, it's certainly no lightweight at 5,314lbs, but its on-track performance is as dialed as you'll find in any one of the Raging Bull's other offerings. And while its German engineering may mean that it's lost some Lambo personality, the good news is that everything will work as it should.
Engine: 4.0L Twin-Turbo V8
Power: 641hp
Torque: 627lb-ft
Weight: 5,314lbs
2021 Bentley Bentayga Speed
0-60mph: 3.8s
Last but not least when it comes to our Volkswagen-Audi group offerings is the Bentley Bentayga Speed. As with the Urus and the RSQ8, it rides on a borrowed VW chassis; however, you won't find another run-of-the-mill twin-turbo V8 hidden in the engine bay. Rather, thanks to a meaty 6.0L W12, this hot Bentayga spec is good for 600hp and 664lb-ft of torque, barreling it to 60mph in as little as 3.8s. Pretty quick, considering that it weighs all of 5,672lbs and reeks of excess on the inside, with quilted leather, wooden inlays, and other frivolous fittings as far as the eye can see.
Engine: 6.0L W12
Power: 626hp
Torque: 664lb-ft
Weight: 5,672lbs
The 20 Most Powerful Cars You Can Buy
With all this talk of high-octane engines, horsepower figures, and torque outputs, we wouldn't blame you if you've got hankering to learn more.  Before heading anywhere, though, be sure to check out our guide to the most powerful cars you can buy — we're confident that it'll get you your fix.