Let's disregard the fact that traditional summertime motorcycling calls for a keen eye and a healthy knowledge of up-to-date safety precautions. But the wintertime is the real threat, full of wet, ice-covered roadways that are ready to put you down at a moment's notice with a menagerie of new obstacles to avoid during your daily commute and blistering winds that chill your dexterous bits to the bone. Not only do you need to keep the most vital areas of your body safe, but it also becomes increasingly more difficult to protect your hands and fingers from the negative influence of the outside elements.
If you're looking for a pair of palm-protectors that utilize all the best, up-to-date technology, all while ensuring a comfortable, warm fit, your options for the perfect set of gloves might seem surprisingly slim. We're here to change that with our list on the 12 best winter motorcycle gloves for men, a comprehensive guide that aggregates the most celebrated hand-warmers in the industry, providing you with more protection than you'll ever need to battle the cold. From respected brands such as Fly and Fox, all the way to high-tier offerings from Spidi and Rukka, we've selected the most notable winter-wear around in an effort to take the guesswork out of picking up your next pair of moto gloves.
Fly Racing Street Aurora
Fly Racing's Street Aurora gloves take a step into the realms of road and street use, featuring a fully insulated silhouette, a Hipora waterproof, windproof, and breathable membrane, and high-grade genuine leather adorning the palms and fingertips. An additional leather strip between the thumb and index finger provides extra reinforcement, while the Aurora's extended neoprene cuff, cinch cord cuff, and wrist strap provide a worry-free fit that stay secure no matter the circumstance.
Fox Racing Forge CW
The iconic Forge CW glove is a warmth-imbued community favorite that features a 10K/10K waterproof internal membrane that makes the handwear ultra breathable. They utilize a brushed tricot lining, 100 GMS padding on the back of the hand, and a water-resistant palm fabric that can stand up to moisture on long journeys. A pull-on loop aids with on-and-off functions and helps to provide a secure fit, while silicone grips on the fingers of the glove give you trustworthy throttle response when things get a little slippery.
Joe Rocket Windchill
Joe Rocket is a well-known and respected name when it comes to a wide variety of motorcycle gear, and their winter-oriented Windchill glove stays true to the brand's vision of simple, affordable, and durable gear. A supple drum dyed cowhide outer pairs with the glove's fully bonded waterproof Dry Tech mid-liner and lightweight 100G Thinsulate insulation for the ultimate in cold-weather warmth. Alongside the insulating features of the Windchill, an integrated high-density knuckle armor, leather reinforcement in key areas, a vibration dissipating gel palm, and articulated full flex expansion panels on the fingers provide a tactile response that's unmatched by other comfort-oriented gloves.
Cortech Scarab 2.0 Winter
Cortech has some of the best safety-oriented lineups of any apparel manufacturer, and their street-sworn Scarab 2.0 Winter riding glove doesn't fall short of the brand's pedigree. Constructed using an abrasion-resistant drum-dyed goatskin leather, Hipora three-layer waterproof and breathable liner, and a 100g 3M Thinsulate insulation, the Scarab is a force to be reckoned with when it comes to winter-adaptable wear. An abrasion-resistant molded Hitena knuckle and outside wrist guard provide protection where you need it most, while a Hitena wrapped PU foam protector on the fingers and heel of the glove absorb the impact, should you take a nasty spill. On top of that, the gloves are touchscreen compatible and feature a conductive thumb and index finger that make the Scarab more recognizable for modern smart devices.
Dainese Tempest D-Dry Short
Dainese is a leader in motorcycle safety wear, releasing a full line of gear that's suitable for every season under the sun. Their Tempest D-Dry Short glove is a simple offering that focuses on performance over complexity, featuring a breathable waterproof D-Dry membrane, intricate thermal padding, elasticated inserts for added protection, and pre-curved fingers for a form-fitting silhouette that feels as if it was tailored to your hand.
Spidi Classic Leather
A Hi-Fit sheepskin construction adorns their Classic Leather gloves, making them more than suited for urban/touring use while offering an H2Out waterproof membrane that keeps the gloves breathable and warm when hit with cold wind. A 100g Primaloft wadding, Keprotec Schoeller reinforcement, and Polar microfleece put durability at the forefront, providing a high resistance to abrasion and a long-lasting construction that's sure to hold up to years of abuse on the open highway.
Alpinestars Polar GORE-TEX
The Polar Gore-Tex gloves keep in-line with Alpinestars' relentless pursuit of functional street and road gear, giving riders a stretchable polyamide upper construction complete with a goatskin leather palm, a Gore-Tex waterproof membrane, and a 100G Thinsulate thermal insulation on the back of the hand for resistance to windchill. Aside from the glove's winter-worn qualities, additional reinforcement in the thumb and palm provide wearers with comfort and improved tactile feel, pushing these gloves into the spotlight for casual and veteran riders alike.
Lee Parks Design DeerTours PCI
Lee Parks Design prides itself on the creation of tasteful gear that serves a purpose beyond just looking great, and their DeerTours PCI glove is one such offering. Featuring an Outlast Phase lining, heated grips, and ironed internal seams, the 2.75oz deerskin and Thinsulate-insulated gloves set themselves apart from the crowd with a unique look and style alongside a seamless palm and Ergo-Tech patch for added durability.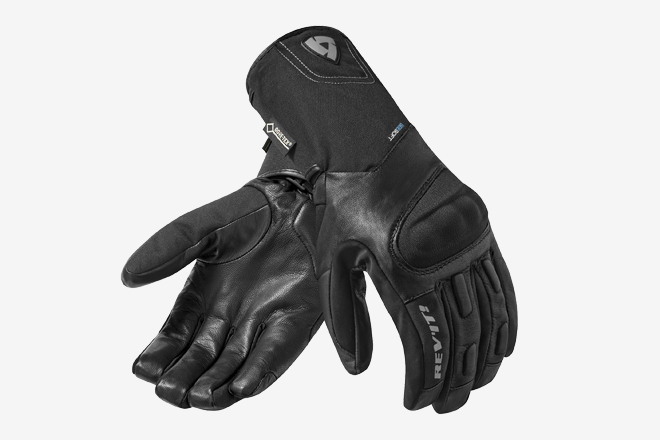 Rev'It! Stratos GTX
Rev'It! is one of the largest suppliers of tried and true motorcycle gear on the planet, and their Stratos GTX winter glove only bolsters their stacked lineup. Made with goatskin drum-dyed fabric and a water-repellent finish, the Stratos utilizes a PWR-shell 330D construction, Thinsulate G lining, and a tri-fleece liner for hand-warming perfection. A Gore-Tex membrane provides the ultimate waterproofing qualities you've come to expect from a winter glove, while a Seesoft 3D knuckle, EVA foam found in the finger and thumb, and a PWR shield knit on the palm provide additional reinforcement where it counts.
ICON Raiden Alcan
ICON's legacy in street and road application is second to none, and with some of the most innovative offerings on the market, they've once again brought a utilitarian, all-purpose glove to the masses. The Raiden Alcan features a TPR knuckle with D3O impact protector for peace-of-mind in any riding condition, while a Hipora waterproof liner, Battlehide goatskin leather palm, and AX suede overlays shield your hands from the influence of any outside elements.
Held Twin GORE-TEX 2-In-1
Held is a brand that relies on their innovative approach to design and construction, and the Twin Gore-Tex 2-In-1 glove doesn't fall far from that tree. Featuring a goatskin palm that's outfitted with convenient stretch fabric, leather detailed back, and pique push-pull lining alongside a sturdy Thinsulate insulation, the Twin provides all the positives of a winter glove with a stylish silhouette, to boot. A well-designed grip compartment features Outlast lining, a waterproof Gore-Tex membrane that compliments the glove's 100% polyester (and 100% polyurethane coating), and a windproof backhand that features Velcro closures to seal in warmth.
Rukka R Star
Rukka has definitely impressed more than a few riders with their trademark gear, and the R Star winter glove is an offering that most motorcycle riders would be smart to try on at least once. The handwear utilizes full water and windproof breathable Gore-Tex construction, a full leather silhouette, and two-in-one fleece lining technology. Light insulation throughout the R Star provides the rider with exceptional protection during the winter months, while knuckle and scaphoid protection ensure extra reinforcement, should you find yourself in a sticky situation on the highway.
The 30 Best Winter Jackets & Coats For Men
Now that you're ready to face the elements when it comes to winter hand-wear, head over to our guide on the best winter jackets & coats for men to keep your upper body protected and warm during those chilly morning commutes.