Hugely benefitting from a number of major advancements over the last few years alone, motorcycle communication systems — or "comms" — have become an increasingly essential piece of riding kit, especially as smartphone connectivity becomes an ever-more integral part of our daily lives. And while riders always have the option of strapping an aftermarket comm system onto their helmet's chin-bar, these devices lack the clean aesthetic, neat integration, and convenience of helmets with preinstalled comms, or brain buckets that can be fitted with comms that were custom-designed specifically to integrate into a particular helmet model.
Because shopping in this space can already be a somewhat intimidating process, we've opted to piece together this guide on the best Bluetooth motorcycle helmets, delving into the best comm-ready lids currently on the market, as well as each helmet's accompanying comm.
The Best Bluetooth Motorcycle Helmets
Best Vintage-Inspired Pick

Quin McQ Helmet

Best Preinstalled Comm Pick

Sena Impulse Modular Smart Helmet

Best Safety Pick

Nolan N100-5 Helmet

Nolan N-Com B902-L R Comm System

Best Value Pick

Ruroc Atlas 4.0 Helmet

Ruroc Shockwave Comm System

Best Adventure/Off-Road Pick

Nexx X.Vilijord Helmet

Nexx X-Com Bluetooth Headset

Best Commuter Pick

Shoei GT-Air II Helmet

Shoei SRL II Bluetooth Headset By Sena

Best Fully-Integrated Pick

Schuberth C4 Pro Carbon Helmet

Schuberth SC1 Advanced Comm System

Best Premium Pick

AGV Sportmodular Helmet
Mesh vs Bluetooth
Unpacking The Differences Between These Two Technologies
Before you can start considering which comm system to buy, it helps to have a basic understanding of the two main types that exist. Bluetooth comms use what's called "daisy-chain pairing," which uses a rigid chain setup with each comm system piggy-backing off of the next. One of the major downsides here is that if one of the riders drops out or loses signal, the rest of the riders' comm systems in the chain also disconnect (as a single "link" in this broken chain completely disengages the entire system). What's more, the more riders there are using this daisy chain system, the weaker the signal will be. This means that every time the chain is broken — or every time you turn off the comm system — it has to be manually rebooted and reconnected in order to be paired with the other comms (and/or the primary user's smartphone).
On the other hand, with newer, more-advanced mesh systems, each individual comm system acts as its own communication hub that utilizes software that constantly attempts to connect with other nearby units in the best and most efficient way possible, creating a dynamic web rather than a rigid chain. Mesh systems also allow users to select from one of a myriad of specific mesh channels — not unlike using channels on a walkie-talkie. What's more, mesh comms don't need to be reconnected or paired every time that they're used, and instead, automatically pair or reconnect to the comm's network once turned back on or back in range — even after being left unused for a year or more. Best of all, pairing a dozen mesh comm systems is no more difficult than pairing two — unlike Bluetooth systems that each have to be individually connected/reconnected each time.
Another important factor that separates mesh systems from their Bluetooth-enabled counterparts is the overall strength and quality of the signal, with mesh units offering an objectively superior experience and higher performance. And, while Bluetooth technology is fairly standard across the board — aside from which generation of the tech is being used — the two biggest leading brands in the moto comm space — Sena and Cardo — utilize their own proprietary mesh technologies, with the former offering "Mesh 2.0" and the latter using DMC — or "Dynamic Mesh Communication."
Custom Comm Systems 101
Exploring The Best Bluetooth-Ready Helmets & Their Accompanying Comms
There are admittedly motorcycle helmets that come straight from the factory with built-in comm systems, however, the reality is that — with the exception of one or two models — most of these lids are of extremely low quality, offer lackluster protection, and often subpar comm performance. Fortunately, as comm systems become increasingly essential for riders, more and more of today's most reputable helmet brands have begun partnering with leading comm systems companies — like Cardo and Sena — to produce units that are custom designed to neatly integrate into a specific brain bucket.
While this does mean making two separate purchases — which can typically be bought from a single retailer — it's still a markedly easier, more convenient, and user-friendly experience, as these helmets come straight from the factory with recesses for microphones, speakers, and the necessary wiring. On top of often being of the simple plug-and-play variety, many of the units to control these comms also neatly integrated into the helmet, oftentimes with small panels that can be removed to accommodate the comm.
Moto Helmet Must-Haves
The Six Most Important Factors To Consider When Buying A Helmet
If you've never purchased a new motorcycle helmet, it can be a little tricky knowing what to look for. So, with this in mind, we've pieced together this condensed guide on the six most crucial areas to consider before buying your next brain bucket.
Materials & Construction: The single biggest factor that determines a helmet's overall quality — and the level of protection it affords — is the materials used to make it, more specifically, the construction of the shell and its underlying, impact-absorbing liner. While most liners are of the EPS variety, shells come in a wide range of constructions ranging from fiberglass to carbon fiber to various cutting-edge composites. Likewise, you'll also want to look into the type of lining and construction(s) used for interior elements such as the cheek pads — many of which are removable, machine-washable, quick-drying, moisture-wicking, and antimicrobial.
Ventilation & Noise: This area has always been a delicate balancing act, as airflow and ventilation are crucial to keeping the rider cool, though excessive wind can also be incredibly loud — to the point where it can actually damage a rider's hearing. The noisiness of a helmet becomes even more important when dealing with comm systems, as ample wind noise will make it exceedingly difficult for you to hear music or calls (or have the person on the other end of the call hear you). The good news here is that more and more of today's comm systems now rely on active noise cancelation tech to drown out unwanted wind noise and bolster call and audio clarity.
Weight: Because a helmet's weight is supported by the rider's neck, weight is another hugely important area to review when buying a helmet. Fortunately, advancements in this area have resulted in some incredibly lightweight materials and models that still offer cutting-edge levels of protection. Comm systems are also designed to be as lightweight as possible so they don't add unnecessary heft.
Shell Size & Fit: For a helmet to properly do its job and be as effective as possible, it needs to snugly fit its wearer. In an effort to achieve a more precise — and therefore effective — fit, many of today's more premium helmet makers produce models in a variety of different shell sizes. Alongside the materials, constructions, and bells and whistles, the number of shell sizes offered is a key area that separates more high-end models from their more budget-minded counterparts.
Comm-Readiness: Practically any helmet on the market can be fitted with an aftermarket comm system, though a growing number of today's best helmets are now offered with accompanying comm systems that were custom-engineered to fit them. This area mainly boils down to how well the comm has been integrated into the design of the helmet.
Additional Amenities: Manufacturers have been bestowing helmets with an increasing number of supplementary bells and whistles in recent years. This includes features like pin-lock-ready face shields, emergency quick-release systems, internal drop-down sun visors, and ratcheting or FIDLOCK chin straps, just to name a few. There are even helmets on the market with built-in crash detection software and SOS beacons.
Comm Qualities
What To Look For When Buying A Moto Comm System
Communication systems can also make for a somewhat intimidating shopping experience, so we've gone ahead and written up this short guide on six of the most important elements to take into account when buying a moto comm system.
Audio Quality: Because the entire purpose of a comm system is to allow its user to listen to music and GPS directions or take phone calls, audio quality is unsurprisingly extremely important. Luckily, the makers of today's best comm systems are well aware of this and often call on reputable audio brands — like JBL or Harmon Kardon — to design the drivers, speakers, and mics used in these comms. This audio quality can also be bolstered by the use of active noise-canceling tech.
Technology & Connectivity: Next to audio quality, the other most important factor that determines a comm's overall performance is the type of technology (or technologies) that it uses. The two main types of tech used for helmets are Bluetooth and Mesh, as discussed above. Most of today's comm systems can also be paired with smartphone apps.
Range: This is a fairly straightforward area of consideration, as it tells you how far away two riders can be before losing signal or connection. Not only will these figures hugely vary depending on whether the system is running a mesh or Bluetooth setup, but this area will also be impacted by the region and typography in which the comm is being used, as clear unobstructed landscapes allow for greater range than hilly valleys or other locales with large obstructions or buildings.
Rider Compatability: This area denotes how many individual users can link into the same comm network — a crucial feature for group rides. While chances are you'll seldom be linking up with more than a handful of riders, most of today's systems can accommodate a dozen or more users at once. It's also worth factoring in how a specific comm system goes about pairing with other devices, as some make this process substantially easier than others.
Battery Life & Talk Time: Another extremely important area to consider when buying a comm system is battery life, as this will limit the amount of talk time or music playback time you can get on a single charge. Luckily — largely thanks to advancements with gadgets like smartphone batteries — the cells in modern comm systems typically afford at least 12 hours of use before needing to be returned to a charger.
Additional Amenities: Just like with helmets themselves, comm systems often come outfitted with a host of supplementary elements to add more value or convenience. These include features and functions such as an onboard FM radio and connectivity to dedicated smartphone apps and turn-by-turn GPS directions.
Preinstalled Protection
Factory-Built Bluetooth Helmets
Quin McQ Helmet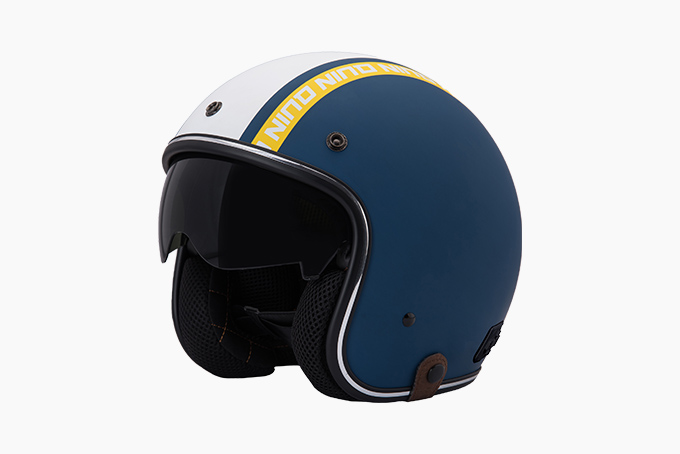 Pros
3/4-style helmet w/ onboard comm system
Offers great value
Features quilted interior & drop-down visor
Has optional snap-on full-face visor
Is equipped w/ built-in SOS beacon
Cons
Lacks full-coverage protection of full-face helmet
Best Vintage-Inspired Pick: Aiming to harness the benefits of modern technology while delivering them in a decidedly retro-inspired package, Quin's McQ helmet is a vintage-style 3/4 lid that conceals a host of thoroughly contemporary features. Alongside a DOT certification and an internal drop-down sun visor, the McQ — which takes its name from the so-called "King of Cool" — also packs a built-in Bluetooth comm system with externally-mounted button controls, plus a crash detection system and an SOS beacon. The exterior of this 3/4 item features a design with premium pinstriping — that's offered in a trio of color options — while the interior has been treated to an attractive diamond-quilted liner.
Shell Material: Polycarbonate Thermoplastic ABS
Weight: 2.79LBS
Origin: America
Range: N/A
Battery Life: N/A
Tech: Bluetooth 4.0
Sena Impulse Modular Smart Helmet
Pros
Built-in comm has Bluetooth & mesh tech
Offers 18 hours of battery, 5-mile range, & support for 24 riders
Fitted w/ Harman Kardon speakers
Offered w/ optional Magnetic Pogo charging port
Features rear-mounted LED brake/taillight
Cons
Lacks fit & finish of more premium helmets
Best Preinstalled Comm Pick: The first truly premium moto helmet model to come fitted with a factory-integrated comm, Sena's all-new Impulse Modular Mesh Bluetooth Helmet is crafted around an ultra-rugged yet lightweight composite fiberglass shell. The helmet features a state-of-the-art comm system with Bluetooth and Mesh connectivity, a pin-lock-ready visor, a DOT-certification, an optional Magnetic Pogo charging port, support for up to two dozen riders, a maximum range of 5 miles, 18 hours of talk time, compatibility with voice-activated smart assistants (like Siri and Hey Google), a retractable sun visor, and a premium microphone and speaker setup courtesy of Harman Kardon. On top of physical button controls integrated into the left side of the helmet, this model also sports a supplementary rear LED tail and brake light that helps to ensure the rider is seen by other drivers while out on the road.
Shell Material: Composite Fiberglass
Weight: 3.88LBS
Origin: America
Range: Up To 5 Miles
Battery Life: 18 Hours
Tech: Mesh & Bluetooth
Comm-Ready Lids
Bluetooth-Ready Brain Buckets
Nolan N100-5 Helmet
Pros
Offers great value
Made in Italy
Ships w/ UV-protected visor made from LEXAN glass
Comm system includes helmet-mounted LED brake/taillight
Physical comm unit has super simple 3-button setup easy to use w/ gloves
Cons
On the heavier side at nearly 4.0lbs (not including weight of comm)
Polycarbonate shell not as strong/lightweight as carbon fiber
Best Safety Pick: An Italian-made modular moto helmet with an advanced polycarbonate shell, the Nolan N100-5 is a lightweight daily-use lid benefitting from features developed for MotoGP helmets. Designed to accommodate Nolan's N-Com comm system, the N100-5 sports recesses for speakers and a microphone, a dual-action chin guard opening system, a Microlock double lever chin strap retention system, a wildly effective ventilation system with Air Booster technology, a fully removable and washable neck roll, single block cheek pads, Clima Comfort lining, and a UV 400-rated VPS sun shield molded out of LEXAN glass — a construction typically reserved for the windows of race cars.
Shell Material: Polycarbonate
Weight: 3.96LBS
Origin: Italy
Nolan N-Com B902-L R Comm System
Made to neatly integrate into Nolan's helmets, the N-Com features voice-activated prompts, an MP3 player, an FM radio, connectivity to the N-Com app, and connection to a myriad of moto-specific audio systems from brands like Harley-Davidson, Honda, BMW, and Ducati. Alongside the comm system itself, this moto gadget also features a supplementary LED tail and brake light that mounts to the back of the helmet.
Range: 0.43 Miles
Battery Life: 15 Hours
Tech: Bluetooth 4.1
Ruroc Atlas 4.0 Helmet
Pros
Has 3-piece EPS liner infused w/ NASA-developed RHEON reactive polymer
Secured using self-guiding magnetic FIDLOCK buckle
Features a pin-lock-compatible visor w/ 215º horizontal FOV
Ships w/ preinstallation ports for Ruroc Shockwave Bluetooth comm system
Sold in enormous variety of colors, graphics, patterns, & designs
Free comm system included w/ purchase of any carbon Atlas 4.0 lid
Cons
Aggressive appearance not for everyone
Best Value Pick: Ruroc's fourth and latest generation flagship moto lid, the Atlas 4.0 is an ultra-advanced helmet with a carbon fiber shell that sees NASA-developed RHEON reactive polymer integrated into its three-part multi-density EPS liner. More than 50% quieter than its predecessor, the Atlas 4.0 also features a self-guiding magnetic FIDLOCK buckle, custom zippered cheek pads, an emergency quick release system, a pin-lock-compatible visor, a 215º horizontal field of view, and open-and-closeable ventilation ports. Ruroc also offers the Atlas 4.0 in an enormous variety of solid colors, exposed carbon, and unique graphic designs.
Shell Material: Carbon Fiber
Weight: 3.3LBS
Origin: United Kingdom
Ruroc Shockwave Comm System
Compatible with Ruroc's third and fourth-gen Atlas helmets, the Shockwave is a shock and water-resistant Bluetooth comm system that packs a pair of 40mm dynamic drivers, a control pad that houses in the helmet's neckroll, and a USB-C rechargeable battery that affords eight hours of talk or music playback time. And, between speaker and mic recesses and a magnetic coupling system, installing this comm system is a breeze.
Range: N/A
Battery Life: 8 Hours
Tech: Bluetooth 4.1
Nexx X.Vilijord Helmet
Pros
Made in small batches in Portugal
Features drop-down visor & removable/adjustable peak
Sold in variety of solid colors & ultra-unique graphics
Comes standard w/ removable top & side action camera supports
X.MART DRY fabric-upholstered interior has Morfofit Cheek pads & winter membrane
Cons
On the heavier side at nearly 4.0lbs
Best Adventure/Off-Road Pick: Produced in a trio of shell sizes and a slew of solid color options and graphic designs, the Nexx X.Vilijord is an incredibly calculated and cutting-edge adventure motorcycle helmet that sports an X-MATRIX 2 carbon shell, a removable face shield with recessed pin-lock, off-road chin ventilation, a drop-down sun visor, a removable beak, and a premium interior with X.MART DRY fabrics, Morfofit cheek pads, and a winter membrane. In addition to being made to seamlessly support Nexx's X-Com comm system, the X.Vilijord also comes with removable top and side action camera mounts.
Shell Material: X-MATRIX 2
Weight: 3.9LBS
Origin: Portugal
Nexx X-Com Bluetooth Headset
An objectively advanced comm that's brimming with impressive features, the Nexx X-Com headset offers GPS directions, music playback, and standard calling, as well as multipoint Bluetooth pairing with GPS navigation and the ability to pair with two mobile phones, compatibility with a two-way radio adapter, four-way conference intercom calling, and three-way conference phone calling with an intercom participant. Also boasting a 0.5-mile range and upgradeable firmware, this comm can be used to control action cameras through its audio-video remote control Bluetooth profile. 
Range: 0.5 Miles
Battery Life: 10 Hours
Tech: Bluetooth 3.0
Shoei GT-Air II Helmet
Pros
Super versatile full-face helmet that's loaded w/ features
Made by hand in Japan
Offers Shoei's usual world-class build quality & protection
Comes prewired w/ ports for Sena SRL2 comm system
Also great for touring use
Cons
Expensive comm price for non-mesh system
Best Commuter Pick: The successor to Shoei's already immensely popular GT Air model, the second generation of this Japanese-made brain bucket is crafted around a multi-ply Matrix Advanced Integrated Plus shell with a more aerodynamic design, a molded air spoiler, and a multi-piece EPS liner. Made in three shell sizes, this lid is also equipped with a drop-down sun shield, a micro-ratcheting chin-strip, an emergency quick-release system, a CNS-1 three-dimensionally curved face shield that's sold with an included pin-lock, a trio of intakes and half-a-dozen exhaust ports, a 3-D Max-Dry center pad, and multi-layered, polyurethane foam cheek pads. This is quite possibly the finest daily-use, all-arounder helmet that money can currently buy.
Shell Material: Multi-Ply Matrix AIM+
Weight: 3.79LBS
Origin: Japan
Shoei SRL II Bluetooth Headset By Sena
The GT Air II features a small removable triangular panel that can be popped out to accommodate the SRL II, a cutting-edge headset designed by Sena specifically for the second-gen GT Air. Utilizing an ultra-compact unibody design, the SRL II packs an eight-way group intercom feature, a one-mile range, voice-prompt-readiness, a built-in FM radio tuner, Bluetooth 4.1 technology, upgradeable firmware, connectivity to an iOS and Android app, a Lithium polymer battery offering ten hours of battery life, an audio-video remote control profile, built-in SBC and wideband codecs, advanced noise control, and the ability to share music between the rider and their passenger.
Range: 1 Mile
Battery Life: 10 Hours
Tech: Bluetooth 4.1
Schuberth C4 Pro Carbon Helmet
Pros
Sold w/ handlebar-mounted comm controller
Made by same department also responsible for crafting brand's F1 driver's helmets
Ships w/ preinstalled comm components
One of the best modular helmets on the market
Sports premium materials, build quality, & fit & finish
Cons
Expensive price
On the heavier side at nearly 4.0lbs
Best Fully-Integrated Pick: Borrowing lessons learned making the German brand's helmets for top Formula 1 racing drivers, Schuberth's C4 Pro Carbon helmet is an extremely top-shelf modular model that packs an all-carbon fiber shell covering a specially-optimized EPS foam liner with an advanced, sectional, multi-part design that maximizes shock absorption. This helmet also boasts a complex, multi-channel ventilation system, a pin-lock-equipped extra-wide viewport visor, and a plush, fully-removable and washable interior with Coolmax fabric and antimicrobial properties. What's more, this model comes with a preinstalled integrated antenna and onboard microphone and speakers for ultra-easy support for Schuberth's plug-and-play SC1 Advanced comm system,
Shell Material: Carbon Fiber
Weight: 3.91LBS
Origin: Germany
Schuberth SC1 Advanced Comm System
Quite possibly the best example of an optional comm system integration into a helmet, Schuberth's SC1 Advanced unit — which was also designed by the German brand with help from Sena and uses a host of the comm company's proprietary technologies — simply pops into a covered recess in the back of the shell, making for a ridiculously easy installation process that makes the most of the helmet's preinstalled comm components (which don't work without the SC1). Compatible with all of Schuberth's C4 and R2 helmets, this comm features connectivity to a dedicated smartphone app, an FM radio, music sharing, pairing with up to four riders, and a battery with 14 hours of talk time and up to a week of standby time. Schuberth also makes a more affordable non-advanced spec of the SC1 comm system with a slightly less capable range and battery life.
Range: 1 Mile
Battery Life: 14 Hours
Tech: Bluetooth 4.1
AGV Sportmodular Helmet
Pros
Game-changing/bar-raising top-shelf modular moto lid
Made by hand in Italy
Has dynamic weight of zero at 75-mph speeds
Exceeds ECE homologation standards even w/ chin-bar flipped up
Cheek pads made from Ritmo, synthetic leather, Microsense comfort skin, & Shalimar fabrics
Cons
Comm system lacking in battery life
Ark comm requires adapter plater for certain AGV helmets
Best Premium Pick: A true marvel of engineering, AGV's thoroughly top-shelf Sportmodular helmet is an Italian-made, carbon fiber-shelled modular lid that offers the absolute pinnacle of protection while tipping the scales at only 3.2lbs. Underneath its shell — which is produced in three sizes — is a five-density EPS foam liner, AGV's Integrated Ventilation System, a dual-climate reversible crown pad, a Shalimar and Nabuk fabric neck-roll, and cheek pads crafted from Ritmo and moisture-wicking 2Dry. DOT and ECE-certified, the Sportmodular also features a quick and easy-to-use rapid release visor system, an all-metal face shield mechanism, an adjustable integrated spoiler, AGV's pin-lock-equipped GT3 face shield, and a double D-ring retention system constructed from titanium.
Shell Material: Carbon Fiber
Weight: 3.2LBS
Origin: Italy
AGV Ark Intercom
When AGV wanted to produce a cutting-edge comm system, the Italian outfit called on the experts over at Sena to develop the Ark. Boasting an ultra-sleek and low-profile design, the AGV Arc features Bluetooth 4.1 tech, an FM radio, the ability to link up to three other riders, hands-free and audio-video remote control Bluetooth profiles, a one-mile range (in open terrain), an onboard SBC codec, Sena's proprietary advanced noise control technology, and the leading comm company's Sena's 10S chipset. AGV also sells a removable, wireless handlebar remote controller for the Ark.
Range: 1 Mile
Battery Life: 4 Hours
Tech: Bluetooth 4.1
The Best Motorcycle Helmets For Every Rider
Not interested in a comm system but still need a new lid? Then be sure to check out our more robust guide to the best motorcycle helmets you can buy for an in-depth look at the finest brain buckets currently in production.