It's no secret that, in the car world, there are different classes of vehicles that cater to the needs and desires of different people. Those who need to get from A to B regularly can pick up a simple daily driver. Speed-obsessed playboys have their pick of high-end sports cars. And off-the-grid adventurers almost always turn to Overlanding SUV models.
What you might not know is that there are other, lesser-known categories that fit between the lines. In this case, the rides we're focusing on are too performance-focused to be considered daily drivers, to small and stripped-down to rank amongst sports cars, and they're definitely not made for off-roading. Sometimes classified as exocars, motorcycle alternatives, trikes, and more — we're calling them go-karts. And the following, while being stripped-down speedsters, are not only allowed on public roads, but also currently stand as the best street-legal go-karts on the market.
The Best Street-Legal Go-Karts
Best Value Pick

Polaris Slingshot R

Best Electric Pick

Vanderhall Santarosa GTS

Best Neo-Retro Pick

Morgan Super 3 Speedster

Best Lightweight Pick

Campagna T-Rex RR 2023

Best Continuation Car Pick

Caterham Seven 620

Best Track-Ready Pick

Ariel Atom 4

Best Overall Pick

KTM X-BOW GT

Best Single-Seater Pick

BAC Mono R
What Exactly Is A Street-Legal Go-Kart?
For the sake of this article, what we're referring to as street-legal go-karts aren't literal go-karts that boast road-legal status, but instead small, lightweight, open-top rides with ultra-quick and nimble performance that's often compared to that of a go-kart. Sometimes legally classified as motorcycles, these vehicles that we call road-legal go-karts are also almost always incredibly spartan in nature, possessing only the bare essentials needed for high-performance driving, and little else. Additionally, these models fall under the umbrella of true driver's cars, as they're also immensely performance-focused, typically being powered by potent powertrains and fitted with tight, track-ready suspension. In fact, the combination of an extremely minimalistic interior and a purely performance-focused design often results in these machines looking more like a vehicle you'd see on a race track rather than a public road.
Big Boy Toys
What Factors Should I Consider When Buying A Street-Legal Go-Kart?
It doesn't take an automotive expert to know that street-legal go-karts are vastly different from your average road-going cars. As such, it's extremely helpful to have a basic understanding of the main areas one should consider when shopping for you — the most important of which we've highlighted directly below in this guide to the top ten key elements to focus on when purchasing a road-legal go-kart.
Engine: As the heart — and arguably soul — of the vehicle, a street-legal go-kart's engine is of monumental importance, as it directly determines every model's performance capabilities and overall driving experience. When reviewing this area, you'll want to look at the size of the engine, its number of cylinder, its layout, its cooling system, and whether it's naturally aspirated, supercharged, or turbocharged. Additionally, because road-legal go-karts are often produced by boutique companies, many of these models utilize powertrains from larger manufacturers. This latter fact makes it well-worth looking into where each engine is sourced from.
Transmission: Street-legal go-karts can feature a myriad fo different transmission types, each with their own unique strengths and drawbacks. Some of the most commonly-used types include manual gearboxes, sequential units, and automatic transmissions — the latter of which are sometimes controlled via paddle-shifters.
Running Gear: In addition to the vehicle's frame, another factor that willl play a massive role in a street-legal kart's overall performance is the running gear that it's using. This includes componentry such as the vehicle's suspension setup and braking hardware.
Power & Performance Capabilities: When coupled with a vehicle's weight (and gearing), a road-legal go-kart's horsepower and torque figures should provide an objective sense of the vehicle's capabilities. As a benchmark, it also helps to look to these vehicles' acceleration (0-60mph) time, braking time, and top speed, as these all give a very clear sense of real-world performance.
Practicality: If you're looking for a practical grocery-getter or family hauler, then keep on looking, a street-legal go-karts make for some of the least practical and utilitarian vehicles that money can buy. With that said, street-legal go-karts can differ in regards to practicality, with some boasting some trunks, glove compartments, and other storage amenities, while others are completely devoid of these amenities. This element can also massively impact one of these's vehicle's conduciveness — or lack thereof — to applications like touring.
Weight: Another key difference between regular cars and street-legal go-karts is the latter's weight, as road-going kart-style vehicles typically boast ultra-svelte curb weights that make for incredibly nimble handling and impressive power-to-weight ratios that allow for super-quick acceleration off the line.
Seating: As generally minimalistic, performance-focused vehicles, the vast majority of road-legal go-kart-style models feature single and dual-passenger seating arrangements, though the overall comfort and roominess of these seating configurations can hugely vary from model to model — making this another crucial area to examine when shopping.
Amenities & Creature Comforts: Most street-legal go-karts are largely spartan vehicles that have been stripped down to just the bare essentials needed for spirited driving. With that said, the number of creature comforts offered on these vehicles can also massively vary, with some featuring stereos, infotainment displays, air conditioning systems, and power windows, (just to name a few) while others are totally devoid of these elements — again, making this yet another pivotal area to review when shopping.
Build Quality: Unlike your average road-going car, street-legal go-karts are almost exclusively manufactured by boutique marques. As a result, the build quality of these vehicles can hugely vary from company to company. While it can be difficult to glean an accurate sense of this area simply by looking at a brochure or website, some poking around on forums, blogs, and reviews should give some insight into this area.
Running Costs: Just like with any other car or motorcycle, the amount of money its takes to operate, insure, and maintain a road-legal go-kart can massively vary, with some models being relatively straight forward and easy to service while others required trained specialists (which can be exorbitant). For this reason, you'll want to factor running costs into the equation when shopping, instead of merely considering a model's MSRP.
Polaris Slingshot R
Pros
Offers fantastic value
Traction control can be disabled for easy drifting
Features head-turning, hypercar-esque looks
Low running costs
Sold w/ wide range of optional accessories & packages
Cons
Uncomfortable, hard seats
Best Value Pick: We know you've probably seen the Polaris Slingshot out on the roads and thought to yourself, "who would drive such an ugly and strange vehicle?" The answer: anyone who has taken one out for a test drive and realized exactly what a fun little street demon the thing is — especially the range-topping R trim. While it certainly looks like you might have driven it off the track at your local putt-putt golf course, this little topless trike is completely street-legal, and was even classified as a motorcycle upon its debut. And while it's definitely a pared-down racer — with 203 horsepower, 144 foot-pounds of torque, and a stripped-down curb weight of just 1,651 pounds — it's also got a few handy features that make it a bit more versatile than you might first think. That includes a navigation-equipped full-color 7″ display, an upgradable interior with killer sound system options, and an option for a removable top (perfect for when the sun is a bit too high and hot in the sky.
Check out our in-depth Polaris Slingshot review here.
Engine: 2.0L Inline-Four
Power: 203HP & 144FT-LBs
Top Speed: 125MPH (electronically limited)
0-60MPH Time: 4.9 Seconds
Curb Weight: 1,651LBs
MSRP: $33,999
Vanderhall Santarosa GTS
Pros
Has range of 300 miles
Offered w/ huge variety of wheel, paint, & upholstery options
Features a super plush & comfortable interior
Excellent combination of modern & vintage design elements
Cons
Requires lengthy charge time
Best Electric Pick: Successor to the company's earlier EV model, the Edison², the Vanderhall Santarosa GTS is the range-topping version of the Utah-based outfit's new neo-retro-styled, fully-electric roadster. Utilizing a reverse trike design with a single powered wheel in the rear and a pair of wheels out in front, the GTS-spec Santarosa is kicked along by a 132-kW electric motor that makes 180hp and 216ft-lbs of torque, allowing the roughly 1,500-pound vehicle to hit 60mph from a complete standstill in less than four seconds. On top of its nimble and spirited performance capabilities — and an impressive 300-mile range — the Santarosa GTS is made all the more impressive by its hand-crafted luxury interior that, like the exterior, utilizes a combination of contemporary and retro visual themes. Heavily utilizing carbon fiber in its construction, this Vanderhall vehicle is also offered with a wide range of upholstery options, livery choices, and different wheel-sets. This model can also be configured with a hardtop roof.
Engine: 132kW Electric Motor
Power: 180HP & 216FT-LBs
Top Speed: TBD
0-60MPH Time: Under 4 Seconds
Curb Weight: 1,570LBs
MSRP: $48,950
Morgan Super 3 Speedster
Pros
Finally being sold on US shores
Updated take on legendary British car dating back over a century
Has neo-retro jet age-inspired design
Sold w/ wide range of optional accessories
Cons
Unimpressive 0-60 & top speed figures
Brakes have no ABS or servo assistance
Best Neo-Retro Pick: The Morgan Motor Company was founded in 1910 by Henry Frederick Stanley Morgan, just a year prior to debuting its first motorized three-wheeled design. Over the years, these trikes have steadily evolved, most recently culminating in the debut of the all-new Morgan Super 3 Speedster — a highly-anticipated model that's finally being sold on U.S. shores. Constructed around an aluminum modular monocoque chassis, the Super 3 Speedster is kicked along by a forward-mid-mounted 1.4-liter inline-three Ford Dragon engine that comes mated to a five-speed manual transmission. Good for 118hp and 111ft-lbs of torque at 6,500rpm and 4,500rpm, respectively, this naturally-aspirated three-banger enables this neo-retro three-wheeler to clock 0-60mph runs in seven seconds and reach a top speed of 130mph. Morgan also allows customers to personalize this model via a wealth of available add-ons and accessories that can hugely alter the vehicle's appearance and personality.
Engine: 1.4L Inline-Three
Power: 118HP & 111FT-LBs
Top Speed: 130MPH
0-60MPH Time: 7 Seconds
Dry Weight: 1,400LBs
MSRP: $53,938
Campagna T-Rex RR 2023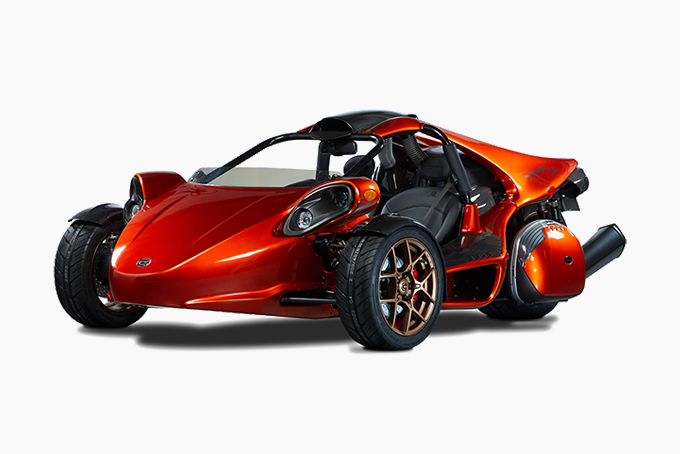 Pros
Powered by engine from Kawasaki ZX-14R superbike
Weighs under 1,100lbs
Full roll-cage afford excellent safety
Sports exotic-looking bodywork available in carbon fiber
Comes w/ removable storage pods w/ 92 liters of cargo space
Equipped w/ sequential gearbox
Cons
No power steering or traction control
Best Lightweight Pick: Produced by a boutique Quebec-based firm since 1994, the Campagna T-Rex is an exotic, high-performance reverse trike that's received a slew of major tweaks year after year. The latest version of this predatory three-wheeler — the Campagna T-Rex RR 2023 — features a chassis with a complete roll-cage and a suspension setup with a front dual wishbone arrangement and custom RR5 fully adjustable coil-over shocks that allows it to handle up to 1.3 Gs of lateral acceleration in the corners. Mounted behind the driver is the high-revving 208-hp 1,441cc inline-four from Kawasaki's Ninja ZX-14R superbike, which has been mated to a sequential six-speed transmission. WIth a weight of under 1,100lbs, the RR-spec trike can do 0-60mph runs in under four seconds. The T-Rex RR 2023 also comes draped in exotic-looking, Italian-inspired bodywork that's offered in a carbon fiber construction as an upgraded option. This road-legal go-kart also sports V-shaped 10-spoke aluminum race wheels and custom-branded four-piston Wilwood calipers. Other highlights include removable waterproof side storage pods with 92 liters of cargo space, a backup camera and revere function, sport seats trimmed in marine-grade upholstery, and a flat-bottom Alcantara Sparco steering wheel.
Engine: 1.4L Inline-Four
Power: 208HP & 116.5FT-LBs
Top Speed: 144MPH
0-60MPH Time: 3.9 Seconds
Curb Weight: 1,098LBs
MSRP: $68,999
Caterham Seven 620
Pros
Classically-styled continuation car w/ modern performance
Comes standard w/ race-developed cooling package
Impressive top speed & acceleration
Powered by supercharged Ford Duratec engine w/ carbon covers
Also sold in more affordable lower trim levels
Cons
Very dated looking design
Best Continuation Car Pick: The origins of the Caterham Seven date back to the mid-1950s, when the British carmakers at Lotus built their version of the Seven as an entry-level replacement for their Mark VI. That car went on to become legendary in both the racing world and the larger automotive world — even after Lotus killed it off. It was then that Caterham bought the rights to the design and started producing their own versions of the little roadster. Today, the Caterham Seven 620 is the culmination of decades of racing, engineering, and design. And it has an insane power-to-weight ratio, with its supercharged 310-horsepower four-cylinder Ford Duratec engine and a curb weight of just under 1,344 pounds — elements that together result in a sub-3-second 0-60mph time and a top speed of just shy of 150mph. Done up with loads of carbon fiber, both inside and out, this is a classically-styled range-topping "continuation kart" loaded with modern components that make for a whole lot of fun, whether you're hitting the race track or just going for a quick spin around the neighborhood.
Engine: Supercharged 2.0L Inline-Four
Power: 310HP & 219FT-LBs
Top Speed: 149MPH
0-60MPH Time: 2.79 Seconds
Curb Weight: 1,344LBs
MSRP: $72,920
Ariel Atom 4
Pros
Ultra-spartan, super-stripped-down purely performance-focused design
Uses premium components from JRi, AIM, Brembo, Eibach, & more
Powered by 320-HP Honda 2.0 VTEC Turbo engine
Offered w/ huge range of upgrades including available 350-HP option
Is quicker than a Ferrari & can handle more lateral G than a Porsche GT3
Cons
Traction control & limited slip diff only offered as add-ons
Best Track-Ready Pick: The Ariel Atom — in all its iterations — has no doors, no roof, very little in the way of body panels, and a cockpit that lacks just about everything outside of the bare essentials. And that makes it a formidable driving machine — especially when you pair those features (which keep the weight down to an impressively-lightweight 1,312 pounds) with the 4th generation's gargantuan 320-horsepower beating heart. What's probably most impressive, however, is that the Ariel Atom 4 comes with all that and it is still perfectly street-legal. That turbocharged Honda-sourced four-cylinder powerplant also gives this little four-wheeled rocket a 0-60 time of 2.8 seconds — that's supercar-level quickness — and a top speed of a whopping 162 miles per hour. With just a five-point racing seat separating the driver and the road, we'd like to see the man brave enough to push this little two-seater go-kart to its limits. We're just not sure if he'd be a fool or our hero.
Engine: Turbocharged 2.0L Inline-Four
Power: 320HP & 310FT-LBs
Top Speed: 162MPH
0-60MPH Time: 2.8 Seconds
Curb Weight: 1,312LBs
MSRP: $83,750
KTM X-BOW GT
Pros
World's first production vehicle with a carbon fiber monocoque
Features full aero kit & various pieces of carbon fiber bodywork
Monocoque-integrated aluminum roll-bars can withstand 2.5-times the vehicle's weight
Uses turbo engine & 6-speed manual gearbox sourced from Audi
Best Overall Pick: You might take a look at the KTM X-Bow GT and think it looks an awful lot like the Polaris Slingshot. But there are some very big differences between the two. For starters, the KTM has four wheels. It's also over $100k more than the Polaris. Of course, that price difference can also be counted in horsepower — the Slingshot gets just 173 to the X-Bow's 300. And that's just the beginning. The X-Bow GT also has a top speed of 143.5 mph, does 0-60 in 4.1 seconds, has a wider and lower center of gravity (making it safer and more stable), and comes with a racing-developed suspension. The first-ever production vehicle to be constructed around a carbon fiber monocoque, this model is also powered by an Audi-sourced turbocharged five-cylinder TFSI engine paired with an Audi-sourced six-speed manual. It also gets underside protection, ergonomic integrated Recaro seats, and so much more. The KTM X-Bow GT isn't for people who want the Polaris Slingshot SLR. It's for people who want a good deal more out of their street-legal go-kart.
Engine: Turbocharged 2.5L Five-Cylinder
Power: 300HP & 309FT-LBs
Top Speed: 143.5MPH
0-60MPH Time: 4.1 Seconds
Curb Weight: 1,867LBs
MSRP: $139,000
BAC Mono R
Pros
Uses F1-style single-seater setup
Equipped w/ 6-speed sequential gearbox
Features Graphene-enhanced carbon fiber bodywork w/ full aero kit
Has best HP-to-liter ratio of any naturally-aspirated road-legal production car
Affords world-class levels of performance normally reserved for exorbitant track-only vehicles
Best Single-Seater Pick: Utilizing a central, single-seat design — not unlike that of an F1 car — the Briggs Automotive Company's Mono R is one of the most advanced vehicles in the world, having been developed and designed using a spare-no-expense approach. Boasting an almost perfect 50:50 weight distribution (technically 49:51), the single-seater sports a 2nd-gen TIG-welded chassis draped in Graphene-enhanced, super light carbon composite bodywork complete with a full aero kit and a carbon fiber performance crash box. The car's cockpit-like interior comes loaded with a race-style display, a fixed carbon fiber seat, and a custom carbon construction competition-style steering wheel. Riding on a set of custom BAC x OZ Racing HRT alloy wheels, the Mono R also features some of the most high-end componentry that money can buy including a top-of-the-line, fully-adjustable suspension setup and track-ready AP Racing braking hardware. And, despite several other models on this list being offered with a wide array of available add-ons and bespoke options, BAC's Mono R takes this customization potential to new heights with an unparalleled selection of options to personalize the vehicle and make it your own.
Engine: 2.5L Inline-Four
Power: 342HP & 243.4FT-LBs
Top Speed: 217MPH
0-60MPH Time: 2.7 Seconds
Curb Weight: 1,223.5LBs
MSRP: $244,335
The Best True Driver's Cars
Interested in something a bit more practical that still offers some seriously spirited performance? Then be sure to cruise on over to our guide to the best true driver's cars for a look at our favorite minimalistic, performance-driven rides currently available on showroom floors.