In 1956, the U.S. government passed the Federal-Aid Highway Act, allocating $26B to construct an initial 41,000-mile interstate network. In response to the network's construction, countless restaurants, motels, and roadside attractions would pop up along these now-iconic highways in order to cater to automotive travelers — ultimately kicking off a grand and long-held tradition of road tripping that's as American as baseball or apple pie.
And while there are plenty of factors that can have an enormous impact on the overall quality of your time spent on the road — such as your starting point, ultimate destination, travel companions, and budget — the single biggest variable is undoubtedly one's choice of ride. With the exception of a handful of new EVs, practically every car currently in production is more than capable of taking on cross-country touring duties, however, there's a shortlist of models that objectively lend themselves to road-tripping far better than anything else on the market. And it's this crop of vehicles that we'll be exploring today in this guide to the best road trip cars you can buy — delving into the most capable long-distance cars available, along with what factors and qualities make a model ideal for long-haul travel.
The Best Road Trip Cars Rundown
Best Affordable Pick

Subaru Outback

Best Retro-Inspired

Ford Bronco Sport

Best Two-Door

Abarth 124GT

Best Long-Range Pick

Volvo XC60 Recharge

Best Full-Size SUV

Jeep Grand Wagoneer

Best Sport Wagon

Audi RS 6 Avant Performance

Best EV

Porsche Taycan GTS Sport Turismo

Best Grand-Tourer

BMW ALPINA B8 xDrive Gran Coupe

Best Hybrid Pick

Bentley Flying Spur Hybrid

Best Mid-Sized SUV

Aston Martin DBX707
Cross-Country Capabilities
What Factors Make For An Ideal Road Trip Car?
Though there are clearly several blatant areas to explore when buying a road trip-focused car — such as range, comfort, and cargo space — there's also a myriad of less obvious, though still massively important elements to take into consideration when shopping in this space. Below, we'll briefly touch on seven of the most pivotal areas to think about prior to pulling the trigger on your purchase.
Range: Though most of the world's major highway networks are littered with gas stations and service shops, the reality is that having to exit the freeway and pull over every other hour to fill up isn't exactly convenient, which is why a car's range (on a single tank) is of such importance. At the very least, you'll want a vehicle that affords several hundred miles of autonomy between trips to the pump. This area is even more important for electric cars, as — despite there being close to ten million charging stations scattered across the planet — there are far more gas stations than EV chargers. As such, you'll not only want to review an EV's range, but also the charging network that's available for said EV.
Comfort: Being comfortable in a car is obviously important, though this factor matters far more when dealing with road trip cars, as drivers — and their passenger(s) — typically spend hours at a time inside the cabin of these vehicles. Consequently, this makes a given car's comfortability level of extreme significance. And while there are dozens of factors that contribute to how comfortable a car is, some of the more important elements to consider are the seats, their construction and upholstery, their level of adjustability, and whether they offer heating, cooling, or massage functions. Additional areas like dual climate control and robust soundproofing can also hugely up a car's comfortability.
Amenities: While there's no denying that comfort is a hugely important area when dealing with road trip cars, there are nonetheless a handful of additional features that can very much bolster one's enjoyment during long-range drives. Alongside amenities like touchscreen infotainment setups and moon/sunroofs, there are also features like web browsers and connectivity to streaming services that can enhance the users' experience. Likewise, most of today's best road trip cars also pack advanced suites of electronic driver assists such as forward collision warning and avoidance systems, lane keep assist, blindspot monitoring, and adaptive cruise control, just to name a few. Some brands also offer supplementary amenities, like Tesla, which sells cars equipped with features like "Caraoke," HEPA filtration systems, and of course, the American automaker's state-of-the-art autopilot system.
Storage: The longer the road trip, the more gear the driver will typically need. As such, the amount of cargo space afforded by a particular vehicle is of utmost importance, as roomier rides will boast more internal real estate for stashing bags and equipment. And, though this is clearly a crucial area to consider when reviewing cars for road trips, it is worth pointing out that one can always supplement a car's internal square footage with a roof rack or rooftop cargo box, though this option is obviously less convenient — and will often slightly mitigate fuel — or battery — consumption. You'll also likely want to consider how many people the car seats, as well as how much cargo space is available for each passenger's bags and gear. Backseat legroom is also a crucial area to consider when reviewing this element.
Reliability & Service Intervals: The reality is that the vast majority of new cars are incredibly reliable and should have no issue driving cross country several times over. With that said, there are some models with better reputations when it comes to overall reliability. Additionally, if you plan to use this vehicle for extensive road-tripping, you'll also want to look into the model's required service intervals, as these figures can hugely vary. And, whether it's a road trip car or a daily commuter — or even a motorcycle — it's always worth looking into whether any recalls have been issued for a particular model.
Manufacturer & Dealer Support: When going on a road trip, not only is it important to review how often a car needs to be serviced but also where it can be serviced, as some makes will boast a markedly more robust dealership and support network should you need a part repaired or replaced. This extends to areas like the availability of roadside assistance offered by a marque. It's also worth pointing out that rarer and more exotic models will make for a much more difficult time sourcing replacement parts – as it's not that hard to find a replacement component for a BMW car just about anywhere in the country, though the same can't be said for models from brands like Bentley or Aston Martin.
Drivetrain & Performance: Unlike commuting where the main objective is simply to get from A to B, long-range road-tripping is all about enjoying the journey and embracing the open road. As such, having a car that affords a more spirited driving experience makes for a markedly more enjoyable time behind the wheel, which is why reviewing a model's engine is so important. Alongside the engine configuration itself, you'll also want to check out its aspiration type and displacement — as well as horsepower and torque figures, 0-60mph times, and top speeds. A car's suspension package is another crucial area to consider, as it will directly impact a model's overall handling, as well as the smoothness of the ride. Quite a few cars also offer the best of both worlds with adjustable air ride suspension setups that can be lowered for spirited runs through the canyons, or raised back up for ultra-smooth and plush freeway travel.
Long-Haul Legends
The Best Road Trip Cars Currently On The Market
Now that you're up to speed on what areas to take into consideration when shopping, let's get into our picks for the finest and most well-appointed new road trip cars that are currently available on showroom floors.
Subaru Outback
Summed Up
An affordably-priced, rugged and spacious wagon with raised roof rails, 8.7" of ground clearance, & Subaru's Starlink multimedia package all as standard.
Best Affordable Pick: One of the most versatile vehicles currently on the market, the latest generation Subaru Outback is a fantastic road trip car with seating for five, more than 75 cubic feet of cargo space, and an optional turbocharged 2.4-liter boxer engine. With features like 9.5" of ground clearance and asymmetrical all-wheel drive as standard, the Outback is also capable of some light off-roading duties.
Engine: Turbocharged 2.4L Boxer Four or NA 2.5L Boxer Four
Power: 260HP & 277FT-LBs or 182HP & 176FT-LBs
Cargo Space: 75.7 Cubic feet
Range: 600+ Miles
Seats: 5
MSRP: $28,895
Ford Bronco Sport
Summed Up
A road-focused variant of Ford's revived retro-inspired SUV that still packs Hoss suspension & cutting-edge electronics.
Best Retro-Inspired: One of the most anticipated new models from the last decade, Ford's revived Bronco platform is a 4×4 vehicle that comes with more than 65 cubic feet of cargo space, an advanced electronics package, Hoss suspension, and nearly 9" of ground clearance. Sold in a variety of trim levels, the Sport-spec Bronco was also intentionally designed to be as modular as possible — an area furthered by the absolutely enormous range of factory accessories offered for the American SUV.
Engine: Turbocharged 1.5L Inline-Three or Turbocharged 2.0L Inline Four
Power: 181HP & 190FT-LBs or 250HP & 277FT-LBs
Cargo Space: 65.2 Cubic Feet
Range: 416 Miles
Seats: 5
MSRP: $31,230
Abarth 124GT
Summed Up
An Abarth-specFiat 124 Spyder with a Garrett turbo, Bilstein shocks, & Brembo brakes all as standard.
Best Two-Door: Sharing its platform with the Mazda Miata, the Fiat 124 Spyder is the definition of a true driver's car, standing as a peppy open-top roaster that can be had for a reasonable price. For those less concerned with cost, the company also makes the Abarth 124GT — a limited-edition variant with a Garrett Turbocharged engine, a dedicated sport mode, Bilstein shocks, Brembo brakes, 17" alloy wheels, special race seats, and a GT-specific slate gray livery. Sadly, the GT-spec isn't offered on American shores, unlike the base model 124.
Engine: Turbocharged 1.5L Inline-Four
Power: 170HP & 184.4FT-LBs
Cargo Space: 4.94 Cubic Feet
Range: 535 Miles
Seats: 2
MSRP: $44,085
Volvo XC60 Recharge
Summed Up
A luxurious Swedish-made hybrid mid-sized SUV with a more than 500-mile range per tank.
Best Long-Range Pick: A plug-in hybrid version of Volvo's mid-sized SUV, the XC60 Recharge is a wildly-advanced vehicle that boasts features like best-in-class navigation, an optional Bowers & Wilkins sound system, a built-in Google smart assistant, and a state-of-the-art onboard air filter. Equipped with an all-wheel-drive setup, the five-seater's turbocharged 2.0-liter hybrid inline-four generates more than 450hp and 523ft-lbs of torque, allowing for a machine that's equal parts comfortable and exhilarating.
Engine: Turbocharged 2.0L Hybrid Inline-Four
Power: 455HP & 523FT-LBs
Cargo Space: 63.3 Cubic Feet
Range: 520 Miles (or 32 Battery Only)
Seats: 5
MSRP: $57,900
Jeep Grand Wagoneer
Summed Up
A revived take on Jeep's legendary full-sized luxury SUV that sports a 6.4L V8, an AWD system, & over 116 cubic feet of storage space.
Best Full-Size SUV: First unveiled in March of last year, the Jeep Grand Wagoneer is a revived full-size SUV that, like the original model, offers the pinnacle of comfort and class. Returning after 30 years out of production, the Grand Wagoneer comes with quilted Palermo leather seats, a 6.4L V8 mated to one of three AWD systems, over 116 cubic feet of storage and cargo space, a 10,000lb towing capacity, and an ultra-top shelf McIntosh MX950 Entertainment System — all as standard fare.
Engine: 6.4L V8
Power: 470HP & 455FT-LBs
Cargo Space: 116.7 Cubic Feet
Range: 477 Miles
Seats: 7
MSRP: $91,140
Audi RS 6 Avant Performance
Summed Up
An ultra-potent family-hauler & grocery getter with a 621-hp bi-turbo V8 offering 3.3-second 0-60 runs and a 190-mph top speed.
Best Sport Wagon: The Audi RS 6 Avant is an ultra-high-performance sleeper that's conducive to everything from track days to family-hauling duties to road trips. Alongside RS-spec components and wheels, this highly up-specced model comes adorned in a slammed stance with a full aero kit, a carbon trim package, nearly 60 cubic feet of cargo space, and, most importantly, a 621-hp 4.0-liter bi-turbo V8 that enables this elite sport wagon to achieve a 3.3-second 0-60mph time and a top speed of 190mph.
Engine: Twin-Turbocharged 4.0L V8
Power: 621HP & 627FT-LBs
Cargo Space: 59.3 Cubic Feet
Range: 425 Miles
Seats: 5
MSRP: $125,800
Porsche Taycan GTS Sport Turismo
Summed Up
A streamlined, 911-inspired shooting brake-style version of Porsche's mighty new fully-electric four-door.
Best EV: Marking the Stuttgart firm's first-ever all-electric offering, the Taycan GTS Sport Turismo is unequivocally one of the very best road trip cars currently in production. It offers an incredibly smooth ride, an impressive 300-mile range, and a decent amount of cargo space thanks to the extended sport back. Thanks to an ultra-potent 440kW EV powertrain setup and Overboost power with a launch control function, the GTS Sport Turismo-spec Taycan can reach 60mph from a standstill in 3.5 seconds flat.
Engine: Dual Permanent Magnet Synchronous Motors
Power: 440kW (590HP) & 626FT-LBs
Cargo Space: 42.8 Cubic Feet
Range: 313 Miles
Seats: 5
MSRP: $141,200
BMW ALPINA B8 xDrive Gran Coupe
Summed Up
A 612-hp ALPINA-tuned & upgraded grand touring car based on BMW's already luxurious & thoroughly-capable 8 Series.
Best Grand-Tourer: While to the average observer, this road trip car may just look like a BMW 8 Series, those in the know are well aware of the ultra-top-shelf exotics offered by famed tuning outfit ALPINA. This high-end grand tourer's ALPINA transformation includes 21″ ALPINA wheels, ALPINA 4-wheel ventilated disc brakes, an ALPINA Aerodynamic Kit, an ALPINA Sport suspension package with twin-tube gas-pressure shocks, double-wishbone multi-link aluminum suspension in front, and an integral-V multi-link aluminum setup in the rear, and an interior with ALPINA Lavalina leather steering wheel, engraved glass controls, and a unique digital instrument cluster. Finally, at the heart of this car is a 4.4-liter bi-turbo V8 that's been tuned by ALPINA to produce 612hp and 590ft-lbs of torque.
Engine: Twin-Turbocharged 4.4L V8
Power: 612HP & 590FT-LBs
Cargo Space: 15.5 Cubic Feet (Trunk Only)
Range: 432 Miles
Seats: 5
MSRP: $149,300
Bentley Flying Spur Hybrid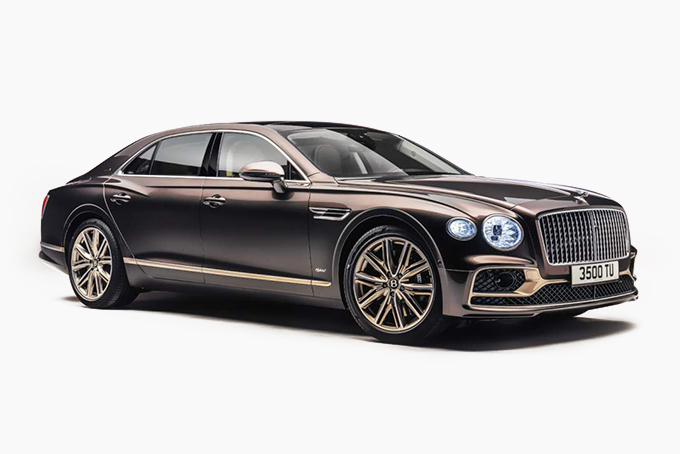 Summed Up
A hybrid-boosted bi-turbo 4.0-liter V8-powered version of Bentley's normally V12-powered flagship model that retains its world-class luxury.
Best Hybrid Pick: The Bentley Flying Spur has long been one of the most luxurious and well-optioned cars on the market, making it an objectively fantastic choice for road-tripping — assuming you can swing its fairly exorbitant MSRP. However, last summer, the famed British firm rolled out a new version of the car that sees its usual V12 and V8 engine options swapped out in favor of a hybrid-boosted bi-turbo 4.0-liter V8 that makes 542hp and 568ft-lbs of torque and allows for a top speed of 177mph and a 0-60mph time of just 4.1-seconds. This hybrid luxury car also offers a range of 435 miles — or an all-electric range of 25 miles, if you want to go green for a portion of your trip.
Engine: Twin-Turbocharged 2.9L Hybrid V6
Power: 542HP & 568FT-LBs
Cargo Space: 12.4 Cubic Feet (Trunk Only)
Range: 435 Miles (or 25 Miles Battery Only)
Seats: 5
MSRP: $210,600
Aston Martin DBX707
Summed Up
A 707-hp mid-sized SUV boasting genuine supercar-grade performance with a 193-mph top speed & a 3.3-second 0-60 time.
Best Mid-Sized SUV: First unveiled in early February of 2022, the Aston Martin DBX707 represents the world's most powerful luxury SUV. Taking its name from its 707-hp output, the DBX707 is another ultra-high-end vehicle that boasts a unique mix of world-class comfort and performance. Alongside a 360-mile range and a decent amount of cargo space, the DBX707 also packs a 4.0-liter bi-turbo V8 engine that's mated to a 9-speed "wet clutch" automatic transmission and allows for 3.3 seconds 0-60mph runs and an impressive top speed of 193mph — a fairly insane figure considering this is an SUV.
Engine: Twin-Turbocharged 4.0L V8
Power: 707HP & 664FT-LBs
Cargo Space: 54 Cubic Feet
Range: 360 Miles
Seats: 5
MSRP: $236,000
The Best SUVs for Camping
Want to check out an additional selection of vehicles that are great for recreational use? Then be sure to cruise over to our guide to the best SUVs for camping for the most comfortable and well-appointed rolling base camp options.