Though it lasted for only a handful of years, the 1980s Group B era is nonetheless still held as one of the most iconic and legendary periods in the history of motorsport competition. Pushing drivers and their machines to the limits of what was possible to an extent that hadn't been seen before — or replicated since — the fabled Group B class utilized a concerningly lax rule sheet that allowed manufacturers to truly go all out with unrestricted power outputs and wildly pronounced aero kits. And while it's been four decades since the completion of the last race, Group B remains one of the most significant eras in all of motorsport, and as such now seemed an appropriate time to take a look at some of the most significant cars that defined the Group B period.
Golden Era Of Rallying
What Exactly Was Group B Racing?
There were obviously noteworthy rally classes before and after the introduction and conclusion of Group B regulations, though there are a handful of reasons why this period in 1980s race history is held in such high esteem. Touted by many as the "golden era of rallying," the Group B era began in 1982 and saw its final championship just four years later in 1986 before being replaced by Group A regulations. Seeing largely unrestricted cars campaigned by some of the bravest drivers on the planet, Group B competition was held on paved and unpaved narrow courses that were highly technical, with major elevation changes and often rough terrains that were frequently lined by legions of spectators.
Rally Lunacy 101
What Made It So Special?
A successful race series needs ample and active interest from swarms of fans and motorsport enthusiasts, as well as abundant involvement from manufacturers. And with what was becoming an ever-more stringent rulebook, quite a few marques opted to — or were considering to — pull the plug on their rally efforts. So, in a bid to attract more factory teams from automakers, the Fédération Internationale de l'Automobile (or "FIA) decided to introduce a new class that would essentially give designers and engineers carte blanche to craft rally racers however they saw fit – so long as they met homologation requirements.
This meant absolutely zero restrictions on horsepower and torque output or boost levels, as well as no limitations on the types of materials that could be used — a formula that would unsurprisingly give way to a class of ultra-powerful and extremely lightweight race cars with what can only be described as dangerously-high power-to-weight ratios. Making the situation all the sketchier was the fact that the minimum weight required in Group B was just 890kgs (or 1,962lbs). This led to manufacturers churning out some extraordinarily powerful yet dangerously fragile cars that were decidedly lacking in structural integrity and safety features.
Unlike previous rally classes, where the cars being campaigned could only deviate so far from the production models they were based on, Group B racing afforded teams the ability to bestow their vehicles with near-unlimited modifications. What's more, in a bid to make the series as least cost-prohibitive as possible, the FIA only required manufacturers to churn out 200 road-going units of its rally racers, allowing for substantially more exotic and high-performance cars that didn't have to worry about selling a massive number of units to the public. As a point of reference, some previous classes required at least 5,000 road-going examples to be produced, giving manufacturers far less room to take risks with wild, bespoke models. Group B also allowed manufacturers to deviate even further from the 200 homologation specials by producing 20 EVO-spec specimens that featured even more modifications and upgrades.
While power figures were initially somewhat modest, clocking in at around 250hp – 300hp, by the conclusion of Group B competition, factory racers were generating figures between 400hp and 600hp — with many of these figures supposedly being on the conservative side, too. With such insanely powerful cars, another key aspect of what made Group B racing so special was the skill — and sheer bravery — of the drivers that competed, as they had to display extraordinary levels of skill and control in order to negotiate rally courses in these objectively dangerous and difficult-to-tame machines.
Racing On The Edge
What Made Group B Competition So Dangerous?
In total, when creating the class, the FIA seemed to primarily focus on attracting competitors and fans, with safety being more of an afterthought than a priority, with the short-lived series being responsible for more than 30 injuries and a trio of deaths. And, as if the element of danger wasn't already present enough with the no-holds-barred factory-built race cars being campaigned through winding off-road courses, the stages Group B drivers were competing on were primarily public roads — rather than purpose-built or designated race circuits — and as such the public was permitted to spectate from up close, often lining either side of these courses. Unsurprisingly, it wasn't uncommon for spectators to get hit by competing cars.
The immense popularity of Group B racing from big-name marques also resulted in an incredibly competitive "grid," which in turn led to some massively noteworthy advancements such as breakthroughs in semi-automatic gearboxes, all-wheel drive, and revolutionary forced induction systems. For all of these reasons, Group B stands in a league of its own and is remembered by swarms of motorsport enthusiasts as one of the most exciting — and dangerous — eras of all time, both in terms of outright race action and vehicle development.
Group B Legends
The 12 Most Iconic & Game-Changing Cars Of The Group B Era
Now that you're up to speed on just what exactly the Group B regulations were, what made the period so noteworthy, and why the era was so incredibly dangerous, let's dive into our picks for the dozen most iconic and legendary cars campaigned over the series' brief yet undeniably groundbreaking history.
Audi Sport Quattro A1/A2
Four-wheel-drive vehicles had already existed for decades, though weren't utilized in rally competition, as most engineers believed the added weight and raised center of gravity of 4WD systems would ultimately result in slower times. Unequivocally one of the most legendary and game-changing rally cars of all time, Audi's A1 and A2-spec Sport Quattro would prove otherwise, with an incredibly advanced and sophisticated all-wheel-drive system that gave the German-built racers incredible levels of grip in the corners, as well as the ability to fire out onto the straights. Equipped with a dramatic set of flared bodywork with massive front and rear wings that were developed through wind tunnel testing, an R&D luxury that had previously been reserved for Formula 1 racers, the Sport Quattro won back-to-back Group B titles in '83 and '84 — the latter year would also see Audi win the manufacturers' championship. Also representing a leap forward in forced induction systems, the Audi featured a small valve that kept its turbocharger spooled up to ideal operating RPM even when the driver let off the throttle, thereby largely eliminating the dreaded turbo lag. 
Engine: Turbocharged 2.1L Inline-Five
Power: 350HP
Weight: 2,645LBS
Citroën BX 4TC Evolution
As Group B racing rocketed into popularity, a slew of smaller marques opted to get in on the action — one such company was Citroën. Because the French firm lacked the resources to develop a Group B racer from scratch, Citroën opted to reconfigure and heavily modify its existing BX model, turning the midsize sedan into a rally-ready beast of a car. Powered by a longitudinally-mounted turbocharged 2.1-liter eight-valve Simca Type 180 inline-four engine, the BX 4TC Evolution sported ultra-angular and flared bodywork, an advanced four-wheel-drive system, CX Turbo wheels, and a cutting-edge hydropneumatic suspension system that allowed the car's ride height to be adjusted on the fly. Sadly, the BX 4TC Evo was a late arriver to Group B racing, and never found much success before the plug was pulled on the class — though it did give way to 62 incredible homologation specials. 
Engine: Turbocharged 2.1L Inline-Four
Power: 380HP
Weight: 2,535LBS
Ferrari 288 GTO
Not wanting to miss out on the action, the exotic automaker that is Ferrari also set its sights on Group B competition. Rather than developing an all-new platform from the ground up, the Prancing Horse opted to modify its 288 GTO for rally use. Instead of carrying out this transformation in-house, Ferrari called on one of its partners, the Padova-based Michelotto, which would be tasked with building out the GTO Evoluzione — which became the 288 GT/M — with the "M" standing for "Michelotto." The 288 GT/M featured a revised tubular chassis that was paired with a more robust longer-travel suspension setup and cloaked in lightweight bodywork that was crafted entirely from carbon fiber. Unfortunately, Ferrari's rally racer would never actually see any Group B competition, though the pedigree of this car coupled with its performance capabilities makes it more than deserving of a spot on this list. 
Engine: 4.0L V8
Power: 650HP
Weight: 2,560LBS
Ford RS200
On the heels of winning a rally championship title in '79, Ford set out to redesign and improve its Escort RS1700T. However, after it became abundantly clear that 4WD-equipped cars represented the quickest rally machines, the Blue Oval opted to scrap its existing project and design a new Group B car from the ground up, resulting in the RS200 — short for the "Rallye Sport 200," with the "200" denoting the number of production specimens built. Constructed around a chassis designed by a pair of ex-Formula 1 engineers and cloaked in bodywork penned by Ghia's Filippo Sapino, the EVO-spec of the RS200 boasted a double-wishbone suspension configuration with dual-dampers and a mid-mounted 1.8-liter turbocharged Cosworth BDT inline-four engine that sent power to all four corners of the car via a cutting-edge 4WD setup. Despite weighing only 2,600lbs, the RS200 put down a whopping 600hp and 400ft-lbs of torque, giving it a ridiculously potent power-to-weight ratio and making it one of the fastest cars of the Group B era — as well as one of the most iconic. 
Engine: Turbocharged 2.1L Inline-Four
Power: 600HP
Weight: 2,601LBS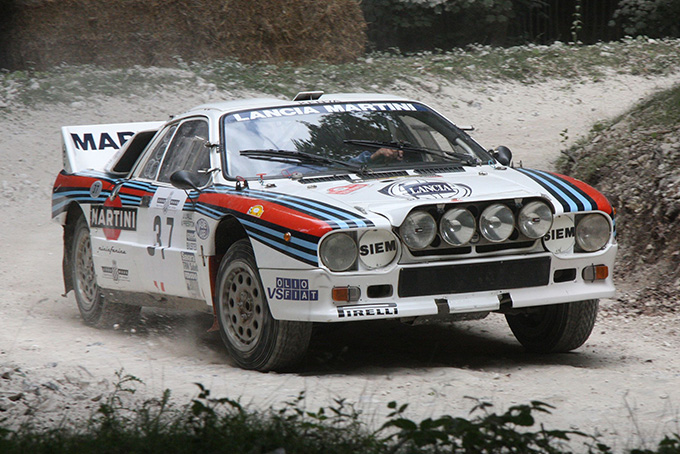 Lancia 037
The car used to secure Lancia a manufacturer's title in the inaugural Group B season, the 037 — also known as the Type 151, the Rally 037, and the Lancia-Abarth #037 — is unquestionably a bonafide automotive icon and undisputed rally legend. Weighing just over one ton, the 037 was draped in lightweight Pininfarina-designed fiberglass-reinforced polyester resin bodywork and powered by a mid-mounted 2.1L four-banger that was armed with an Abarth Volumex supercharger — a decision made that would give the Lancia faster corner exiting thanks to not having to worry about turbo-lag. The 037 would also be the very last rear-wheel-drive vehicle to bag a rally championship, just prior to the rise of 4WD and AWD systems. Alongside 20 ultra-coveted EVO-spec specimens, Lancia also produced 200 road-going — or "Stradale" — versions of the 037 that have become some of the most sought-after homologation specials of all time, routinely fetching exorbitant sums at auction.
Engine: Supercharged 2.1L Inline-Four
Power: 325HP
Weight: 2,116LBS
Lancia Delta S4
Though the 037 was fast, it was clear that its RWD setup was objectively lacking in courses' off-road sections, so after a painfully unsuccessful season, the Italian marque returned to the drawing board to deliver what's now considered something of the ultimate Group B car with the Delta S4. Utilizing a super-short 96" wheelbase, the Delta S4 boasted an advanced 4WD configuration, a cleverly-engineered chassis and suspension design, and a "twin-charged" powertrain that was equipped with both a supercharger and a turbocharger — with the former forced induction system giving the S4 low-end torque out of the corners while the latter was responsible for the racer's top-end power. This formula proved to be extremely successful and would allow Lancia to rack up a slew of wins in '85 and '86 before the ultimate conclusion of the Group B class. 
Engine: Supercharged & Turbocharged 1.75L Inline-Four
Power: 550HP
Weight: 1,962LBS
MG Metro 6R4
Austin Rover's entry into Group B racing, the MG Metro 6R4 was the result of the manufacturer essentially looking to the class's fastest cars and then replicating some of their key traits in a new platform based on the regular MG Metro commuter car. As such, the 6R4-spec Metro utilized an advanced all-wheel-drive system — a la Audi's Sport Quattro — and a potent mid-mounted engine — a la Lancia's 037 and Renault's 5 Maxi Turbo. Alongside a robust suspension package and the aforementioned powerful mid-placed engine and advanced AWD system, the Metro 6R4 Group B racer also came adorned in an equally-involved aero kit that benefitted from computer and wind-tunnel testing. Despite being an objectively competitive model, the Metro 6R4 sadly never achieved much success in Group B competition prior to the series' end. 
Engine: 3.0L V6
Power: 410HP
Weight: 2,290LBS
Opel Manta B 400
Though it employed different marketing methods in its native U.S, GM looked to rally racing to help promote some of its overseas subsidiaries – with one such outfit being Germany's Opel. After seeing the hype surrounding the series, GM green-lit a project that involved Opel developing a rally car — and 200 homologation units — in order to compete in Group B. Unfortunately, the vehicle that was born out of these efforts — the Opel Manta B 400 — was much more of a modified production model than it was a scratch-built rally weapon, plus it employed a fairly obsolete RWD configuration.  And, while a RWD racer had once reigned supreme in Group B competition, those days were long gone by the time Opel's Manta B 400 arrived on the scene, leading to the car struggling to find much success — and making it another late-arriver that never quite got its footing before the class's conclusion at the end of the '86 season. That being said, it remains a quirky icon of the era and definitely has its fans.
Engine: 2.4L Inline-Four
Power: 275HP
Weight: 2,415LBS
Peugeot 205 T16
Not long after Audi debuted its game-changing Sport Quattro, Peugeot would unleash a new rally car formula that would become the new winning standard. Though it closely resembled the road-going 205 model — albeit with a pronounced aero kit — the 205 T16 utilized an advanced 4WD system, an ultra-short 100" wheelbase, and a perfectly-balanced weight and dynamics setup thanks to a mid-placed engine. While this configuration did sacrifice high-speed stability, it more than made up for it with its incredibly quick time through the corners — a major benefit considering the windy and technical nature of many of these courses. The Peugeot did, however, lack Audi's anti-lag system, and as such 205 T16 drivers had to rely on left-foot-braking in order to keep the turbocharger spooled up. Another interesting note about the car — aside from the fact it won two Group B championships in '85 and '86 — was that the 205 T16 also saw its mid-mounted engine positioned in a transverse orientation rather than racecars' typically longitudinally-mounted engines, as well as having its gearbox bolted to the side of the engine rather than beneath it. 
Engine: Turbocharged 1.8L Inline-Four
Power: 350HP
Weight: 1,984LBS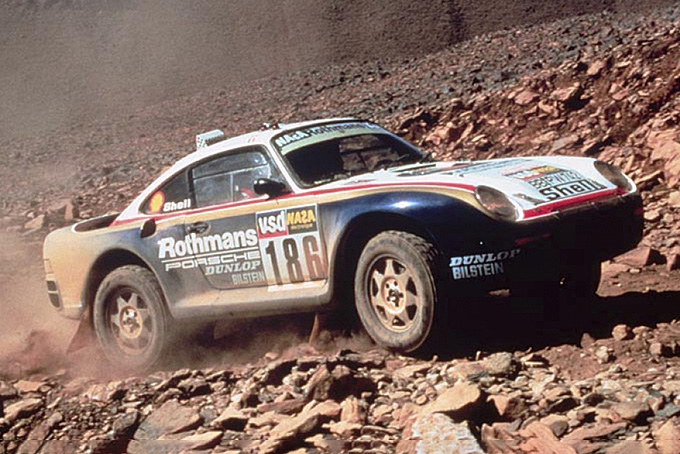 Porsche 959
Wanting to capitalize on the class's ample success and publicity, Porsche opted to toss its hat into the Group B ring with the release of its 959. Originally known as the "953," the project started out with building modified 911 Carreras with all-wheel-drive systems — vehicles that would win the Paris-Dakar rally in 1984. Several more years of development were required before what eventually became the twin-turbocharged 959 was ready. So, by the time Porsche was ready to produce the necessary homologation specials needed to compete in Group B, it was already 1987 and the Group B ship had sadly already sailed. And, despite it being developed from the ground up as a thoroughly rugged rally car, the 959 would ultimately give way to a ridiculously high-performance road-going sports car that, upon its release, was the fastest production model on the planet. 
Engine: Twin-Turbocharged 2.85L Straight-Six
Power: 444HP
Weight: 3,197LBS
Renault 5 Maxi Turbo
Also known simply as the "R5 Turbo," the Renault 5 Maxi Turbo is a Group B legend through and through. Realizing Renault didn't possess the dedicated resources of Lancia and Audi's rally race divisions, the company's vice-president of production, Jean Terramorsi, called in a favor from Bertone's Marc Deschamps, asking the automotive designer to pen a special version of the French firm's 5 Alpine specifically for Group B racing. First breaking cover at the 1980 Brussels Motor Show, this model would result in the now-iconic 5 Maxi Turbo. With its mid-mounted engine and ultra-flared bodywork, the R5 Turbo possesses almost all of the hallmark features we think of when discussing Group B icons — save for an advanced four-wheel-drive system, as the R5 used a RWD setup. 
Engine: Turbocharged 1.4L Inline-Four
Power: 360HP
Weight: 1,995LBS
Toyota Celica Twin Cam Turbo
By the time the Group B era rolled around, Toyota already boasted a long history of producing championship-winning rally cars, so when the new Group B regulations were announced, the Japanese automaker tasked its race department with developing a new machine for the class, resulting in the Celica Twin Cam Turbo. Unlike most other Group B cars, the Celica was actually engineered with a focus on safety and reliability — it was still a Toyota, after all — rather than putting an emphasis on the development of new technologies. As such, the car — nicknamed "The Whistling Pig" on account of the sound its boosted engine produced — used a RWD setup, though its well-designed frame, long-travel suspension, and turbocharged engine still allowed it to secure its fair share of wins throughout the era, including victories at half-a-dozen African rally events.  
Engine: Turbocharged 2.1L Inline-Four
Power: 380HP
Weight: 2,425LBS
The 10 Greatest Motorsport Road Races On Earth
Want to check out some other thoroughly iconic series in motorsport? Then be sure to cruise over to our guide to the greatest road races on earth for a look at ten of the craziest competitions held on the tarmac.