There was once a time when the 'sport' and 'utility' designations of an SUV actually stood for something and even guaranteed some sort of all-terrain ability and practical versatility. However, as they've grown in popularity over the years (they're now amongst some of the best-selling items in many a manufacturer's inventories), they've become increasingly derivative from their namesake, getting softer, heavier, and overall much more comfortable on the road than they are venturing away from it. In many respects, the SUV as we know it is dead, for the fact is that these days, it'd be much more apt to call them 'stylish' and 'urban' than sporty or utilitarian.
Nevertheless, there are a number of automakers whose offerings will amaze you with what they can do once the going gets tough. For even despite the handcrafted wooden inlays and 20″ touchscreen infotainment systems befitting of their six-figure price tags, they're still able to ford deep water and hold it together over tricky terrain. Granted, they may never see a spec of dirt over the course of their ownership, but that's not to say that we can't appreciate them for everything that they bring to the table, lest we forget what an SUV was really intended to be. Below we've broken down fifteen of the best luxury off-road SUVs on the market today in an effort to appreciate them for something other than how they look parked in the valet line.
Alfa Romeo Stelvio
Thanks to the many years Alfa spent contesting tough twisty WRC courses, the Stelvio comes with all the necessary ingredients to make it a capable off-road performer, including sharp steering, tight cornering, and Q4 Intelligent All-Wheel Drive. Under the hood, you'll find a turbocharged 2.0L inline-four good for 280hp, 306lb-ft of torque, and a 0-60mph sprint that takes just 5.4s. If you find those numbers a bit too pedestrian, you can always opt for the Quadrifoglio and its hearty 505hp twin-turbocharged 2.9L V6. It'll rocket you to 60mph in just 3.3s but buyer beware it'll cost you — to the tune of a further $40,895.
Max Horsepower: 505
Max Torque: 443lb-ft
0-60mph: 3.3s
Top Speed: 176mph
BMW X5 xDrive45e
Sure, X5's may be more common in the carpool line than they are off the beaten path, but that's not to say that they can't hold their own over the rough stuff. Rather, thanks to BMW's xDrive all-wheel-drive system, it will automatically shift power between its wheels in order to keep you going steady. The xDrive45e model we've featured here comes with a plug-in hybrid electric drivetrain, you can get as many as 30 miles running off the battery alone, allowing you to stay green and keep your recreation clean.
Max Horsepower: 392
Max Torque: 526lb-ft
0-60mph: 5.6s
Top Speed: 145mph
Audi Q8
Despite being the most sizable model in Audi's SUV lineup, the Q8 is, in many ways, a modern reincarnation of the original Quattro rally car. For starters, it features an adaptive suspension system that keeps its nearly 5,000lb curb weight in check when cornering at speed. And because it comes with Audi's Quattro AWD system, you can change your front and rear torque bias based on which driving mode you're using, with Dynamic directing up to 85% of the available 335 horses to the rear wheels.
Max Horsepower: 335
Max Torque: 369lb-ft
0-60mph: 5.3s
Top Speed: 130mph
Jeep Grand Cherokee SRT
With Stellantis having officially axed the SRT division, high-performance models like this Grand Cherokee will increasingly become a rarity in the luxury SUV market. And it's a shame. Powered by a naturally-aspirated 6.4L V8, it puts down 475hp and 470lb-ft of torque, a combination that enables a lightning-quick 0-60mph time of just 4.4s. As you'd expect from any other Jeep, it comes with all-terrain provisions abounds, such as an adaptive damper sport-tuned suspension setup, trail-rated ground clearance, and impressive 7,200-pound towing capacity.
Horsepower: 475
Torque: 470lb-ft
0-60mph: 4.4s
Top Speed: 160mph
Maserati Levante
Maserati may be the last name you'd expect to in a roundup of high-end trail-tested SUVs, but that's doing the Italian marque a disservice. That's because back in 1926 Alfieri Maserati (one of the brand's founding brothers) actually won the GP class of the Targa Florio in his Tipo 26. Today, this means that thanks to its 10.7 inches of ground clearance, Q4 Intelligent All-Wheel Drive system, and Ferrari-developed twin-turbo V8, it's much more than a glitzy grocery getter. If you're having any doubts just give it a quick Google search — you'll be surprised to see what the Trident can do in the mud.
Horsepower: 582
Torque: 538lb-ft
0-60mph: 3.6s
Top Speed: 189mph
Land Rover Defender 90X
Auto enthusiasts far and wide cried out in anguish when Land Rover discontinued production of the original Defender, but the good news is that its successor is more than capable of carrying the torch — especially the fully-specced X edition. With its robust build quality, advanced all-independent suspension, 19.7 inches of axle articulation, and Configurable Terrain Response, the new Defender is pretty much as good as it gets. In fact, you'd be hard-pressed to find a luxury offering better suited to exploring the road less traveled. We'd expect nothing less.
Max Horsepower: 395
Max Torque: 406lb-ft
0-60mph: 5.7s
Top Speed: 129mph
Toyota Landcruiser
Admittedly, the Toyota Landcruiser of today is a far sight from what it used to be; however, don't be too quick to dismiss the platform's off-road chops. It sports a two-speed transfer case for low-range grunt, a locking center differential for improved power transfer, and a turn assist feature so that you can better maneuver around obstacles in your way. And that's not even mentioning the set of skid plates protecting the underbody and its respectable 27.6-inch water-fording figure. It may be approaching a six-figure price tag (enough options will get you there) but this is much more than an SUV for taking the kids to soccer practice.
Max Horsepower: 381
Max Torque: 401lb-ft
0-60mph: 7.1s
Top Speed: 123mph
Lexus LX570
You'd be forgiven for thinking you were seeing double, because underneath that massive grille and pretty Lexus badging hides a 200-series Landcruiser. As the upmarket alternative to the aforementioned Toyota, it gains a lot of luxurious features at the expense of its ability to tackle rough terrain. So, while it may come with large 20-inch wheels and a premium interior, it trades its coil springs and shock absorbers for adjustable hydraulic cylinders and its ground clearance for an eye-catching front fascia. In other words, think of the LX as the spoiled younger sibling — it can do most of what Landcruiser can, but it won't be happy about it.
Max Horsepower: 383
Max Torque: 403lb-ft
0-60mph: 7.2s
Top Speed: 113mph
Land Rover Range Rover
Given that it's one of the SUVs that started it all, we'd be remiss if we didn't include the Range Rover on this list. Handsome yet hard-wearing, stylish yet sporty, it remains one of the best choices for those who want to leave the road whilst living in the lap of luxury. With a wading depth of up to 35.4 inches and a towing capacity of up to 7,716lbs, it may look like a limo for the high-rolling elite, but it's still very much a Range Rover through and through.
Max Horsepower: 254
Max Torque: 443lb-ft
0-60mph: 7.5s
Top Speed: 132mph
Mercedes-Benz G 550
Originally developed as a military vehicle during the 1970s, the Mercedes-Benz G-Class has since become a status symbol for successful spendthrifts. However, off-road enthusiasts should rejoice, for it retains everything that made its forebears so great, like a body-on-frame construction, three fully-locking differentials, and even the ability to scale a 45-degree slope with ease. Add to that an ultra-luxe bespoke interior complete with hand-fitted leathers and massaging seats and it's easy to see why the G-Class reigns supreme. Oh, and in case you were wondering, its 4.0L makes 416hp and 450lb-ft of torque — more than enough to take it from 0-60mph in 5.6s flat.
Max Horsepower: 416
Max Torque: 450lb-ft
0-60mph: 5.6s
Top Speed: 130mph
Rezvani Tank
Were you to take a Jeep Wrangler, give it a futuristic sci-fi aesthetic, and turn its performance up to 11, you'd be left with something that looked a lot like the Rezvani Tank. For instance, you have three engine options to choose from, with a 500hp 6.4L SRT V8 or a 1,000 6.2L supercharged V8 available for those who need to make a speedy getaway. And, as you'd expect from an SUV that looks like it was built for supervillains and power-hungry dictators, it comes with bulletproof glass and body armor, EMP protection, and even a thermal night vision system.
Max Horsepower: 1,000
Max Torque: 870lb-ft
0-60mph: N/A
Top Speed: N/A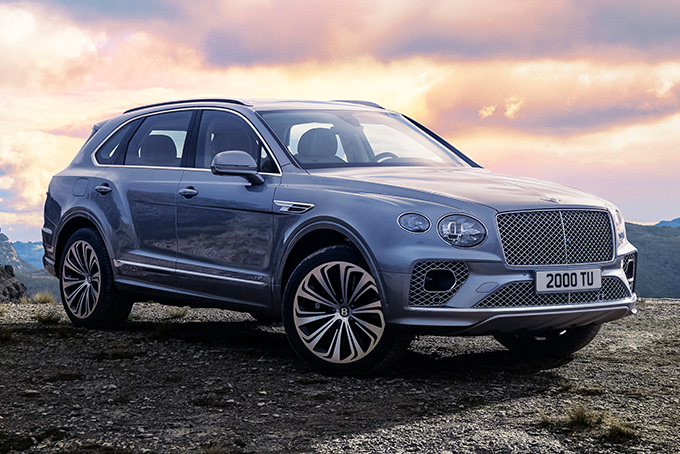 Bentley Bentayga
The Bentley Bentayga is a bit of a sleeper when it comes to off-road performance. It doesn't have locking differentials, low-range gearing, or anything that else you'd expect out of a card-carrying 4×4. But that's because it doesn't need to — it's plenty effective as it stands. That is, with 664lb-ft of torque on tap and a stability-control system that activates each individually in order to maintain traction, it's not only capable of getting you up and over steep ascents; it can also guide you safely downhill and back onto the tarmac. Good thing too — you won't want to ruin the quilted leather.
Max Horsepower: 542
Max Torque: 568lb-ft
0-60mph: 3.6s
Top Speed: 180mph
Aston Martin DBX
It's not often that a brand like Aston Martin decides to expand its offerings to include a crossover, so when they do it better be something special. Thankfully, AM has more than delivered with DBX. It has a ZF active anti-roll system, an addition that allows it to measure individual ride height at each of the wheels in order to adjust their position relative to the ground and enhance articulation in real-time. And because it rolls on triple-chamber adjustable air springs, you raise or lower the entire SUV depending on what mode you're using, with Terrain+ offering a solid 9.3 inches of ground clearance.
Max Horsepower: 542
Max Torque: 516lb-ft
0-60mph: 3.8s
Top Speed: 181mph
Lamborghini Urus
And, by the same token, one would hope that if Lamborghini were to make an all-terrain SUV, it would be worthy of wearing the raging bull. In short, it is — everything about the Urus is excessive in a way that only a Lamborghini can be. It boasts the largest brakes ever fitted to a production car. It hides a 650-horse Italian symphony under the hood. Hell, it wears the same characteristically sharp styling you'd expect from any of the marque's other models. All that and it can even mix it up off-road thanks to an ANIMA drive-mode system, some steel reinforcements, and skid plates, as well as a functional roof rail to haul your outdoor essentials.
Max Horsepower: 641
Max Torque: 627lb-ft
0-60mph: 3.2s
Top Speed: 190mph
Mercedes-Benz G63 AMG 6×6
For those who find the standard G a bit too run-of-the-mill for their particular tastes, the G63 AMG 6×6 makes for an alternative that's certain to inspire. Produced during a limited-model run from 2013-2015, it featured a 536hp 5.5L AMG V8, full-time six-wheel drive, five independently locking differentials. And that's not all — it also came with portal axles to maximize its 18.1-inch ground clearance in addition to a tire pressure control system to improve its grip in sand and other soft surfaces. As with any Mercedes-Benz, you better believe that the interior is luxury at its finest.
Max Horsepower: 536
Max Torque: 562lb-ft
0-60mph: 7.8s
Top Speed: 130mph
Honorable Mention
Close But No Cigar
Rolls-Royce Cullinan
Okay, let's be honest. Anyone who drops $330,000-plus on a Cullinan is unlikely to use its 'Off-Road Mode' for anything other than a quick rip around a gravel parking lot, but that doesn't mean that it can't handle a bit of all-terrain adventure. On the contrary, as the gals at Roadshow demonstrated, it's surprisingly adept once it leaves the pavement, and even managed to complete the nearly 1,500-mile Rebelle Rally from Nevada to California. It might ride on 21-inch rims and come with an interior Champagne cooler and lambswool carpeting, but this Rolls-Royce is made to move. Just be sure to wipe off your shoes before you climb in.
Max Horsepower: 563
Max Torque: 627lb-ft
0-60mph: 4.5s
Top Speed: 151mph
The 12 Best Grand Touring Cars You Can Buy
Although these luxury SUVs boast some bonafide off-road prowess, it can come at the expense of their ride quality on the tarmac. If you're looking for a ride that can take you on extended trips in comfort, be sure to check out our guide to the best grand touring cars you can buy.