We all know how important it is to save for our future and retirement, though it can be difficult to sort through the staggering number of available options to find which investments are right for you. And while it was once viewed with reservation and seen as being somewhat unpredictable, the classic motorcycle space has increasingly become a safe, reliable, and lucrative means of investment. Unfortunately, unless you happen to be a particularly well-read expert, shopping for an investment-grade motorcycle — or even knowing where to begin looking — can be an extremely intimidating process.
Couple this with the fact that a great many classic motorcycles are still in the early, lower stages of their value curve, and we felt now was something of the perfect time to piece together this handy guide to the best classic motorcycles to invest in right now. In addition to counting down our choices for more than a dozen of the most promising two-wheeled investments on the market, we'll also be delving into the benefits of classic motorcycle investment as well as its downsides, what factors to consider when shopping, and how to go about finding the investment-grade bike that's right for you.
Determining A Value
The Main Factors To Look For When Buying An Investment-Grade Motorcycle
Two nearly identical motorcycles of the exact same make, model, and year can massively vary in price. This is owed to a number of factors — eight of the most important of which we'll be exploring in the brief guide directly below.
Originality: Just like with investment-grade cars, when shopping for classic bikes, originality is king. The closer a motorcycle is to the state it left the factory in, the better. While it may sound counterintuitive, aftermarket modifications — even period-correct ones — actually hinder the value of a motorcycle compared to a bone stock specimen. Another factor that will have an enormous impact on a bike's value is whether or not it's a matching-numbers example (i.e. a motorcycle that still has the original chassis and engine — with matching serial numbers — that it left the factory with).
Rarity: Rarity is another factor that plays a pivotal role in determining the value of a classic motorcycle. Unsurprisingly, the fewer examples produced, the more valuable a motorcycle will be. As such, limited-edition models and track-focused homologation specials tend to be some of the most sought-after investment-grade bikes.
Mileage: Because this metric typically has a major impact on the overall state and condition of the motorcycle — at least mechanically — a bike's mileage will play a major role in its value. It's also crucial to check if a motorcycle's mileage is original miles, or if the bike was given a new engine at some point after leaving the factory.
Innovation & Historical Significance: If a production or race motorcycle was used to debut a novel technology or component, this will usually add to its value pretty significantly. In the same vein, if a motorcycle has a particularly unique engine configuration — such as Suzuki's rotary-engined RE-5 — this will also typically make it more collectible and therefore more valuable.
Appearance: While motorcycles are a combination of form and function, a unique appearance does, at times, have the ability to massively increase a bike's value. Models that stand out for their distinctive and idiosyncratic aesthetic design often have the ability to become instant classics — such as the Suzuki Katana or Ducati MH900e.
Competition History: Motorcycles that were previously used to win races are almost always substantially more valuable. The more high-profile and important the race, the more valuable the bike will be.
Previous Ownership: Alongside the motorcycle itself, another factor that can massively affect the valuation of a bike is its ownership history (i.e. the individuals that previously owned said bike). While not as important as a noteworthy race history, if a motorcycle was previously owned and/or ridden by an ex-motorcycle racer or celebrity, it can still hugely bolster a bike's value — especially with certain motorsport legends and icons like Steve McQueen and Giacomo Agostini. It's also worth noting that the fewer owners an example has had, the more valuable it tends to be.
Documentation & Records: Like the overall condition of the bike, how it was cared for has an impact on a motorcycle's valuation. As a result, proper records and documentation tend to bolster a motorcycle's value, as this allows the previous owner (or owners) to give an objective sense of the maintenance and upkeep done (and the cost for this work). This area is especially important if the motorcycle in question is said to have a noteworthy ownership or competition history.
Two-Wheeled Investing Positives
The Benefits Of Classic Motorcycle Investment
There are dozens of both positive and negative factors surrounding the ownership of classic motorcycles from an investment standpoint, though we'll be starting here with the upsides. As strange as it may sound, the single biggest benefit to motorcycle investment — above and beyond seeing a return on your investment — is the fun and enjoyment of ownership. Buying vintage bikes allows you to invest your money in motorcycles rather than leaving it sitting in a bank account or in stocks.
There are also the obvious financial upsides of classic bike investment. In addition to certain models seeing remarkable year-over-year value increases by as much as 30%, we've also seen certain models skyrocket in value nearly overnight. In fact, classic vehicle investment has become so consistent and profitable that there are now online platforms that allow users to purchase individual stakes in vintage rides that are then sold before the profit is split amongst the investors with shares in that vehicle.
On top of granting access to a community of other like-minded vintage motorcycle owners and enthusiasts, classic bike investment also plays an important role in the preservation of these machines — something you get to take part in firsthand when buying and selling investment-grade two-wheelers. Lastly, there's the very obvious yet very important benefit of being able to ride and enjoy your classic motorcycle. And while we'd recommend you try not to add too many miles to a classic bike, you can still enjoy taking it to bike shows or riding it in vintage events or parades.
Pitfalls & Problems
The Downsides Of Classic Moto Investment
Though there are a ton of stellar upsides to investing in classic motorcycles, there are also just as many negative factors and potential pitfalls that one needs to be privy to before buying anything. For starters, there's always the potential that an investment won't turn out as planned, as the bike could be mislabeled, have mechanical issues, or suffer from other problems that don't allow for a profit to be turned.
Unlike other investment-grade objects such as pieces of art or jewelry, maintaining and protecting a classic bike's value requires ongoing servicing and upkeep. This means paying for parts — which can be difficult to find for older and/or rarer examples — as well as servicing, which can also require an expensive specialist to carry out. Insurance is another important area to think about, as this is crucial for protecting your investment, though certain motorcycles will require a specialty insurance carrier — like Hagerty or Grundy.
Any returns you do see from investing in a classic motorcycle will typically be taxed, so be prepared to lose a chunk of your earnings. It's also worth noting that, unlike more liquid assets like stocks or bonds — investing in classic bikes ties up your money and requires that you find an interested buyer before you can cash out.
At the end of the day, if you're simply seeking the greatest financial return in the shortest amount of time, then classic motorcycle investment probably isn't for you, as the ownership experience represents one of the biggest upsides in this space.
Finding Your Two-Wheeled Investment
How To Find The Right Classic Bike For You
When shopping for an investment motorcycle, it's beyond crucial to look into the value history of a bike to ensure that it hasn't already reached the peak of its value curve and is still increasing in value — a task that can be done by reviewing sales history on reputable auction websites like Bonhams, Mecum, or Bring a Trailer. With that said, once this first qualification has been met, we'd urge you to let your own personal taste be the next guiding factor in your search, as enjoying the ownership experience of the scoot is arguably one of the biggest upsides to classic moto investment — and one that will be lost on someone who is only interested in ROI. If you don't have a personal appreciation for a particular classic bike, we'd suggest looking elsewhere for your investments.
Aprilia RS250
the RS250 is a turn-of-the-millennium-era two-stroke supersport bike that was heavily derived from Aprilia's world championship-winning Grand Prix racing bikes. Constructed around a cast twin-spar aluminum and magnesium alloy chassis, the RS250 was engineered for competition use and as such offered remarkably nimble handling and impressive power — all while remaining street legal. And, while all of these race-bred two-stroke Supersports are valuable, the RS250 Final Edition GP-1 (seen above) — a replica GP racer made to commemorate Marco Melandri's 2002 250cc world championship title — is unquestionably the most sought-after of the lot.
Desirable Years: 1995 – 2003
Engine: Liquid-Cooled Two-Stroke 249cc V-Twin
BMW HP2 MegaMoto
First released in 2007 on the heels of BMW's earlier HP2 Enduro dual-sport model, the HP2 MegaMoto is a Bavarian-built hooligan machine that's as unique as it is rare, with somewhere between 2,200 and 2,900 units produced worldwide. This twin-cylinder, Boxer-powered SuperMoto bike came loaded with high-end componentry and boasted stellar build quality and reliability. So, while it's a bit of an oddball, the HP2 MegaMoto has been something of a collector's model practically since its release — and has a steadily growing value that reflects that.
Desirable Years: 2007 – 2010
Engine: Air & Oil-Cooled 1,170cc Boxer Twin
Ducati 916
Designed by the great Massimo Tamburini — aka the "Michelangelo of Motorcycles" — the Ducati 916 is unequivocally one of the most important and groundbreaking superbikes of all time, with a design that continues to influence modern sportbikes even today. Not only did the 916 offer cutting-edge performance upon its debut, but it also boasted what's widely considered to be one of the most beautiful motorcycle designs in history. There are also the similar but less collectible successors to the 916 — the 996 and 998 — as well as the even more valuable and desirable homologation special variants of the 916 like the SP and SPS ("Sport Production Special").
Desirable Years: 1994 – 1998
Engine: Liquid-Cooled 916cc L-Twin
Harley-Davidson Shovelhead
Most motorcycles from Harley-Davidson tend to boast pretty steady and consistent values, which can make it difficult to make a buck on a Harley investment bike. With that said, an exception to this rule has been emerging in recent years, as first-year Shovelhead models — like the FL Electra-Glide — can currently be had for a steal. This allows for a great investment opportunity over the next decade or two, whether you merely want to sit on the bike or completely restore it, either way, there's money to be made. There's also undeniably something to be said about getting to play a part in the preservation of these historic American-made motorcycles. The example shown above is a heavily modified specimen — which brings us to the fact that the Shovelhead can also be a great platform for customization (though customizing will likely hurt the investment potential).
Desirable Years: 1966
Engine: Air-Cooled 80ci (1,310cc) V-Twin
Honda GB500
Produced for only two years in 1989 and '90, Honda's GB500 has been collectible since its debut and remains so today. Also known as the "Tourist Trophy" — or "TT" for short — the GB500 was a factory-built cafe racer that came outfitted with clip-on handlebars, rear-sets, a reverse-cone muffler, a knee-dented tank, a circular headlight, and a cowl-equipped monoposto tail section. And, with cafe racers currently experiencing a major influx in popularity, it's unsurprising that the GB500 has been going up in value as of late. This model was also kicked along by an air-cooled half-liter SOHC single that benefitted from Honda's RFVC (Radial Four Valve Chamber) setup.
Desirable Years: 1989 – 1990
Engine: Air-Cooled 498cc Single-Cylinder
Honda CBR900RR Fireblade
A great many kids and teens grow up looking at posters of their future dream motorcycles (or cars). When these individuals come of age and begin to possess the money needed to buy their childhood dream ride, we tend to see the values of said vehicles greatly increase. And such is the case with a myriad of retro sport and superbikes, including Honda's first-gen (SC28) CBR900RR Fireblade. Penned by legendary motorcycle designer Tadao Baba, the CBR900 double-R now boasts unmistakably late-'80s/early-'90s-era bodywork — though it also offered remarkable performance upon its debut. To help illustrate how much these models have increased in value, there was a low-mile 1993 specimen that was sold on Bring a Trailer in late 2021 for a whopping $52,000.
Desirable Years: 1992 – 1995
Engine: Liquid-Cooled 893cc Inline-Four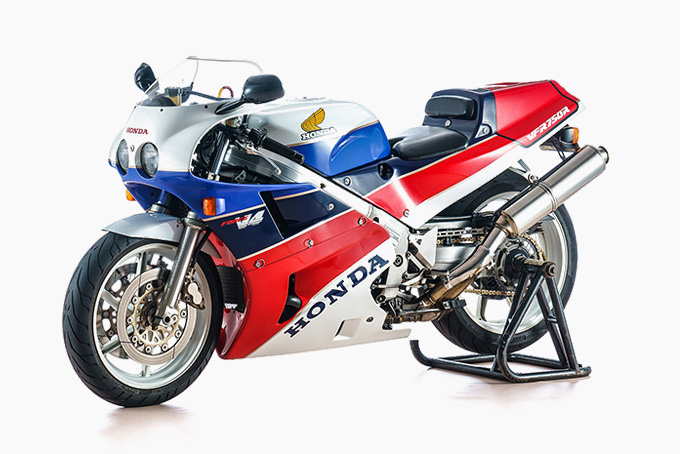 Honda VFR750R RC30
Built by the Honda Racing Corporation, the VFR750R — also known as the RC30 — was a limited-production homologation special built for WSBK competition that featured an enormous slew of highly-innovative race-grade features and components. Selling new in the late '80s for $15,000 — approximately $38,600 in today's money — only 3,000 VFR750R examples were ever produced. As a result, these machines have always been extremely valuable and collectible, though they continue to climb in value, making them ideal for investment. It's also worth mentioning that the RC30 was incredibly successful in motorsport competition, being used to win a WSBK championship title and the 1989 and '90 Macau Grand Prix races, as well as setting the fastest motorcycle lap record at the Nurburgring's Nordschleife circuit.
Desirable Years: 1987 – 1990
Engine: Liquid-Cooled 748cc V-4
Kawasaki H1 Mach III
Upon its release in 1969, the Kawasaki H1 Mach III represented the fastest production motorcycle on the planet. The bike's straight-line speed and acceleration were owed to its state-of-the-art half-liter two-stroke triple. Unfortunately, the development of the H1's chassis, suspension, and brakes lagged greatly behind that of its engine, leading to components that weren't adequate for compensating for the triple's immense power — resulting in the model's unofficial nickname of the "Widow-maker." Safety aside, the H1 Mach III remains a highly collectible and sought-after motorcycle even today. The later 750cc version of this model — known as the H2 Mach IV — is also worth exploring if you're considering an H1.
Desirable Years: 1969 – 1975
Engine: Air-Cooled Two-Stroke 500cc Inline-Three
Kawasaki Ninja ZX-7R
The successor to the GPX750R, the Kawasaki Ninja ZX-7R is another neo-vintage sportbike that's been climbing in value in recent years. While still somewhat competent from a performance standpoint today, the ZX-7R offered amazing speed and cornering upon its debut — a fact owed to the race-bred features that the ZX inherited from Team Green's WSBK machines. While discussing the standard ZX-7R, it's also worth mentioning the even rarer and more valuable homologation special variant known as the ZX-7RR. What's more, because so many of these bikes were raced, stunted, or just ridden into the ground, clean examples now command some pretty impressive prices.
Desirable Years: 1989 – 1995
Engine: Liquid-Cooled 748cc Inline-Four
Penton Six Day 125
Some other groups of vintage motorcycles that have hugely been appreciating in value as of late are old-school desert sleds and ISDT (International Six Days Trial) replicas. While practically any of these models make for stellar investments — especially if in clean condition — we've opted to highlight the Penton Six Day 125 (though we could have just as easily gone with the Bultaco Sherpa 200 "Competition" or any number of related bikes). While it might not look like much by today's standards, motorcycles like the Six Days 125 actually represented the most competent off-road bikes in the world at the time — a fact that has no doubt contributed to their collectability.
Desirable Years: 1968 – 1974
Engine: Air-Cooled 125cc Single-Cylinder
Suzuki GSX-R1100
As the first-ever modern superbike, Suzuki's first-generation GSX-R750 is already a highly-collectible motorcycle that commands exorbitant amounts of money at auction and on the used market. And while the investment ship for the Gixxer 750 may have already sailed, there's still money to be made when investing in the later — and larger — GSX-R1100, as this model possesses a great many of the traits and characteristics of its earlier three-quarter-liter counterpart. This sportbike's unmistakably retro appearance also plays a role in its desirability. Furthermore, it's worth noting that rough examples can currently be purchased for next to nothing, making for a great restoration opportunity — and obviously a solid investment.
Desirable Years: 1987-1992
Engine: Liquid-Cooled 1,052cc Inline-Four
Suzuki Katana
Very few motorcycles so readily announce the era in which they were designed and produced quite like Suzuki's original Katana. Penned by an ex-chief of styling for BMW, the Katana sported a sleek tank, an elongated race-inspired seat and tail, and an ultra-distinctive wedge-shaped front half-fairing. With performance to back up its appearance, the Katana quickly became a cult classic — a status the model still enjoys today. The Katana has actually garnered so much attention in recent years that Suzuki opted to revive the model and deliver a modern take on the wedge-nosed naked.
Desirable Years: 1981 – 1986
Engine: Air-Cooled 1,047cc Inline-Four
Yamaha RZ350
The final evolution of Yamaha's two-stroke RD series, the RZ350 is a sportier version of the Tuning Fork Company's RD350 — another highly collectible motorcycle that currently makes for a fantastic investment bike. Of all the RZs, the most sought-after variant is undeniably the "King" Kenny Roberts Edition, as it not only paid homage to the three-time Daytona 200 winner, three-time 500cc Grand Prix world champion, and two-time AMA Grand National Champion, but was also used to debut Yamaha's now-iconic yellow and black "Speedblock" race livery on a production model.
Desirable Years: 1983 – 1995
Engine: Liquid-Cooled Two-Stroke 347cc Parallel-Twin
Yamaha YZF-R7 OW-02
Though the name was revived last year for Yamaha's new MT-07-based full-faired supersport model, the original YZF-R7 — the OW-02 — was a limited-production homologation special that was built for one purpose: to win races. As such, the R7 was engineered with a spare-no-expense approach, receiving the finest componentry and running gear available at the time — a fact that led to the OW-02's roughly $32,000 MSRP. With only 500 specimens produced, the original R7 is now incredibly rare — as well as incredibly valuable, with specimens now going for over $80,000 and showing no signs of slowing.
Desirable Years: 1999
Engine: Liquid-Cooled 749cc Inline-Four
Yamaha YZF-R1
The Yamaha YZF-R1 has stood as the Japanese motorcycle brand's flagship superbike since it debuted in 1998. Currently, the first-generation versions of these liter-sized superbikes can still be purchased for relatively little money, though with these bikes now being more than 20 years old, they're increasingly becoming classics and are expected to steadily grow in value over the coming decade. And, with Yamaha poised to revamp the R1 and deliver an all-new generation, the original model is almost guaranteed to remain a relevant motorcycle for years to come. It's also worth pointing out that, even though this is a 20-something-year-old bike, the original R1 still offers some pretty exhilarating performance capabilities, with a 170-mph top speed and a sub-3-second 0-60mph time.
Desirable Years: 1998 – 2002
Engine: Liquid-Cooled 998cc Inline-Four
The 15 Best Classic Cars to Invest in Right Now
Want to check out 15 more investment-grade rides? Then be sure to cruise on over to our guide to the best classic cars to invest in right now for another handpicked selection of vehicles trending upwards in their respective value curves.