Piloting a state-of-the-art supercar on a closed course is one of the most fun and exhilarating activities that one can experience, however, automobiles with these performance capabilities come at a price that only an elite and affluent few can afford. Motorcycles, on the other hand, are markedly more accessible, with a lower barrier to entry and cheaper running costs — all while maintaining the ability to go toe-to-toe with some of the world's most advanced hypercars.
And while there are plenty of road-legal superbikes and Supersports that make for great track day machines, ultimately nothing compares to a purpose-built, ready-made race model straight from the factory. And it's this group of two-wheeled track weapons that we'll be exploring today in this guide to the best track-only motorcycles currently in production. In addition to counting down our picks for the best closed-course bikes, we'll also be delving into what exactly a track-only model is, as well as what factors to take into account when shopping for one.
Closed-Course Machines
What Is A Track-Only Motorcycle?
As the moniker would suggest, track-only bikes are non-street-legal motorcycles that are engineered specifically for use on a closed course track. As such, these machines — which represent the pinnacle of performance on two-wheels — are devoid of typical road-going bits like license plates, indicators, mirrors, and lighting, and their standard suites of bodywork are replaced by race-spec fairings with monoposto (i.e. single passenger) seating setups and no cutouts to accommodate headlights. Not needing to conform to regular road-going laws, track-only motorcycles tend to come straight from the factory with a host of race-spec equipment such as (non-street-legal) high-performance full race exhaust systems paired with new ECUs.
Often directly derived straight from manufacturers' factory race programs, these bikes feature super high-end (and super-tight) track-focused suspension and GP-spec braking hardware, and more often than not feature massaged engines with upgraded internals. There are also other minor differences that distinguish track-only bikes from their road-going counterparts such as the former's coming safety-wired for racing, as well as sporting smaller elements such as front and rear spools for track stands, and race-spec items replacing a bike's standard display and switchgear arrangement. And, not only do track-only motorcycles almost always meet regulations for closed-course circuit and race use, but many of them come preloaded with software and hardware for later reviewing metrics and data from your time out on the track.
Two-Wheeled Track Weapons
The Main Factors To Consider When Buying A Track Bike
Though there is some overlap, buying a track-only motorcycle is a very different process than purchasing a regular road-going bike. To help simplify this admittedly complex segment, we've broken down the eight most crucial areas to take into account before deciding on your final purchase.
Engine: As the heart of the motorcycle, the engine is of extreme importance. When reviewing this area, you'll want to consider an engine's displacement (i.e. size), type/layout, and power output, as well as possible finer points like cooling system and cam setup, just to name a few. Unsurprisingly, due to the track-only nature of these machines, many of the mills found in these models are extremely potent and often possess technology or features that have been derived from factory race programs. It's also worth looking into an engine's internal components, as these are often up-specced and frequently include race-grade items.
Bodywork: The easiest way to identify a track-only motorcycle is its bodywork. Unlike street-legal models that sport turn signals, license plates, passenger elements, and cutouts in their fairings to accommodate headlights and the like, track-only machines lack these elements and are designed to be as aerodynamic and lightweight as possible. In an effort to save on weight without compromising a model's drag coefficient, many track-only motorcycles come outfitted with lightweight carbon fiber bodywork.
Frame: To the uninitiated, a motorcycle's frame might not seem all that important, however, this couldn't be further from the truth, as a bike's chassis plays a monumental role in a given machine's handling characteristics and stability. When looking into this area, you'll want to explore the frame type and the material(s) used to construct it, as well as the material used to craft the subframe and swing arm. Typically utilizing the engine as a stressed member, the frames on track-only models vary from everything from trellis and space frames to single-piece monocoques. Some of the more elite offerings in this category even boast frames made entirely from carbon fiber.
Running Gear: Another factor that plays a pivotal role in a track-only bike's performance is its running gear. This includes componentry such as the suspension and brakes, as well as the wheels and other pieces of unsprung mass. Again, more often than not, these items are plucked straight from factory race team bikes and typically represent some of the best components that money can buy.
Adjustability: For a track-only motorcycle to be properly piloted to anywhere near its full potential, it needs to be set up for and precisely fit its rider, which is where adjustability comes into play. Many bikes will offer adjustable clip-ons (i.e. handlebars) and multi-way adjustable rear-sets, though some of the most advanced machines boast adjustable frames that can be fine-tuned to perfectly fit a rider's size and riding style, as well as the circuit. A properly fitting bike will also make exhibiting correct body positioning markedly easier.
Rider Aids: With today's literbikes putting down more than 200hp — often at the rear wheel — today's high-performance motorcycles offer insane amounts of horsepower and torque. So much so, in fact, that manufacturers have had to develop complex electronic rider aids and assists to help keep the bike's immense and evergrowing power in check — and to keep the things from constantly looping the second riders crack the throttle — in the form of traction control, wheelie control, slide control, engine braking control, rear-wheel lift mitigation, and launch control, just to name a few. These systems are often adjustable and can be custom programmed.
Weight: Lotus founder Colin Chapman famously stated "simplify and add lightness" when describing the philosophy behind his vehicles' development, and this principle remains largely intact to this day — with track-only motorcycles being no exception. Built to go around a race track as fast as possible, track-only bikes are stripped of all non-essential elements in a bid to yield the lightest and most potent machines possible. As a result, many of today's finest track-only motorcycles boast incredibly svelte curb weights and remarkable power-to-weight ratios, making this an area well worth looking into.
Aftermarket Availability: Track-only motorcycles save buyers the trouble of having to modify an existing production model and turn it into a track-ready machine. And while some models in this segment already come fitted with some of the finest components on the planet, others still offer room for improvement and can be upgraded with aftermarket parts. However, the rarer and more exotic a given model is, the harder it will be to find aftermarket parts, as well as replacement spares that you'll no doubt eventually need.
Race-Grade Runners
The 12 Best Track-Only Motorcycles
Now that you're up to speed on what a track-only bike is and what factors to consider when shopping for one, let's dive into our picks for the dozen best track-only and race motorcycles currently on the market.
Ohvale GP2
Founded by Valerio Da Lio, Ohvale is a boutique Italian firm that produces high-performance minibikes for use on small technical circuits and kart tracks. Utilized as a training tool by some of the world's top MotoGP and WSBK riders, the company's GP-2 model is 5″ taller, 4.3″ wider, and 5.5″ longer than its GP-0 predecessor, allowing it to better accommodate fully-grown adult riders. Powered by a Japanese-made Daytona 190 engine mated to a four-speed manual gearbox, the GP-2 is brimming with surprisingly high-end componentry including an aluminum swing-arm, fully adjustable suspension, and a trick Arrow exhaust system.
Engine: Air-Cooled 187.2cc Single-Cylinder
Power: 20HP
Top Speed: 80+MPH
Weight: 156LBS
Origin: Italy
Husqvarna FS 450
Another incredibly capable two-wheeler built for tearing up the kart track, Husqvarna's FS 450 is a turnkey supermoto race bike with remarkable performance capabilities and razor-sharp handling right out of the box. Essentially a dirt bike that's been modified exclusively for use on the tarmac, this closed-course hooligan machine comes loaded with high-end componentry including WP XACT suspension front and aft, a Pankl Racing Systems five-speed gearbox, top-shelf brakes and a hydraulic clutch from Brembo, CNC machined triple clamps, ProTaper bars, a carbon fiber composite subframe, and spoked Alpina wheels shod in Bridgestone racing slicks.
Engine: Liquid-Cooled 449.9 cc Single-Cylinder
Power: 63HP & 33FT-LBS
Top Speed: 80+MPH
Weight: 227LBS
Origin: Sweden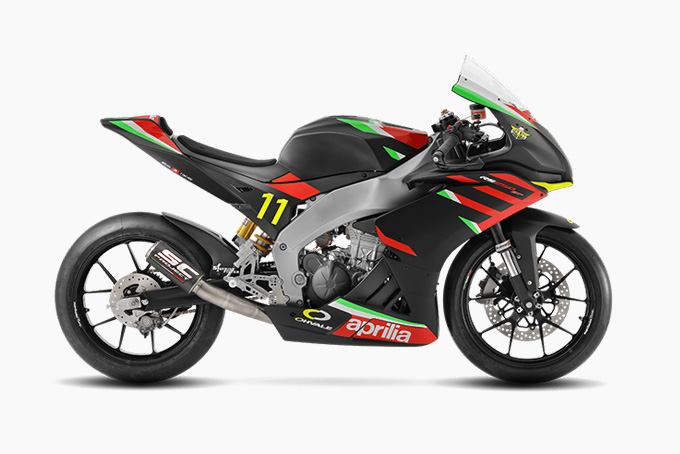 Aprilia RS250SP
With 294 Grand Prix race wins and 38 championship titles to its name, Aprilia stands as the winningest European marque of all time. Recently the Italian firm partnered with Ohvale to deliver a ridiculously competent quarter-liter track weapon with the RS250SP (or "Sport Production"). Benefitting from decades of top-level GP racing experience, the RS250SP is capable of nearly 140mph speeds thanks to a brilliantly tuned 249cc single, while excellent cornering and stopping abilities come from an Ohlins suspension and Brembo brake package. The Noale firm has also bestowed the track-only thumper with 17" Marchesini wheels and a race-spec SC-Project exhaust with a carbon fiber muffler.
Engine: Liquid-Cooled 249.2cc Single-Cylinder
Power: 29.9HP & 16.2FT-LBS
Top Speed: 138MPH
Weight: 231.5LBS
Origin: Italy
Honda NSF250R
First released in 2012 as the successor to HRC's RS125R two-stroke racer, the NSF250R is the result of decades of competition experience, weighing just 185lbs while still being capable of nearly 150mph speeds. Manufactured by the Honda Racing Corporation, the NSF250R is an excellent track-day choice for both novice riders and seasoned racers alike, offering genuine high-performance capabilities while still plenty forgiving and offering a decent margin for error. Over the last decade, this Japanese-made motorcycle model has also been used to achieve five Moto-3 championship titles.
Engine: Liquid-Cooled 249.3cc Single-Cylinder
Power: 47.6HP & 20.65FT-LBS
Top Speed: 149MPH
Weight: 185LBS
Origin: Japan
Yamaha R6 Race
Out of all the 600cc supersport models, Yamaha's YZF-R6 is unequivocally the best and most capable track weapon — as evidenced by its growing number of WSSP championship titles. Interestingly, aside from a full bodywork redesign in 2017 and the addition of electronic rider aids, the R6 has gone almost entirely unchanged since 2006, encapsulating the ethos of "if it ain't broke, don't fix it." Recognizing the model's popularity as a track day bike, the Tuning Fork Company has recently debuted a race-ready track-only-spec of the R6, complete with numerous upgrades and tweaks including a safety-wired harness, a magnesium subframe, an R1 43mm USD fork and brakes, mirror block-off plates, and a full race exhaust paired with a matching ECU.
Engine: Liquid-Cooled 599cc Inline-Four
Power: 116.8HP & 45.5FT-LBS
Top Speed: 165+MPH
Weight: 418.8LBS
Origin: Japan
Aprilia RS660 Trofeo
Not long after debuting its new mid-sized RS660 model, Aprilia gave the bike to its factory race program to develop a top-shelf track-only variant known as the RS660 Trofeo (Italian for "Trophy"). On top of a bump in horsepower and a lighter, narrower Flex frame with revised ergonomics, the Trofeo-spec of the RS660 also gets an Öhlins AP948 mono-shock and one of the Swedish suspension specialist's USD forks with an Andreani internal cartridge, fairings made by Cruciata Racing, forged aluminum wheels wrapped in Pirelli Supercorsa SC1 tires, and a host of smaller race parts from Spider Racing.
Engine: Liquid-cooled 659cc Parallel-Twin
Power: 105HP & 49.4FT-LBS
Top Speed: 150+MPH
Weight: 337LBS
Origin: Italy
Krämer HKR EVO2 R
Based in Fargo, North Dakota, Krämer is a boutique brand that trades in purpose-built, handmade track bikes that are constructed around existing engines from KTM. Krämer's HKR EVO2 R is kicked along by a KTM LC4 engine that's been treated to a completely redesigned cylinder head, upgraded pistons and con-rods, and an APTC slipper clutch, and is housed in a bespoke powder-coated Chromium-Molybdenum steel frame draped in custom-designed fiberglass bodywork that includes an XPE plastic tail section with an integrated 3.17-gallon fuel cell. Weighing around 275lbs, the HKR EVO2 R also sports Brembo brakes, a WP Super Sport fork, and a WP mono-shock with a KMC linkage.
Engine: Liquid-Cooled 690cc Single-Cylinder
Power: 80HP & 55.3FT-LBS
Top Speed: 140MPH
Weight: 276LBS
Origin: America
KTM RC-8C
Taking inspiration from the Ready To Race brand's RC16 MotoGP bikes, KTM's RC-8C is a spare-no-expense track-only machine based on the brand's 890 Duke R model. Developed in collaboration with Krämer, the RC-8C features a 25CrMo4 steel tubular frame paired with WP APEX PRO suspension front and aft, Dymag forged wheels shod in Pirelli SC1 racing slicks, Brembo Stylema Monobloc calipers, GP-style switchgear, a dedicated racing exhaust with an Akrapovič titanium muffler, RC16-style carbon fiber bodywork with MotoGP-style aerodynamic winglets, a 5" TFT AIM MXS 1.2 RACE display and data logger, and titanium hardware throughout. Each of the 100 units produced also comes with a host of spare parts.
Engine: Liquid-Cooled 889cc Parallel-Twin
Power: 126HP & 74.5FT-LBS
Top Speed: 174MPH
Weight: 308.6LBS
Origin: Austria
Indian FTR750
While admittedly not what typically springs to mind when discussing track-only two-wheelers, Indian's FTR750 is a factory-built, closed-course-only race bike that's more than worthy of a spot on this list, as the dirt oval racer has been used to claim every single AFT Twin championship title since its debut half-a-decade-ago. Capable of triple-digit speeds on the dirt track, this 748cc 53°-V-twin is mated to a four-speed transmission and sports a chain final drive system. And while the FTR750 was once only available to Indian's factory race team, it can now be purchased by privateers (i.e. the public) for closed course use for $50K a pop, albeit in very limited numbers.
Engine: Liquid-Cooled 748cc V-Twin
Power: 109HP & 60FT-LBS
Top Speed: 140MPH
Weight: 340LBS
Origin: America
Kawasaki Ninja H2R
Appropriately referred to by Kawasaki as a "Hypersport," the H2R is an objectively bonkers, carbon-bodied (and winglet-equipped) supercharged liter-sized superbike that's capable of 240mph top speeds, and a power output of 121.5ft-lbs of torque and 310hp — which is roughly the same output as a 1989 M5, despite weighing 7.75-times less! than the 3.682lb BMW. On top of a radical bodywork design, the supercharged H2R — which is basically the two-wheeled equivalent to a hypercar — also features an array of rider aids to keep its unparalleled amounts of power in check. And, while it admittedly doesn't come cheap, there really is nothing else on the road (or track rather) quite like the mighty H2R.
Engine: Supercharged Liquid-Cooled 998cc Inline-Four
Power: 310HP & 121.5FT-LBS
Top Speed: 236MPH
Weight: 476.3LBS
Origin: Japan
Vins Duecinquanta Competizione
Founded and headed up by a pair of ex-Ferrari engineers, Vins Motors is responsible for producing some of the most exotic motorcycles on earth. A modern homage to the glory days of the 500cc two-stroke GP racing, the Italian firm's Duecinquanta Competizione is a track-only version of Vins' flagship road-going Duecinquanta Stradale model and features the same carbon fiber monocoque frame and fuel-injected two-stroke V-twin engine, wrapped in race-style carbon bodywork. Despite weighing less than 225lbs, this lightweight two-wheeler can achieve speeds of over 140mph and offers exceptionally sharp handling. In fact, this model's frame is so stable at speed, that it doesn't even benefit from a steering damper.
Engine: Liquid-Cooled 249.5cc Two-Stroke V-Twin
Power: 75HP & 33.2FT-LBS
Top Speed: 142.9MPH
Weight: 224.8LBS
Origin: Italy
BMW HP4 Race
Essentially BMW Motorrad's answer to Ducati's Superleggera, the HP4 Race is an insanely high-end version of the German brand's S1000RR superbike that features a retuned engine wrapped in a carbon fiber chassis that's adorned in carbon bodywork and rides on carbon wheels. Largely derived from BMW's WSBK program, every component and piece of hardware on this machine represents some of the finest, race-grade equipment available and includes Ohlins suspension with an FGR fork, a 2D race display, an Akrapovic race exhaust, and Brembo RCS brakes. And, despite this model debuting several years ago, there are still reportedly new examples that have yet to be snapped up.
Engine: Liquid-Cooled 999cc Inline-Four
Power: 215HP & 88.5FT-LBS
Top Speed: 186.4+MPH
Weight: 321.8LBS
Origin: Germany
The 10 Best Race Tracks In The USA
Now that you've got your track bike figured out, you're going to need a circuit to unleash it on, and our guide to the best race tracks in the USA features ten of the finest purpose-built closed-courses in the nation.