Superbikes unequivocally represent the absolute pinnacle of performance in the two-wheeled realm, with these machines almost always being derived from track-focused race bikes. As such, superbikes and supersports are the most technologically advanced motorcycles on the planet, benefitting from cutting-edge features and components that have trickled down from top-level race programs like those competing in WSBK or MotoGP. This has ultimately culminated in an ultra-refined class with ever-increasing top speeds and performance capabilities that are able to go toe-to-toe with six and seven-figure hypercars.
Because this is such a competitive segment, superbikes tend to evolve at a markedly quicker rate than other classes of scoot, and while this means there's no shortage of thoroughly state-of-the-art models to choose from, it can also make shopping in this space an intimidating process, especially to the uninitiated. So, with this in mind, we've scoured the entire supersport and superbike markets to not only highlight the best superbike motorcycles that you can currently buy, but also to explain some of the finer points of the sector including their intended use, how to find the model that's right for you, and what to look for when shopping.
Two-Wheeled Track Weapons
What To Consider When Purchasing A New Superbike
As ultra-advanced high-performance machines, the process of shopping around for a new superbike can be a rather daunting one. Recognizing this, we've briefly broken down the half-dozen most important aspects to consider when buying a supersport or superbike.
Aero & Bodywork: Alongside powerful engines, clip-on handlebars, and high-mounted rear-sets (i.e. foot-pegs), full fairings are one of the main defining qualities of a superbike. Designed to help the motorcycle cut through the wind and achieve a more slippery drag coefficient, these full sets of bodywork are an important area to consider when buying a model in this class. In addition to the material used to construct it and its visual design, it's also worth exploring if a model's fairing is equipped with down-force-generating aerodynamic winglets as these items — which were derived from MotoGP bikes — have become increasingly commonplace in the superbike segment over the last few years.
Powertrain: As the heart of the motorcycle, a bike's powertrain is another wildly important area to consider when shopping around. Typically utilizing four-cylinder engine configurations — though twins and triples are also fairly common, and even singles on some smaller models — superbikes usually possess the most potent and powerful engines of any class of motorcycle, with current flagship models routinely putting down more than 200hp. As a result, when shopping, you'll want to look at factors such as an engine's number of cylinders and displacement, as well as finer points such as cooling and cam setup.
Power Output: One area that separates superbikes from other classes of motorcycle is the segment's unparalleled horsepower and torque figures — many of which are on par with modern production cars despite tipping the scales at only a fraction of the weight of their four-wheeled counterparts. This is ultimately what affords these machines their phenomenal speed and acceleration, making this an extremely important area to look into before pulling the trigger on your purchase. A model's power figures should also help clue newer riders into whether or not a specific bike is appropriate relative to their skill and experience level.
Running Gear: While a superbike's raw speed and acceleration are largely owed to the engine at the heart of the bike, handling and stopping abilities boil down to the running gear — or components — present on a given model. Because these parts need to assist in exacting maximum levels of performance, they too tend to be derived from race programs and are often of the GP-spec variety. As some of the most top-shelf componentry that money can buy, these elements typically account for a decent portion of a model's MSRP. And while they're almost always adjustable, superbike suspension setups are mainly intended for the track, and as such almost always fall on the tighter end of the spectrum. Likewise, the braking hardware that these machines possess is also GP-grade and is designed for hard and late braking.
Technology: Even the most talented professional racers would seriously struggle with keeping a superbike's more than 200 horses in check, which is why modern sportbikes almost always come equipped with advanced electronic rider aid packages. These include common staples like ABS and traction control, as well as more elaborate systems like anti-wheelie and slide control, launch control, adjustable engine braking control, and rear-wheel lift mitigation systems, just to name a few. On top of smartphone connectivity, most of these models also feature multiple power modes (i.e. fuel maps) — which on superbikes typically include dedicated race/track and rain modes.
Price: Wrapping one's head around superbike pricing can admittedly be a bit tricky. While it's true that spending more will almost always get you a better bike, a $30,000 model is by no means twice as good as a $15,000 bike. As prices go up, you start having to pay a considerable amount for what are only minor differences. This can best be seen with homologation specials — aka race-spec bikes that require a minimum number of units to be produced in order to qualify for certain types of competition — as they come heavily upgraded in their stock form and more often than not sport some of the most top-shelf components that money can buy.
Superbike Shortcomings
The Reality Of Riding Sportbikes On The Street
Sportbikes are specifically engineered to go around a race track as quickly as possible, having been largely derived from race bikes. As a result, closed-circuit courses are where supersports and superbikes perform best. And while it's true that production sportbikes have been modified by their manufacturers to better lend themselves to riding on the street, any rider that's spent a decent amount of time in the saddle can tell you that sportbikes simply aren't very conducive to road use.
This is for a myriad of reasons including the fact that they possess full suites of bodywork that can easily get scuffed up or thrashed if one drops the bike — or if it gets knocked over while parked — and super aggressive ergonomic setups that favor a tight, hunched-over riding position over more relaxed upright configurations, making these bikes fairly uncomfortable when ridden for more than a few miles. Superbikes' biggest problem with street riding is undoubtedly their engines, which typically make most of their power just before redline, requiring riders to be nearly bouncing off the rev ceiling in order to make the most of these machine's power bands.
There's an old saying that it's "more fun to ride a slow bike fast than it is to ride a fast bike slow," and superbikes epitomize this phrase better than any other class of motorcycle. Because they're developed specifically for use on the race track, superbikes also tend to boast some pretty remarkable performance capabilities, with lightning fast acceleration and hair-raising top speeds — attributes that can't be taken advantage of when riding on public roads — at least not legally. Add to this the fact that some liter-sized superbikes are capable of nearly reaching triple-digit speeds while in first gear, and you should start to be able to get a sense of how the immense performance capabilities of these bikes are very much wasted on the street and can't be used to anywhere even near their full potential.
Sportbike Shopping 101
How To Find The Superbike That's Right For You
There's no denying that superbikes are ridiculously fun — to put it mildly — though the reality is that these are incredibly powerful motorcycles that are extremely unforgiving, offering a very minimal margin for error and boasting ridiculously sensitive controls. As such, superbikes are quite possibly the worst choice for novice bikers to start their riding careers on – not unlike how it would be an equally terrible idea to learn how to drive behind the wheel of a new supercar or hypercar. Even with the benefit and added security afforded by electronic rider aids like traction control, ABS, and watered-down power modes, riders still have to contend with the full weight of these machines, making them difficult to control, and an all-around atrocious choice for a new rider.
The good news is that sportbikes are produced in a wide variety of sizes, including small-displacement models that are beginner-friendly, as well as mid-sized supersports and big-bore liter-bikes. With options available across a wide variety of displacements, one's skill level – or lack thereof — should ultimately be the main guiding factor when searching for a sportbike. Not only will a bike that's appropriate for your skill and experience level be safer and easier to pilot, but it will also be markedly more conducive to learning and evolving as a rider, making it simpler to develop the fundamental skills needed for riding on two-wheels.
Riders will always have the option of upgrading to a larger or more powerful model later on down the road once their skills are more refined, so just because you can legally buy a race replica superbike as your first motorcycle doesn't mean you should. In fact, in some countries outside of America, newly-licensed motorcyclists are prohibited from legally piloting full-size superbikes, and have to start on smaller machines, gaining experience in the saddle before being able to get an endorsement for riding more powerful, larger-displacement bikes. It's also worth noting that naked superbikes — or "street fighters" — can be a great alternative to traditional sportbikes as they're designed to better lend themselves to use on the street.
KTM RC390
The recipient of a recent major visual redesign, a new chassis, and a revised powertrain, KTM's latest RC 390 is a small-displacement, high-performance sportbike that's plenty forgiving, while still packing enough speed and power to allow a novice rider to grow and evolve their skills for quite some time. Despite being an entry-level model, the RC 390 boasts high-end features like a slipper clutch, WP APEX suspension, a TFT display, cornering ABS with a supermoto mode, LED lighting, traction control, a quick-shifter, and connectivity to the KTM MY RIDE app.
Engine: Liquid-Cooled 373cc Single-Cylinder
Power: 43HP & 27.3FT-LBS
Top Speed: 115MPH
Dry Weight: 341.7lbs
Aprilia RS 125 GP Replica
Hugely benefitting from the company's wildly successful Grand Prix racing program, Aprilia's RS 125 GP Replica is almost certainly the finest eighth-liter supersport currently in production, offering tremendous levels of performance as well as an aesthetic design that looks remarkably similar to the Italian manufacturer's flagship literbike model. And, as this special edition model's name suggests, this version of the RS 125 sports a replica race livery based on Aprilia's RS-GP MotoGP racer, as well as a quick-shifter, and a monoposto tail cowl, all as standard items.
Engine: Liquid-Cooled 124.2cc Single-Cylinder
Power: 14.75HP & 8.26FT-LBS
Top Speed: 70MPH
Curb Weight: 317.5LBS
Kawasaki Ninja ZX-25R
Harkening back to the small displacement multi-cylinder superbikes of decades past, Kawasaki's Ninja ZX-25R is unlike anything else on the road, with the Japanese-made moto being powered by a 250cc inline-four that spins at up to 17,000rpm — 5,000 more than a Formula 1 race car. Though still fairly svelte with a roughly 400lb wet weight, this little Ninja legitimately boasts the character of a big-bore superbike in a more manageable — yet still thoroughly thrilling — package. Sadly, this motorcycle isn't sold in the U.S.
Engine: Liquid-Cooled 250cc Inline-Four
Power: 43.5HP & 15.6FT-LBS
Top Speed: 117MPH
Curb Weight: 396LBS
Yamaha YZF-R7
As previously touched on in the primer above, superbikes simply don't lend themselves very well to use on the open road, plus these high-performance vehicles don't come cheap. Recognizing these problems, Yamaha set out to deliver a more sensible and practical supersport, taking its proven MT-07 parallel-twin platform and dressing it up in the bodywork of the company's YZF-R6 model. In addition to having an engine that's more conducive to use on the street, this bike also has more relaxed — yet still fairly sporty — ergonomics, and can be picked up brand new for just $9,000.
Engine: Liquid-Cooled 689cc Parellel-Twin
Power: 72.4HP & 49.4FT-LBS
Top Speed: 139MPH
Curb Weight: 414LBS
Yamaha YZF-R6
There are quite a few models to choose from in the 600cc i4 race replica class, though when it comes to on-track performance and pedigree, nothing beats the mighty YZF-R6. The Tuning Fork Company did treat the model to a sleek new set of bodywork and a cutting-edge rider aids package a few years ago, but at its core, it has remained largely unchanged since 2006, with its thoroughly-proven engine and frame being about as close to perfect as it gets. So, while it may not be the most practical machine on the street, it's objectively the best track weapon in its class.
Engine: Liquid-Cooled 599cc Inline-Four
Power: 117HP & 45.5FT-LBS
Top Speed: 160MPH
Curb Weight: 419LBS
BMW S 1000 RR
When BMW debuted its S 1000 RR superbike roughly a decade ago, the German-engineered two-wheeler represented a major technological leap in the motorcycling realm with what was undoubtedly the most advanced electronics package ever seen on a scoot. And the latest iteration of the double-R maintains this tradition while ushering in even more impressive performance capabilities thanks to its liter-sized four-banger now putting down a cool 205hp. The Bavarian brand also offers an M Performance Parts package for this model that includes elements such as carbon fiber wheels.
Engine: Liquid-Cooled 999cc Inline-Four
Power: 205HP & 83FT-LBS
Top Speed: 185MPH
Curb Weight: 434LBS
Suzuki GSX-R1000R
First introduced in 2001, the Suzuki GSX-R1000 is an absolute icon of a superbike, having consistently raised the bar in its segment over the last two decades, culminating in the latest generation of the roughly 200hp two-wheeler that's both more potent and more compact than its predecessors. Constructed around an advanced twin-spar aluminum frame, the newest GSX-R1000R also packs an impressive host of tech including an inertial measurement unit, an adjustable traction control system, a bi-directional quick-shifter, the Japanese brand's Drive Mode Selector, launch control, and a track-specific ABS mode.
Engine: Liquid-Cooled 999.8cc Inline-Four
Power: 199HP & 87FT-LBS
Top Speed: 190MPH
Curb Weight: 445LBS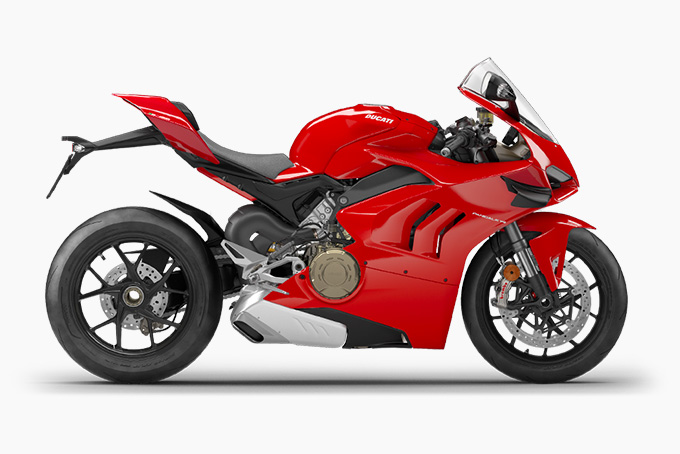 Ducati Panigale V4
Derived from the Italian firm's Desmosedici GP MotoGP racer while also benefitting from its WSBK team experience, this Ducati motorcycle features an ultra-advanced chassis design paired with an equally elaborate V4 engine. The base model Panigale V4 comes loaded with a thoroughly state-of-the-art suite of electronic rider assists, as well as aerodynamic winglets, all as standard fare. Ducati also produces a myriad of higher-specced Panigale V4 models, including an S-spec, the V4 R, the SP variant, and the all-mighty carbon-clad Superleggera, though the base model is undeniably an immensely capable machine in its stock form.
Engine: Liquid-Cooled 1,103cc V4
Power: 214HP & 91.5FT-LBS
Top Speed: 191MPH
Curb Weight: 436LBS
MV Agusta Superveloce 800
Arguably the best-looking modern-retro-style motorcycle ever penned, MV Agusta's Superveloce 800 is an absolutely stunning fully-faired superbike that's built around the Varese marque's tried-and-true F3 800 platform — another stellar supersport model in its own right. As such the SV800 features an advanced trellis frame paired with a single-sided swing-arm, a top-shelf array of running gear, and a potent 798cc triple that puts down 147hp — all hidden beneath a truly gorgeous suite of vintage GP-inspired bodywork.
Engine: Liquid-Cooled 798cc Inline-Three
Power: 147HP & 64.9FT-LBS
Top Speed: 149.1MPH
Dry Weight: 458.2LBS
Aprilia RSV4 Factory 1100
With 294 Grand Prix victories and a whopping 38 championship titles to its name, it's fair to say that Aprilia knows "a thing or two" about producing ultra-capable sportbikes — as also thoroughly evidenced through the Noale firm's RSV4 Factory 1100. Starting with the already impressive base model, this V4-engined track-day weapon is brimming with top-shelf componentry including an Akrapovič exhaust system, a slew of carbon fiber bits, forged aluminum wheels, a tail cowl, and a super-advanced tech package that boasts adjustable traction, launch, and wheelie control, plus a quick-shifter and a race-style display.
Engine: Liquid-Cooled 1,077cc V4
Power: 217HP & 90FT-LBS
Top Speed: 186.4+MPH
Weight: 438.7LBS
Yamaha YZF-R1M
Yamaha's YZF-R1 is another immensely capable superbike, though the top-of-the-line M-spec cranks things up a few notches. Alongside a full suite of carbon fiber bodywork that leaves much of the weave on display under a glossy protective clear coat, the R1M also gets an onboard data logger, top-shelf Öhlins suspension front and aft, 10-spoke cast magnesium wheels, GP-spec radial-mount braking hardware, and a chip-controlled throttle regulating its MotoGP-derived and cross-plane crank-equipped 998cc inline-four engine.
Engine: Liquid-Cooled 998cc Inline-Four
Power: 198HP & 83.2FT-LBS
Top Speed: 186.4+MPH
Weight: 450LBS
Honda CBR1000RR-R Fireblade SP
From the early to mid-aughts, Honda was the name to beat in the supersport and superbike classes, producing what seemed like unbeatable bikes for quite a while. But after 2010, Big Red's track-focused offerings began stagnating, failing to evolve and consequently growing increasingly long in the tooth. Things remained this way for a number of years until Honda debuted its game-changing CBR1000RR-R Fireblade SP. Epitomizing a state-of-the-art superbike, this homologation special boasts just about every high-end component and feature one could ask for from a race bike, including winglet-equipped bodywork, a wildly-advanced tech package, and a nearly 200hp four-banger that allows the SP-spec to clock speeds exceeding 186mph (or 300km/h).
Engine: Liquid-Cooled 999cc Inline-Four
Power: 189HP & 83FT-LBS
Top Speed: 186.4+MPH
Weight: 443LBS
Kawasaki Ninja ZX-10RR
Kawasaki's flagship ZX-10R model is the most successful race superbike of the last decade — and by an enormous margin — having won every single WSBK championship since 2013 (with the exception of 2014). And while the base model is admittedly an incredible machine, the homologation special variant is even more astounding, putting down 204HP and boasting the ability to fire off 0-60mph runs in just 3.3-seconds — placing it on par with a slew of elite supercars. Alongside a special livery, the homologation special variant also comes loaded with more high-end componentry as well as almost a dozen state-of-the-art electronic rider aids.
Engine: Liquid-Cooled 998cc Inline-Four
Power: 204HP & 82.5FT-LBS
Top Speed: 186.4+MPH
Weight: 456.4LBS
Vins Motors Duecinquanta Strada
The Vins Motors Duecinquanta Strada is a 130mph street-legal superbike that tips the scales at a little over 200lbs, fully fueled and ready-to-go. Achieving a 0.71hp/kg power-to-weight ratio, the Duecinquanta Strada's mind-blowing spec sheet figures are made possible through the use of a thoroughly state-of-the-art carbon fiber monocoque chassis that's draped in carbon fiber bodywork and fitted with a modern quarter-liter liquid-cooled two-stroke V-Twin engine. Vins also makes a track-only Competizione-spec of the Duecinquanta.
Engine: Liquid-Cooled 249.5cc Two-Stroke V-Twin
Power: 75HP & 33.2FT-LBS
Top Speed: 130.5MPH
Weight: 209LBS
Kawasaki Ninja H2R
While it's by no means a race regulation machine, Kawasaki's Ninja H2R is nothing short of a monumental feat of engineering. Good for speeds well over 200mph, this closed-circuit course-only track weapon is kicked along by a liter-sized inline-four that's been fitted with an entirely in-house-designed supercharger that allows it to generate a mind-blowing 310hp and more than 120ft-lbs of torque — all while weighing less than 500lbs at the curb. Cloaked in a full suite of winglet-equipped carbon fiber bodywork, the H2R can also hit 60mph from a standstill in less than three seconds and can reach 0-100mph in just over five.
Engine: Supercharged Liquid-Cooled 998cc Inline-Four
Power: 310HP & 121.5FT-LBS
Top Speed: 236MPH
Weight: 476.3LBS
The 14 Best Used Superbikes You Can Buy
Not quite ready to invest in a brand-new superbike? Then be sure to head over to our guide to the best used superbikes for a look at a more accessibly-priced crop of high-performance two-wheelers.