For the last decade and a half, the production motorcycle market has been increasingly influenced by the new wave customs scene. The massive influx in popularity of one-off cafe racers ultimately resulted in the introduction of numerous cafe'd production models, before the same phenomenon — albeit for a shorter time — took hold with bobbers. But the latest custom craze to permeate the production world is undoubtedly that of the scrambler. These vintage off-road-themed machines are now offered by the majority of today's manufacturers, with some marques basing entire product ranges on the retro-inspired runners.
With more-than-satisfactory sales figures to prove it, the continued interest in the scrambler genre has afforded motorcyclists with a wide array of different scrambler options currently on the market. Despite the fact this slew of aforementioned models all fall under the scrambler umbrella, their attributes, performance prowess, features, and build quality can all vary greatly. So, to help you figure out which is the right scrambler for you, we've put together this guide to the 13 best scrambler motorcycles that you can buy. And while this list isn't limited to models that are currently in production, it is confined to late-model scramblers that are still readily available on showroom floors from prior model year holdovers.
Turning Back The Wheels Of Time
The History & Origins Of The Scrambler
While it's hard to nail down an exact time or place, pretty much everyone agrees that scramblers can be traced back to pre-depression-era England. At this time (roughly 1920s), motorcycles had only been around for a few decades and were just starting to become custom-engineered machines, purpose-built from the ground up, rather than bicycles that had been fitted with a primitive engine and then lightly modified. The concept of a purpose-built off-road production motorcycle was still almost half-a-century off in the horizon, though early riders nonetheless were eager to get off the road and tackle some dirt and off-road riding.
Enthusiasts organized early off-road races that, rather than following along a given trail or route, would instead give competitors a starting point, a bearing, and a finishing point. How the rider chose to get there or how they opted to negotiate the obstacles and terrain along the way was entirely up to them. To compete in these events, riders had to use production models that were built for road use as, again, there really wasn't an alternative at the time. In order to make their rides more conducive to off-road performance, riders would strip their bikes down to the bare essentials, and often fortify the things to better withstand the abuse and rigors of off-roading.
Initially, these machines were largely constructed in the garages and sheds of amateur and hobby builders without any help or backing from manufacturers. Eventually, these "scrambler" bikes and the local-level races they competed in took off in popularity, catching the eye of various big-name companies including manufacturers, aftermarket parts companies, and chassis and engineering outfits.
By the 1960s, manufacturers started introducing production scrambler models that were marketed for their off-road abilities while still being suited to regular street riding. And while right off the showroom floor, these models were more competent in off-road situations, the reality is that they were still, for all intents and purposes, road-bikes that had been lightly modified for dirt use, though they were still pretty lackluster in that department, especially when compared to the purpose-built machines that followed.
By the 1960s, it became common for manufacturers to release scrambler variants of their existing models. For example, Honda introduced a handful of iconic scrambled versions of its bikes, though instead of being marketed under the road-going CB (or "City Bike") designation, these Japanese models took on the "CL" moniker, with semi-off-road-appropriate bikes ranging in displacement from 450cc's, down to 49cc's. And while they did sport high-mounted pipes and wide bars and whatnot, these were still heavy machines that didn't lend themselves particularly well to hardcore off-road riding.
A Shifting Tide
The Rise Of The Motocross Machines
It didn't take too long for the point A to point B races being held in the UK to transform into closed-circuit off-road trails and hare scrambles courses. And though this limited the types of terrain riders wold experience in off-road racing, it also gave bike builders and manufacturers a better sense of what off-road models would be facing. Desert racing in California was also exploding in popularity around this time, and as a result, a number of specialist companies started building increasingly capable, purpose-built frame kits, such as the iconic Rickman Metisse scramblers.
From there, actual motorcycle manufacturers began experimenting with increasingly purpose-built bikes for off-road riding themselves, releasing ever-more-competent machines. In 1966, everything changed however, when a Swedish-born, four-time 250cc MX world champion by the name of Torsten Hallman flew over to the US with a brand new Husqvarna off-road model. Hallman proceeded to absolutely dominate every single race he entered that year — at times lapping the entire field — and in the process, he introduced the US to the term "motocross," which described a new, lightweight style of off-road motorbike.
From this point forward, scramblers were on a downward trend, steadily being replaced by increasingly modern, increasingly capable machines with better power, less weight, nimbler handling, markedly superior suspension, and an overall improved rideability. With purpose-built production off-road models now available at dealerships, there was no longer a need to modify road-bikes for off-road use, and thus, the original scrambler models died out.
'Quite A Scramble'
Unpacking The Origins Of The Scrambler Name
A common, albeit unsubstantiated urban legend in the moto world, is that the scrambler name supposedly stems from a British announcer who was watching a 1920s off-road race and described what he was witnessing as "quite a scramble." For whatever reason, this utterance took off like wildfire, being picked up by riders first in the UK and then around the world and ultimately becoming the long-time moniker for what we recognize today as the scrambler.
Defining A Genre
What Exactly Is A Scrambler Motorcycle?
Like the original shed-built scrambler bikes from mid-century England, today's scrambler bikes are essentially stripped down scoots that have been rid of any and all superfluous components and then bestowed with a variety of hardware and upgrades to make them more conducive to off-road performance.
Scramblers also have a distinct appearance that's largely due to their purpose-built nature and intended use. Because these machines were typically ridden in short bursts during competition and weren't being made for long-hauls in the saddle, scramblers tend to sport relatively small fuel cells, often slightly knee-dented or fitted with rubber knee pads. Because the rider needs to be able to freely slide around the bike while throwing it into corners and the like, scrambler boast idiosyncratic, thin, flat seats that often culminate in a hooped subframe.
The intended off-road use is also what gives scrambler bikes their long-travel suspension, lower-gearing, upright seating position, high-mounted fenders, spoked rims, knobby tires, wider bars, and hand, engine, and headlight guards, as well as their exhaust systems and pipes, which are positioned on the bike high off the ground, where they're safe from rocks, logs, or other obstacles that could prove detrimental to a low-ganging hanging muffler. The side (and sometimes front) number plates on these bikes stem from the fact they were widely used in competition.
Air-Cooled Singles & Twins
Why Simple Is Preferable On Scrambler Bikes
Another classic hallmark of the original scrambler motorcycles was an overall simplicity. On top of already being spartan and fairly-stripped down, these bikes were designed to take on rugged terrain and were routinely put in highly-demanding riding situations. Consequently, riders preferred a bike that was simple and straight-forward. Easy to wrench on (mid-race if need be), and with minimal parts that could possibly fail, break, or get damaged.
As a result, pretty much all of the scramblers of yesteryear utilize air-cooled engines that are almost exclusively of the single or twin-cylinder variety. And though multi-cylinder engines have become markedly more commonplace on production models today, the lion's share of the contemporary scramblers being produced continue to be powered by — primarily air-cooled — thumpers and twins.
Coming Full Circle
The Modern Rise Of The Scrambler
While the first wave of scrambler motorcycles went extinct in the 1970s, the segment experienced a major resurgence in the mid-aughts. Not long after reviving its wildly-iconic Bonneville range, Triumph followed up the rebirth with the release of a scrambled Bonnie variant, complete with high-pipes, longer-travel suspenders, spoked hoops, knobby rubber, and an overall design that included several blatant nods to earlier Triumph scramblers, including Steve McQueen's famous customized TR6 racer. The smashing success of this new Bonneville prompted other major manufacturers to follow suit.
Over the next decade, more and more motorcycle companies began introducing their own respective scrambler models, sometimes as scrambled versions of existing offerings and sometimes as purpose-engineered products. Brands like Yamaha and BMW both rolled out scrambler bikes as part of their heritage lineups, outfits like Moto Guzzi and CCM unveiled scrambled versions of models already in their lineup, and Ducati introduced an entire product range under the "Scrambler Ducati" name, which in a matter of less-than-a-year, was already accounting for more than a quarter of all of Ducati's sales.
The Engineer's Intent
The Intended Application Of Modern Scrambler Motorcycles
By definition, scrambler motorcycles are built to look like off-road capable bikes. The reality is that while all of them appear to be off-road-oriented, many, if not most, aren't all that proficient of machines once they get off the tarmac. Because each model is different, the best way to figure out how capable a given scrambler is in the off-road department is to review a handful of specific areas, namely: weight; suspension travel; overall protection (skid-plates, high-mount exhaust, headlight grille); engine type; and power — though torque trumps horsepower when you're judging a scrambler (or any off-road-focused bike).
There's also nothing wrong with owning a scrambler because you like its off-road-style appearance, despite the fact that you have no intention of ever taking it off-road. In a similar, more common vein: there are plenty of drivers who have opted to own pickups or SUVs simply based on their fondness of the rugged aesthetic these vehicles offer, and scramblers are really no different.
Herald Scrambler 125
The Scrambler 125 is a small Chinese-made, British-sold standard that's been given a light scrambler treatment. With single-digit power figures and a disturbingly-low mounted exhaust, this eighth-liter Herald is more intended to simply give the vibe of an off-road machine though it's clearly intended almost exclusively for road-use. It's roughly 275lb weight does mean that it is admittedly a nimble little bike that would be easy to slide around on. And despite the lackluster reputation of many Chinese-made bikes, Herald's wares are actually pretty quality little motos, surprisingly dependable and sporting some modern elements such as LED lighting and adjustable fenders. It's an affordable scrambler choice that mimics the style of many custom builds, with a tank that's clearly "inspired" by the cells on old Triumph Bonnevilles, a flat scrambler-style saddle, dual clocks, a triangular subframe capped off with number plates, knobby, fork boots, and a headlight grille. With its low-seat height (and low curb weight), this model is also great for shorter riders.
Engine: Air-Cooled 124cc Single
Power: 9.6HP/6.3FT-LBS
Weight: 277LBS
Suspension Travel: N/A
Bullit Hero Gulf Edition
The Bullit Hero is an incredibly attractive bike that's available at an exceedingly accessible price-point. Despite Bullit being a British outfit, the company sources its bikes from China (before making a few tweaks and then rebadging them) which allows them to sell their wares at such affordable prices. The model features a tubular steel chassis that houses a fuel-injected, air-cooled, single-cylinder engine that's protected behind a skid plate. Coupled with its spoked wheels, knobby tires, headlight grille, and high-mount Supertrapp-style can, this eighth-liter runner actually boasts some real potential when the tarmac ends. And while this model is available in a variety of regular cool schemes, the company also offers a few special edition models such as this limited-to-250-units Gulf livery.
Engine: Air-Cooled 125cc Single
Power: 11.6HP/7.4FT-LBS
Weight: 266LBS
Suspension Travel: N/A
Husqvarna Svartpilen 401
By far the most modern take on the scrambler genre, Husqvarna's Svartpilen 401 is a sleek city bike bestowed with a bit of futuristic off-road flare in the form of a bash-guard, knobby-shod spoked hoops, and integrated luggage racks. Built around KTM's proven 390 platforms, the 401 sports a surprising amount of high-tech componentry — especially when you consider its $5K MSRP — including a slipper clutch, ride-by-wire throttle, and WP APEX suspension front and back. Despite its svelte 335lb weight, the little entry-level Husky's 5.7" ground clearance means riding on this one will largely be relegated to the tarmac — albeit, if you're judging this model by its off-road readiness, then you're missing the point.
Engine: Liquid-Cooled 373cc Single
Power: 44HP/27.3FT-LBS
Weight: 335LBS
Suspension Travel: 142mm Front, 150mm Rear
Mash X-Ride Classic 650
A beautifully-designed, French-built motorcycle that takes blatant inspiration from Yamaha's old DT models, this big single sports a wide array of elements evoking the spirit of the machines of yesteryear such as its gold-anodized rims, blacked-out powertrain, and Monza gas cap. The thing also boasts a myriad of thoroughly modern pieces including LED lighting throughout and a dual-silencer exhaust. With high-fenders, wide bars, spoked rims, knobby rubber, and skid plate, the X-Ride Classic 650 looks to be reasonably confident in the dirt. As the newest entry on this list, the model has yet to roll into showrooms and pricing still hasn't been announced, though it's expected to be priced similarly to Mash Motor's other existing 650 models which would place it around the $6K mark.
Engine: Air-Cooled 643.7cc Single
Power: 40HP/34FT-LBS
Weight: 372.5LBS
Suspension Travel: N/A
Yamaha SCR950
The SCR950 can be traced back to a single custom bike. Early on in Yamaha's YardBuilt Program, the Tuning Fork Company called on Greg Hageman — who at the time was still operating under the "Doc's Chops" banner — to customize a Bolt. The company was so pleased with Hageman's work that they made a few minor tweaks and put the thing into production, resulting in this Japanese, V-Twin-powered machine. A surprisingly unique design to come from one of the Big Four in Japan, the SCR boasts quintessential elements from both the cruiser and scrambler genres. Despite its "SCR" branding, this bike's nearly 550lb curb weight, tight front fender, low-hanging exhaust, and meager 5.5" of ground clearance mean that it's best left on the roads for the most part.
Engine: Air-Cooled 942cc V-Twin
Power: 51.3HP/56.7FT-LBS
Weight: 547LBS (Curb)
Suspension Travel: 120mm Front, 71mm Rear
Fantic Caballero 500 Rally
The 500 Rally is one of the lesser-known models in the scrambler world, which is a real shame because it has a lot going for it. On top of boasting a genuinely attractive appearance that wonderfully blends retro and modern designs, the bike is loaded with components from top-shelf companies including Tommaselli, Domino, Brembo (technically ByBre), and Arrow — the latter of which is responsible for the 500's stellar dual-silencer setup. The thing also gets a CrMo Steel central tube frame, FRS 41mm inverted forks, and a mono-shock, both of which are adjustable and offer around two-thirds the travel of a late-model 450 dirt bike. With power figures also on par with today's latest and greatest MXers, this motorcycle is without a doubt one of the most off-road-capable scramblers currently in production.
Engine: Liquid-Cooled 449cc Single
Power: 40HP/31.7FT-LBS
Weight: 330LBS
Suspension Travel: 200mm Front & Rear
Moto Guzzi V7 Stornello Scrambler
While Moto Guzzi did previously offer scrambler-flavored accessories and kits for its popular V7 model, it wasn't until EICMA 2014 that the Italian marque pulled the cover off the V7 II Stornello Scrambler. Though it's objectively a more street-oriented machine with off-road styling, the V7 II Stornello has no problem taking on fire trails and the like. Sourcing visual inspiration from the firm's 125cc Stornello scrambler from the late '60s and early '70s, the contemporary V7 Stornello features a host of elements unique to the bike such as electro-welded upholstery and an absolutely gorgeous high-mount exhaust system from Arrow. Old-school fenders, a flyscreen, side number plates, knee pads, fork boots, and spoked rims shod in dual-sport rubber complete the package on this Italian shaft-driven scoot.
Engine: Air-Cooled 744cc Traverse V-Twin
Power: 48HP/44FT-LBS
Weight: 419LBS
Suspension Travel: 130mm Front, 111mm Rear
CCM Spitfire Scrambler
CCM has a long illustrious history centered around the off-road racing scene. So, when the company began expanding its in-house Spitfire range of limited edition hand-built models that it initially kicked off in 2016, it was only a matter of time before the Bolton-based business introduced a scrambler variant. The CCM Spitfire Scrambler utilizes the same 600cc fuel-injected, liquid-cooled, single-cylinder engine — which was originally developed by BMW for the Husqvarna TE630 — and artisan hand-TIG-welded tubular chassis, though it's been given the custom scrambler treatment, with the boutique model getting a raised front fender, a clear-powder-coated frame, a quilted scrambler seat, Renthal Fat Bars, a high-mount, under-tail dual exhaust, 280mm's of ground clearance, Brembo brakes, and a 19" front and 17" rear set of spoked hoops. Like the rest of the Spitfire range, this model is limited to only 250 units, and it boasts the same level of top-notch design and fit and finish that makes it easy to mistake this bike for a bespoke build from one of the world's top customs shops.
Engine: Liquid-Cooled 600cc Single
Power: 55HP/42.8FT-LBS
Weight: 306LBS
Suspension Travel: 120mm Front & Rear
Scrambler Ducati Desert Sled
Ducati's original scrambler lineup dates back approximately six-decades when the Bologna firm produced 125-450cc single-powered models under the same name from '62 through '74. So, when the Italian brand was looking to tap into a younger, hipper demographic, it opted to revive the Scrambler name for its new range of modern retros. The Scrambler Ducati lineup now encompasses a variety of different style bikes ranging from tracker-inspired models to classic standards to a cafe racer model. But the model most true to the scrambler name is undoubtedly the Scrambler Desert Sled. With its extra suspension travel, skid plate and headlight guard, MX bars, spoked rims, and knobby tires, it's one of the few modern "scrambler" models that are actually capable of performing competently in the dirt. It also delivers on style in the same manner as you'd expect from an elite Italian marque like Ducati.
Engine: Air-Cooled 803cc L-Twin
Power: 73HP/49FT-LBS
Weight: 425.5LBS
Suspension Travel: 200mm Front & Rear
BMW R nineT Urban GS
Our favorite member of the BMW Motorrad's Heritage lineup, the R nineT Urban GS is an R80/GS-themed version of the Bavarian brand's highly-modular R9T range, sporting a number of visual nods to the iconic Dakar-winning Beemer like the red saddle, white and blue bodywork, headlight shroud. As the moniker suggests: this model is primarily intended to be a city-going sled draped in vintage off-road visual themes. And though BMW does produce an actual R9T Scrambler variant, we'd argue the Urban GS — at least when fitted with the optional spoked wheels — is actually better-suited to scrambling duties. The clever engineering and overall versatility of the R9T platform also make this bike ideal for further customization.
Engine: Air-Cooled 1,170cc Boxer Twin
Power: 110HP/85.6FT-LBS
Weight: 487LBS
Suspension Travel: 125mm Front, 140mm Rear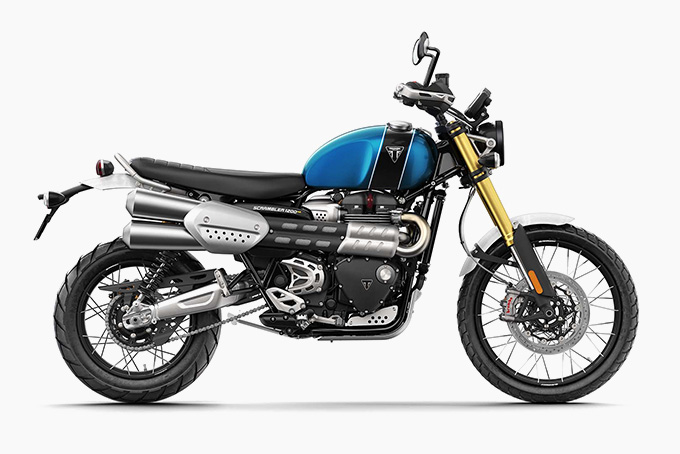 Triumph Scrambler 1200 XE
Triumph is largely responsible for sparking the trend that's resulted in today's slew of scrambler models when it rolled out the bike that started it all in 2006. And though the company offered several scrambler models, they were pretty much just regular Bonneville machines that'd been outfitted with high-pipes and knobbies and the like. So, for its latest scrambled offering, the iconic British marque decided to go all out, engineering a new model from the ground up that wouldn't just look the part, but could actually hold its own in the dirt. The result was the plainly-named Scrambler 1200 XC and XE, with the latter of the two variants being the top-shelf model. And by all accounts, Triumph absolutely nailed it, delivering on a machine that 's genuinely worthy of the scrambler title, visually evoking the spirit of old McQueen-era British scramblers while simultaneously affording true scrambling capabilities off-road.
Engine: Liquid-Cooled 1,200cc Parallel-Twin
Power: 89HP/81.1FT-LBS
Weight: 452LBS
Suspension Travel: 200mm Front & Rear
Norton Atlas Ranger
Released as the more off-road-oriented version of the two Atlas models — with the other, more road-focused model being the "Atlas Nomad" — the Atlas Ranger is a top-shelf scrambler model that's genuinely competent in the dirt. This premium scrambler offering ticks all the boxes with (relatively) long-travel suspension, dual-sport rubber-wrapped spoked rims — 19" front wheel and a 17" rear — crash protection, a high-mount fender, and a slide-ready saddle. And on top of being kicked along by a remarkably well-engineered powertrain that was fully developed in-house by Norton, the Atlas also sports a bunch of stellar little touches like the Roadholder forks (which are really just rebadged Marzocchi items), custom-inspired triple tree, side-covers, and skid-plate. Performance and engineering aside, Norton's Atlas Ranger is just a fantastic-looking motorcycle that is simply dripping with style and an out-of-this-world fit and finish.
Engine: Liquid-Cooled 650cc Parallel-Twin
Power: 84HP/47.2FT-LBS
Weight: 392LBS
Suspension Travel: 200mm Front & Rear
Indian FTR1200 W/ Rally Kit
On the surface, Indian's FTR1200 is probably more in line with the tracker genre than it is the scrambler one, though that didn't stop America's oldest motorcycle manufacturer from opting to bestow the 1.2L V-Twin with a variety of optional kits, one of which is the scrambler-flavored "Rally Kit." Costing an additional $5,730 over the standard FTR's $13,499 MSRP, the kit is comprised of new mud-guards (fenders) fore and aft, gloss pearl white tank covers, an aluminum spoke wheelset, an all-weather vinyl "Aviator" saddle, and a high-mount titanium Akrapovic slip-on. And while this collection of parts does ultimately make the FTR more dirt-ready than the stock bike, the kit is more about giving it the appearance of a scrambler rather than the raw performance of one.
Engine: Liquid-Cooled 1,203cc V-Twin
Power: 120HP/85FT-LBS
Weight: 488LBS
Suspension Travel: 150mm Front And Rear
The 10 Best Adventure Motorcycles
Looking for a scoot with even greater off-road capabilities while still being able to perform on the tarmac? Our guide to the best adventure motorcycles is sure to help you find the right big-bore dirt-goer.