It's no big secret that the automotive industry is in the middle of a major shift, as vehicles with electric powertrains are — for the first time ever — set to overtake traditional gasoline engines in popularity and availability. And while that shift has been a long time coming, there's an interesting trend taking shape within that shift. Over the course of just the last couple of years, a number of brands — both new and long-standing — have announced a very specific type of electric vehicle they're working to produce. Of course, we're talking about pickup trucks. These bedded four-wheelers are often heralded as highly-capable workhorses, off-road-ready adventure mobiles, and even supply-hauling daily drivers. And now automakers are beginning to see the very real, very impressive potential of pickups with electric powertrains. While they're not all going to be winners, we're backing the following options as the best electric pickup trucks that you can buy or preorder right now.
The Best Electric Pickup Trucks
Ford F-150 Lightning LARAIT

Chevrolet Silverado EV 4WT

Rivian R1T Quad-Motor AWD

GMC Sierra EV Denali Edition 1

Honorable Mention

Kindred Motorworks Chevy 3100
EV Truck Shopping 101
What Factors & Areas Should I Consider When Buying An Electric Pickup Truck?
If you've never previously owned a pickup, you may have a difficult time knowing exactly what to look for when shopping for one. Fortunately, we've carved out the time to piece together this condensed guide to the most pivotal areas to consider when buying an EV pickup.
Towing & Hauling Capabilities: One of the most obvious main selling points of any pickup truck is the class' immense towing and hauling capabilities. As a result, you'll want to pay close attention to a given model's towing and payload capacities.
Tech & Connectivity: Another major selling point for any cutting-edge electric vehicle is undoubtedly tech and connectivity. This includes everything from 360° camera systems to onboard infotainment displays to wireless charging stations to the ability to act as a roving power bank. Autonomous or semi-autonomous driving capabilities are also often included either as standard or as an optional amenity on a great many of today's latest and greatest electric trucks.
Cabin & Creature Comforts: Traditionally, the interiors of pickups trucks have been largely spartan, focusing more on utility than luxury. In recent years, however, this has changed, as modern pickups have grown increasingly refined. And nowhere is this more true than the EV pickup sector, which often features cabins that can rival that of bonafide luxury vehicles. When reviewing this area we recommend keeping an eye out for elements such as available upholstery options, heated, cooled, and massaging seats, passenger display screens, and audio systems.
Range: Though range anxiety was once a major drawback of electric vehicles, modern battery tech has allowed automakers to deliver pickup trucks that boast close to the same level of autonomy as petrol-powered models. It's also worth noting that some modern electric pickups are offered with more than one battery pack option.
Trim Level: Just like with regular ICE-engined pickup trucks, fully-electric models are often offered across multiple trim levels, each of which comes standard with its own host of unique options and amenities. This factor can also pretty hugely affect a pickup's pricing — marking just one more reason that trim level should be taken into account when shopping for an EV pickup.
Off-Road Readiness: Pickup trucks can pretty massively vary in terms of off-roading capabilities. So, if you plan on regularly taking your truck off-road, this is definitely an area you'll want to pay close attention to. When reviewing an electric pickup's go-anywhere capabilities you'll want to keep an eye out for factors such as ground clearance, suspension travel, and approach, break-over, and departure angles. Some electric pickups are also offered with optional off-road upgrades such as factory lift kits, flared fenders, off-road wheels and tires, steel bumpers, skid plates, winches, snorkels, and headache racks, just to name a few.
Powertrain: Though they may not pack a gas-powered engine, an EV pickup's powertrain is still of monumental importance and should be very closely reviewed when shopping. More specifically, you'll want to pay attention to an electric pickup's type of electric motor(s) and total number of motors. Additionally, you'll also want to examine the spec for the battery pack that the powertrain draws from. It's also fairly common to see the same electric truck offered with more than one powertrain option.
Power & Delivery: No matter what type of vehicle you're shopping for, you'll pretty much always want to look into the amount of horsepower and torque that its engine generates, as these figures will play a direct role in the vehicle's acceleration and speed, as well as its towing and payload capabilities. Another factor that plays a major role in these areas is the manner in which a pickup's power is transmitted to the ground — I.e. whether it uses a rear-wheel drive, front-wheel drive, all-wheel drive, or four-wheel drive system.
Cab & Seating: From regular cabs to extended cabs to crew cabs, pickup trucks are produced in a variety of different configurations, all varying in seating and cabin space. When reviewing this area, we recommend considering your intended use as this should help determine which style of cab will be most conducive to your wants and needs. It's also worth pointing out that different manufacturers often use different names for what's essentially the same cab style.
Bed: On top of their powertrains and the payload and towing capacities that they offer, another area that affords modern pickup trucks — electric or otherwise — with their workhorse capabilities is their beds. When reviewing this area, you'll want to pay attention to a pickup's available bed length options, overall dimensions, the actual bed's construction (and any fortifying coatings or liners), and available tie-down and attachment points. In more recent years, a growing number of marques have also started delivering beds with unique, modular, multi-functional tailgates — making this just one more area that should definitely be considered when shopping.
Driving Characteristics: Whether it's a station wagon, SUV, or sports car, how a vehicle actually drives, handles, and performs will always play a monumental role in the overall user experience — making this a pivotal area to consider when shopping.
Appearance: Electric pickup trucks tend to be a bit more diverse than gas-powered models when it comes to aesthetic design, ranging from daily traditional looking models that don't hugely differ from their non-EV counterparts to ultra-sleek and unmistakably electric models employing futuristic designs and wraparound LED lighting elements. While purely based on personal aesthetic taste, this is definitely an area that should also be considered when shopping — along with available color and finish options.
Class & Dimensions: Typically broken down into compact, midsize, and full-size segments, pickup trucks exist across a number of different classes (i.e. sizes), and electric models are no different. As such, you'll want to look at an EV pickup's physical dimensions, reviewing its width, height, length, and wheelbase, as well as curb weight.
The Benefits Of Battery-Powered
What Unique Advantages Do Electric Pickup Trucks Provide?
Most of the arguments for electric vehicles of any sort are probably things you've heard before. But with pickup trucks, there are some other exceedingly valuable things to be said for them of your typical "eco-friendly" or "cheap to maintain" talking points. We've outlined some of the most impactful ones below:
Efficiency: Gasoline power is limited by a number of factors, almost all of which relate directly to the act of combustion. Yes, burning fuel can equate to a tremendous amount of power produced. However, that power is limited by a fixed combustion temperature and energy loss during combustion, as well as the amount of fuel that's accessible. If you want to increase that power in any way, you either need a bigger engine, more fuel (meaning a bigger fuel tank), a boosting factor (like nitrous) or some combination of the three. Electricity, by contrast, is virtually weightless (although batteries can be quite heavy), is more energy-dense, and is cheaper — therefore making for a far better return when you consider all factors together.
Torque On-Demand: This actually kind of goes hand-in-hand with the efficiency argument above, as one of gasoline's biggest drawbacks is in energy lost. You see, the simple act of combustion — literally exploding fuel and repurposing that explosion into wheel-turning power — results in losing quite a bit of energy in the process. That means, to access torque — the most important power factor in towing and navigating difficult terrain — requires higher RPMs (AKA an increased rate/frequency of combustion). By contrast, electric motors lose virtually no energy, as there is not a "combustion" of which to speak, just a transmission of energy from the motor to the battery and/or wheels. That means more power is immediately accessible in electric vehicles and that power stays available even as speed increases.
Tow Capacity: Gasoline motors, while great for high-speed performance, are not very good at producing high levels of torque (the figure most important when it comes to towing). Diesel-powered ones, while not as agile or quick, are much better. However, both pale in comparison to the potential of electricity. Admittedly and up until recently, electric vehicles were not designed for towing and even some of the newer ones fall short. However, when towing is the end goal and the motors/batteries are designed for it, combustion power doesn't even compare. For reference, a 2020 Ford F-150 has a maximum towing capacity of 13,200 pounds. The all-electric prototype the brand built, by contrast, towed a whopping 1.25 million pounds. Yes, you read that right; that's an increase of almost 1,000%. And now that Ford has set that very, very high bar, we expect the trend of ultra-high towing capacities in electric vehicles to continue onwards and upwards.
The Best Electric Pickup Trucks
Lordstown Endurance
Why It Made The Cut
A sleek full-size crew-cab pickup offering futuristic looks, capable performance, & great bang for your buck. 
Sometimes, the best way to start a new automotive company is by picking up where another left off and going from there. That's kind of what happened with Lordstown Motors when they took over GM's formerly-defunct six-million square-foot facility in Lordstown, Ohio. Of course, having a production plant is only one part of the equation. The other, perhaps obviously, is a vehicle to produce at said plant. But the fledgling American automaker has that, too, in the form of their Endurance electric pickup truck. This futuristic bedded EV features a quartet of in-wheel hub motors that generate more than 500 collective horsepower — and comprise a true 4-wheel drive system. Generating an otherworldly 4,971ft-lbs of (claimed) torque, the Endurance also delivers a 6.3-second 0-60mph time, a payload of over 1,000lbs, and a max trailering load of 8,000lbs.
Powertrain: Quad-Electric Motor
Range: 174 Miles
Power: 550HP & 4,971FT-LBs
Max Towing Capacity: 8,000LBs
MSRP: $65,060
RAM 1500 REV
Why It Made The Cut
A full-size, fully-electric USA-made pickup boasting impressive workhorse & go-anywhere capabilities. 
The RAM 1500 REV is an electrified version of the American automaker's full-size flagship pickup that retains the normal RAM 1500's workhorse DNA while sporting a sleeker take on its existing visual language. Offering 350 miles of range — or 500 miles when equipped with the REV's optional Large Battery pack — the 1500 REV is built on the STLA Frame platform and features some impressive specs and performance capabilities including a 654-hp dual-motor powertrain that delivers a tow rating of up to 14,000lbs. The interior of the truck sports an impressive wealth of tech and creature comforts such as 24-way adjustable power seats, an available 23-speaker Klipsch audio system that features a 1,228-watt amp and a 12" sub, and a 14.5" central touchscreen supplemented via an available 12.3" Interactive Driver Information Digital Cluster Display and a 10.25" front passenger touchscreen. Equipped with Hands-Free Active Driving Assist and a one-pedal driving mode, this forthcoming model will also be offered across five different trim levels in the form of the 1500 REV Tradesman, Big Horn/Lone Star, Laramie, Limited, and all-new range-topping Tungsten trim.
Powertrain: Dual Electric Motor
Range: 350 Miles (or 500 Miles w/ Large Battery Pack)
Power: 654HP & 620FT-LBs
Max Towing Capacity: 14,000LBs
MSRP: TBD
Tesla Cybertruck
Why It Made The Cut
An ultra-idiosyncratic EV pickup with a distinctive, angular design & host of impressive tech. 
On paper, the Tesla Cybertruck is an objectively incredible feat of modern technology and engineering. On top of an appearance that looks like something straight out of a retro videogame, the Cybertruck sports a transparent roof, a 6.5' stainless steel bed, (allegedly) bulletproof glass, insanely rugged steel bodywork, and an available Tri-Motor powertrain that delivers a whopping 800hp and 1,000ft-lbs of instantaneous torque — figures that ultimately allow Tesla's inaugural pickup to deliver a massive 14,000-pound tow rating and a 0-60mph time that puts even most modern sportscars to shame at only 2.9 seconds. As impressive as the thing is on paper, however, you can't talk about the Cybertruck without acknowledging a few issues. Originally debuted back in 2019, the Cybertruck's super unique design and flat steel body panels have given way to all manner of issues surrounding production and safety regulations — ultimately resulting in the truck's release date being pushed back a five separate times (at least as of the time of writing). Either way, if and when Tesla does manage to iron out all of these proverbial kinks, we'll certainly be in for something very special once the Cybertruck finally enters production.
Powertrain: Tri-Electric Motor
Range: 500 Miles (Claimed)
Power: 800HP & 1,000FT-LBs (Claimed)
Max Towing Capacity: 14,000LBs (Claimed)
MSRP: $69,900 (Subject To Change)
Ford F-150 Lightning LARAIT
Why It Made The Cut
A fully-electric take on America's most popular pickup truck that packs more torque than any other F-150. 
The Ford F-150 has long been America's most popular pickup truck – and by a pretty significant margin — so it'll probably come as no surprise to hear that the legendary F-150 platform is now being used as the basis for one of today's best EV pickups. Sitting just below the F-150 Lightning's range-topping Platinum trim level, the truck's LARAIT variant starts at just under $70,000 and gets you a 15.5" touchscreen, the Ford Co-Pilot360 system, wireless Apple CarPlay and Android Auto integration, heated and ventilated leather seats, one-pedal driving, Ford's Mega Power Frunk, and Ford BlueCruise hands-free driving system. At the heart of the Ford F-150 Lightning LARAIT is a dual-electric motor setup cranking out 462hp and 775ft-lbs of torque — giving it the highest torque output of any F-150, ever. The truck is also offered with an available Extended Range Battery upgrade that bumps its range from 240 miles up to 320, and increases its towing capacity from 7,700lbs up to an even 10,000. This upgraded option also unlocks a very respectable 0-60mph time of just 4 seconds flat.
Powertrain: Dual Electric Motor
Range: 240 to 320 Miles
Power: 462HP & 775FT-LBs (or 580HP w/ Extended Range Battery)
Max Towing Capacity: 7,700LBS (or 10,000LBs w/ Max Tow Package)
MSRP: $69,995
Chevrolet Silverado EV 4WT
Why It Made The Cut
Chevy's first-ever attempt at an electrified version of its flagship full-size pickup.
When engineering its first-ever all-electric pickup, Chevrolet went to great lengths to ensure its inaugural EV pickup would truly be worthy of sporting the "Silverado" nameplate. And after reviewing the vehicle's specs, it's abundantly clear that this fully-electric full-size model is more than deserving of its badging. Based on the Ultium EV platform, Chevrolet's Silverado EV 4WT puts a futuristic spin on the Silverado's normal design language. Under the surface, the pickup packs a dual-motor powertrain that makes 515hp and 600ft-lbs of torque, allowing it to deliver a 10,000-pound towing capacity, a 1,400-pound payload, and a 4.5-second 0-60mph time — all while still achieving a range of 450 miles per charge. Alongside the sporty RST-spec and off-road-focused Trail Boss variant, Chevy is also producing the Silverado EV in a 3WT trim level that is slightly down on range at only 393 miles per charge, though gains additional hauling capacities with payload and trailering ratings of 1,750lbs and 12,500lbs, respectively.
Powertrain: Dual Electric Motor
Range: 450 Miles
Power: 515HP & 600FT-LBs
Max Towing Capacity: 10,000LBs
MSRP: $79,800
Rivian R1T Quad-Motor AWD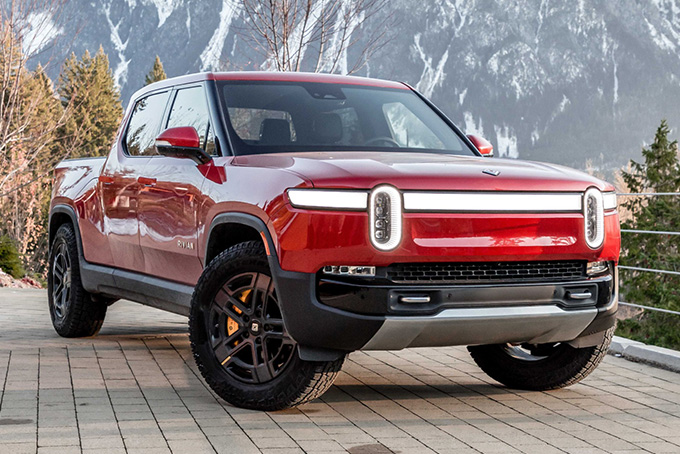 Why It Made The Cut
An unmistakably modern, quad-motor EV pickup offered w/ a wide range of lifestyle-focused features & optional packages & accessories. 
Rivian's R1T was actually announced all the way back in 2018 and may be the vehicle most-responsible for kickstarting the proverbial arms race that is the electric pickup truck industry, as it pushed the other companies on this list to unveil their own plans. Of course, that's only a part of the story, as an announcement itself wasn't enough to light that fire. Rather, it was Rivian's promise that the R1T would offer some envelop-pushing performance capabilities — specs that are most impressive on the R1T's range-topping Quad-Motor AWD variant. Good for 835hp and a 0-60mph time of 3 seconds flat, this quad-motor setup generates over 900ft-lbs of torque and allows for a tow rating of 11,000lbs. What's more, not only is Rivian's R1T highly conducive to daily driving and workhorse applications, but it's also an incredibly capable off-roader in its stock form with a 3' wading depth, 14.9" of ground clearance, approach, breaker, and departure angles of 35.5°, 26.4°, and 30°, respectively, and an optional Adventure and All-Terrain packages that features amenities like an onboard air compressor, 20" all-terrain wheels and tires, a matching full-sized spare, and a reinforced underbody skid-plate. Also of note is the R1T's battery, as it delivers 328 miles of autonomy plus can gain an extra 140 miles of range after only 20 minutes of DC Fast Charging.
Powertrain: Quad-Electric Motor
Range: 328 Miles
Power: 835HP & 908FT-LBs
Max Towing Capacity: 11,000LBs
MSRP: $87,000
GMC HUMMER EV3X Pickup
Why It Made The Cut
A behemoth of an EV equipped with a unique array of cutting-edge tech & immense off-road capabilities. 
The GMC HUMMER EV3X Pickup is a true testament to just how much electric vehicles have advanced over the last few years alone, as the all-electric truck boasts a myriad of specs that would have sounded laughable only half-a-decade ago. This beast of an EV comes equipped with a tri electric motor configuration that makes a very impressive 1,000hp and an even more incredible 11,500ft-lbs of torque. Despite an approximately 9,000-pound curb weight, this tri-motor system allows the HUMMER EV to clock 0-60mph runs in only 3 seconds. Riding on 22" wheels shod in 35" all-terrain tires as standard, the EV3X-spec model also comes loaded with a roughly 380-mile range, the ability to crab walk, GMC's MultiPro tailgate design, Adaptive air ride suspension with an Extraction mode, and an UltraVision system with 18 onboard cameras. Capped off with an Infinity Roof and available transparent "Sky Panels," the interior of the HUMMER EV3X also features a generous slew of state-of-the-art tech, as well as a level of luxury that's on par with other late-model HUMMERs. SuperCruise and one-pedal driving are also both present on this thoroughly state-of-the-art EV.
Powertrain: Tri-Electric Motor
Range: 381 Miles
Power: 1,000HP & 11,500FT-LBs
Max Towing Capacity: 8,500LBs
MSRP: $99,995
GMC Sierra EV Denali Edition 1
Why It Made The Cut
A super state-of-the-art & insanely luxurious take on a full-size EV pickup. 
The GMC Sierra 1500 Denali is lauded for offering a unique combination of immense luxury and true workhorse capabilities. And the American automaker's EV version of the truck doesn't just follow these defining traits, it doubles down on them. Brimming with state-of-the-art tech and creature comforts, the inside of the truck features a fixed glass roof, partially-quilted heated and ventilated, massaging leather seats, and a bevy of displays. The luxury EV pickup is kicked along by a 754-hp dual-electric motor system that makes 785ft-lbs of torque and delivers a towing capacity of up to 9,500lbs. Also responsible for delivering a respectable 4.5-second 0-60mph time, this dual-motor powertrain draws from a battery that not only offers 400 miles of range, but one that can also receive another 100 miles of autonomy after only 10 minutes of charging. Additionally, on top of featuring Super Cruise driver-assistance tech and MultiPro MidGate bed that can expand out to 10.83', the GMC Sierra EV Denali Edition 1 can also serve as a massive mobile battery pack that's capable of powering a home's essential devices and appliances for up to three weeks.
Powertrain: Dual Electric Motor
Range: 400 Miles
Power: 754HP & 785FT-LBs
Max Towing Capacity: 9,500LBs
MSRP: $108,695
Munro Motors M280 T
Why It Made The Cut
A rugged & utilitarian all-electric workhorse with remarkable off-roading capabilities. 
The GMC Sierra EV Denali Edition 1 sits at the most luxurious end of the EV pickup spectrum. At the opposite end, we have the largely spartan and thoroughly utilitarian Munro Motors M280 T. While technically more of a sport utility vehicle that's capped off with a small pickup bed, this wildly-rugged EV is nonetheless more than deserving of a spot on this list thanks to its off-roading abilities alone. On top of a laundry list of available off-road upgrades, this also includes 18.89" of ground clearance, 2.6' wading depths, an 84° approach angle, a 148° break-over angle, and a 51° departure angle. The only production vehicle currently being made in Scotland, the vehicle takes its name from its axial-flux motor's 280kW (375.5hp) output — all of which is sent to the ground via a permanent four-wheel-drive system. A major part of what makes this model special, however, is the fact that it's offered with a massive range of configurable options that allow buyers to personalize the EV and build it out to meet their exact needs.
Powertrain: Axial-Flux Motor
Range: 200 Miles
Power: 375.5HP & 516.3FT-LBs
Max Towing Capacity: 7,716LBs
MSRP: $111,306
Honorable Mention
An Electromodded Classic
Kindred Motorworks Chevy 3100
Why It Made The Cut
A spare-no-expense, bespoke-built pickup that modernizes & electrifies Chevy's mid-century 3100 trucks. 
While most modern electric pickup trucks sport unmistakably sleek and modern appearances, Kindred Motorworks' Chevy 3100 electromod takes things in a decidedly different direction. Utilizing a Chevy 3100 donor truck from 1947 through 1953, these mid-century electrified restomods see their original powertrains jettisoned in favor of a 294-hp AC motor and a 74-kWh battery pack that delivers a range of around 200 miles per charge. Further modernizing the truck is a rack and pinion steering setup, a double wishbone front suspension, an electric parking brakes, disc brakes at all four corners, a backup camera, all-LED lighting, keyless entry, heated seats, power locks and windows, and a touchscreen display paired with a hifi audio system and wireless Apple CarPlay and Android Auto integration. What's more, each of these spare-no-expense restomods is meticulously crafted on a built-to-order basis that gives customers an enormous wealth of custom-configurable options to make the truck their own.
Powertrain: Electric Motor
Range: 200 Miles
Power: 294HP
Max Towing Capacity: N/A
MSRP: $159,000