As is likely abundantly clear, we love American craftsmanship. And not just in the gear we carry every day, but in every facet of manufacturing – including architecture, technology, and (of course) motor vehicles. Sure, there was a time a few years back when USA-made automobiles were kind of up in the air. Thankfully, however, that time has come and gone and now American vehicles are on the up and up once more.
One of our favorite classes of motor vehicles is, as you might guess, SUVs. They're spacious, capable, and just all-around fun when done right. And a lot of them are made right here in the States – even if the greater manufacturer isn't headquartered in the U.S. With that in mind, we put together the following collection of sport utility vehicles that are built here in America. So, the next time you're in the market for a beefy people hauler, you'll be armed with the knowledge of where to find the absolute best.
Jeep Wrangler
Toledo, Ohio
Is there anything vehicle that's more of an American classic than the Jeep Wrangler? Even if you think the answer is yes, there's still no denying the impact this 4×4 has had on our culture as a whole. From a military vehicle that got our soldiers across the battlefield to a badass adventure-ready off-roader, the Jeep is top tier in our minds. Best part is, you can get this high-level American-made 4-wheeler for a relative bargain brand new. Honestly, it's hard to do better than a Jeep – on all fronts.
Dodge Durango
Detroit, Michigan
The Dodge Durango doesn't get a lot of love in the SUV conversation. And, honestly, that's not entirely unwarranted, historically speaking. However, this beefy vehicle has gotten some serious upgrades and updates as of late and we think it certainly deserves more of a spotlight now. And that goes double for the SRT trim, which features a monstrous 475-horsepower 6.2L V8 HEMI engine – capable of pushing this bad boy from 0-60 in just 4.4 seconds. Basically, this has the beating heart of an American Muscle Car, but a lot more cargo area, headroom, and seating. Not bad, Dodge, not bad at all.
Volkswagen Atlas
Chattanooga, Tennessee
When most folks think of Volkswagen, images of compact cars like the Bug or the rally-style Golf hatchback likely pop into their heads. But we're here to tell you the German brand has a lot more to offer than that. In fact, their Atlas SUV is an exceptional value for what you get out of it. It comes standard with three rows of seating (or a hell of a lot of cargo room if you fold some of those seats down), has roof racks for your gear-hauling adventure-ready pleasure, and comes with a massive panoramic sunroof that stretches nearly the full length of the cab – so you can enjoy every bit of both the road (or lack thereof) and the sky.
Ford Explorer
Chicago, Illinois
Ford, since its inception, has always been one of the top dogs of American automotive manufacturing, and their Explorer SUV has been an important part of that pedigree for a long time now. The latest iteration comes standard with the brand's best-in-class 365-horsepower 3.5-liter EcoBoost V6 engine, has loads of technological options (including compatibility with the FordPass connected smartphone app), and it comes with Intelligent 4WD paired with the brand's Terrain Management System. Whether you're tooling around the city or hitting the trails hard, you could do far worse than the Ford Explorer.
Toyota Highlander Hybrid
Princeton, Indiana
Though Toyota is headquartered across the ocean in Japan, they actually have a manufacturing plant in Princeton, Indiana. And it's in that factory that they create their Highlander hybrid SUV. And while there's an argument to be made about the best SUVs being gas-guzzlers, it's hard to ignore that a vehicle with as much cargo space as this one can still manage a whopping 30 miles to the gallon without being a complete bank-breaker. While their aren't a ton of trim options for this particular model, it does benefit from the fact that the top-tier option is under 10-grand over the base model's price.
BMW X3
Spartanburg, South Carolina
Another case of a foreign car brand manufacturing some of their offerings on American soil, the BMW X3 sits somewhere in the space between luxury and affordability – and it does so in spectacular fashion. Thanks to a clever folding seat scheme, this SUV can open up to 62.7 cubic feet of cargo space, comes with a paddle-shifted 8-speed automatic transmission (so you can bounce back and forth between a leisurely drive and a bit more of a driving-focused feel), has an intelligent all-wheel-drive system, and comes standard with a 248-horsepower 2-liter engine. Though, it's worth noting there are other trim options with a more-powerful 355-horsepower 3-liter.
Chevrolet Tahoe
Arlington, Texas
If full-sized is what you're seeking, look no further than Chevy's beastly Tahoe SUV. This massive road-goer comes loaded with a 5.3L V8 engine with 355 horsepower and 383 foot-pounds of torque. And, believe it or not, it still manages a best-in-class 23 mpg. It can also tow up to 8,600 (in case you can't fit all of your toys inside or on top) and has a wealth of options in regards to cabin technology. Though it's not small by any stretch of the imagination, Chevrolet still managed to load it up with an impressive number of features from nose to tail. If you're considering this one, we also suggest taking a look at high-performance RST Edition.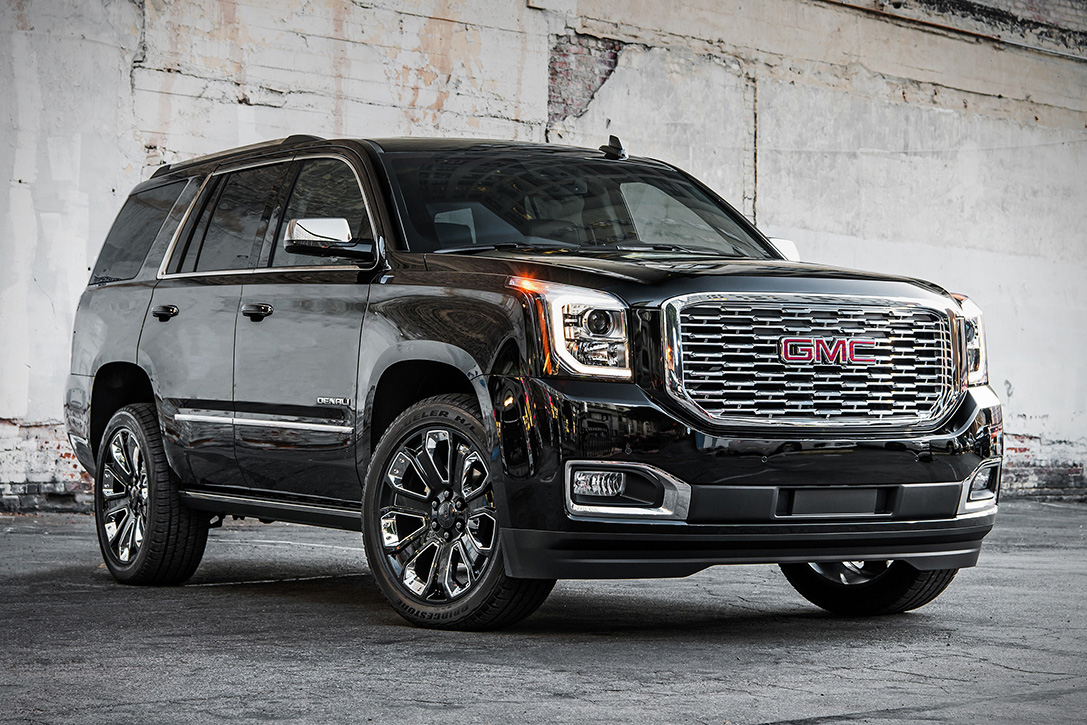 GMC Yukon
Arlington, Texas
If Chevrolet isn't quite your speed, but you still want a full-sized SUV packed to the gills with both driving capabilities and onboard options, you could do far worse than the GMC Yukon. The base model of this beastly 4-wheeler comes loaded with a 5.3L EcoTec3 V8 capable of 355 HP and 383 foot-pounds of torque, but that get's bumped up to a 6.2L with 420 HP and 460 foot-pounds of torque if you opt for an upgrade to the Denali trim. Whatever the case, you get at least 8,400 pounds of towing capacity, 8 seats, parking assistance, a rear-facing camera and so much more. Any way you stretch it, that ain't half bad.
Mercedes-Benz GLE
Tuscaloosa, Alabama
When luxury is the name of the game, you know you can always turn to Mercedes-Benz – even in the case of SUVs. And their GLE is certainly proof positive of that fact. Yes, the base model starts at over $50,000, but you get the assurance that you're behind the wheel of a German-engineered automobile, and that's certainly worth something. It also comes with either a gas-powered engine or a hybrid, has over 80 cubic feet of potential cargo space, and has an available panoramic roof option. If you really want to have some fun, however, we suggest opting for the AMG version – boasting an enhanced biturbo V6 with 385 horsepower and 384 foot-pounds of torque, amongst a slew of other upgrades.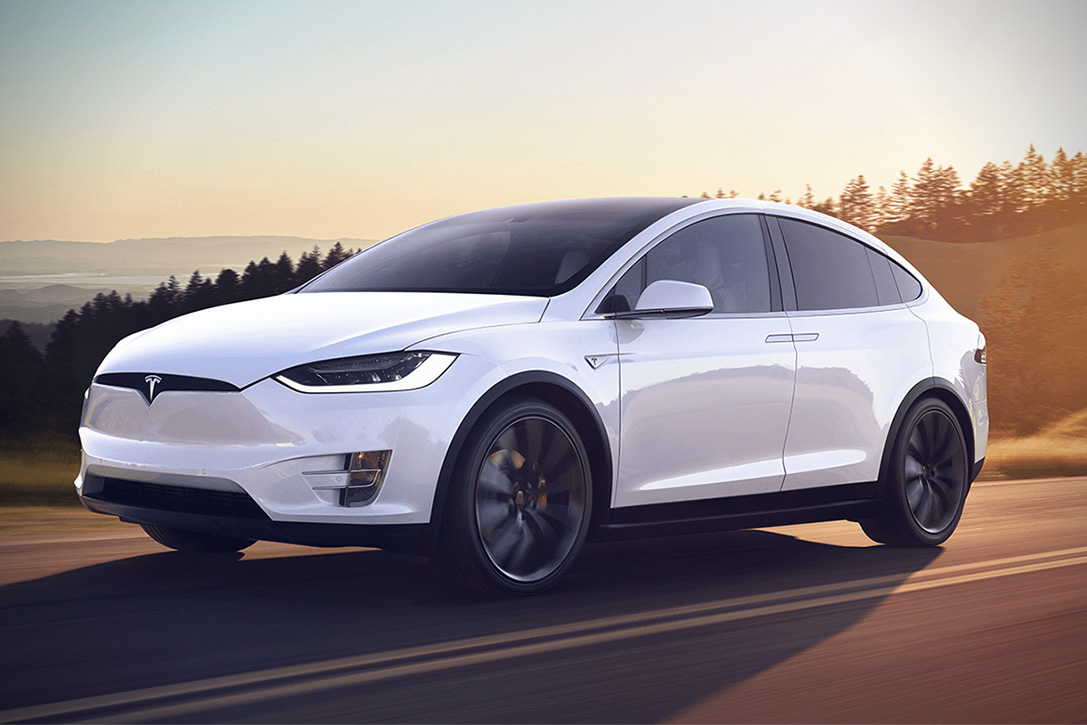 Tesla Mode X
Fremont, California
The only fully-electric car option on our list and the only one built in California, the Tesla Model X is equal parts eco-friendly high-performance and superb luxury. The brand's signature futuristic styling was pared perfectly into the larger SUV format, as was their performance-focused engine tech (though, for the best option it will cost you more than double the price of the base model). Still, even at the low end, you still get 237 miles of range per charge, a top speed of 130 miles per hour, and a 0-60 time of 4.9 seconds. And that's just what's under the hood. You'd need a bible's worth of pages to cue you in on all the other features of this futuristic SUV.
Lincoln Navigator
Louisville, Kentucky
Lincoln has become kind of a dark horse in the automotive world. Or at least they're not a brand that comes to the forefront of everyone's minds when considering buying a new car (with the exception of, perhaps, our grandparents). But we think that's a little bit of a shame, as they've got a lot more going for them than for which they are given credit. And we mean more than just the fact that they're bringing back suicide doors (which they are). Their Navigator full-sized SUV, for instance, is a superb vehicle for its cabin capacity, towing capacity, comfort and luxury, and even its performance (it comes with a 450-horsepower 3.5-liter engine). If you've passed up Lincoln in the past, it might be time to reconsider.
Cadillac Escalade
Arlington, Texas
Nothing says "luxury SUV" quite like the Cadillac Escalade. Both outside and in, this monstrous vehicle screams opulence – and the plush premium leather upholstery goes a long way toward solidifying that. It's also no slouch when it comes to performance, as it comes standard with a V8 engine capable of pumping out 420 horsepower and 460 foot-pounds of torque. It also has seating for up to 8 people, has four trim options – of which surprisingly none break the $100,000 price point – and there are a good deal of customization options on top of that.
15 Best Adventure Vehicles
If the thought of an SUV tickles your fancy, but you're hoping to get behind the wheel of something guaranteed to handle the trails with grace, then you'll want to check out our list of the best adventure vehicles.