While you may find yourself at one this summer, finding the right clothes to wear around this time of year is no picnic. Countless brands and retailers are pushing their products in your face by way of Memorial Day closeout sales, Fourth of July sell-a-thons, or simply their latest seasonal collections. No matter how difficult it gets, keep in mind that getting dressed in June is the same template as buying clothes for spring… and even winter. Sure, a garment's material and weight may vary with the shift in temperature, but the quintessential pieces go as follows: a top, some bottoms, a pair of shoes, and some worthwhile accessories.
Like any other season, anything you choose to wear this summer is subjective, as you have the opportunity to style yourself as you see fit. However, everyone could use a bit of a helping hand, which is just where we come into play. In order to compile a cohesive wardrobe, we've scoured the web to pin down a wide variety of garments and accessories that we deem must-have pieces to pick up this summer. Moreover, the 22 best men's style essentials are here to help you have an easier time deciding what to wear when things heat up out there.
Shirts
No Shirt, No Service
UNIQLO AIRism Cotton Crew Neck
When it comes to essentials, there are few retailers we look to more than UNIQLO. That said, the brand's AIRism tech serves as a blend of fabrics tailored toward tackling the summer temperatures and staying soft to the touch. This affordable tee comes available in over 5 colors, so you're bound to find the right shade for you.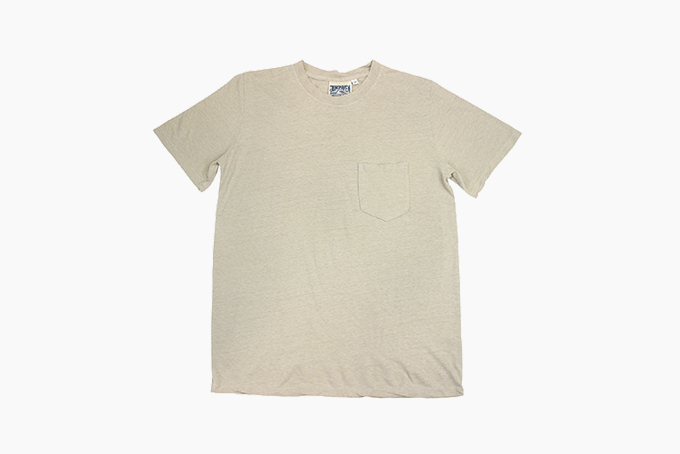 Jungmaven Pocket Tee
Jungmaven touts its flagship t-shirt as "the perfect tee to wear while hiking the Superstition Mountains," but we think it works perfectly in any scenario. The garment-dyed top is crafted from a blend of hemp and organic cotton, deeming it an impressively sustainable choice that doesn't skimp on comfort. Plus, it's available in 15 different colors, so you'll never get tired of it.
Lady White Co. Lite Jersey T-Shirt
This stylish top from Lady White Co. arguably serves as the L.A.-bred boutique's claim to fame, and for good reason. With its blind-stitched hems and taped shoulder seams, the Lite Jersey T-Shirt boasts a quintessential 1960s style that serves as a flawless addition to your wardrobe, allowing you to channel your inner Marlon Brando.
Levi's 1950s Sportswear Shirt
While the above well-designed tee from LWC is highlighted by its '60s look, this choice from American heritage brand Levi's is directly inspired by an archival tee from a decade earlier. Levi's Vintage 1950s Sportswear shirt is a boxy-fitting, cotton-made short-sleeve choice that comes available in a quartet of original colors. For added functionality, it even comes equipped with a chest pocket.
J.Crew Ribbed Cotton Short-sleeve Johnny-Collar Sweater
J.Crew serves as a perennial favorite of ours thanks to its elevated essential pieces that separate it from the pack. Case in point is this incredibly stylish short-sleeve sweater polo that's decidedly retro and yet very on-trend. With its interesting mid-century-inspired style, waffle-like texture, and wide-spread Johnny collar, this comfortable shirt is the perfect one to rock when the summer breeze is feeling strong.
NN07 Miyagi Camp-Collar TENCEL and Linen-Blend Shirt
It was only a matter of time until we threw in a camp-collar shirt to rock all summer long, and this stylish Japanese-made piece is a perfect choice. With its breathable TENCEL Lyocell and linen composition, this is the perfect choice to wear when the temperatures start to pick up. It is finished off with mother-of-pearl buttons for an added shine and comes available in a pair of subtle, season-appropriate colors.
Todd Snyder Italian Cotton Silk Full Placket Riviera Polo
Rounding out this collection of quality tops to pick up is none other than a shirt from Todd Snyder — after all, the New York label is one of the dominant forces in today's menswear scene for a good reason. The Full Placket Riviera Polo is as comfortable and stylish as it sounds, boasting a 55% Italian silk makeup and a silhouette that takes after mid-century Hollywood icons. With that in mind, why would you even consider any other shirt this summer?
Everlane Pull-On Performance Chino Short
As another brand we continuously look to for essential garments, Everlane's sustainable ways and quality pieces earn it a spot on this list. The clothier's four-way stretch chino shorts are far more than meet the eye, offering excellent moisture-wicking and fast-drying capabilities, both of which are sure to come in handy during a long day in the sun.
Banks Journal Big Bear Corduroy Walk Short
Corduroy is a great textile to have on hand in the summertime, so these shorts from the Byron Bay-bred clothier are a surefire choice to keep you comfortable this summer. The Big Bear Corduroy Walk Short features a 7" inseam for mid-thigh style and an elastic waistband for maximum comfort. For functionality's sake, the shorts even come equipped with a back patch pocket and a pair of patch pockets at the hips.
Flint and Tinder 365 Pant
Flint and Tinder's 365 Pant are intended to be worn as many as days as its name implies. The Huckberry house brand crafts its flagship bottoms from 98% cotton and 2% spandex for that much-needed bit of stretch. F&T describes the garment-dyed pants as a fusion of chinos, jeans, and performance pants, and their classic five-pocket design is ideal for storing all your EDC gear.
Taylor Stitch The Morse Pant
It is hard to go with anything wrong from Taylor Stitch as it is, and a pair of breezy linen pants to wear in the summertime is about as sure a thing as we can think of. The brand's Morse Pant is crafted from a sustainable, flowing blend of 8-ounce organic cotton and linen to make for a soft, lightweight pair of bottoms. Plus, thanks to the Morse's dying and washing process, the texture of the pant ultimately shows itself more and more with time, transforming it into a time capsule of sorts.
Buck Mason Stone Twill Desert Cargo Pant
In a similar vein to Taylor Stitch, Buck Mason is a brand that simply seems to do no wrong. These stylish cargo pants offer a relaxed silhouette and are made of sturdy 8.4-ounce cotton twill. They feature chic corozo nut buttons, angled pockets, hidden snaps, and a pair of drawcords at the ankles to provide a near-tailored fit. Lastly, these garment-dyed cargos are washed with enzymes for a broken-in feel right off the rack.
Saturdays NYC George Brushed Cotton Trousers
When it comes to keeping things streamlined, Saturdays NYC is one of the brands that does it best, and the George Cotton Trouser is an uber-cozy example of that. It's made from a blend of cotton, polyester, viscose, and elastane to combine for a unique breathable feel that keeps you comfy as can be. Plus, the pants come rounded out with an elastic waistband to make them even easier to wear, practically shedding the need for a belt. These are the perfect bottoms to buy if you've got a formal event coming up but want to feel like you're wearing pajamas — after all, it is wedding season.
A.P.C. Martin Jeans
If there's one thing that A.P.C. knows, it's denim. The Parisian fashion house pushed the needle with its minimalist aesthetic back when it first set up shop, and its overall look and appeal haven't shifted since. The Martin jeans are one of the label's more notable silhouettes, and this particular pair comes available in a stylish, hickory stripe design for an old-school look.
Vans Authentic
Having come to form in the same city as Disneyland, it's safe to say that these iconic sneakers have a sort of magical, inescapable allure. Aside from sandals, few shoes scream summertime as much as a pair of Vans. The heritage shoemaker's Authentic silhouette hasn't aged a bit, boasting the same low-key lace-up profile and trademark rubber waffle outsoles that combine for a pair of sneakers that look great in any color — as a matter of fact, there are over a dozen of them to choose from.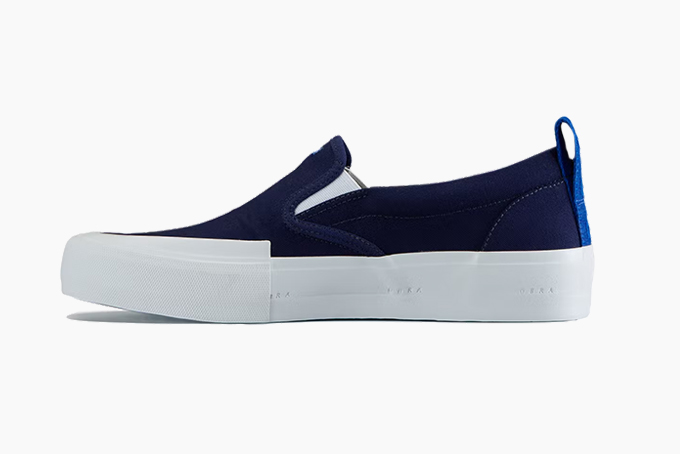 OBRA 240 Canvas Slip-On
A trusty pair of shoes to slip into will always come in handy around this time of year, and there are few in the category that can top OBRA. These sturdy, Brazilian-made canvas kicks boast a vulcanized rubber outsole, vegan suede lining, and the brand's proprietary Working Footbed. They also come equipped with a reinforced heel tab to make them even easier to pull on.
Chamula Cancun
These gorgeous, hand-woven leather huaraches may resemble a picnic basket at first glance, but what's more appropriate for the summer than that? The slip-on shoe is rounded out with a pair of flexible EVA soles for enhanced shock absorption and durability. For an added sense of artisanal craftsmanship, these shoes are handmade in the heart of Mexico, ensuring meticulous care every step of the way.
Sabah
Sabah's handsome flagship shoe is handmade in Turkey and takes inspiration from the country's commonplace slip-on. The Sabah's uppers are composed of premium, long-lasting nubuck, which is as stylish as it is durable. That's not the only unique hide that puts these shoes together, as it sits on a naturally tanned buffalo leather insole that molds and contours to your foot, resulting in the perfect fit.
Salomon XT-6
Although Salomon's been around for over half a century, the brand has garnered a bunch of attention in recent years, and its quintessential XT-6 silhouette is one of many reasons for it. The eight-year-old pair of TPU-made shoes are engineered to withstand harsh conditions and pave the way for top-notch performance. Of course, it makes use of the shoemaker's signature Agile Chassis system to ensure stability over the course of any workout, in case you want to use these as more than an en vogue fashion accessory.
Accessories
The Final Touch
Bombas Vintage Calf Sock
There aren't many accessories that are as essential as socks, which is why it's only fair for you to wear some of the coolest ones around. This vintage-inspired trio comes courtesy of Bombas, the New York-based clothier who has garnered respect for manufacturing high-quality undergarments, and the occasional shirt, too. These particular socks feature a cushioned footbed to provide comfort with every step. Most importantly, though, they utilize the brand's proprietary Honeycomb Support System to comfortably cradle your foot.
lululemon Patch Logo Bucket Hat
As advocates of the Canadian athleisure label, we've got to admit that lululemon is adept at manufacturing more than running shorts and yoga pants — much more. The brand's Patch Logo Bucket Hat is made of uber-lightweight nylon ripstop and rounded out with a mesh sweatband to wick away any sweat you might encounter along the way. While its adjustable chin strap will prove convenient, the most helpful detail of this accessory is a handy exterior pocket.
Timex Q GMT
If you're in the market for a good-looking watch that won't break the bank, you've probably given Timex's catalog a thorough look. The latest version of the brand's 1970s-inspired Q line boasts a Swiss-made GMT movement, finally bringing some real utility to that aluminum Pepsi bezel. In addition to its stylish appeal, the watch offers 50 meters of water resistance, so feel free to wear it to your next pool party.
Byredo Open Sky
Every season has a scent to match it, and Byredo is one name we trust with delivering the perfect choice for all four of them. As its name insists, the Stockholm-bred fragrance house's limited edition Open Sky EDP is inspired by travel, having come about in the midst of the pandemic to remind users of what it's like to be out and about. With fresh top notes of pomelo and black pepper, heart notes of hemp leaves, and base notes of vetiver and palo santo, this unique, citrusy fragrance is a perfect daytime choice for the warmer months.
Persol 714SM
Rounding out this list of essential things to have on hand in the summer is arguably the most important across the board. A pair of sunglasses can go a long way, whether it's for style purposes or merely protecting your pupils — that said, why not aim for both? Persol's homage to the late, great Steve McQueen is a foldable showcase of refined manufacturing and artisanal craftsmanship that the Italian eyewear legend has been putting on display for decades. Available in a wide variety of colors, the eye-popping Opal Yellow frame with Polarized Blue lenses is an ideal choice for this time of year.
The Best Men's T-Shirts To Wear This Summer
While you may not need one while you're at the beach this summer, check out your wide collection of breathable t-shirts to rock all season long.